Humphreys Facial Toner / Aftershave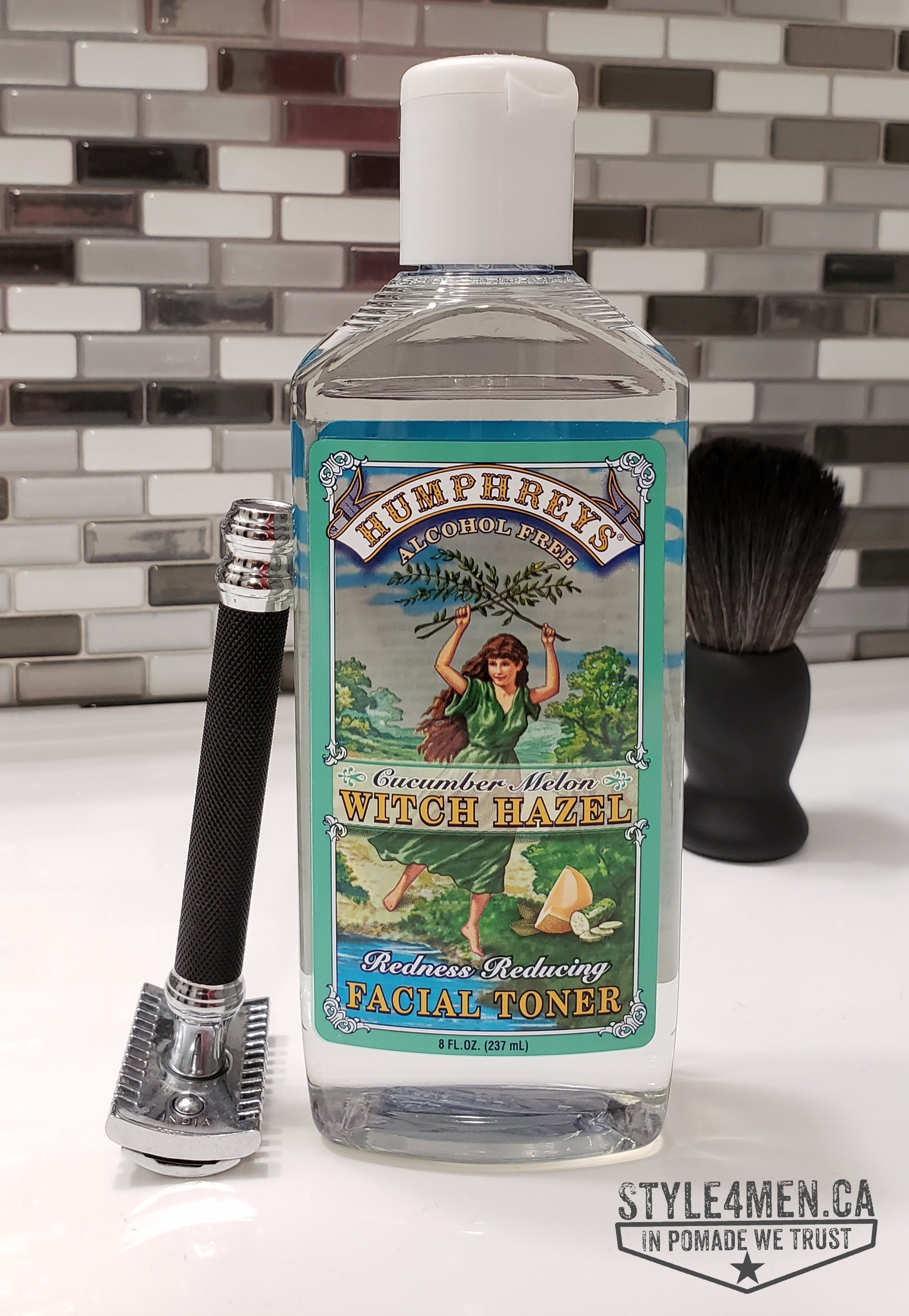 Witch Hazel should be considered a miracle elixir.  It's an old remedy that got pushed to the way side during the last 50-70 years during our mad scientific progression.  Now that we are finally realizing that nature had given us everything we needed, we are looking again at these older remedies with new eyes.  In many cases, we are finding that these remedies also did a better job than our current chemical-centric solutions.
OK that was big winded intro even for me!  🙂  But lets start from the beginning.  I was recently over at the Hare & Hound Barbershop which just recently opened its doors on Preston Street in Ottawa to check the place out and also to pick up a bottle of the Humphreys Witch Hazel facial toner.  In one of his posts, Tom, the man behind Hare & Hound was showing some of the product he was carrying.  Humphreys toner came up and was not a brand I knew.  My curiosity was spiked.

Up to now my witch hazel of choice was the one offered by Thayers.  The fact that it comes in a cucumber scent is just a huge bonus as I love the freshness of the cucumber aroma.  To my nose cucumber screams summer!
What is witch hazel used for?
Skin Soothing
Facial toner
After Shave
If you have a rash or insect bites, witch hazel will do wonders.  The same is true for light burns.  As a facial toner, I have used witch hazel as a cleaner / refresher.  So it's summer and 35'C outside and you have been sweating for most of the day.  Pour a bit of witch hazel in a cotton ball and give your face and neck a wipe!  Damn!  Feel like a refreshed new person! And that feeling has some staying power, something along the length of a full hour.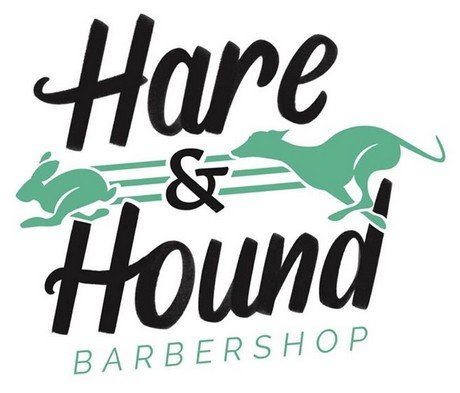 My first encounter with witch hazel was a number of years back where I used it to managed the pain and discomfort of a seriously irritated skin area.  Later on, finding witch hazel as an aftershave made perfect sense to me.
As part of my "old-school" after shave exploration, I have obviously worked with alcohol based splashes.  This eventually led me to encounter a considerably smoother aftershave solution – witch hazel.  This stuff makes for an impressive aftershave.  Think of it as a soothing cleanser.  After shaving your skin is at best irritated and cut, at worst.  Witch hazel will help repair and alleviate that discomfort.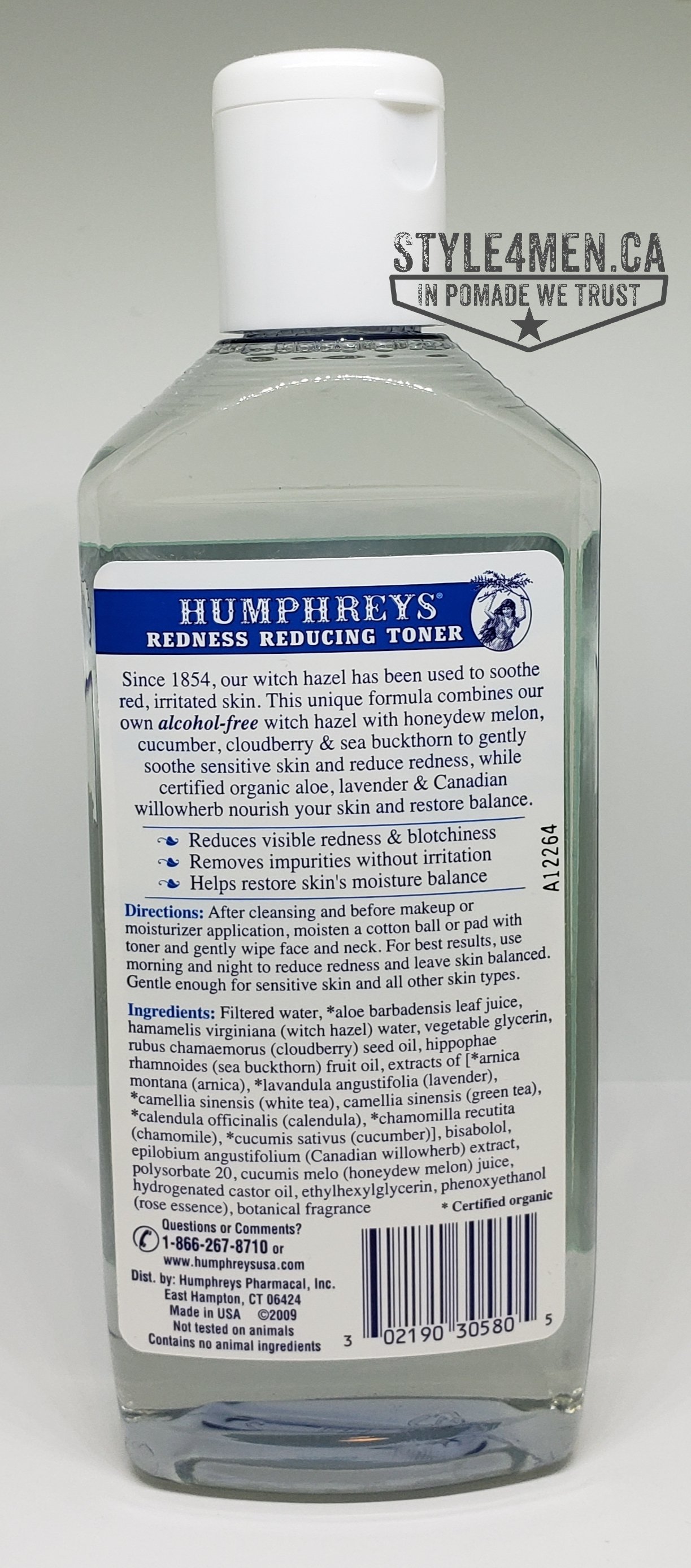 Applying witch hazel is incredibly simple.  Just pour yourself a small amount in your palms and splash it on to your mug.  You can rub it gently if you like.  It will be adsorbed and the rest will evaporate rather quickly.  As mentioned above, don't expect any stinging as this is smoother than water. In fact that is its number one property – it's takes sting and small pain away!
If we were to compare it, we could say that the actual sensation is similar to an aftershave balm in a liquid format.  It will leave your skin clean and refreshed while working its healing magic.
I typically shave with the following products:
Pre-Shave coconut oil
Old-School shaving soap
Old-school aftershave splash
In the context that the witch hazel is used as part of your shaving routine, it will be replacing your aftershave. The Humphreys solution is beautiful and does a great job of both cleaning the surface and appeasing it.  In fact, I am surprised every time I use witch hazel.  My skin feels good and looks good for the rest of the day.
On the fragrance side, Humphreys cucumber-melon arrangement is subtle and discreet.  The Thayers version by comparison is considerably stronger.  The scent of the Humphreys facial tonic lasted under a half hour making it an easy product to work with if you are wanting to sport a cologne.
If you have skin ailments or allergies to chemicals, witch hazel will be a God sent product as it is a completely natural product.
To sum things up, the Humphreys Facial Toner is a multi-faceted product and when used as an aftershave it will leave you nothing but impressed. Kudos to Hare & Hound for using Humphreys as part of their shaves and shout out to Tom at Hare & Hound for making this review possible.  In Ottawa, you can pick a bottle up at the Hare & Hound Barbershop.
For everyone else, you can use these links to shop on-line.