The silk treatment with Taconic Shave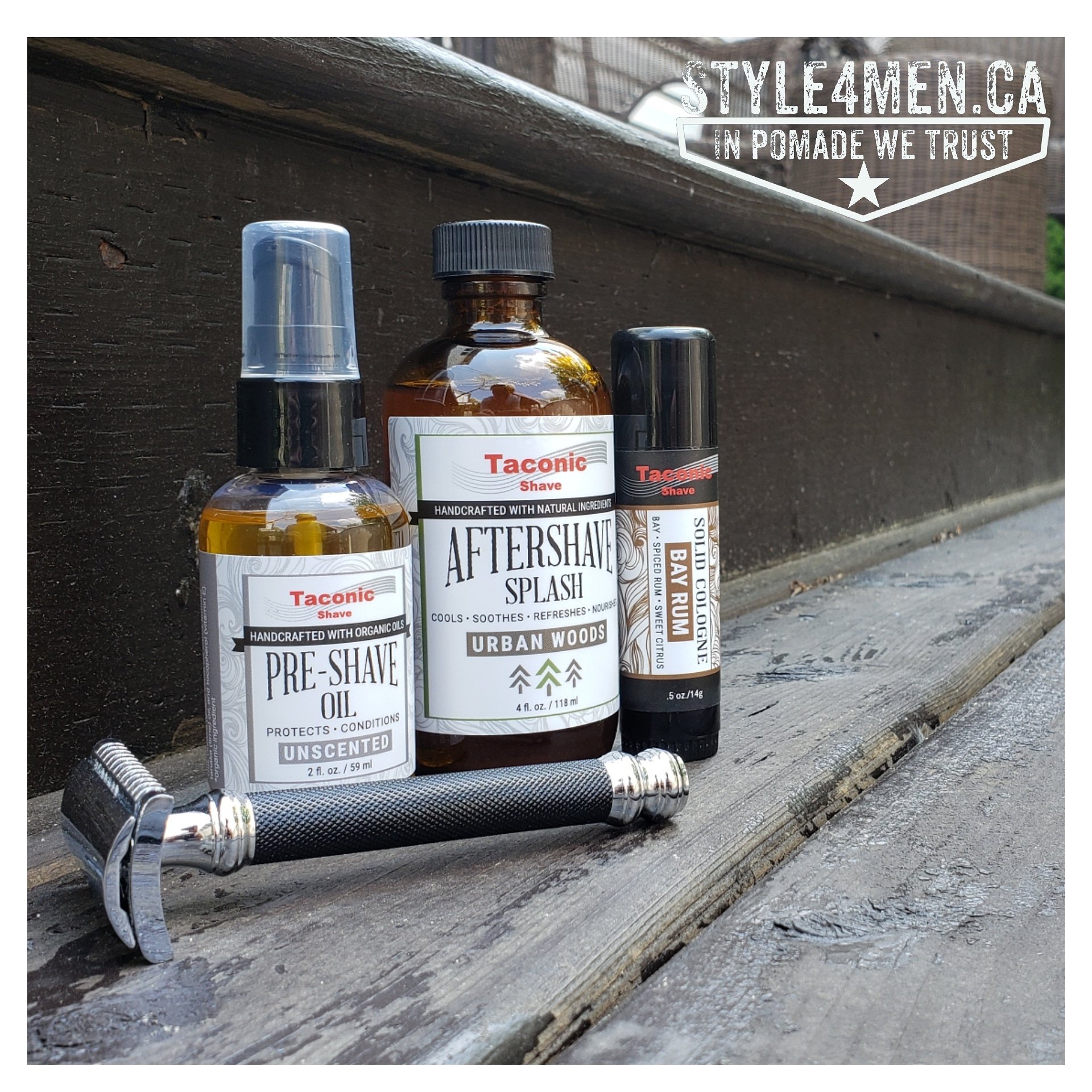 Today's review is covering some of the grooming essentials from Taconic Shave.  We are trying out the following products:
Pre-Shave oil – Unscented
After Shave splash – Urban Wood
Solid Cologne – Bay Rum
PRE-SHAVE OIL
For any regular here at Style4men.ca, you know about the benefits of using a pre-shave oil in your shave routine.  For everyone else, using a pre-shave oil will elevate your shave from a chore to a joy.  The skin of your mug will lap it up like a starving kitty does milk.  It will bring the much needed moisture to your irritated face and restore a balance you probably haven't felt and seen in years.
But let's get into the specific of what Taconic Shave brings to the table.  Up front, I like their bottle with a pomp head.  Most oils are shipped in classic bottles that only have a dispensing nipple reducer.  As far as I am concerned, offering a pump is a much needed addition as it eliminates the mess.  Nothing to open and nothing to close while your digits are oiled up.
The other big thing is the actual bottle size.  Most beard and pre-shave oils are sold in rather small quantities (10-25 ml).  The rational is that you really don't need that much, but never the less from a consumer point-a-view more is…more.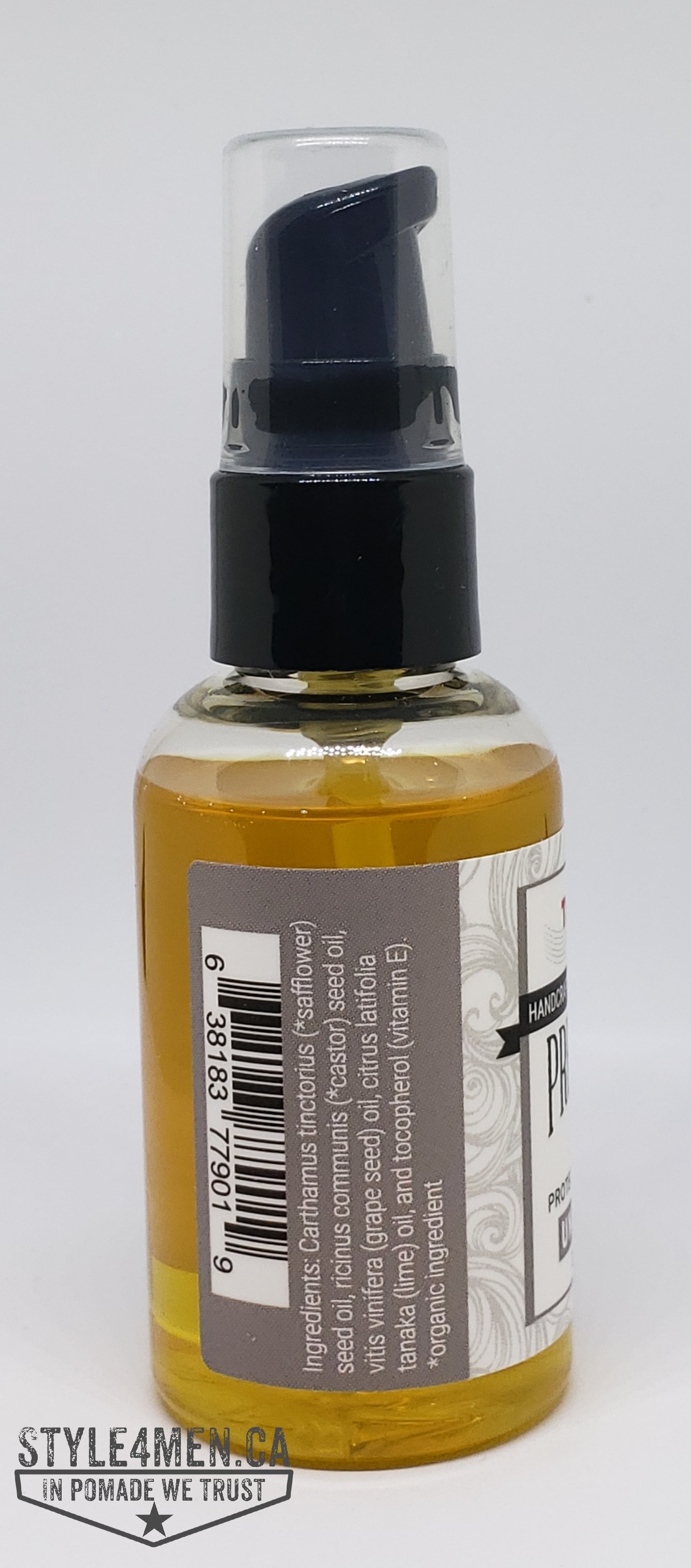 This pre-shave is unscented which we can easily argue makes allot of sense because it will be on your face for mere moments and will be covered up by a shave soap, washed off and then covered up by an aftershave.  So realistically, there is no point in getting creative with a scent at this stage.  The primary job at hand is to offer lubrication and help the soap or cream.
The pre-shave oil is a real oil wit ha nice yellow hue.  There is no attempt of denying its personality. It is a high quality product which covers well and has a bit more staying power than some of the other simpler formulations I have tried.  As stated above, the product is labeled as unscented, but some of the ingredients have a distinctive scent although quite mild.  There was something along the lines of pine or tea tree.
I used about 4 drops to cover my face for the shave. It spread easily without feeling slimy.  The oil on my digits dissolved nicely under hot water leaving them ready to hold a razor.
The whole thing is organic and contain saflower oil and grape seed oil which from my own experimentation agreed extremely well with my mug.  Grape seed oil also has a star on the skin care walk of fame.
AFTERSHAVE SPLASH
Taconic Shave does offer a number of shaving creams which come in either a jar or a bottle with a pump. Again with that pump! 🙂  That said, I do not have one for the purpose of this review.  I will thus have to turn to an alternative.  These days I am really enjoying the Black Fougere shaving soap from "Wet Shaving Products" and will stick with that one for this shave. It is thick, creamy and offers excellent coverage.
Up to about a year ago I was more or less closed to aftershave splashes.  I reasoned that the high alcohol content was counterproductive to being splashed on a freshly shave mug.  Alcohol dries everything up and kills all bacteria good and bad, therefore hindering the healing process.
Fast forward to today, my views have done a full 180.  Why?  Aftershave splashes offer some of the most original and amusing scents out there at a fraction of the cost of most colognes.  Having added a pre-shave oil to my shave routine, my skin is essentially shielded.  Whipping your mug with a wash cloth takes some of the oil off but an amount is left behind.  This is where the aftershave splash comes in as the alcohol will dissolve some of that oil.  It will also protect you from that notoriously nasty sting.
That said, not all old-school aftershaves are the same.  It can go from a simple alcohol and water concoction to a very creative composition including witch hazel.  The ratio of ingredients is a proprietary thing.  Finding something that works for you is key.  I personally enjoy solutions having one of these two key players: Witch hazel, Aloe Vera.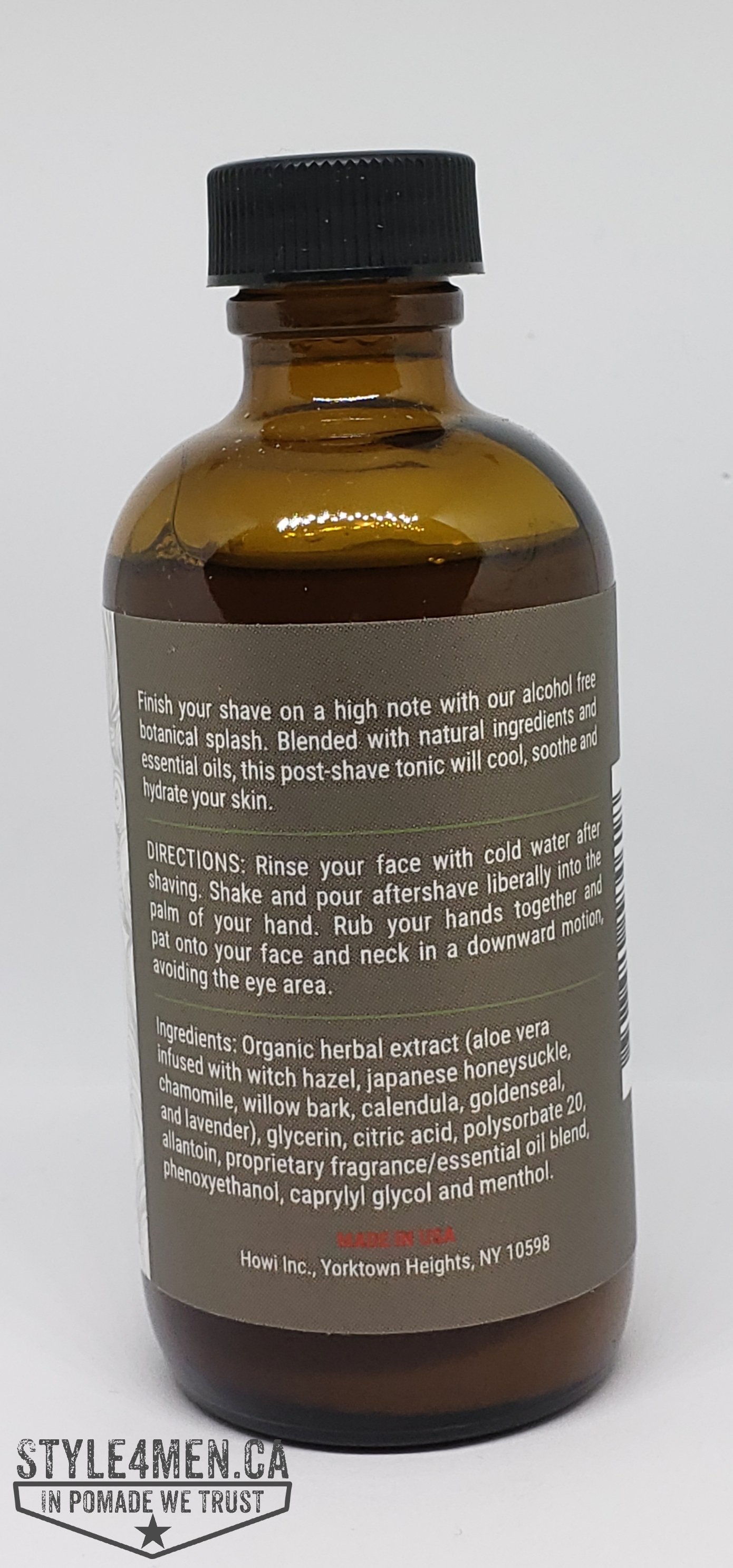 Taconic Shave takes things to the next apothecary level.  There is NO alcohol.  The top ingredients are aloe vera and witch hazel – check!  Both of these ingredients have their seat in the skin care hall of fame. There is also menthol in the mix, so if can't live without that cooling sensation which is provided by alcohol you will not be left hanging.  Note that it is perfectly tamed.
This aftershave was like velvet.  Witch hazel has a way of appeasing your skin like no other. My skin felt as if I had not just shaved. Yes, it was smooth but not irritated or aggravated.  If you have never used a witch hazel based aftershave, your skin is missing out.
The scent is labeled Urban Wood.  My nose detects something along the lines of lavender as the first aroma with wood being a further note. This is a down to earth and unpretentious composition.  Life can get pretty complicated.  Having an aftershave that isn't is something I enjoy on
many days of the week.
Summing up the shave, I give these products 5 stars. Shaving is an aggressive process and using a pre-shave that helps the blade move smoothly while protecting and nourishing your skin is a welcome experience.  Finishing thing off with this aftershave was like splashing on a velvety elixir of love that restored balance and harmony to my mug. This whole shave can be compared to: expecting a fight but ending up having a smooth whiskey instead. If you don't enjoy shaving, it is most likely because you haven't had a chance to work with the good stuff.  This is the good stuff!
SOLID COLOGNE
Last but not least, I tried out Taconic Shave's Bay Rum solid cologne. Historically, Barbers have made their own house blend of Bay Rum aftershaves.  It is only fitting that Taconic Shave offers that traditional final touch to their men's grooming product line.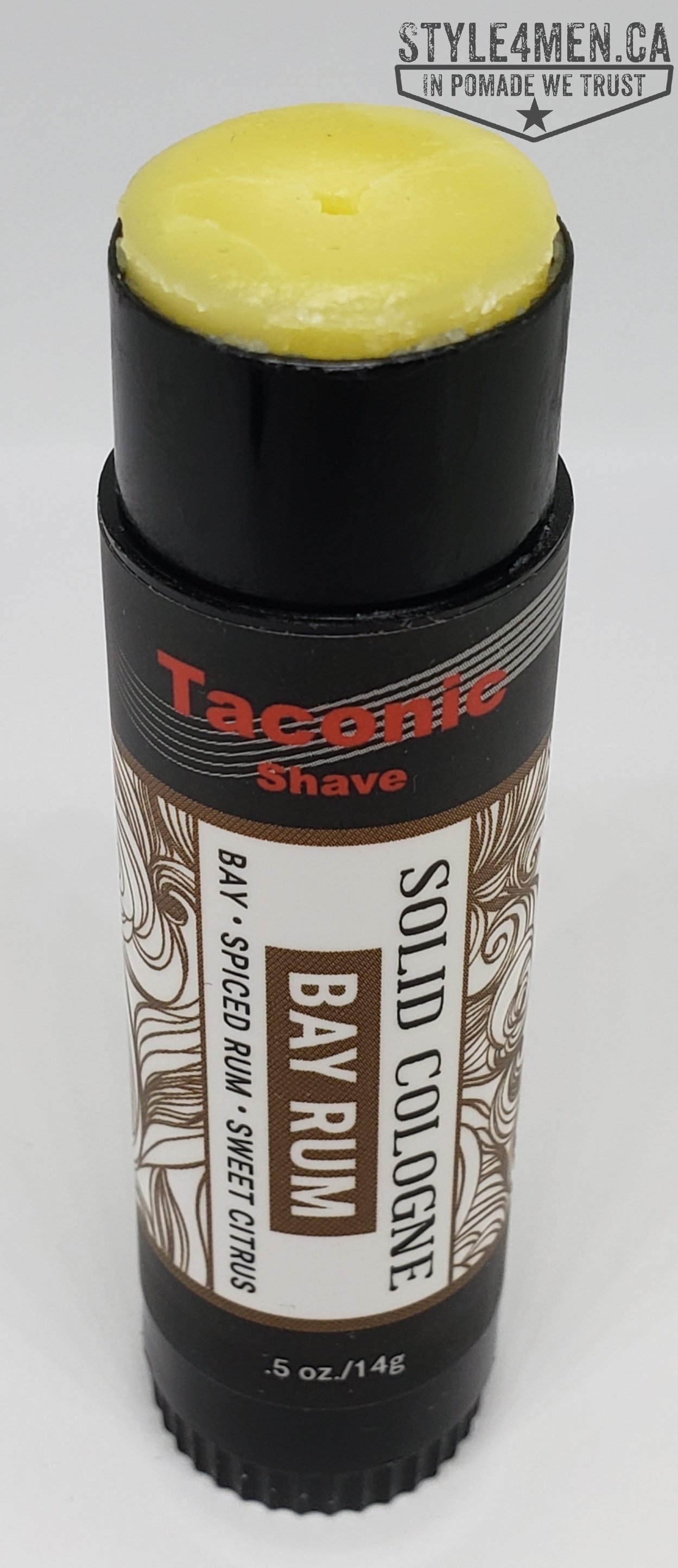 Again with this product, there are some worthy packaging innovations or improvements.  Typically, solid colognes are sold in a thin can jar.  I love the vintage feel this has, but that doesn't means that everybody should do the same.  Taconic shave has taken the route of the over-size lip balm stick.  This makes for a very easy product to work with.  Pop the lid and rub it gently in your favorite spots and put the stick in your pocket if case you want to touch things up later on.  Ridiculously simple!
The scent is labeled Bay Rum, but I initially smell something else.  I want to say frankincense, pine or maybe even tea tree.  I am not sure. I pulled out my Pinaud-Clubman Bay Rum after Shave to have a reference point.  I will say that this is a Bay Rum fragrance with a twist.  There is no point in copying others; you have to find your own sweet spot. In the Taconic Shave Bay Rum, I can certainly identify a spice element like cinnamon or cardamom and a sweet citrus.  This is a nice and warm fragrance.  Almost wintery.  Think warm and comfortable.  I have a vision of being wrapped up with my lady in front of a fire place while it's snowing outside.
If a cologne can trigger a memory or create a mood, it is a de facto winner as it has gone beyond just being a product and now has a personality.
SUMMING THINGS UP
In closing, the Taconic Shave brand impressed with its smooth, discreet and extremely efficient performance.  When you look at an old professional do what he does best, it looks natural, every move is well calculated and the whole thing looks easy not to say effortless.  The same analogy can be said here.  The products performed so well and made everything so comfortable that I almost didn't realize that I was putting a sharp steel blade to my throat.

Thank you to Sarah at Push the Envelope PR for continuing to enable us to do what we love.
You can shop for these products as well as a number of safety razor and more at the Super Safety Razor store: