Beard Care by the Rocky Mountain Barber Co.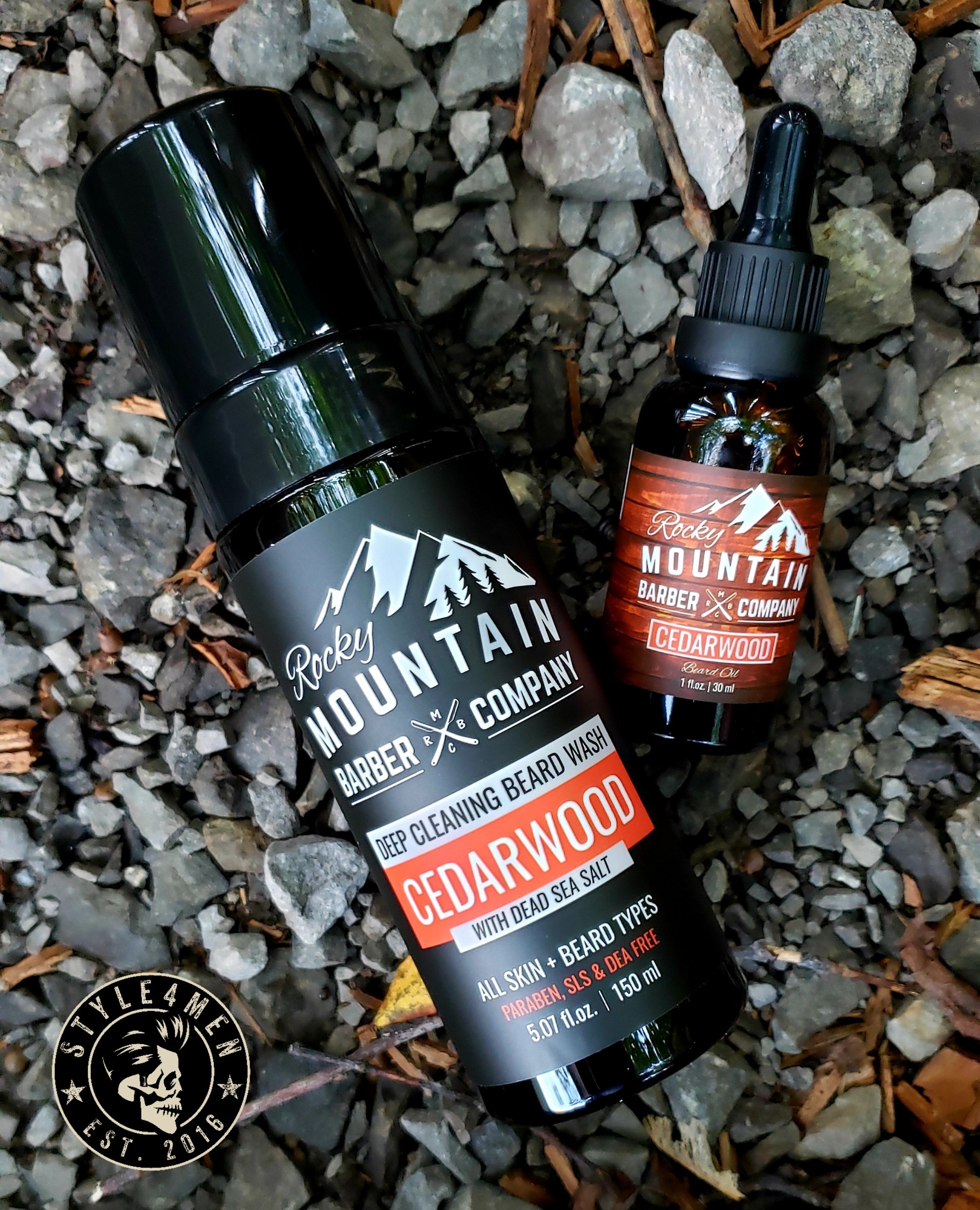 The Rocky Mountain Barber Company is a recurring brand on our platform.  We have featured almost all of their products to date.  Except for one category:  their beard care suite.  To remedy to that, this post will cover their cedarwood beard wash and beard oil.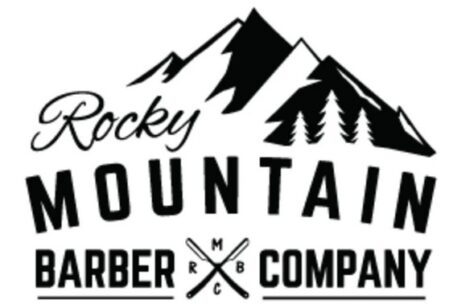 Use the "STYLE4MEN"" discount code when shopping with Rocky Mountain.
Most guys might not be using anything special to wash their faces let alone their beard.  I get it!  You're no Princess and if your body wash isn't good enough for your beard too – so be it! But maybe your beard is itchy and perhaps not looking as good or as inviting as it could be?  Just saying!
What is if I told you about something that would wash your beard in just the right kind of way?
Beard Wash
The first product I tried was The Rocky Mountain beard wash which comes out as a foam.   I usually wash my beard and face in the shower.  I also tend to favor products that can do a good job on both the face and the beard.  This should be a one product job.
The foam appears quite thick but is in fact lighter.  I found this to be a good thing when comes time to rinse.  This product came right off leaving absolutely no residue or film. This is something I can't say for many other beard washes.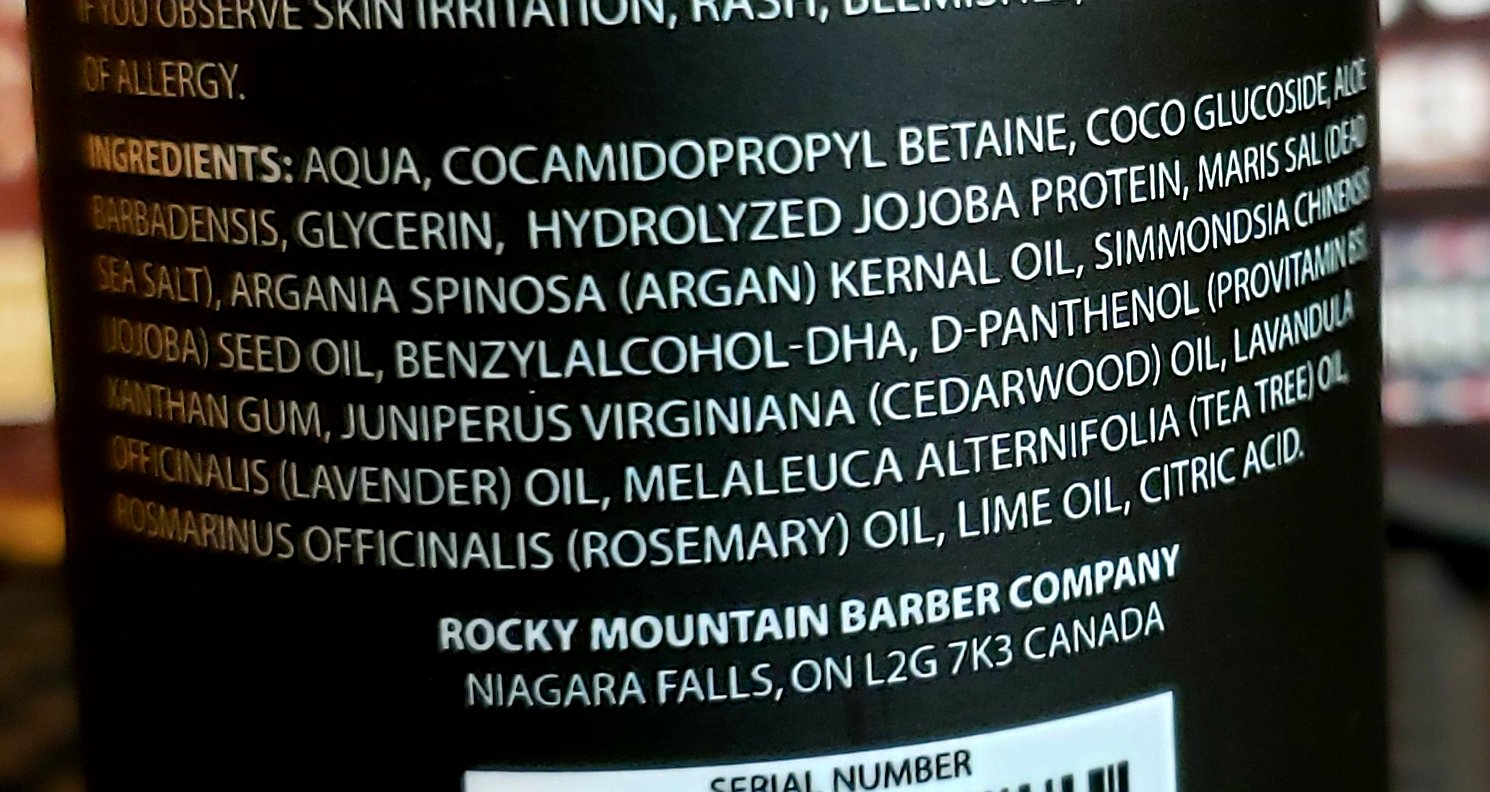 The foam was easy to blend into the beard as well as gently clean the rest of my mug. Rocky Mountain has been one of my favorite brands when it comes to fragrance. Their sandalwood for example is deliciously rich.  I have thoroughly enjoyed it in their shaving products.  But it made sense to explore their other scents and I opted for their cedarwood for the beard products.  In the beard wash, you will find a classic cedarwood aroma with a slight touch of spices like cinnamon or cardamom.  The aroma is also milder than I was expecting but this makes sense as it is a beard wash after all and not a cologne replacement.
The product left my face and beard feeling good.  I felt clean and smooth.  Not dry and itchy.  Our face is exposed to everything all the time and as such needs a good regular washing.  But the skin here is considerably more delicate than on our hands and needs a product with oils and moisturizing properties.  Granted I am going to be putting beard oil afterwards, but it's great that things aren't dire coming out of the shower.
Beard Oil
Up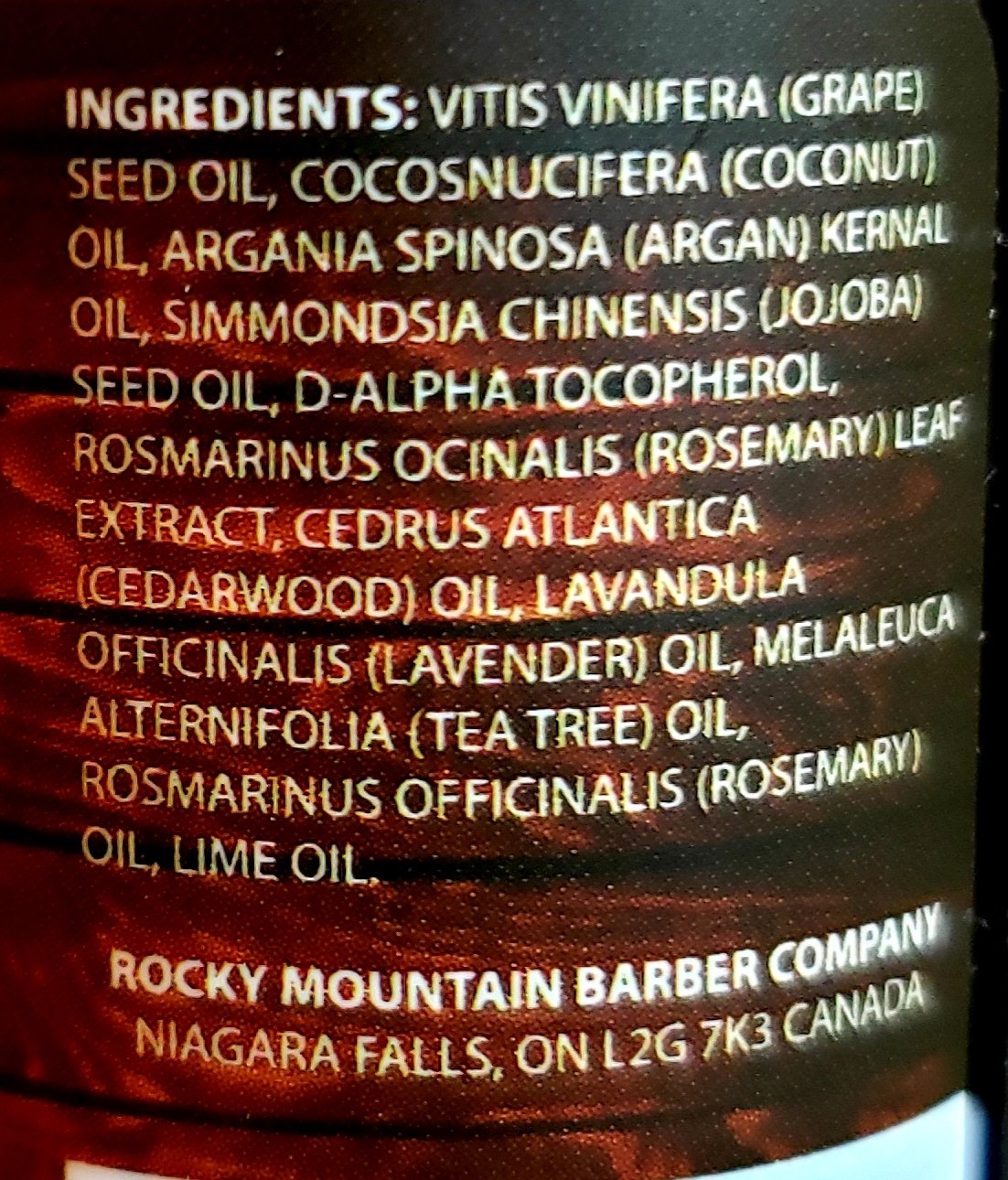 front, I will say that this oil did an amazing job of moisturizing my beard and making me feel comfy all day long.  The absorption rate of the oil was also rather quick.  Something like 75 minutes.  I measure this by the amount of oil on my fingers if any when touching it after an application. You would be surprised at how often we touch our faces.
My beard is kept fairly short at about 1 – 1.5 cm.  That being the case, 1 good drop per side does a good job of covering the beard, cheeks and neck area.
I want to bring your attention to the quality ingredient list of this concoction: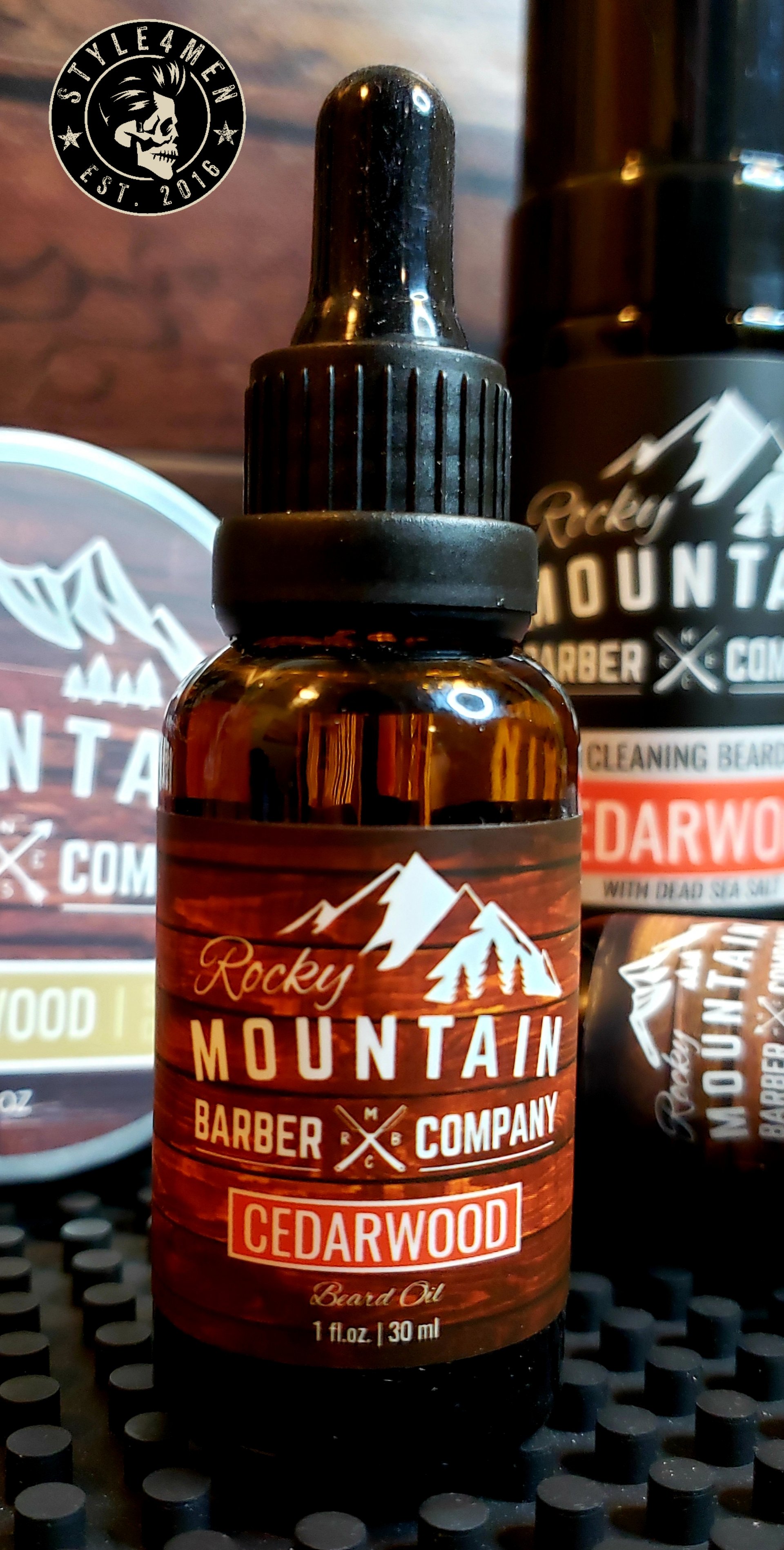 These are among if not the best natural oils out there.  Click the links and see for yourself.  The benefits are amazing.  At $20 for a 30 ml bottle this product has a median price point, but based on the ingredient list you are getting a top shelf beard oil.
I have worked with this oil for the past week and half and have been impressed with its moisturizing capabilities and for that it will get full points. As I have mentioned in a number of the beard oil related posts, I essentially see beard oil as the bearded man aftershave.  As such, the aromatic qualities are just as important as its hair and skin benefits.
To date, all of the Rocky Mountain scented products I have tried have sported a rich and flavorful fragrance.  As mentioned above, I am specifically thinking of their sandalwood shaving products.  Yuummm!  Since I wanted to work with a beard wash and oil of the same fragrance while also being something different than the sandalwood, my option was to go with the cedarwood.
In the case of the beard wash, the cedarwood fragrance is unmistakable.  In the case of the beard oil, sadly, I can barely identify it. Now, I have to take some blame as my nose has been acting up over the past few days and this could entirely be me.  That said, the dominating aroma that I identify is tea tree.  This is a fresh, green and pleasant scent.  The down side of tea tree is that it has a tendency to take over and mask other scents.  Not that cedarwood is a shy aroma, but it would appear to concede the floor in this case.  Since I am a big fan of Rocky Mountain scents, I am a little disappointed to not get more cedarwood.  As my nose clears up, I will revisit this.
Rating
Here is the score card (on a scale of 5) for this beard oil:
Composition: 5
Aroma: Needs to be revisited
Performance: 5
The Verdict
The Rocky Mountain Barber Company brings us yet another solid offering among their impressive grooming range.  The beard wash foam does an excellent job while rinsing off quickly and residue free. The cedarwood fragrance is designed to be enjoyed at that moment.  The beard oil is composed with the best natural oils for beard and skin and lives up to that quality-bar.  I was expecting a bit more cedarwood fragrance in the oil, but it's not at all a deal breaker. I am thinking that I need to add a bottle of bamboo scented beard oil to complete the set.
You can pick up Rocky Mountain products at Amazon.