Beard Care Essentials by Crown Shaving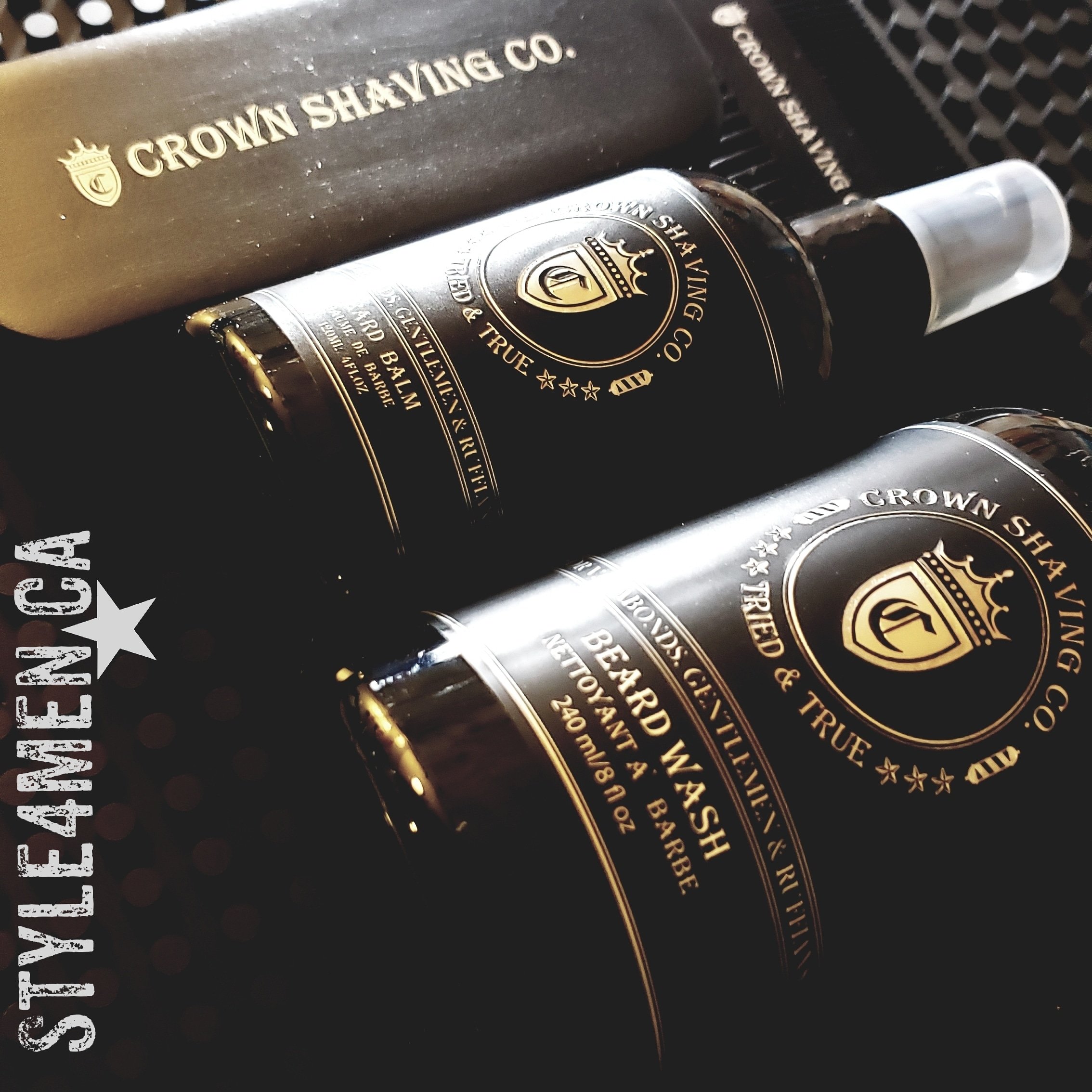 As of late, we have been featuring more beard care related products.  I have to say that I have been blown away with the reception of these posts.  They are among some of our most popular. Given that there is such an interest in this product area, I figured that I would feature a brand that has taken men's grooming to the next level of refinement; Crown Shaving.
Over the last couple of years I have had the privilege of working with Crown Shaving and trying many of the creations coming out of their Toronto lab.  Every time, there has been a number of memorable take-away and I will take their elegant presentation as a given.  I am referring to things like: ingredient selection, fine-tuned aromas and overall performance.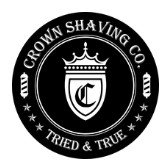 Crown Shaving is not a brand that you will see advertised.  Up to some extent it is for the initiated.  In other words, those of us who frequent Barbershop and other establishment who make men's grooming their business.  My own fist contact with Crown Shaving was in the summer of 2017 when I took in a full service straight razor shave at the Crows Nest in Kensington market in Toronto.  I was so impressed with the products used by my Barber that I reached out to Crown Shaving to learn more. This was the beginning of a long standing relationship.
Crown Shaving offers products well beyond the "shave" space of your cabinet.  The range covers everything a gentleman would need, from the hair paste to the mouth wash.
Since sporting a beard is relatively new to me, I had not really looked until now if Crown Shaving had any items in this category.  Yes, they have you covered in this area!  My though process was as follow: If all of their products I tried thus far are top notch, wouldn't their beard gear be in the same league?
Here are the items offered as part of the beard care suite:
Beard Wash
Beard Balm
Beard Brush
Beard Comb
As stated above, the packaging/presentation of the brand is unmistakable and this remains true here. It's simple, manly and elegant! Qualities a Gentleman should aim for, in my opinion.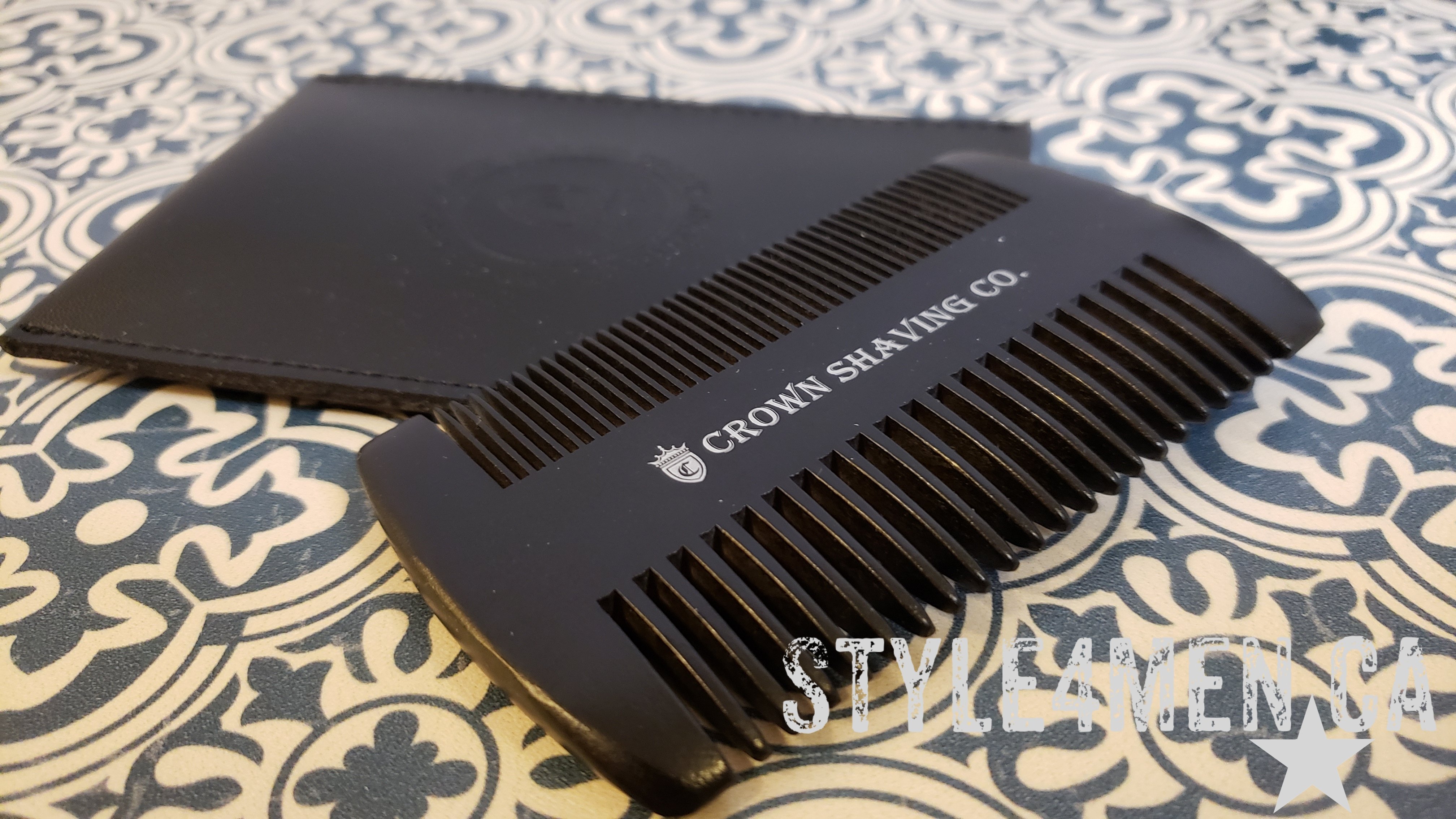 For the better part of my life, I have been a shaver. Yes, at some point in my younger days I grew a beard, because I could.  But at the time beards were not a thing nor was there any readily available products to embrace beard comfort and grooming.  Fast forward to the past 6 months and I have embraced the whole beard experience.  Granted I still keep it short as I am ill prepared for the new sets of responsibilities that come with all of this awesomeness.
BEARD WASH
Something that doesn't get the respect it deserves is beard shampoo or beard wash.  Yep! I hear you back there and I was saying the same thing – "Come on!  Beard Wash?! " Here is what I experienced.  As part of my shower I generally use a face wash.  It's a habit I started in my teens when I trained allot.  The goal of most face wash is to remove gunk from your pores since our faces are exposed to everything every day!  The assumption and the design of these products is to clean "delicate skin", not beard or hair.   What I realized now that I have a beard is that my face wash was stripping all the moisture and natural oils out of my beard, leaving thing very dry and consequently quite itchy.  As soon as I started using a beard wash, I immediately noticed that this did a very decent job cleaning my face but did wonders on my beard.  It felt smooth and comfortable, just like a quality shampoo.  Yes, a beard wash is a face wash for bearded men as it does double duty.  You don't have to use a face wash and then a beard wash.  You could, but why would you?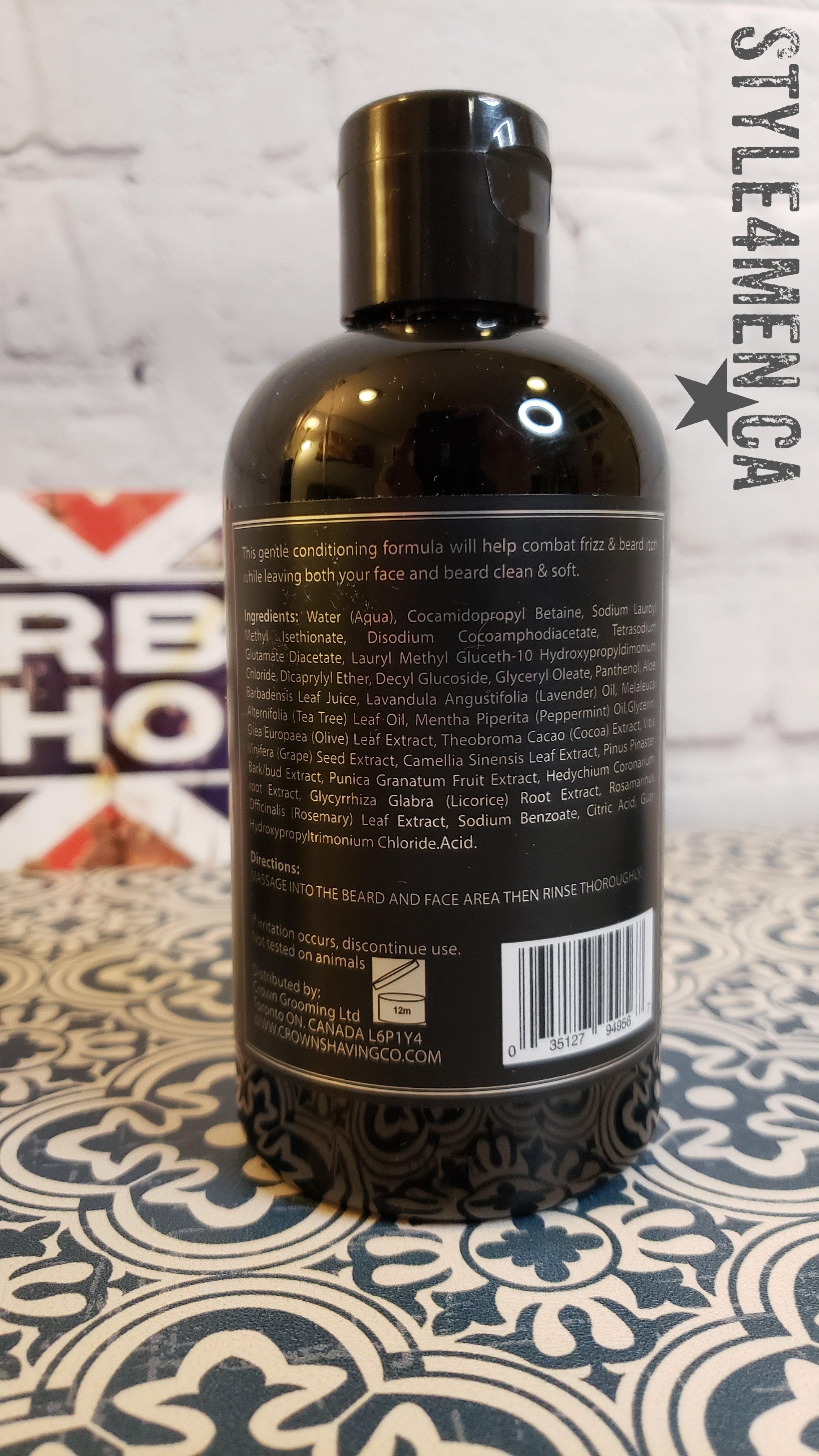 The Crown Shaving beard wash was a winner for my face as it agreed with my skin and beard hair. It's a smooth operator. I had previously worked with their body wash and I recognized allot of the same properties I enjoyed: good suds, smooth cleaning, easy to rinse off, leaving my skin and now beard, feeling comfortable and hydrated.
As with all products produced by Crown Shaving, there is always a little something for the nose and the beard wash is no different.  The scent here takes a different direction as it is more focused on freshness.  Think along the lines of: tea three, peppermint, licorice.  It is quite original and pleasant.  Taking into account that this is a face product, the intensity is of the fragrance is appropriately toned down.
BEARD BALM
Up front as you might have seen in the product presentation video, the beard balm stands out with a few differentiators.  In the beard care space, the common product is beard oil.  Crown Shaving has tackled the problem from a different angle, by producing a beard balm.  In itself, this is not quite a balm but rather a cream.  The fact that this product is a cream offers a few perks: 100% mess free and zero sliminess.
If you have used Crown Shaving products before or read some of my other posts covering the brand, you know about the fabulous signature scent.  The beard balm continues on that glorious path.  I will say that the aroma is not as strong as some of the stronger scented beard oils, but I will say that you nevertheless get a couple of hours of fun out of it.  The scent is also joined by another cool friend; Aloe Vera which bring an element of green freshness creating something new.
I have suggested in other posts that beard balms/oils are the bearded man's equivalent of the aftershave. In the context where aftershave generally offers a fragrance.  Beard balms/oils just like their aftershave counterparts come in different scents and different intensity and that is a good thing as you need things for every side of your complex life.  Bottom line, if you want more of that scent, you can always get a stick of the signature cologne to complete the job.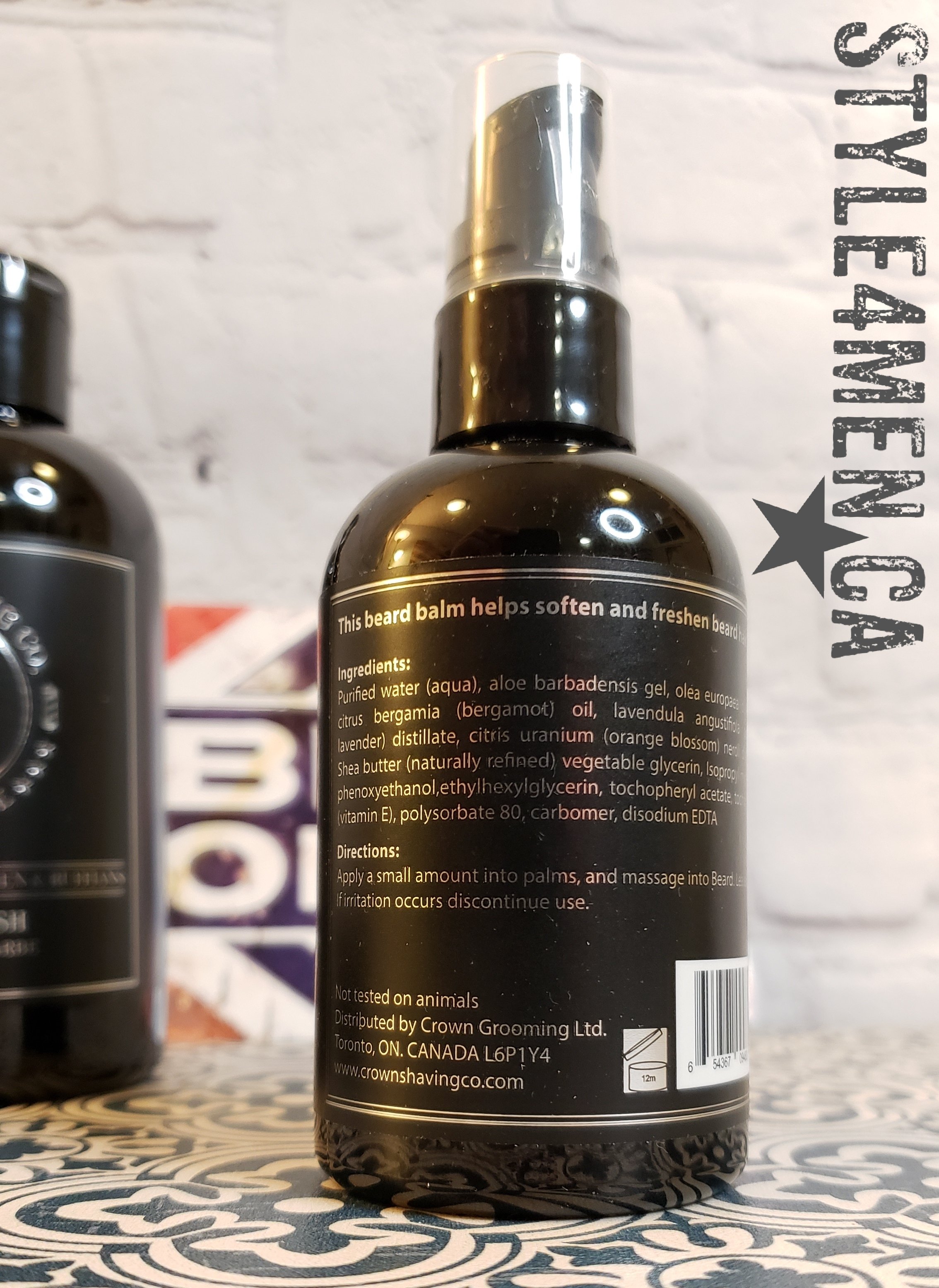 But I digress!  Blending a cream in your beard is considerably simpler than you might expect ad entirely mess free.  It is easily and quickly absorb by the beard and skin.  The dispensing pump is built in such a way to produce an appropriate amount of cream: not too much and not too little.  Quantity wise I dispensed 2½ portion for my short beard.  As a comparison, I would have used 5-6 drops of an oil.
Considering the size of the bottle being 120 ml and even though you might be using more per application, I suspect that it would last you longer than the standard 30 ml beard oil bottle at 5 – 6 drops per application.
Now for the only real important piece of business you want to know: How did this balm perform?
The balm lives up to the Crown Shaving name and delivered a smooth and comfortable experience.  I applied this stuff around 7 AM and 8 PM I haven't felt any tugging or itchiness coming from my beard.  It has been perfectly smooth.  The beard is nice and soft.  Furthermore and this is winning argument, there is no oily residue in the slightest on my fingers after touching the beard making for a very clean experience.
One of the key and recurring ingredients in Crown Shaving products is Aloe Vera. The restorative and revitalizing properties of this gel like sap has been known by the Egyptians for some 6000 years  and it still impresses today.  Most of us know Aloe Vera as "THE" sunburn fixer. But Aloe Vera is said to do even more: repair dead skin cells, promote hair growth and to be a great hair conditioner.
BEARD BRUSH
When I unpacked the beard brush, I more or less assumed that my beard was too short for this tool.  But Style4men being about "testing" I had to try it anyway!  Well, that was pretty darn cool!  The brush is surprisingly gentle while still being firm enough to offer a nice brushing.  It's almost like a little beard massage.  Crown Shaving offers 2 beard combing solutions; a brush and a comb.  I believe that the brush is an ideal candidate for both a short and long beard, while the comb is more geared to the long beard.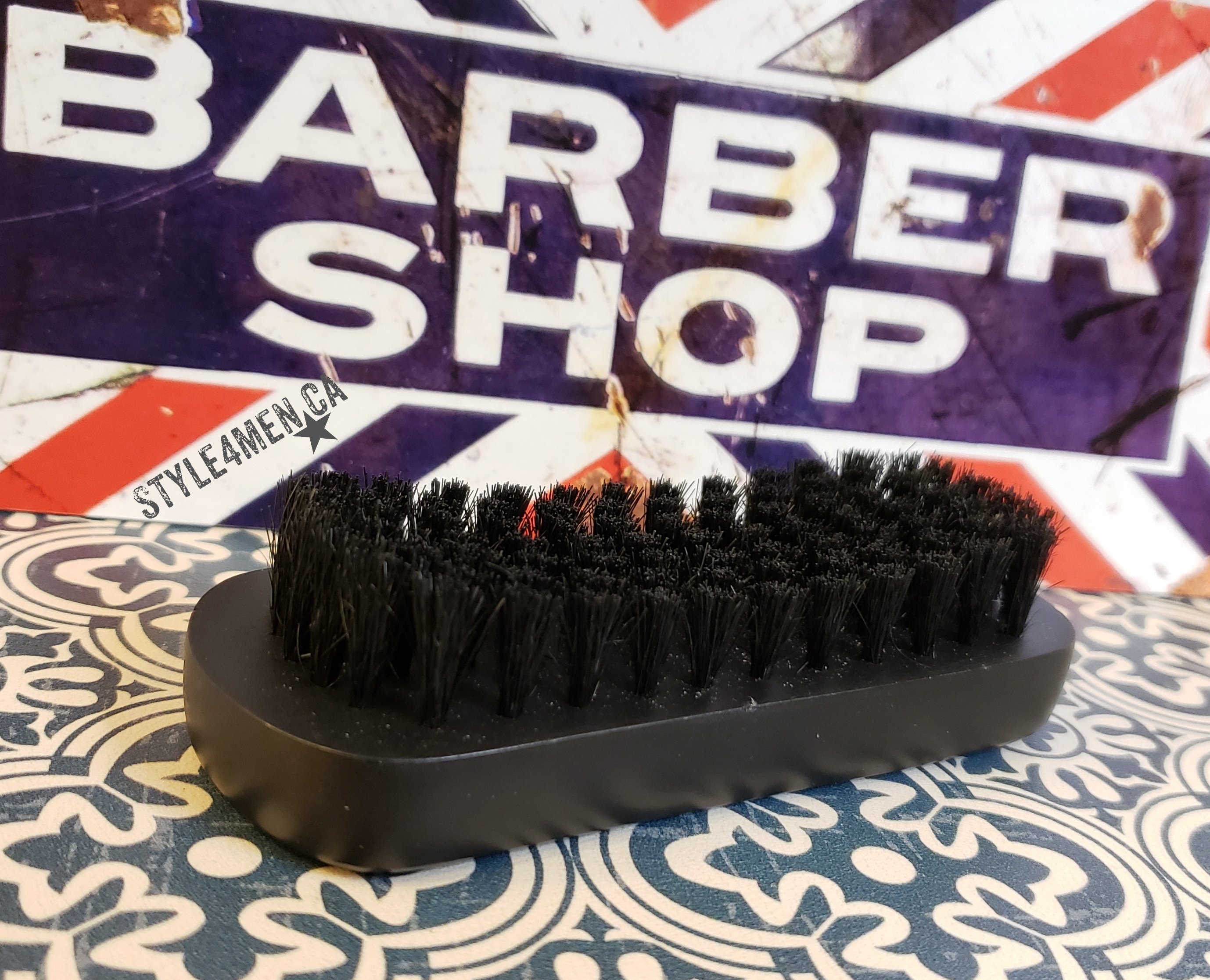 The brush is beautifully crafted along with a rounded brushing surface to fit the contour of your mug.  The brush strands are between 1cm and 1½ cm. You will use the brush for the obvious brushing which will serve to straighten out your beard, to stimulate the skin underneath and finally to collect any death hairs.
A tip from the Pro's is to apply your beard balm (or oil) and then do a brushing as to spread the moisturizing ingredients.  Basically, if you have a beard, spend a few bucks and get yourself a proper beard brush like this one.  It will elevate your game while being good for your mug.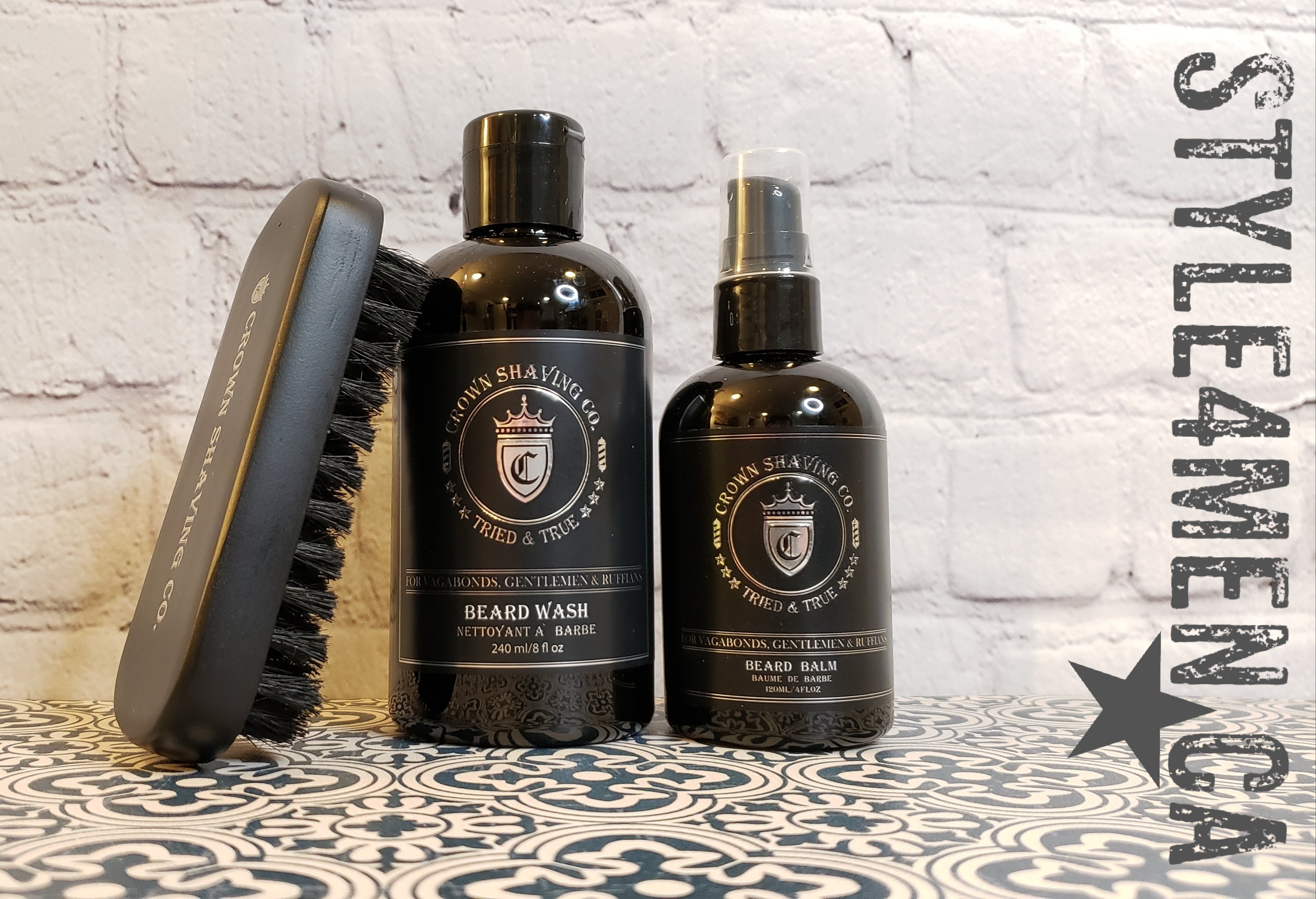 Summing everything up
Using these beard products brought me back to my first contact with the Crown Shaving brand in the barber's chair at the Crow's Nest.  A sense of surprise with how good the whole experience made me feel.  Something I always praise in my reviews are brands that offer the full range of products for a giving grooming space as these products are developed to work together and work together they do and very well at that. In many respects, each bottle feels  like it was custom made just for you.  In short, a joy!