Beard Oil by Kempt Beard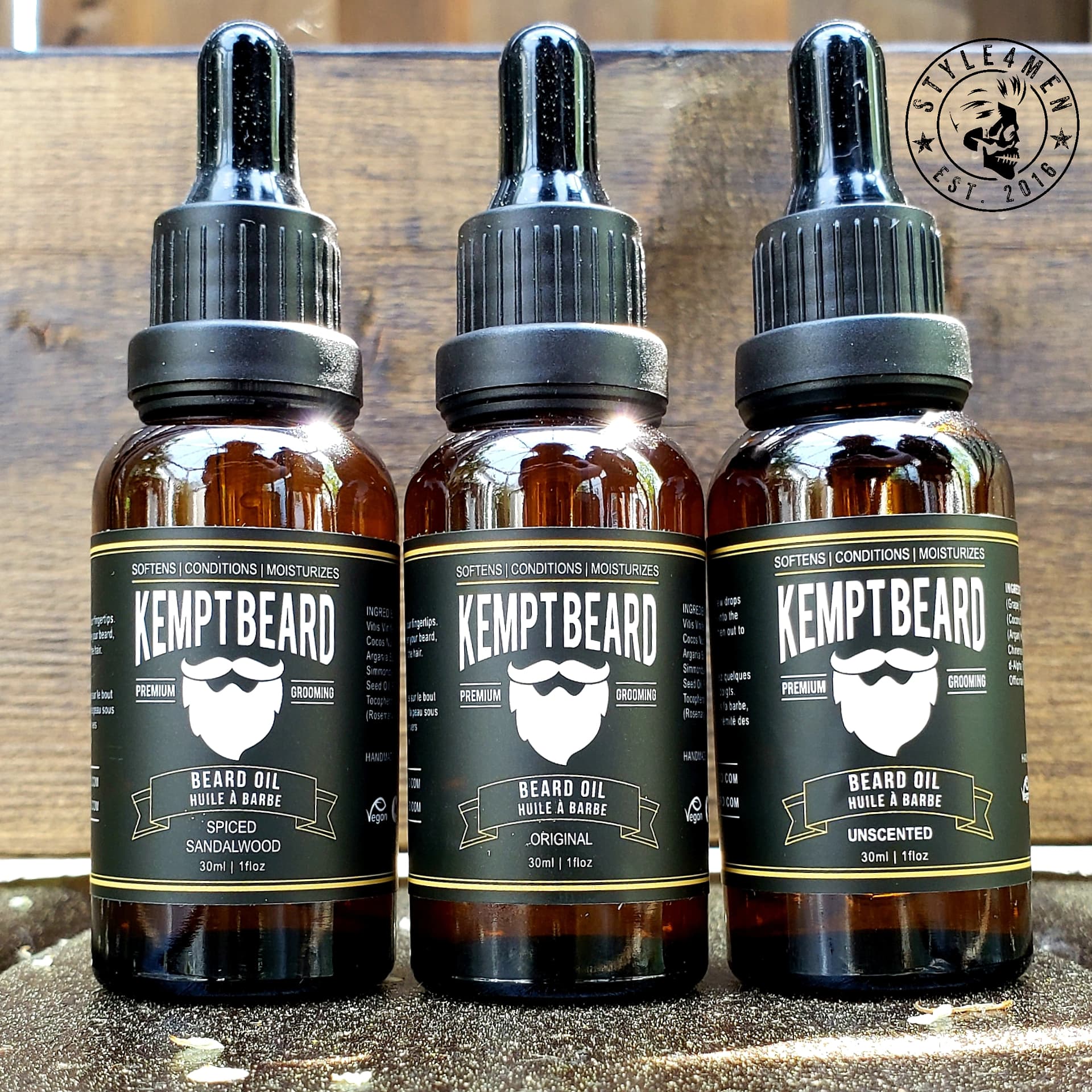 Kempt Beard is a Canadian project offering: beard oils, balms, a beard wash and a brush/comb.  Basically, everything you will need to keep this beard tip top.
In this post I am going to focus on the beard oil side of things.  When considering a beard oil, I always focus on 2 main aspects: ingredients and fragrance.  Since this product is going on my face, I want to keep the party as natural as possible. I personally see beard oil as the bearded man's aftershave and why wouldn't you enjoy a little olfactory humpft?!

Kempt beard wins me over on both these criteria's!  First, it's a short and natural ingredient list.  Check the benefits of these oils for yourself.  It's flat out impressive.  In fact these 4 are among my favorite natural oils.!
• Grape seed oil (moisturize and acts as a cleanser)
• Coconut Oil (moisturize and seal hair)
• Argan Kernel Oil (prevents hair loss)
• Jojoba Seed Oil (strengthens hair)
• Fragrance
• d-Alpha Tocopherol (vitamin E)
• Rosemary Leaf Extract
On the fragrance front, Kempt Beard did a great job with their 3 offerings:
• Original: To me, this comes out as a delicious and classic sweet tobacco.  A fragrance I do not tire of.
• Spiced Sandalwood: This one really stood for me as I love sandalwood.  The intensity of the fragrance is a bit milder than the original, but still delivers a rich and sweet sandalwood with a touch of what I believe might be cinnamon.  Classic with a twist!
• Unscented: For the folks with restriction with fragrances, this one delivers all the goodness in a scent free option.
Catch my Instagram Unboxing
For my short beard, 3-4 drops does the trick to keep me smooth and itch free all day. I also appreciate the rather fast absorption rate of this oil.  Often, natural oils tend to linger before being taking in by the beard and skin. The fragrance has great staying power: 2-4 hours.
In short, the Kempt Beard Oils fits among the best beard care products made in Canada.
Looking for more?  Catch my Instagram review of the Kempt Beard Wash