Beard & Tattoo oil by Clubman-Pinaud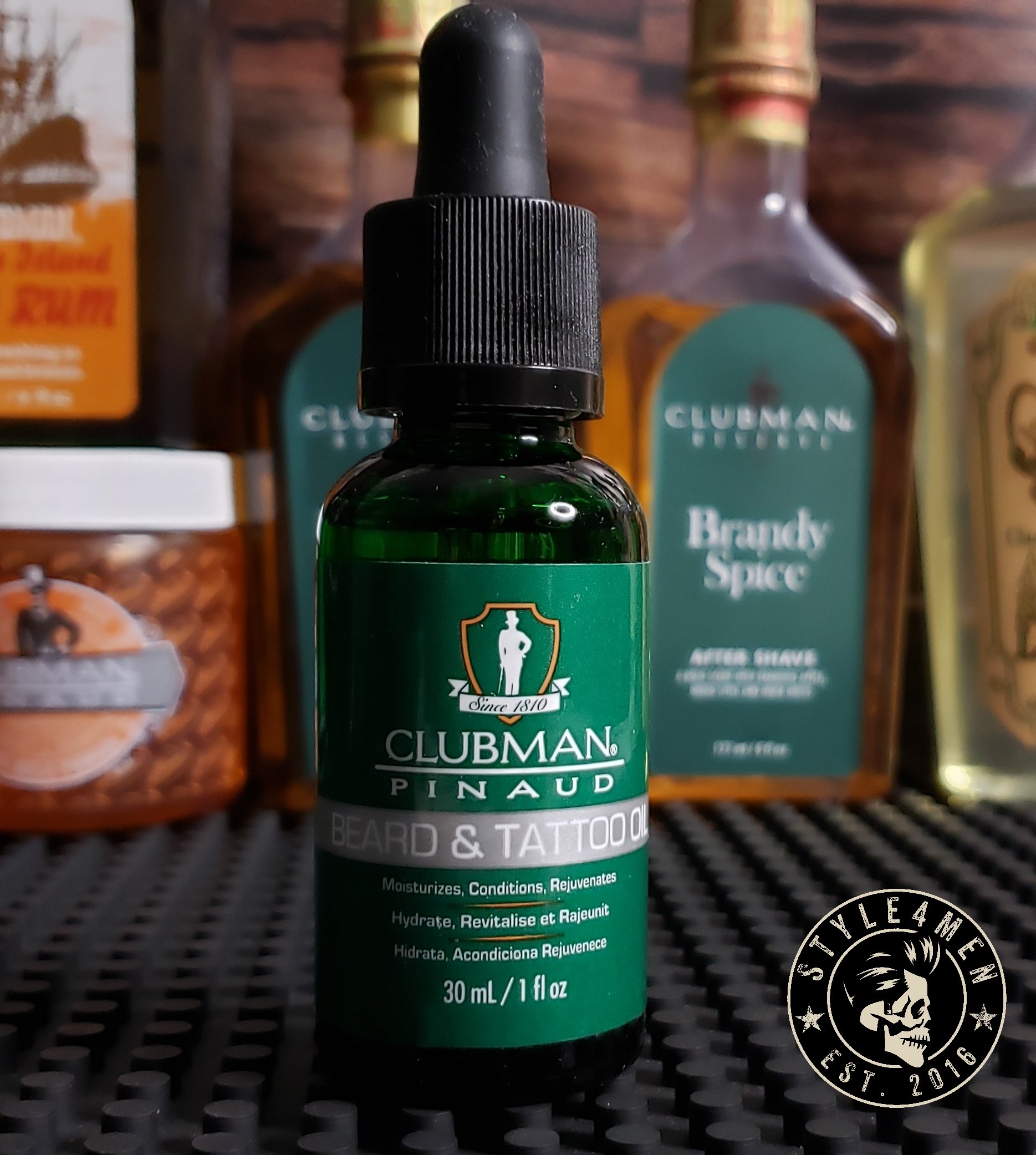 If you are interested in Barbershops and old-school grooming, odds are that you have encountered the Clubman-Pinaud brand at some point.  Clubman-Pinaud has a long tradition in men's grooming dating back to the Paris World Exposition of 1900, where they Edouard (Ed). Pinaud introduced the then novel hair Brillantine.  The rest is history!
Being passionate about all things "Barbershop" and early to mid-20th century, it goes without saying that I am a fan of the Clubman-Pinaud brand and have thoroughly enjoyed their aftershaves, body powders and pomades.  Over the past  8 to 10 months, I have joined the ranks like many other men and started sporting a beard. As part of that I obviously started trying out beard oil and sharing my findings with you through this blog.  My quest for the perfect beard oil has taken me down a number of different avenues before it dawned on me that Clubman-Pinaud might have an oil as well?!  Wouldn't you know it, they do.  In fact, they have two: a beard oil and beard/tattoo oil.
With that being out in the open, I visited my local supplier of Clubman-Pinaud products in Ottawa: OBSCO.  They had the Beard & Tattoo oil on hand and I picked up a bottle for around $10 Cnd.  In the US it goes for $8.50 on the Clubman.com site.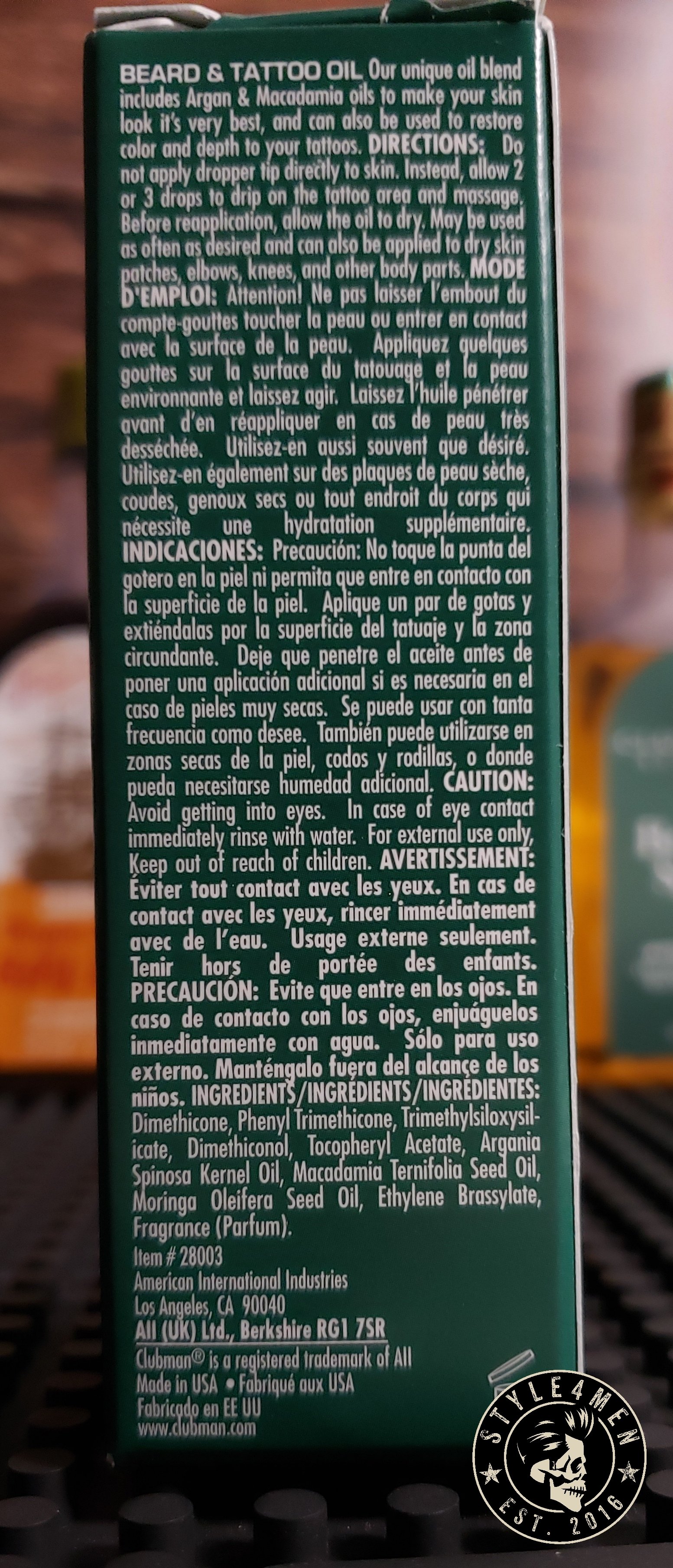 It is packaged in the traditional Clubman-Pinaud fashion, all green!  I was actually pretty interested in this dual beard and tattoo objective.
So let's get into it! First off, this is a nearly unscented product.  Considering it dual duties, this makes sense.  No one is really expecting their tattoo oil to replace their cologne.  In my case, I like a little fragrance in my beard oil since I more or less see this as an aftershave for my beard.  Secondly, this product is thicker than what I have seen with beard oils in general.  In of itself, this is nothing more but an observation and irrelevant if performance is the same or better.
Product intro on

The thickness of this product makes is such that when applying it, very little is required. The application on/in the beard was very typical. The product left residue in my hands and a hand wash was required. Then I started to notice that the oil was not being absorbed as quickly.  It felt like the oil was more or less staying on the surface of the beard and skin. My fingers would collect oil when touching the beard.   It took at least 45 minutes to an hour for the oil to dry or be completely absorbed by my beard.
Performance wise, it moisturize the surface but without really penetrating.
OK so if it didn't do perfectly as a beard oil, how was it as a tattoo oil?  Pretty much the same.  It gives the skin an excellent skin which brings out contrasts in the tattoo, but again, it does really gets absorbed.
Here is the score card (on  scale of 5) for the Beard & Tattoo Oil:
Composition: 2
Aroma: NA
Performance: 2.5
As a whole, I dislike the sliminess of oil, but considering the incredible benefits of most natural oils for the both hair and skin, it is an acceptable trade off.  Since many beard oils out there do not leave a residue, it is usually a win-win!
Ingredient wise, you will find argania spinosa kernel oil, macadamia ternifolia seed oil moringa oleifera seed oil, but these are preceded by demithicone, phenyl trimethicone and a few other chemical participants.  As these man made ingredients are first in the list, that also implies that they are in the largest quantities leading us to understand that this is mostly a chemical beard oil.
In closing, I am somewhat disappointed that this oil by Clubman-Pinaud didn't work out for me.  Having loved every product of theirs I have tried, I was expecting to continue on that same path.  Considering that many natural oils commonly used in beard oils are readily available and affordable, I am also disappointed that Clubman-Pinaud did not opt to go this route.