Every Man Jack's Sandalwood Beard Oil – Yum!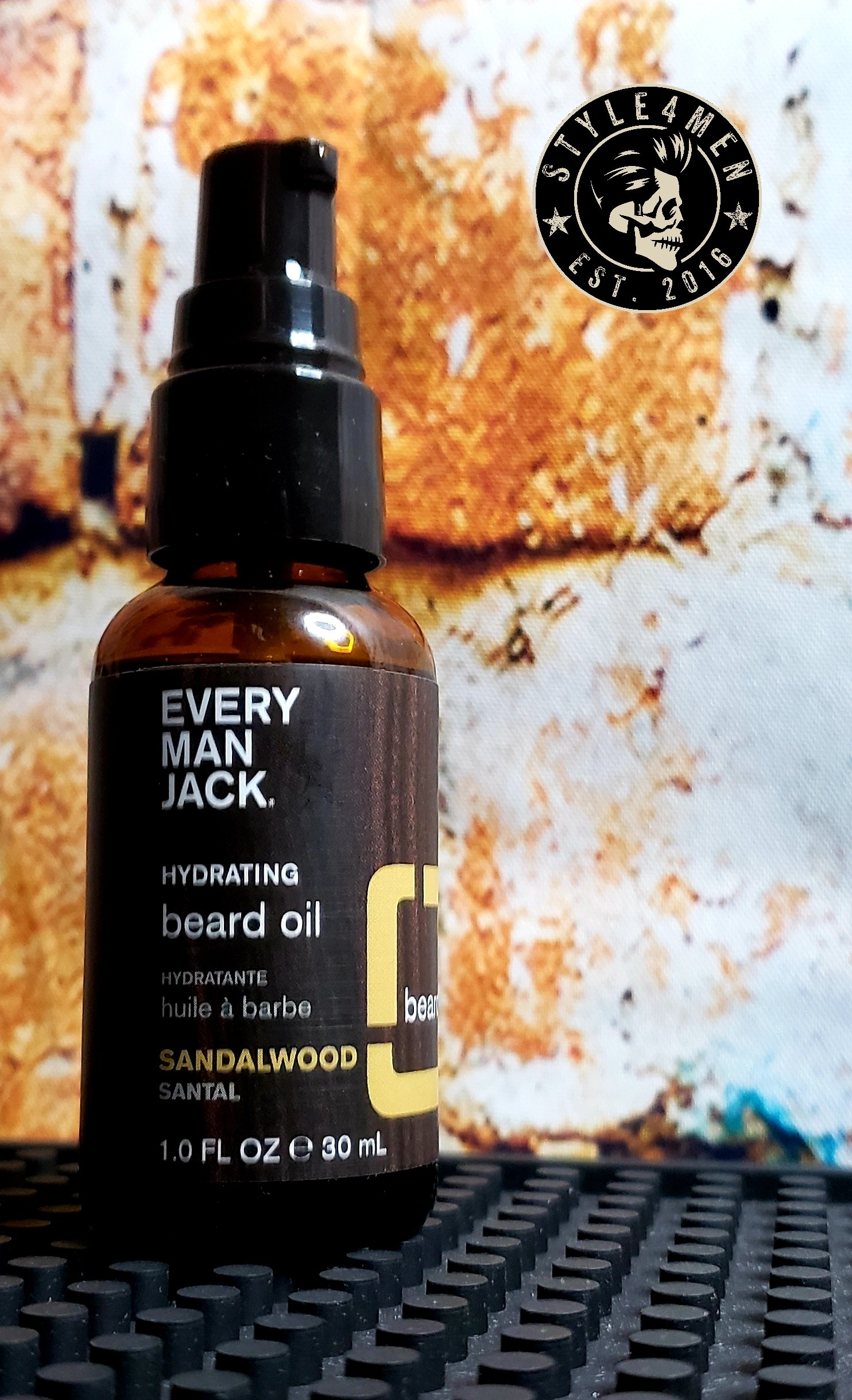 Every Man Jack is a brand I started following about 2 years ago and that has consistently impressed me with quality products at affordable prices.  Every Man Jack has also gradually been easier to find in Canada at both your local pharmacy and Walmart.

One of the products segment I have been aiming to feature as much as possible are the beard oils.  Every Man Jack offers at least two that I am aware of:  sandalwood and cedarwood.  In my region, the sandalwood scented beard oil was available at my corner pharmacy and I picked up a bottle for $17.  Walmart generally has better pricing, but I picked it up at the pharmacy out of convenience.
Our other reviews covering Every Man Jack Products.
The oil comes in a nicely branded box with that faux wood finish that is easily recognizable.  I personally liked it allot. The bottle inside is the standard dark amber 30 ml glass which goes very well with the brand colour scheme.  EMJ has opted for a pump instead of a drop counter which is a nice touch.  As nice as the drop counter is, a pump is a mess-free option especially when you might be in a rush.
When pumping the oil, you will be treated to delicious sandalwood. I could be imagining things, here but I think I detected a touch of cherry in the dry down.  If you don't know what sandalwood wood is, think hard wood like maple or oak with an element of sweetness. It is a warm scent – as in cozy! In my humble opinion a beard oil is the bearded man's equivalent to an aftershave and offering a nice scent is half the experience.  The intensity of the fragrance is perfectly gauged with a limited radius of perhaps 3 feet.  Granted I am only using 1 drop per cheek for my short beard.  The duration of the fragrance is sadly only in the range of an hour.  I say sadly, because I liked it so much and I would have wanted a lot more.
The primary objective of bear oil is to moisturize your beard and the skin underneath and to tame that dry itchy feeling.  This oil did a very decent job of that.  I basically felt comfy for most of the day.
Another element of consideration is the speed or rate of absorption of the oil by the beard hair and skin. Unfortunately, the beard loses some point here as a result of its slow absorption.  It took about 2 hours for the oil to be fully absorbed.  Why is this relevant?  You don't want to end up with oily fingers every time you end up touching your beard or worse have your lady disappointed when she comes in for one.  Yes, the dry down is a bit slower but it is reasonable.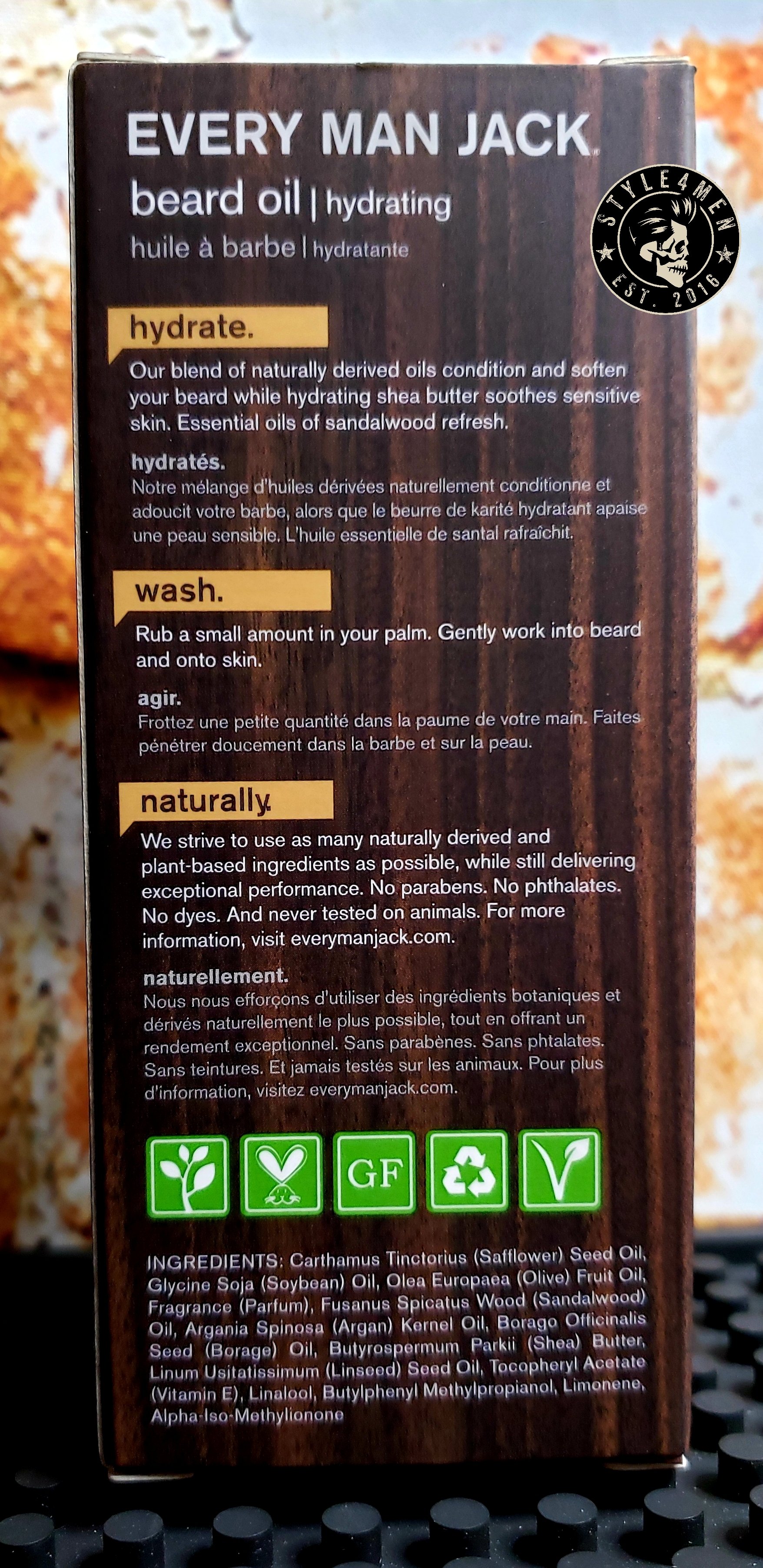 My suspicion is that this issue is caused by the olive oil.  Olive oil has wonderful benefits, but is thicker.  Putting that aside, this product is essentially composed of natural oils.  At this price point, this is not always a given and could end up with a lesser oil at a higher price.
The ingredient list:
Here is the score card (on a scale of 5) for this beard oil:
Composition: 4 (Almost all natural)
Aroma: 5++
Performance: 4 (the slower absorption is costing it a point)
To sum things up, this is an easy product to find at a perfectly reasonable price-point which offers good performance and an amazing sandalwood fragrance.  I would buy this again just for the sandalwood aroma. In fact, this makes me even more interested in their cologne line which includes both a sandalwood and a cedarwood.