Grooming with Sphinx Beard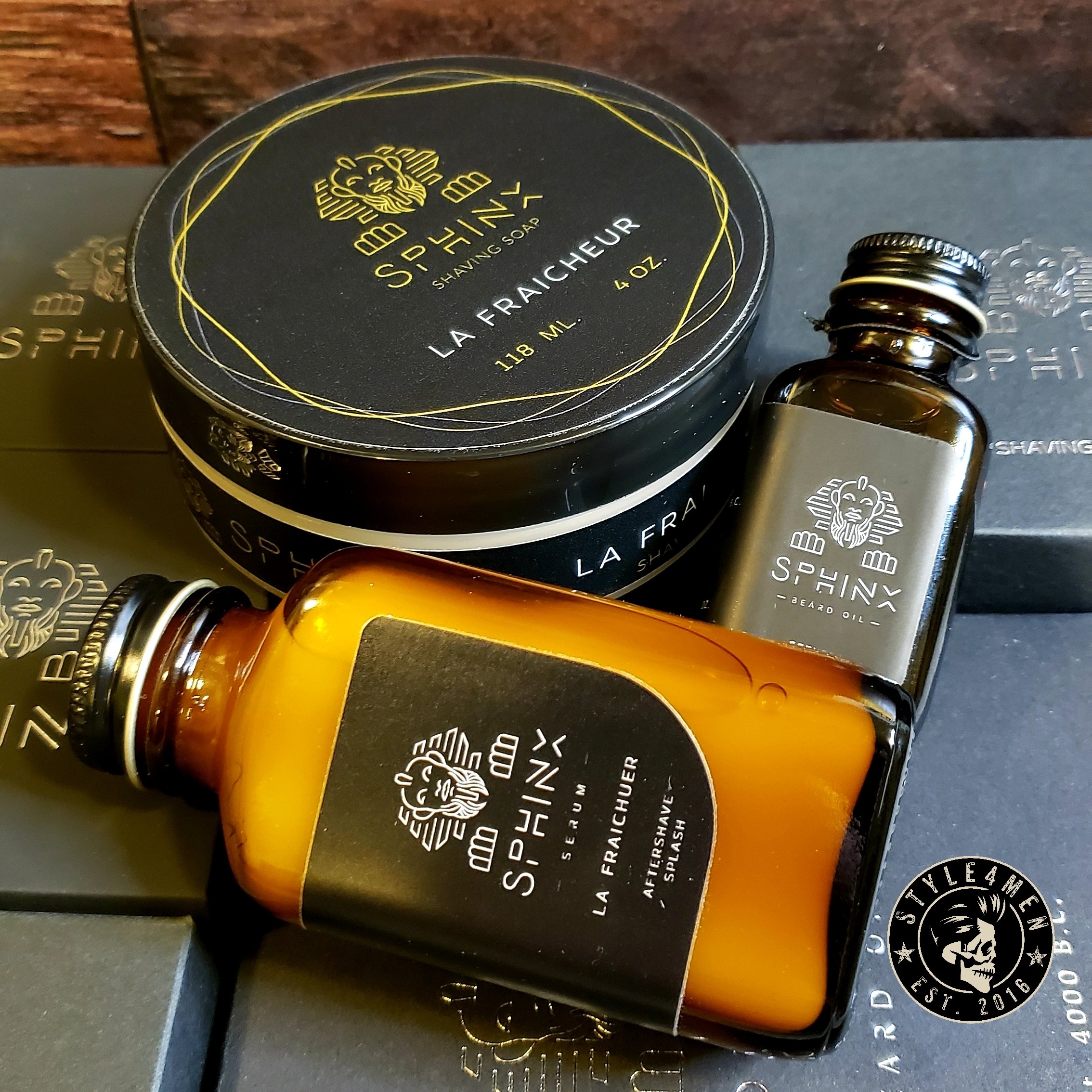 For the past week I have been exploring the Sphinx product line and been having a blast doing so.  This is an incredibly well presented and elegant product line that is totally inviting.  The whole experience is done in matte black.

Under the Sphinx Beard Oil brand you will find more than beard oil, there are also: shaving soap, aftershave splash and beard butter.  In short they have your mug fully covered.
We're going to get into the details of the beard oil itself, but a hook into this brand is the phenomenal fragrance selection:
| | | |
| --- | --- | --- |
| Acqua Exlixir | Ancient Kingdom | Ancient Empire |
| Apotheosis | Aqua Blue | Authentic Oud |
| Black Desert | Caribean Island | Chocoholic |
| Chokecherry | Cinnamon Crumb | Citrange |
| Curse of Anubis | Ecstacy | Emperor |
| Executive Sweet | Exotic Breeze | Extreme de Vanille |
| Extreme Sauvage | Honey Tobacco | Huponitic Vanille |
| Joy | La Fraicheur | Leather Overdose |
| Lemanderin | Lick Me Up | Luscious Oud |
| Luxor Temple (Barbershop scent) | Maudire | Royal Cacao |
| Saturated Musk | Smolder | Sphinx Signature |
| The Tabacconist | Vanille Smoke | Wanderlust |
| What the Fudge | Why Nut | |
This kind of offering is unheard of in the industry.  Three or four fragrances are pretty much as far as most brands will go.  It makes you think that behind all of these beard oils there is a serious Perfumer.
Sphinx Beard was kind enough to send me a few of their fragrances to try out for the purpose of this feature.  Upfront, I am working with a full array of:  beard oil, shaving soap and aftershave splash in the La Fraicheur scent and I will review them as a unit.
There is also a beautiful discovery sample box containing 6 vials of beard oil in the following fragrances:
Citrus Explosion
Aqua Elixir
Sphinx signature
Extreme Sauvage
Bora Bora (not part of their regular offering)
Sailor (not part of their regular offering)
Considering their very large offering, I would strongly advise to get a sampler set as it is one the best and most affordable ways to explore their aromatic range.  I have been doing that with fragrance houses as a way of exploring their offering before committing to a bottle.
I will state that I cannot smell oil in any of the bottles, it is the fragrance that comes out first.  In my humble opinion this speak to two things.  First, the quality of the oil.  The better oils are nearly scent free.  Secondly, the fragrance is strong enough to fully cover any oil remnant scent there might be.  Lastly, the fragrance is also present enough to properly serve as a scented beard oil.  This might sound like a benign comment, but there are enough beard oils out there that claim to be scented, but have aromas that are so weak that we can't really talk of fragrance.
This is something I have mentioned in almost all of the beard oil posts, a scented oil is the bearded man aftershave.  It is that finishing touch or that defining element that distinguishes you.  Why would the bearded man not be privy to little extra?!
Grooming with La Fraicheur
Sporting a beard doesn't mean that I am not shaving.  Quite to the contrairy.  I am shaving my cheeks and lower neck almost daily to keep things neet.  With that being the case, I was psyched to get a shave soap and aftershave from Sphinx.
Shaving Soap
After my morning shower I move onto the shave.  This allows me to benefit from the shower's steam to relax my beard prior to the shave.  Sort of like the hot towel treatment.  The shave soap comes in a large low plastic tub. The labelling and dark colour selection makes it quite elegant and attractive.  I personally like getting the shave soap in such a container as it simplifies everything.  It offers a dish to work up the lather and then you close it off so that the soap can dry without losing its moisture and oils.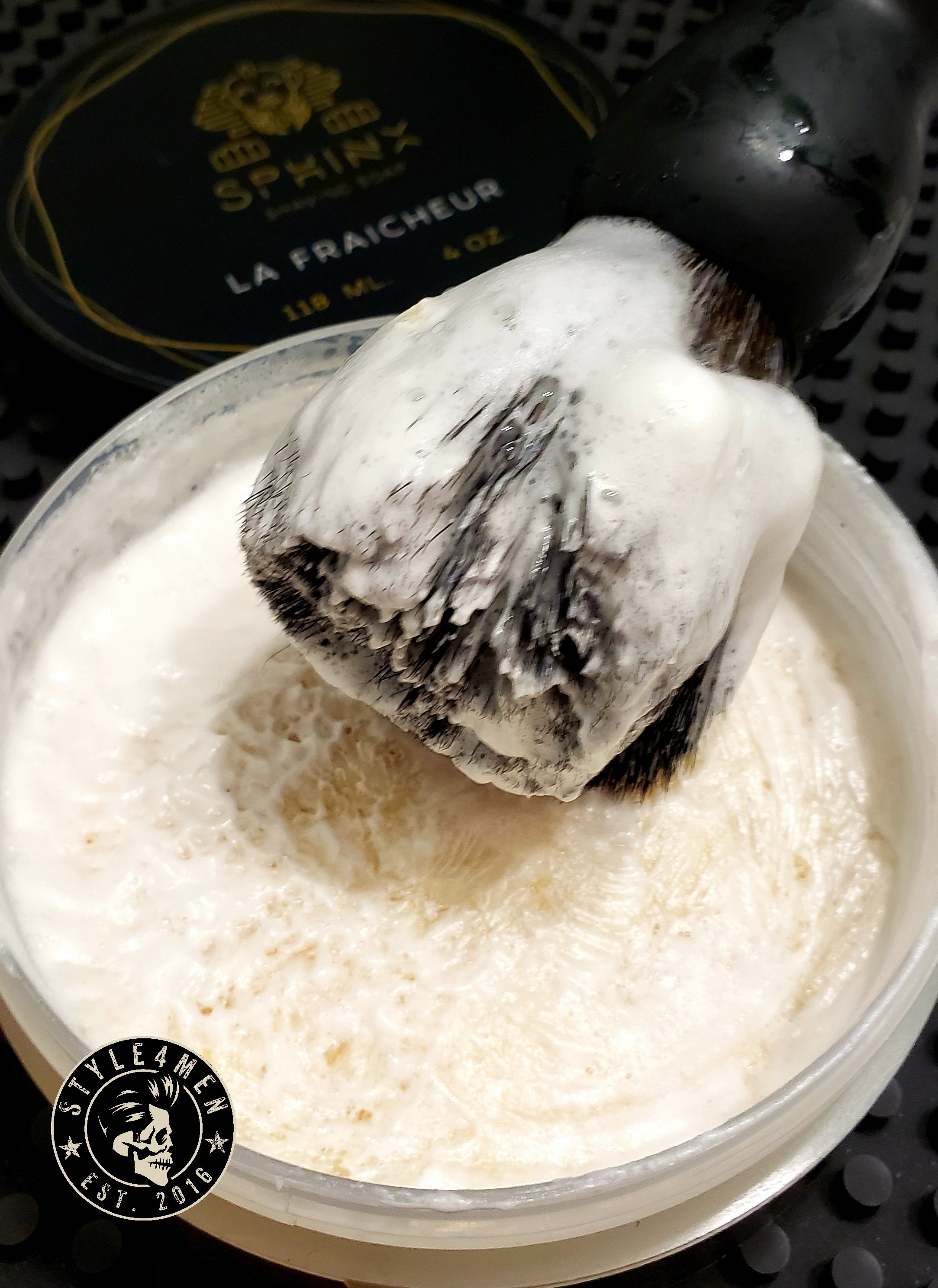 This soap lathers up nicely and quickly.  The foam is rich and thick.  Application is incredibly smooth and the lather adhered well to my mug.  At this point I was embraces by the lovely aroma of La Fraicheur.  Think citrus meets pine of tea tree.  Very pleasant and natural.  I also become aware of a good oil base within the soap.  Not greasy or oily, but appropriately sliperry.  You want your shave soap to do two things: insulate / trap the moisture and lubricate your skin to help the blade glide effortlessly.  Check and Check!  My shave was quick and smooth.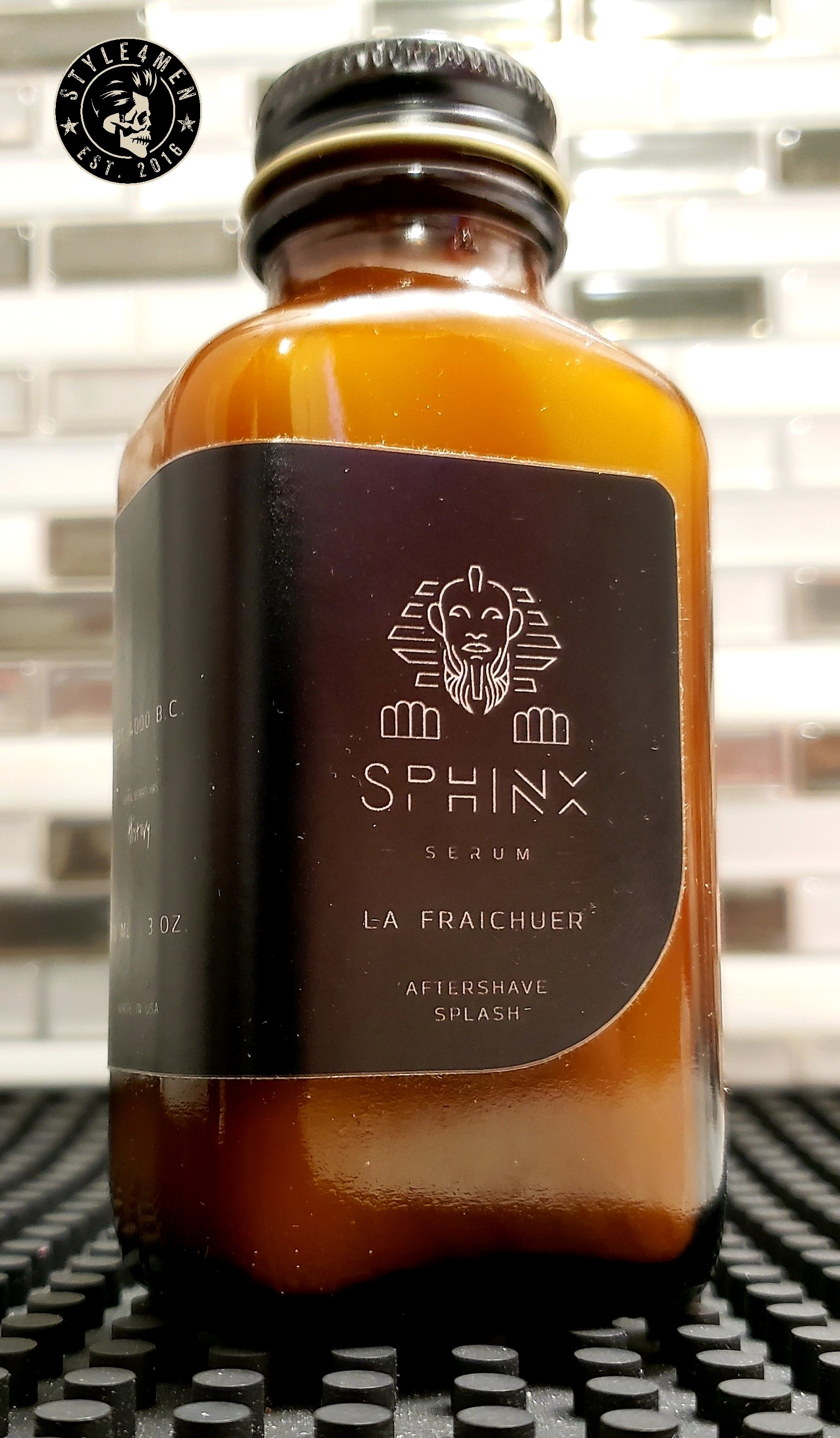 Aftershave Splash
I use a hot towel to rinse my mug before moving on to the aftershave.  I know that the expert all say to go with a cold rinse to close up your pores, but I just like the feel of the warmer towel.  Having cleanup the surface, it's up for the aftershave splash.   Sphinx as gone a route I enjoy very much, which  is merging old school and smooth school!  Aloe Vera and alcohol.  Instead of being a shock to your face, it is more like a velvety caress.  There is alcohol but considerably less of it. Aloe vera is a beautiful natural soother which takes away the razor burn you might have.  It also moisturize incredibly well.  In other words; a perfect ingredient for an aftershave.  There is a tiny sting of alcohol along the way just so you don't feel jipped.
The La Fraicheur fragrance is naturally more present in the aftershave, but somewhat tamed at the same time.  I was able to enjoy the aroma for about an hour.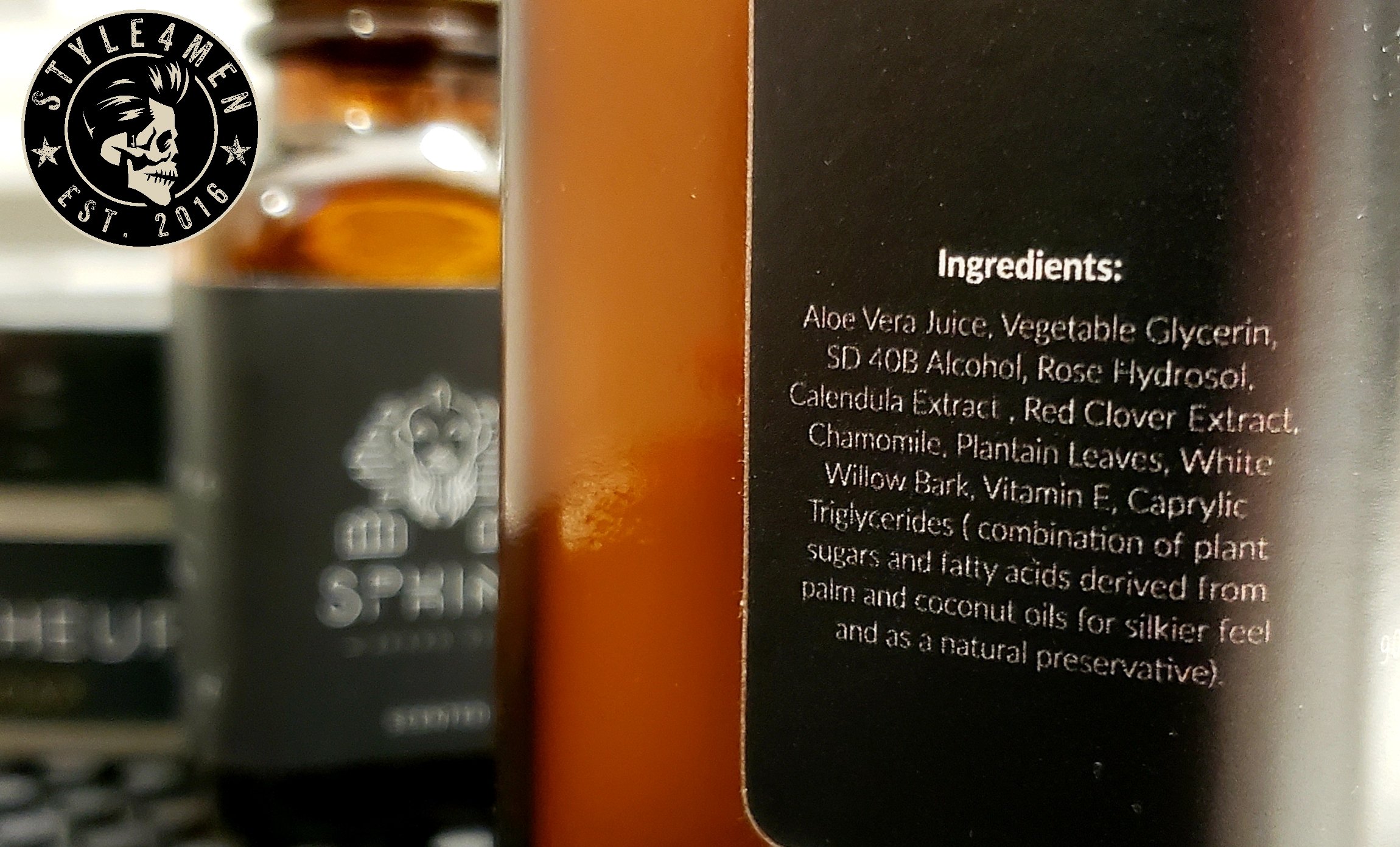 Beard Oil Highlights
I followed the treatment up with a few dabs of beard oil on beard and neck.  This oil scores well with me for following reasons:
Quick absorption
Beautiful texture and feel (not overly thick or greasy)
High quality oil
Well crafted fragrance that has some staying power (1-3 hours)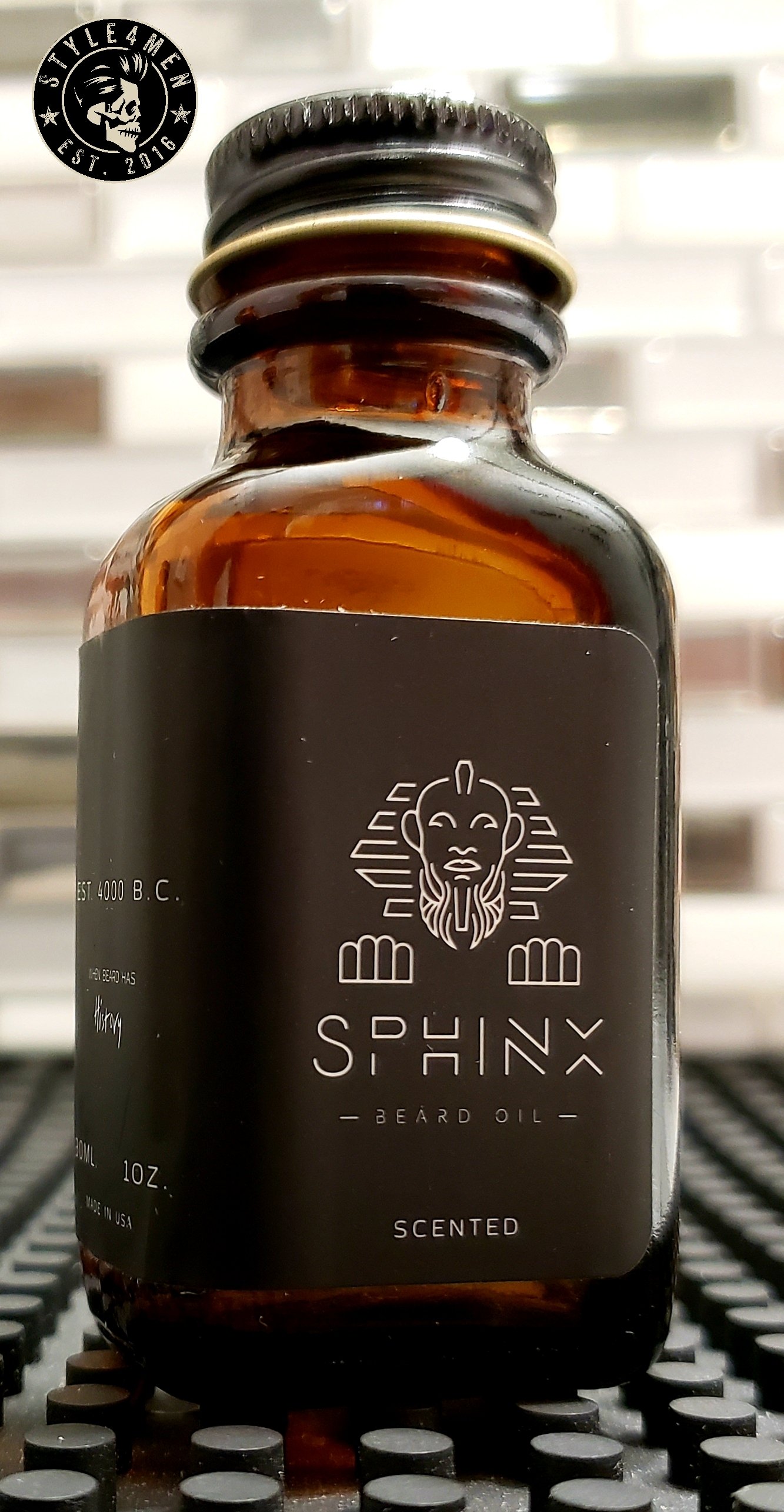 The guys at Sphinx have opted for a reducer / nipple dispenser.  This is not the typical choice as most brands go with the drop counter.  There are pros and cons to both.  The reducer is very straight forward and works well.  Because it is such a simple piece, there are less odds of it breaking.  There is nothing more annoying than cracking the drop counter on your favorite beard oil.
Composition/Ingredients
See for yourself what these ingredients do by clicking the links.
Performance
As you know, I am not sporting a glorious Viking beard, but rather a short 1-2 cm scenario.  Regardless of the beard length you are rocking, you can and will benefit from a quality oil.  Obviously, I am using only a few drops per application, something along the line 2 drops per cheek while finishing the excess on my neck (front and back).  The oil is absorbed quickly without leaving a greasy film or residue.  The oil is so pleasant that I didn't feel the need to wash my hands right away, I simply rubed the leftover on my arms.  Just like everybody, I touch my face often as I do the beard.  This did not leave my fingers with an oil film.  I take that as a great sign that the product was lapped up by both the beard and skin.
There was no itchiness throughout the day, just total smoothness.  This is exactly what you want your beard oil to be doing.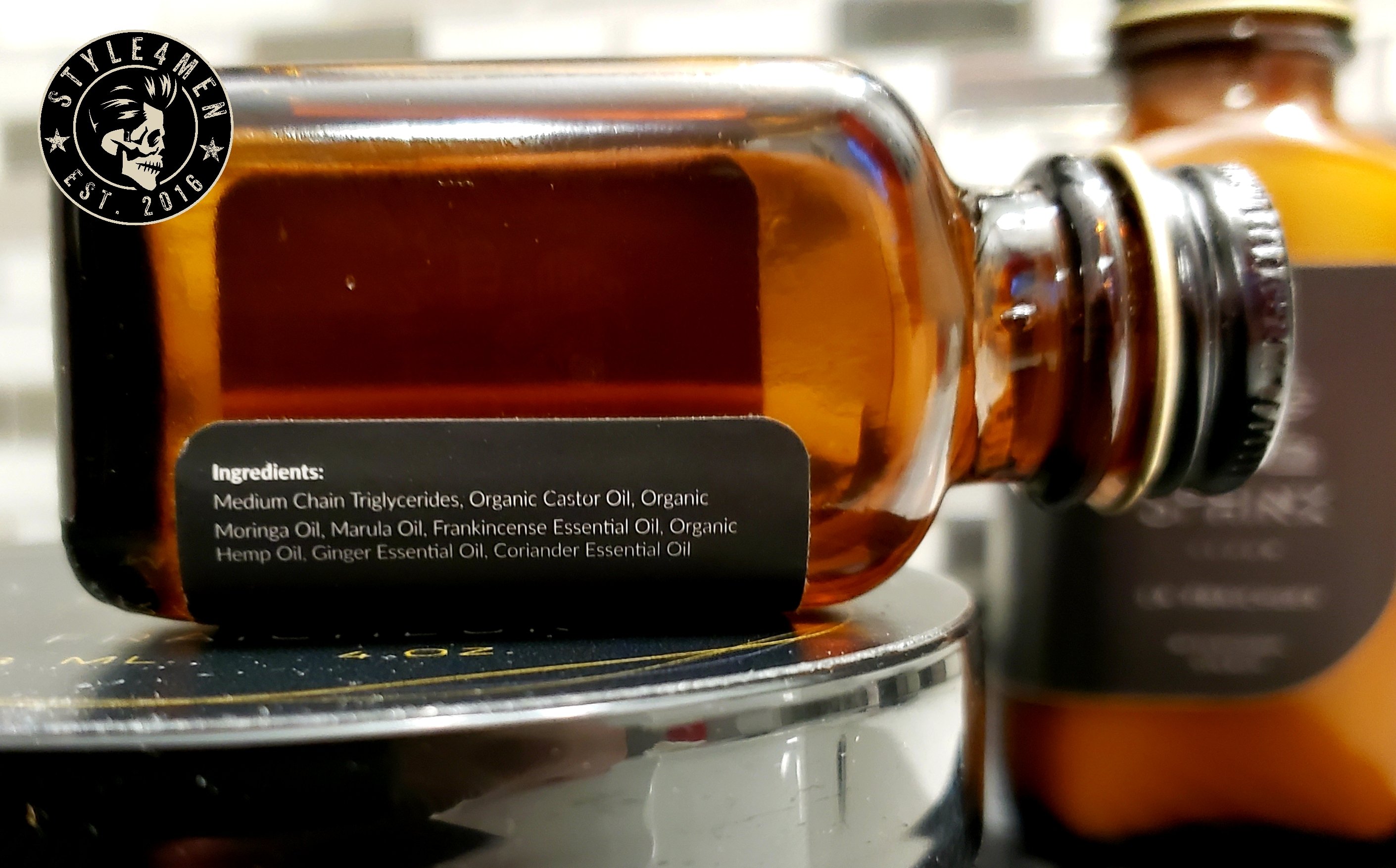 Here is the score card (on a scale of 5) for this beard oil:
Composition: 5
Aroma: 5
Performance: 5
Sphinx also offers a beard balm.  I appreciate that some of the more rigid beard disciples will argue that beard oil and beard balm are totally different things as the balm offer some shaping properties, I am a more simple beard participant.  Beard balm and beard oil offer one primary objective: moisturizing!  And it comes down to what do you prefer to work with, oil or something solid that can be scooped up.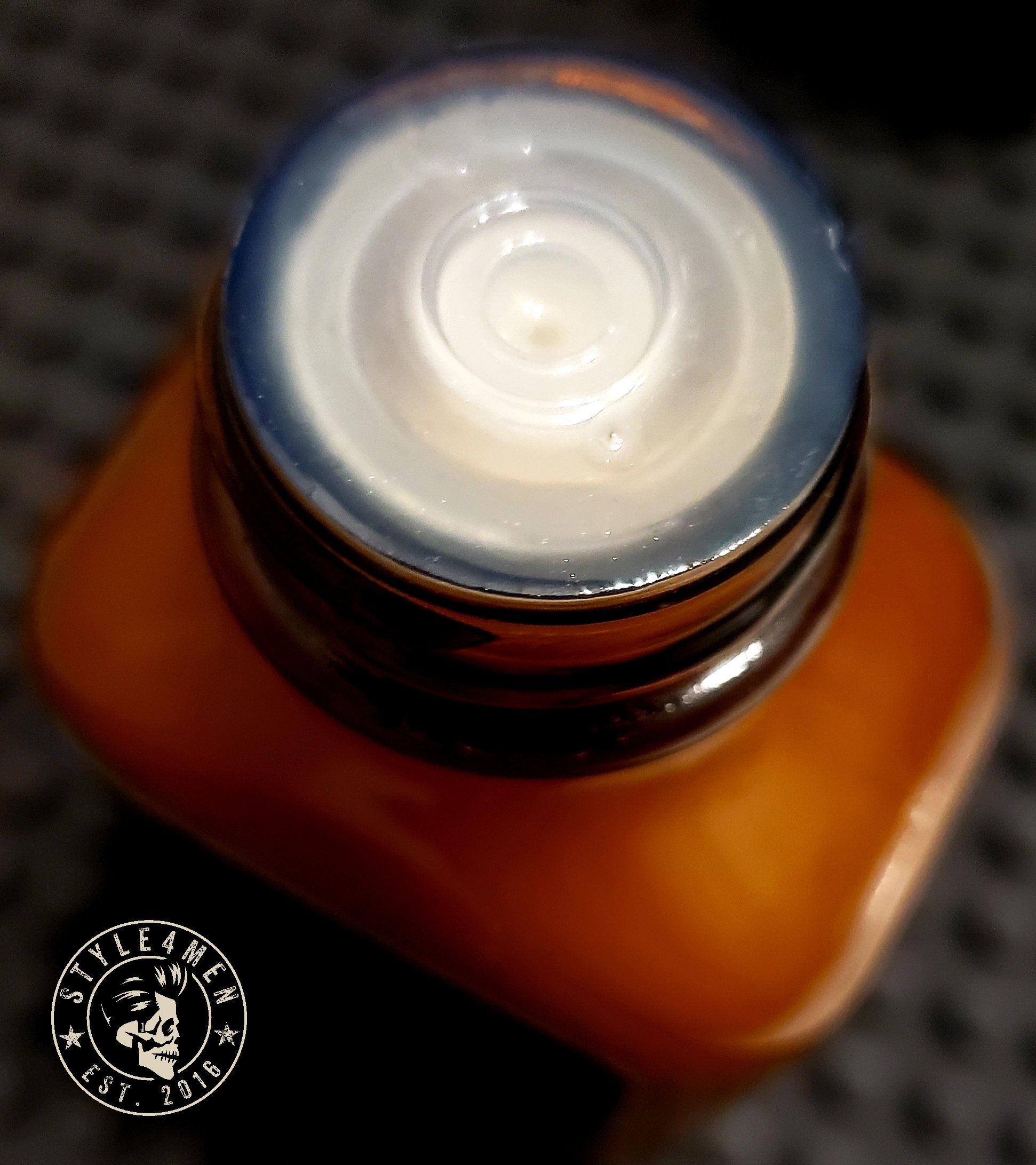 If you are new to the whole beard thing, I would recommend working with a balm as it is entirely mess free with no experience required.  It also works incredibly well on any dry skin area like elbows or knees.  For the hardcore troopers, oil it is!
Closing Remarks
Sphinx Beard offers an impressive array of fragrances and for that aspect alone their site is worth a visit. Granted you might have a hard time choosing!  To help with that try their sampler pack.  The vials are easy to work with and you get enough oil for a few usages in each.  I was impressed by the quality, performance and aromas.  Considering the top shelf presentation, this is a range that will gift well.