Johnny's Chop Shop Beard Oil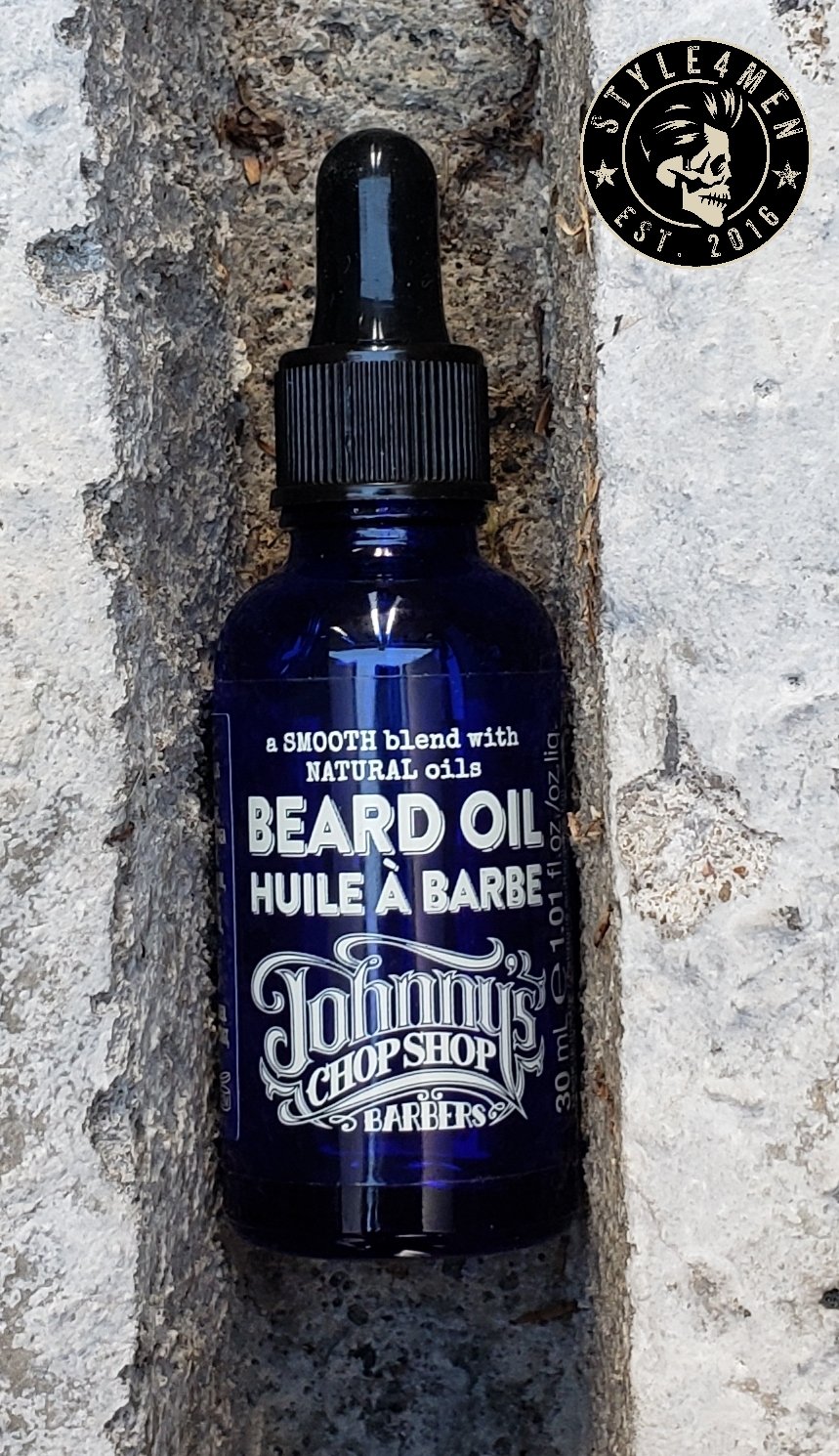 Johnny's chop Shop is one of those unmistakable brands that fully embraces the Barbershop culture. At the core, Johnny's chop Shop is a Barbershop, but they took things to the next level when they started to produce a range of pomades which has now grown into a full hair care line.  This range now also includes beard care: shampoo and oil.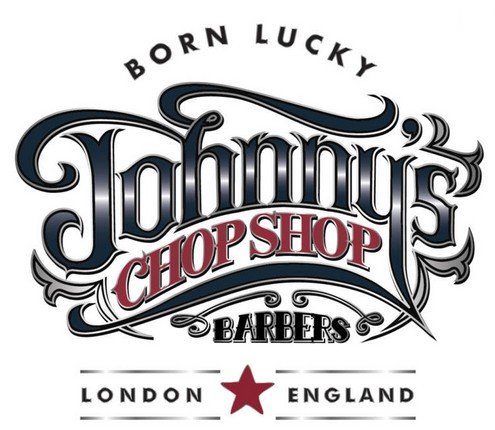 The whole presentation is pure 1950's Americana with a British underground twist.  To me, it's fun, and original.  We have already reviewed a number of their products: Johnny Sheen Hair Pomade, Wild Cat Hair Clay and the Trigger Happy Spray.  The Sheen pomade and Trigger Happy spray are in fact some of my all-time favorites.  As a side note, the Johnny Sheen Hair Pomade holds the 3rd place on the podium of our most popular posts. We could look at this differently and say that it is our most popular "product" review post, since the other two leading posts cover pomade shelf life and a recipe to make a water based pomade.
The below video features Johnny's Barbershop and the talented Toastie Styles (celebrity Barber) doing a fade.
Somewhere between 8 and 10 months ago, I finally joined the bearded movement ranks. Being an older guy, I grew up in a time where beards didn't have the cool vibe they have had for these past few years. It kinda took me a while to get into it.  But here we are and I am enjoying it!.  Always being interested in the grooming side of thing, this new beard was the perfect excuse to jump into beard care products.  Specifically, the beard oils.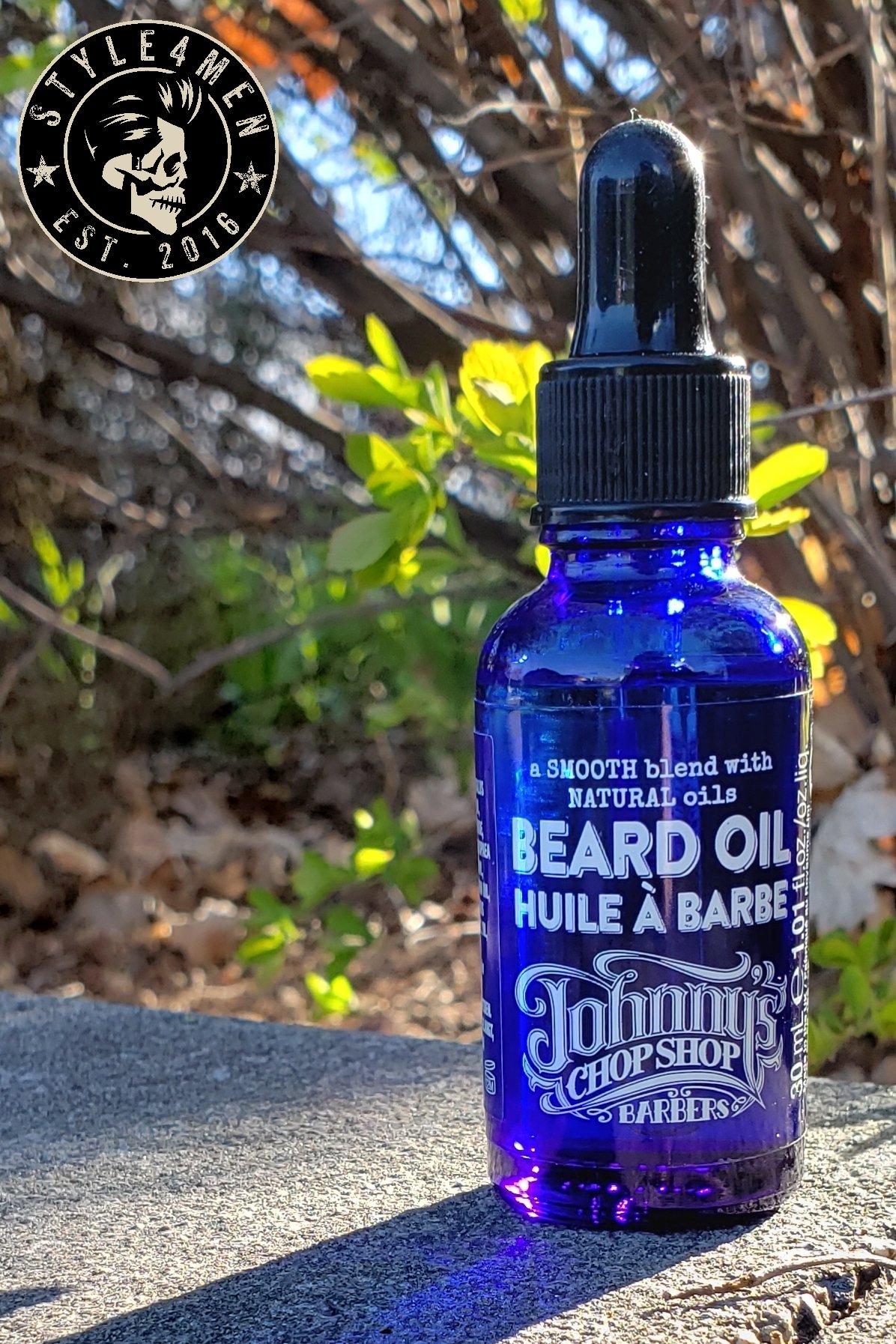 Beard oils are now everywhere.  In my humble opinion, beard oils are the bearded man's aftershave equivalent.  That finishing touch to give your mug an edge.  Aftershave has typically been geared at providing two key services: the first main objective is to clean/disinfect/tone your mug after the shave.  But the second objective is where the fun is, the aroma, the fragrance, that defining edge!  Sporting a fragrance fits in the same space as wearing that favorite piece of clothing that makes you feel good, confident, yourself.
Beard oil, plays a similar role.  OK so the first client is your beard hair, but your skin will also greatly benefit from this wonderful nutrients. Then beard oil also offers that extra perk of a fun fragrance.
Ingredient listing:
So what did I think of Johnny's Chop Shop Beard Oil?!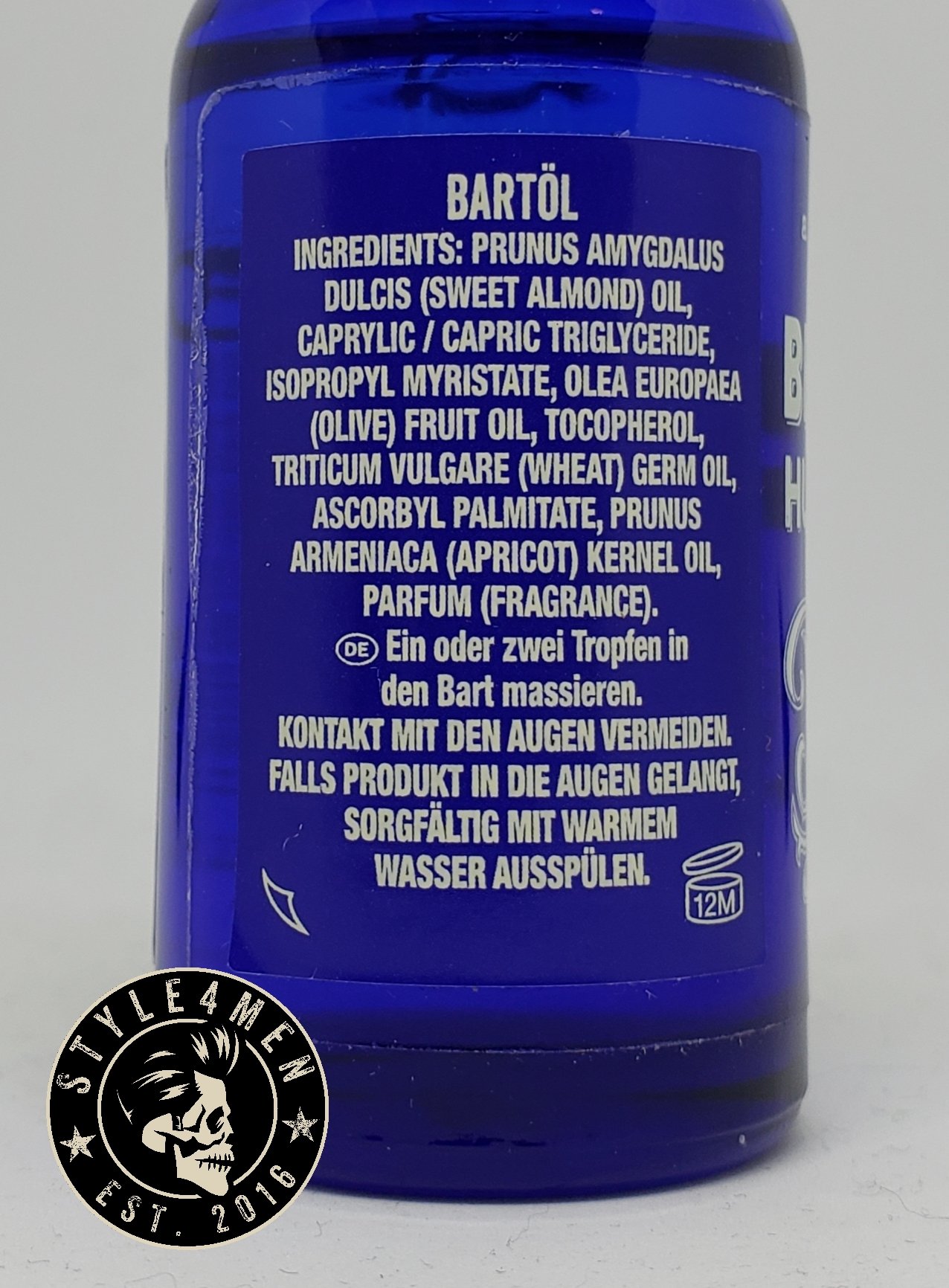 The presentation and bottle are perfectly rendered.  I personally find that the blue bottle is colourful differentiator to the otherwise extremely common dark amber bottle.  The label, being true to the Johnny's branding also wins me over.  It simply works!  It tells what the product is while having the brand's unmistakable touch.
Observations on the packaging
As a small observation, I bought my bottle on-line and it was delivered in proper protective wrapping, but it did not have box or seal on the drop counter.  I enquired with the vendor if this was the way the product was and was informed that this was it.  It just caught me off guard.  Doing without the box makes perfect sense.  Although it is a nice touch, it is a wasteful.  As for the seal on the bottle cap, again I agree that we need to move away from plastic, but in the case where it serves as a seal both to preserve the product and to demonstrate that it has not been tampered with, then something else should replace it.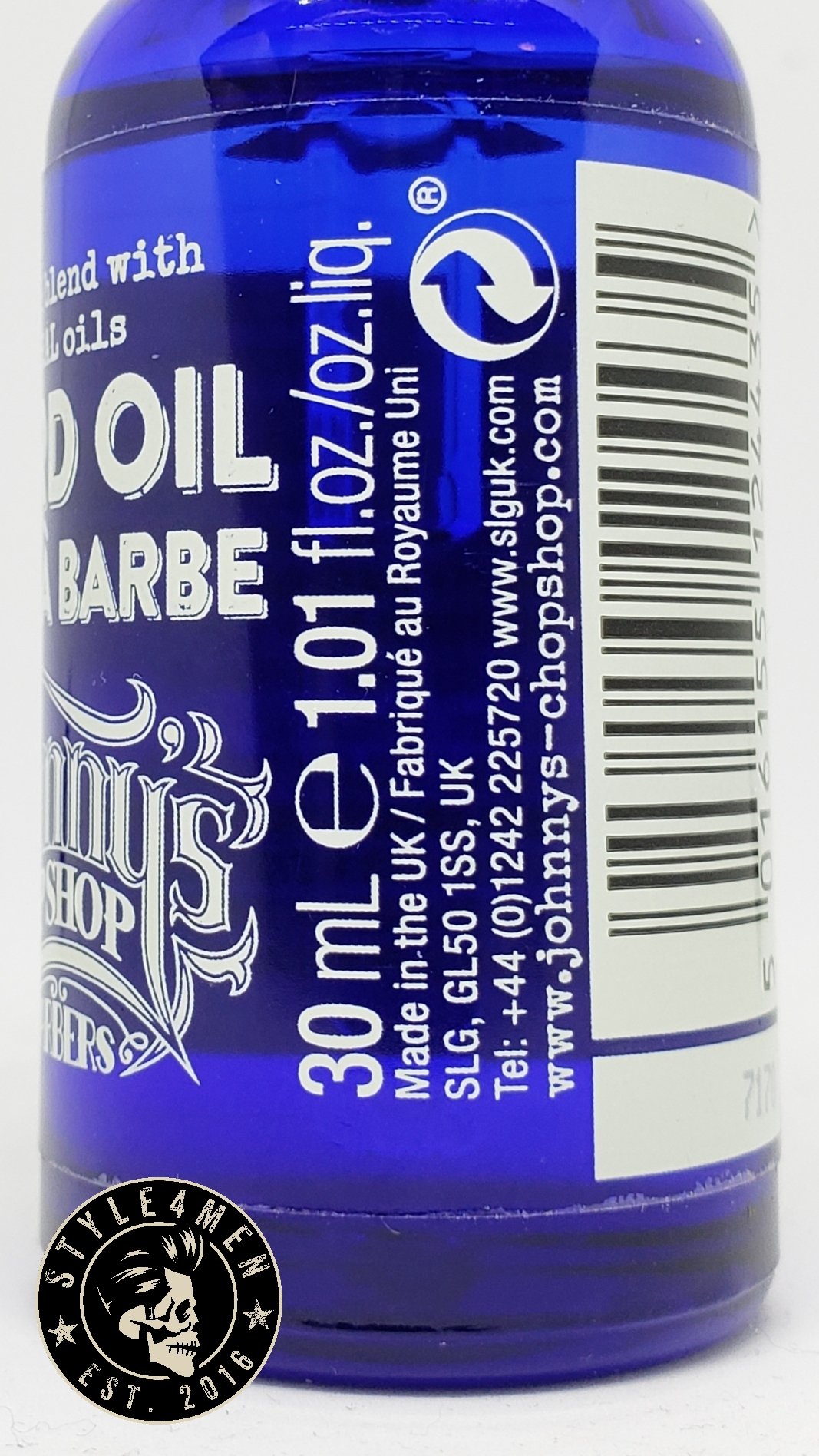 Scent
The first thing I was interested in when opening the bottle was to discover the scent. I am sad to report that the scent is so mild that I would believe that this is an unscented product.  The ingredient list does mention fragrance, but it barely masks the scent of natural oil. It is quite possible that the product I got left Johnny's shop many moons ago and lost its aromatic presence over time.  Beard oil like many products does not have an indefinite shelf life.  Please leave a comment if you have experienced otherwise.
Usage
Onto usage!  The oil itself is clear and appears to be quite light. Keeping a short beard I use only a couple of drops per cheek.  The goal being to cover the beard hair and to blend the rest into my skin.  The oil gives a nice healthy glow – nothing overly shiny.
Absorption
My next area of concern with beard oil is its absorption speed and efficiency as a moisturizer.  The absorption is not instant, more along the lines of 20-30 minutes.  The oil is thick enough that I did feel the need to wash my hand after application.  As a moisturizer, it did a good job – no dryness or itchiness for the bulk of the day.  Yes, in my mind beard oil is a daily application thing.
Here is the score card (on a scale of 5) for this beard oil:
Composition: 4 (Mostly natural)
Aroma: NA
Performance: 4 (the slower absorption is costing it a point)
Summing things up
Johnny's Chop Shop Beard Oil was nicely priced at around $10 – $12.  The norm for something using sweet almond oil is more in the ball park of $20.   I was disappointed by the absence of fragrance, but regardless this turned out to be a nice oil to use and it performed well for both my beard and skin.  Considering the beautiful bottle, affordable price-point and ingredient list, this is a worth while beard oil.