PRORASO Azur Lime Beard Oil – Lime Perfection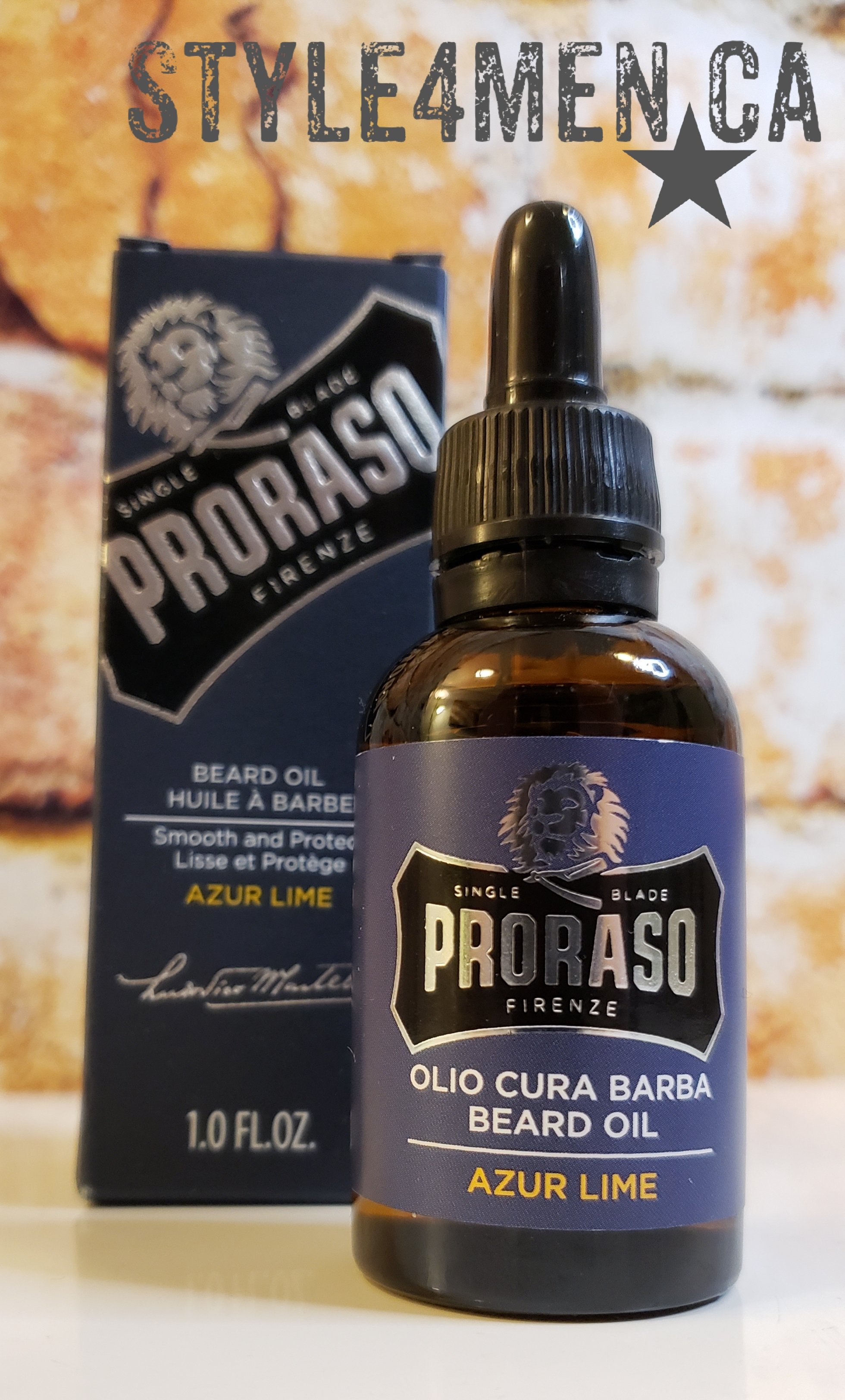 Here is my second promised posts covering beard oils produced by some of the big brand names.  In this one we are trying out the PRORASO Azur Lime scented oil.
Full disclosure, PRORASO holds a special place in my shaving cabinet.  When I started exploring shaving products outside of what was readily available in our Canadian pharmacies, I tried PRORASO.  This became a catalyst moment in my shaving routine and the products I would use going forward.  Up to that point, I only knew of shaving foam, plastic razors and basic aftershave balms.
PRORASO products being geared to traditional wet shaving there are more products to choose from:
pre-shave
shaving soap, shaving cream,  shaving foam
aftershave splash, aftershave balm
The usage of the pre-shave was the trigger to the said catalyst as it transformed my shave from a chore to an experience I was looking forward to.  This event also led to my moving from a plastic razor to something coming out of the early 20th century; a double-edge safety razor.
Without making this a big life-story, PRORASO triggered a similar passion in shaving as the one I was experiencing with hair pomade.  I have since tried as many of their products as can be found in North America.
With PRORASO, everything comes in 3's and that goes for their staple scent/skin target.  There is the rich and fresh eucalyptus (green), smooth and sensitive (white) and lastly the super-rich and warm sandalwood (red).  All of which have always performed beautifully for my mug.  You might also notice the colour pattern; green-white-red like the Italian national colours.  Viva Italia!  A few years back, there was the addition of the blue range which is a compromise between the white and green.  It also performed beautifully, but can be a bit harder to find.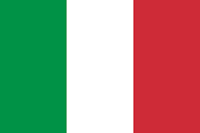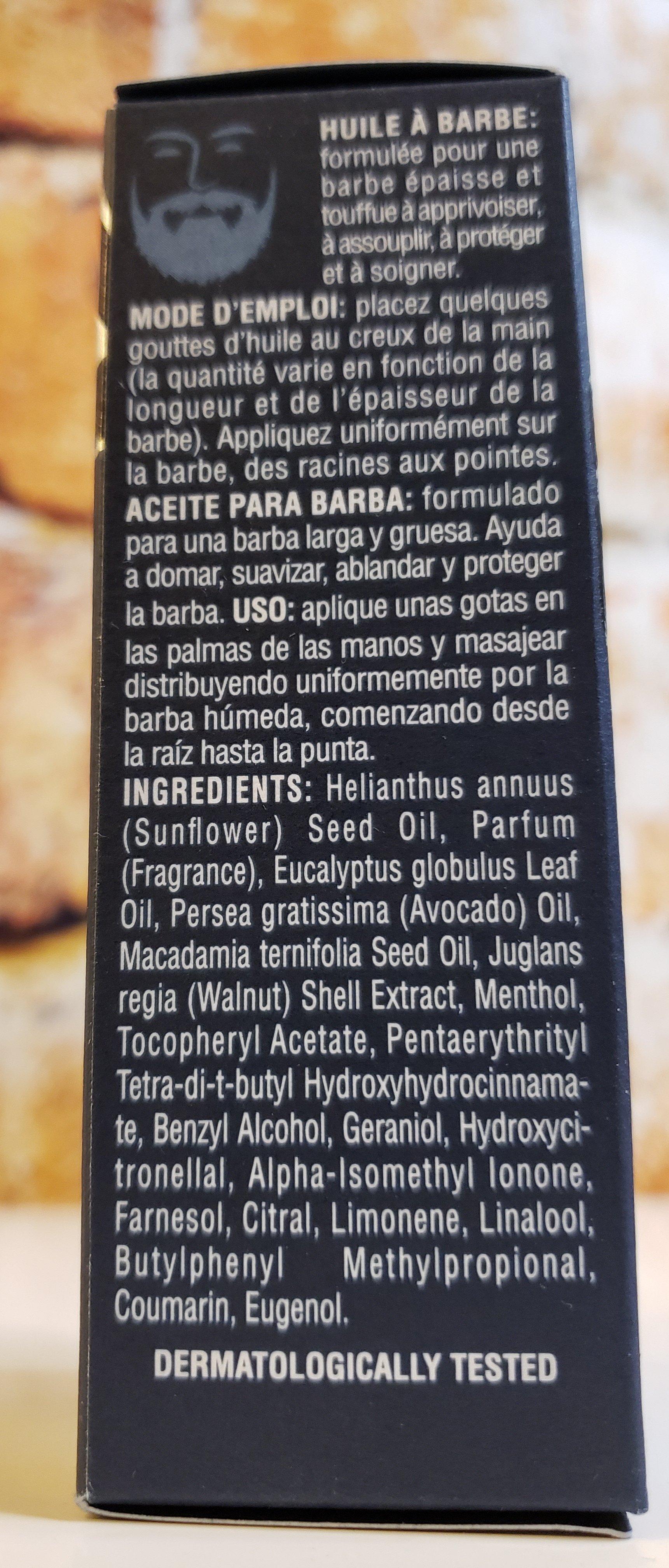 More recently, PRORASO expanded and launched the "PRO single blade" range which is marketed as a specialty Barbershop line.  As part of this range they have also produced 3 news scents: Azur lime (navy blue), cypress & vetiver (green) and cedarwood & spice (yellow).  The single Blade line includes a number of new products as well as some classics: shaving cream, aftershave, cologne, beard wash, beard balm and beard oil.  I wish I could be featuring everything of this line, but only the "beard" related products are readily available in Canada.
Since we are now covering more "beard" targeted products, it was only natural to feature a beard oil by PRORASO.  Based on the 3 aromas, the "azur lime" is the one that appealed to me the most and I picked up a bottle of that scent at my local pharmacy for $18.
Key ingredients:
Here is how it performed:
Here is the score card (on  scale of 5) for the PRORASO Beard Oil:
Composition: 4.5
Aroma: 5 (the scent is fresh and completely masks the oil, while not being too strong)
Performance: 4
The Azur Lime is an extremely well rendered aroma.  To me, it brings up visions of ocean mist and lime.  Classic and timeless while being subtle and very well gauged.   For the scent alone, this beard oil is worth picking up. I also got 2 outside comments, first from Mrs. Style4men who approved and also did not have an unpleasant asthma attack as is often the case with anything housing a stronger scent. The second comment was from a friend at work who smelt in directly from the bottle and found it stronger than expected, but hadn't noticed it on me. Which goes to say that the aroma is not an imposing one. 🙂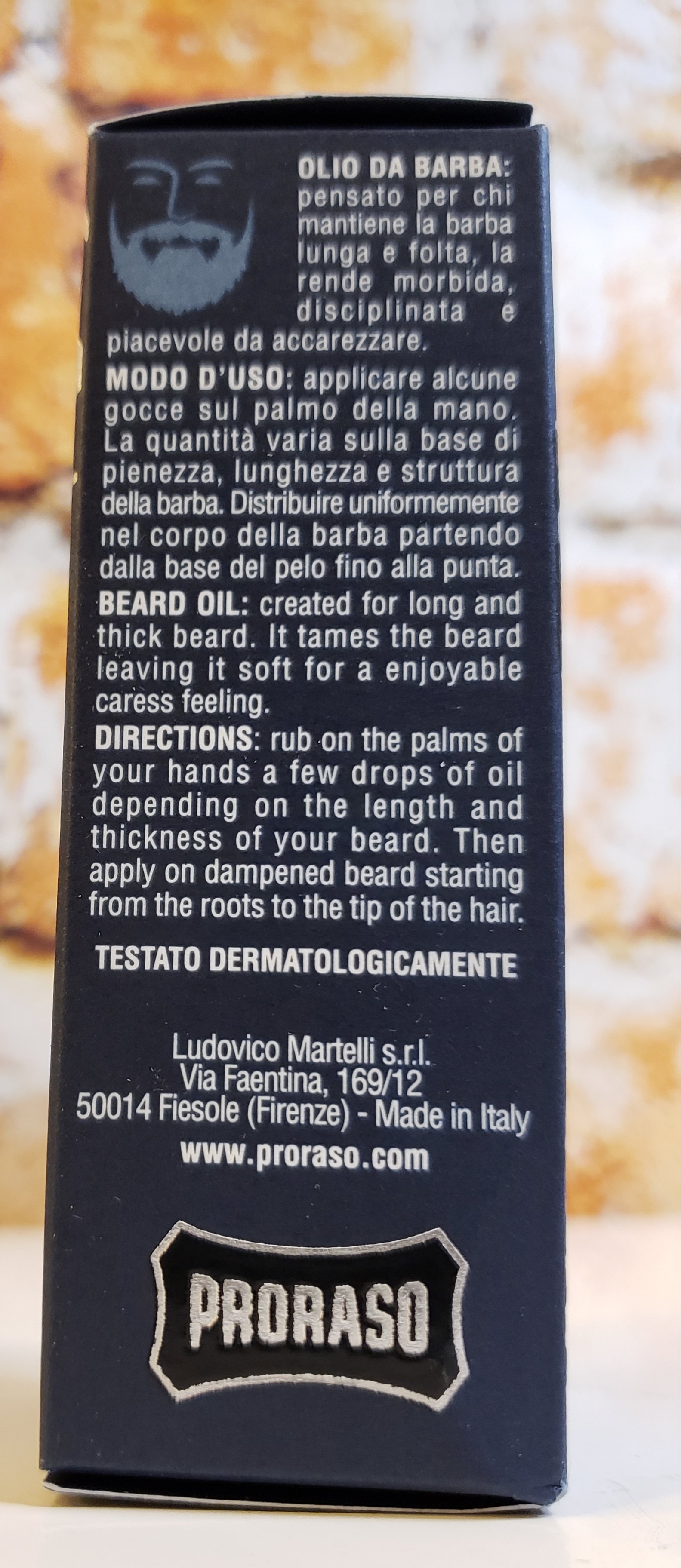 As for the moisturizing aspect of the oil, it has some pros and some cons.  First off it is a slightly thicker oil than some others I have reviewed.  This slightly heavier density leads to a slower absorption rate.  Mug skin and beard did lap it up, but over the course of at least an hour and opposed to a few minutes.  About 3 hours after application, my fingers could still collect remnant traces of oil when touching my beard – nothing to the point that I needed to wash my hands, but just enough to be aware.
As a result of this slower absorption rate there was also a slower dryness appeasement.  In other words, it takes longer for my beard to feel comfortable (stops tugging) and that I forget about it.
At this point I realized that there was another aspect I wasn't taking into consideration, my face/beard wash.  Since sporting the beard is a fairly new thing in my life I don't really have many beard/face wash.  They are mostly just face washes, which when used on my beard will dry it out and that in turns leads to more oil being needed to render that perfect appeasing sensation.
When using a charcoal face wash, considerably more beard oil is needed to get to that "yeah baby" point.  When using a proper face/beard wash like the one from our friends at 6IX MAN, that comfort point is achieved immediately.  This is also suggesting to me that there I could have picked a bottle of the PRORASO beard wash.  Next time!
PROS
Readily available in Canada
Competitively priced at under $20
Superb and stable aroma
No discernible oil smell
CONS
Slower absorption rate
Thicker oil
May need to apply more than once a day (you might want to do that regardless just to get more of that succulent aroma)
In closing, if we go with the understanding that PRORASO's core business is shaving, they have done an impressive job of creating a beard oil with a superb aroma. This may even be one of my favorites!  I believe that rendering a nice aroma can be achieved by many, but creating a stable and constant scent is not that easily done.  The scent here is constant and perfectly covers the smell of oil.  In essence you are applying an aftershave for your beard.