GUNPOWDER Solid Cologne by Fixxxer – A Surprise!
This is the first post of a series of reviews where we will explore a new and exciting  type of cologne: the solid cologne!  In this first post we will focus on one of the solid colognes producd by Fixxxer, Gun Powder.  Fixxxer actually offers a large range of solid colognes, but this is the one that was available on Amazon Canada for under $15 with free shipping.  Seamed like a perfectly good place to start this exploration.
As a result of the Barber Shop revival, a whole artisan based economy has sprung to life.  An incredible amount of exciting shaving soaps, shaving creams and pomades have appeared.  This wave of products and the demand for such products is also creating a second wave.  In this second wave we are seeing the emergence of fragrances used in the first wave products, as stand-alone colognes.  In other words, that cool fragrance that you encountered in that original pomade or shaving cream is now being made available on its own.
The perfume/cologne world is not only being shaken by these new small players and their wildly original and fun scents, but these artisans are also shaking the industry further by presenting a new delivery systems for their fragrances.  A solid bar of oil and wax!  the essentials oil used to make the fragrance are blended into oils and wax which is then solidified. simple, original and practical!  Actually, we might argue that this solution might not be a "new" delivery solution but rather a very old one that somehow went to the way side.
Here are a few highlights of the "practical" positive aspect of a solid colognes:
Airport approved
No alcohol is used
Long lasting
Portable
A solid cologne you say – How is such a thing applied?  Real simple! Scoop a tiny portion out and relax it in your finger and simply apply in the usual spots. See below.  The standard waxes and oils used to make solid colognes are part of the "Rock Star" group of healthy skin care products: Bees Wax, jojoba oil, Almond oil.  these are the 3 main players used in the Fixxxer cologne.  Other makers are also using Shea butter and argan oil.  As we have explored in previous posts, these natural ingredients are full of goodness for your skin.
About Fixxxer, this is a completely unexpected product considering their core business. Fixxxer does not specialize in fragrance but rather in gun components.  Very long pause!!! I know…?!?!  WTF?! What hell bent kinda whiskey weekend led the folks at Fixxxer to think: "Dang it, Jim-Harold I think we should make an a solid cologne for our folks.  It's all fine and good to be out for badger season, but it ain't no excuse for bad hygiene or a disagreeable stench!  I think even the badgers might agree with that!"

Clearly Fixxxer is not forgetting who their core clientele is and have named their colognes appropriately as follow:
.357 Magnum
.38 Special
Bullet
Dark Sniper
Full Metal Jacket
Gun Powder
Huntsman
Silencer
Fire (For the ladies)
Night Vision
The presentation and packaging goes along the military and outdoor man lines.  Whatever the motivation for deciding to expand their business in a more gentlemanly direction, the cologne is there and the fragrance is rather nice and unique. The combination of : evergreen, mint, julep, musk, amber and sage works quite well rendering a unique and manly fragrance.  The name of this one is "Gun Powder", but based on the essential oils listed above you will understand that this smells in no way like actual gun powder.  The fragrance is sealed in a very natural bed using: bees wax, almond oil and jojoba oil.  This is actually the part that sold me.  That and the price: $15 including shipping from Amazon Canada.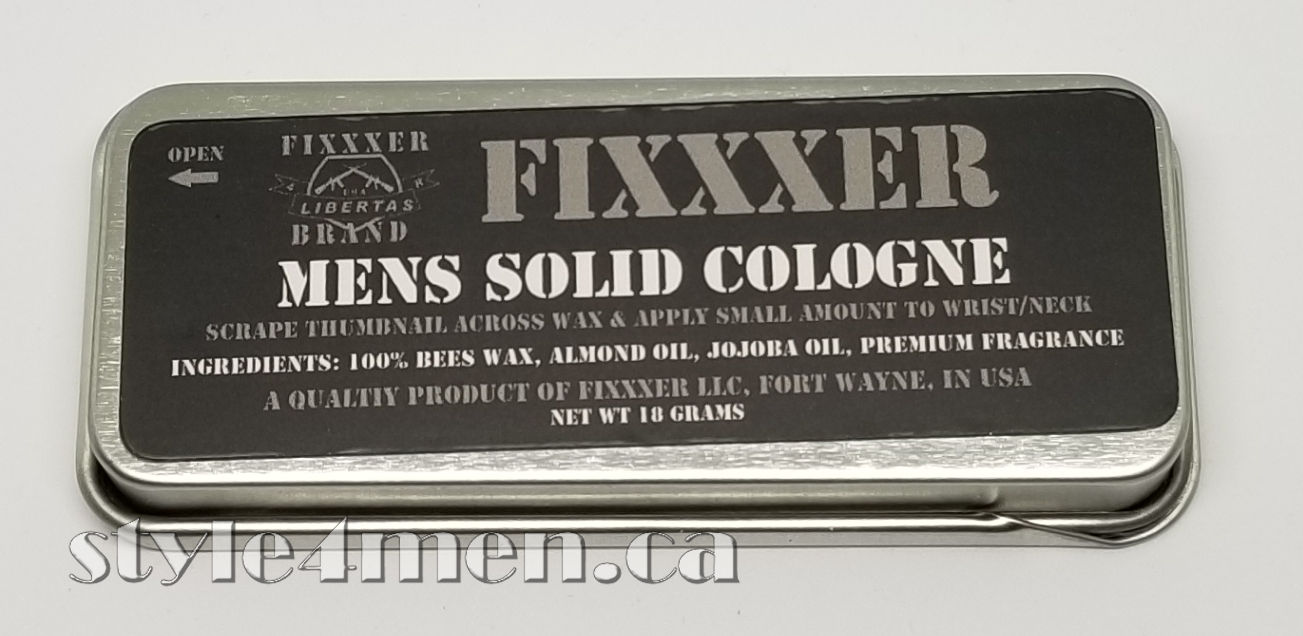 As for the longevity or lasting power of this fragrance, this morning was my first trial and I used a very small amount which I applied only on my forearms.  I could smell it for a bout 2 hours.  After which time it had mostly faded.  Perhaps my nose got use to it and could no longer perceive it?  It could also be that these are natural scents and that my nose assimilated them faster then it would with a man-made fragrance.  Regardless, as a first try it was still very pleasant and it's always good advice to apply a little as opposed to bathe in that fragrance.  You don't want your prey smelling you from 10 blocks away, right!  I will obviously have to work with the cologne more to reach a proper dosage.
I presented this product to a number of folks in my entourage this week and every one liked it.  One person asked to try it and came back a few hours later and indicated that contrary to regular sprayed on perfume that changes once applied, this stayed true to itself for the duration. I would think that this is a "selling"feature.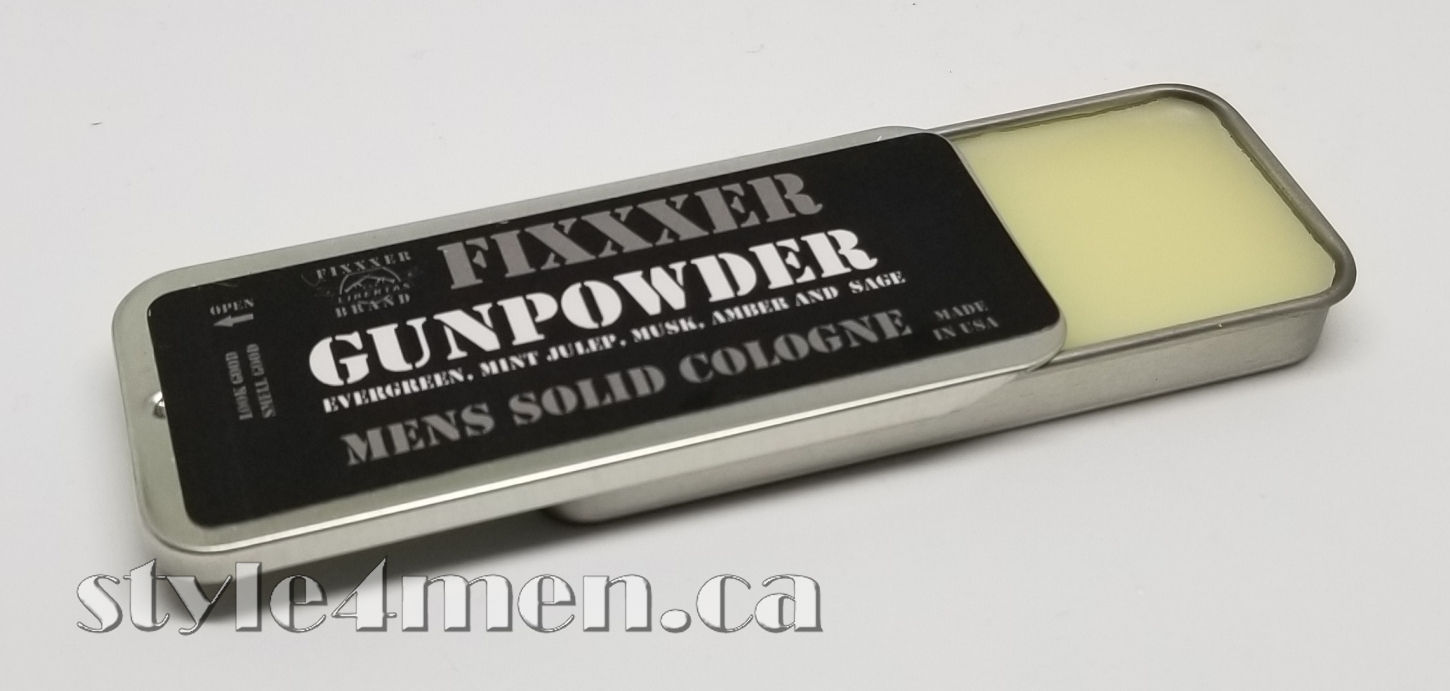 If you need a reminder as to where to apply cologne, here is the nice and easy chart from the folks at Art of Manliness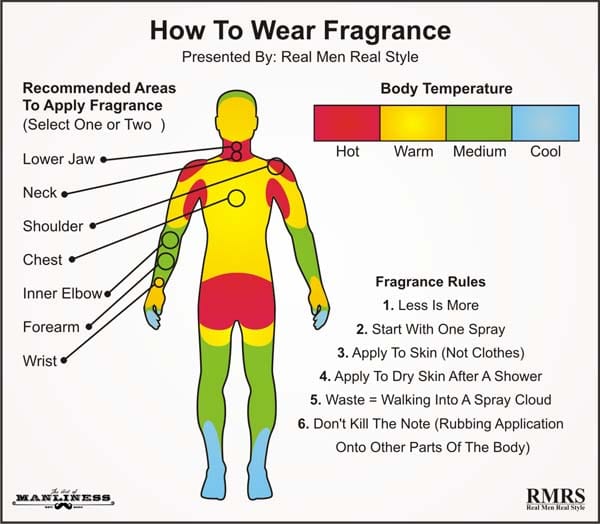 In closing, this is certainly a novelty piece, but it is well crafted and sold at a very honest price.
Use this link to shop for this product:
Note that it is sold out on Amazon Canada at the moment.