Hawk & Sons solid cologne range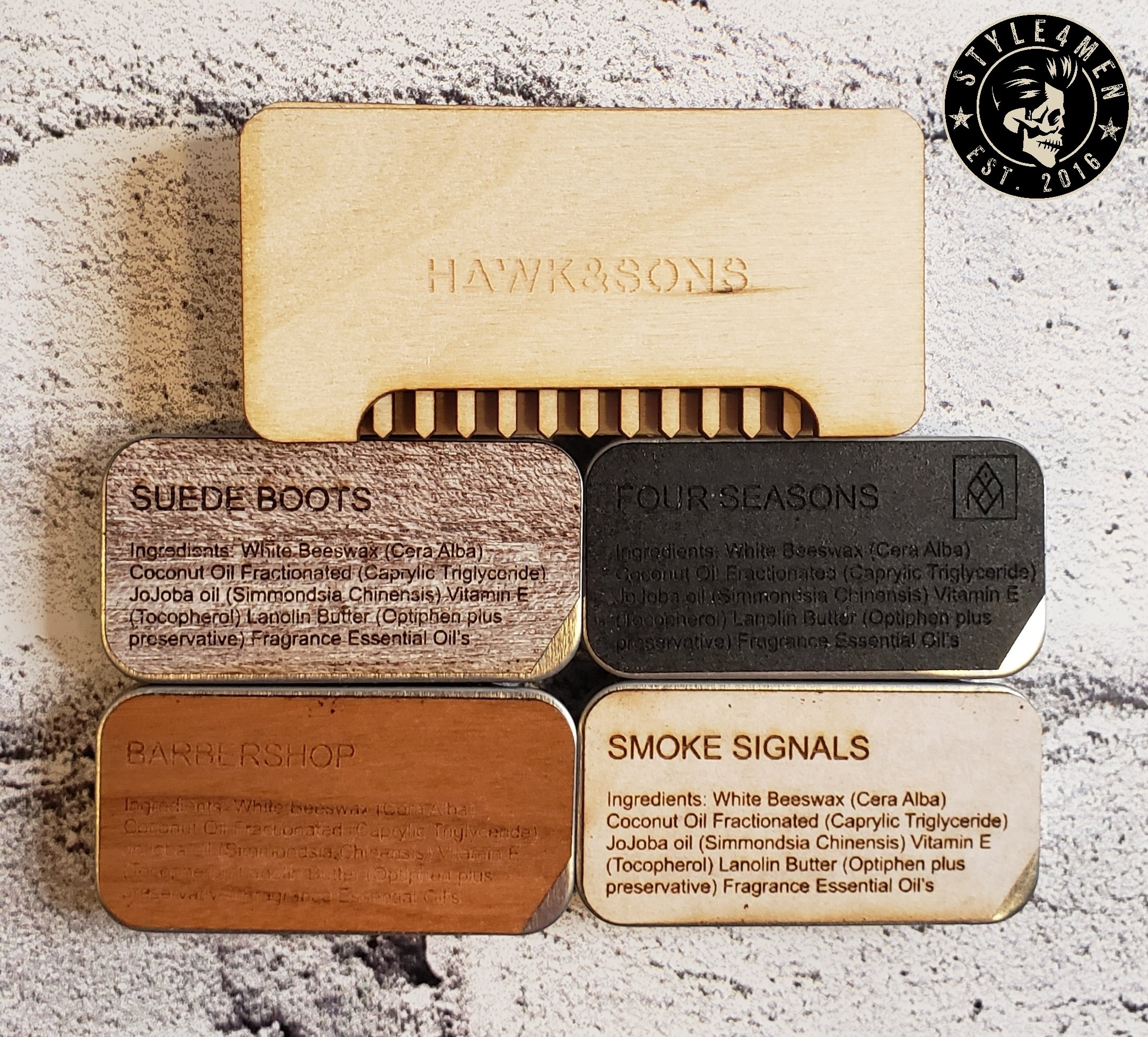 In this review we will be exploring the 4 solid colognes produced by the Canadian Company HAWK & SONS. The company has a small but targeted product offering; solid colognes and 2 beard comb options.

As a side note, this is our 400th posts on the site and I am thrilled to be featuring a Canadian brand and such an important product in men's grooming: cologne! Thank you to Hawk & Sons for working with us and being a part of this.
The scents are as follow:
Barbershop
Suede Boots
Smoke Signal
Four seasons
It goes without saying that these colognes are presented to appeal to the down to earth, outdoors type.
I received the solid colognes packaged in the HAWK & SONS box kit, which comes with a very interesting and intriguing beard comb and cologne magnetic holding case. This is a small 3 piece wooden case: a top lid, a comb and a cologne holding receiver.  It is actually quite appealing and very original.  Basically this case serves two purposes; a holder for your cologne as well as being a small beard comb. I haven't come across anything like this to date so this is a distinguishing perk.
I will assume that the simple practicality and beauty of solid colognes is a given.  If it is not, suffice to know that solid colognes are extremely portable while holding the same fragrance punch as the more typical sprays.  Instead of holding the fragrance elements in alcohol, they are trapped in a more natural arrangement of oils and wax.  You might initially be thinking that this little thin can is ridiculously small, but I would reassure you that it will last roughly just as long if not longer than a 75 ml bottle of cologne.
Solid colognes are a personal favorite of mine for the obvious portability and convenience, but the real beauty is the purity and originality of the fragrances.  For my nose, when I use a spray fragrance from the big houses, I always smell the alcohol and chemical concoction along with the fragrance.  I find that this hinders the beauty of the aroma.  I will even go further to say that if you have not tried a solid cologne yet; the first thing you might notice is the unencumbered and pure fragrance.  The arrangements are also not as extravagant.  You will most likely be able to identify the 2-3-4 olfactory participants as opposed to the 16 or more that might be used to create a big name fragrance.
INGREDIENTS:
White Bees Wax
Coconut Oil
Jojoba Oil
Vitamin E
Lanolin Butter
Fragrance Essential Oils
I would like to make mention of the uniquely attractive labels for these solid colognes.  Each label appears to have been etched in a thin sheet of wood giving the cologne a vintage and manly finish.  The presentation is very convincing.
With no further ado, here are my impressions on these colognes.
FOUR SEASONS
I started with the Four Seasons for no other reasons than the label was a mysterious black.  The elements I identified were: Fresh mint, wood and a slight sandalwood base note.  This is a refreshing scent that clears the mind.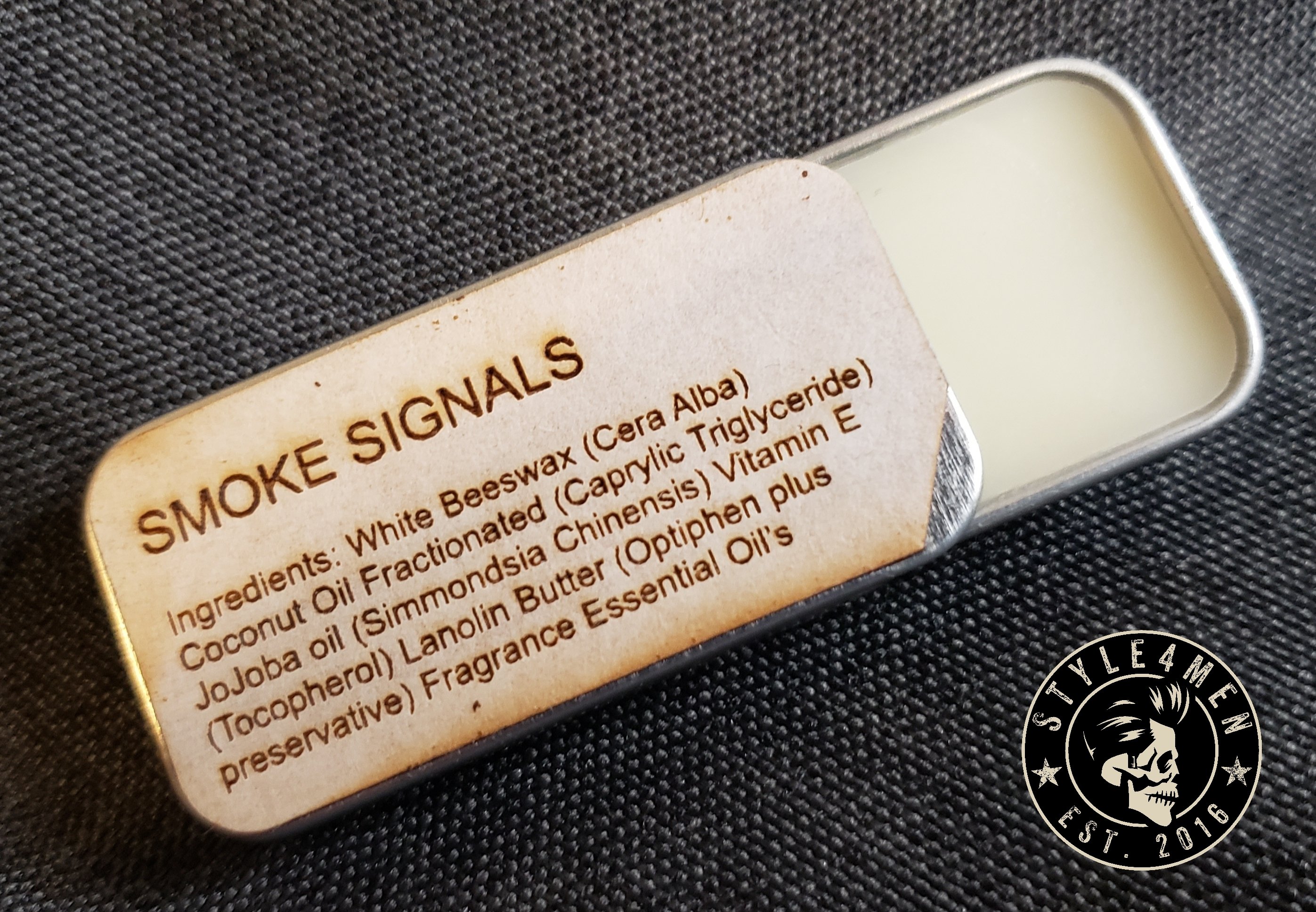 SMOKE SIGNAL
This one is for the Outdoorsman.  In an instant you are transported to the comfort of a comfy camp site where a warm fire is burning freshly cute pine.  It is earthy and mildly bitter.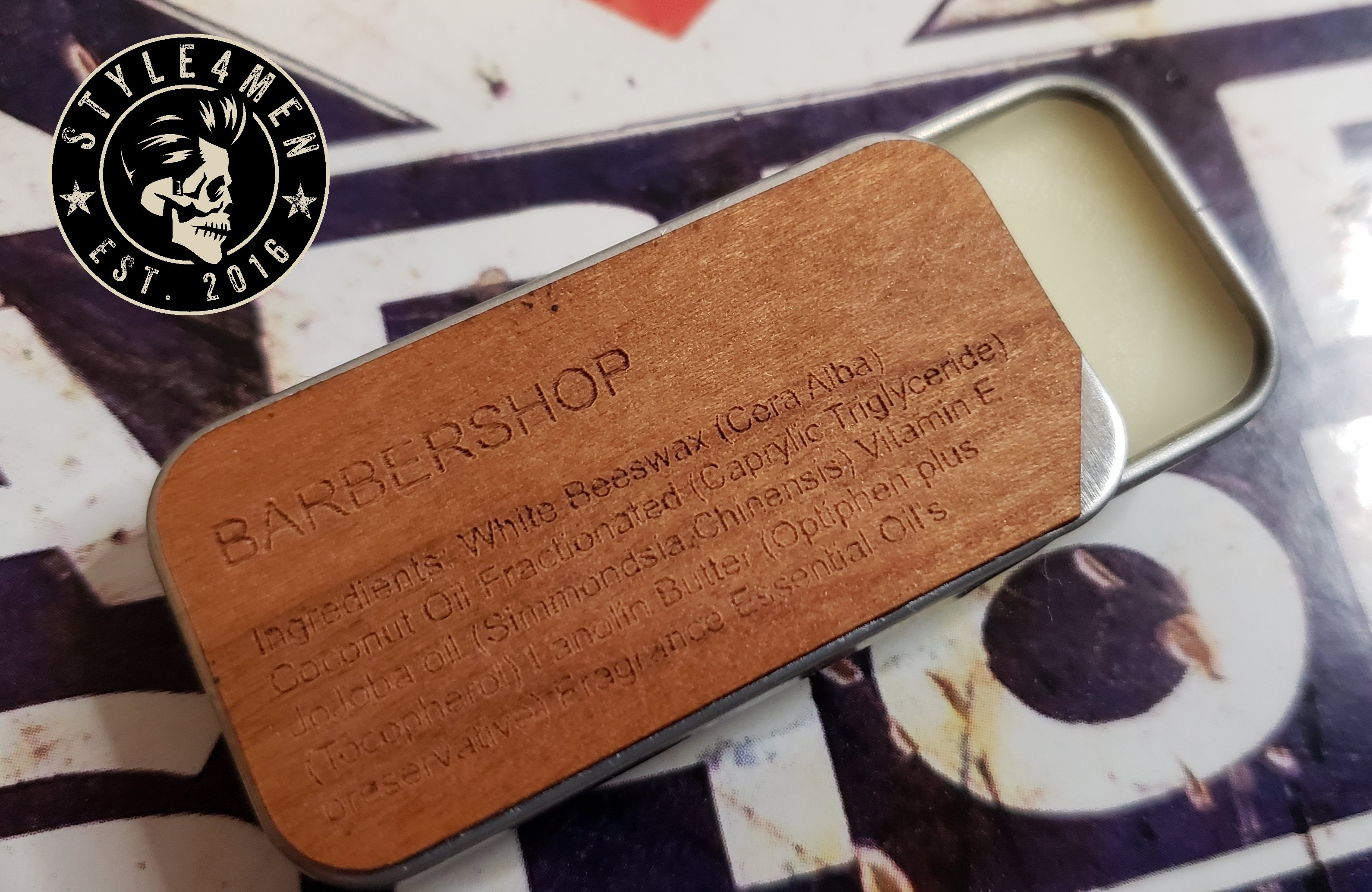 BARBERSHOP
The Barbershop was obviously a fragrance that sparked particular interest on my part. Being all about Barbershops, I was very curious to see where HAWK & SONS interpretation would bring me too.
I was pleases to be taken in a bit of a new direction, while still being a proper testament to the classic Barbershop.  It's a deep, warm and powdery composition that is still fresh.  I will venture that I enjoyed this Barbershop take more than I have others. The element of green freshness is what makes it more enjoyable
SUEDE BOOTS
Out of this set, this fragrance is my favorite. Oddly enough, the elements found here are often those you would expect in a Barbershop scent.  There are hints of leather (suede) and tobacco, perhaps a touch of vanilla and a distant splash of rum.  To my nose, this is the classic foundation of a gentleman cologne.  It brings me back to a simpler time.  Savoring a glass of rum while smoking a cigar in a deep leather chair! Life is fast and a fragrance like this reminds you to take it down a notch one in a while.
This type of arrangement is my go-to as a means to compare how well a fragrance is crafted compared to another.  In other words, if an Artisans or Perfumer has a tobacco – leather composition, I will use it to compare to another creator's works.  It's a way of comparing apples to apples.  This interpretation is one of the most pleasant I have had the pleasure to smell.
The memory – imagery trigger of a fragrance is paramount.  If a fragrance does not spark anything it is best left on the shelf. The SUEDE BOOTS was an immediate trigger to my stays in Cuba.  The ocean, the perfect tobacco leaves used to make Cohiba cigars and the rum…!
DURATION-PROJECTION
Not everyone applies cologne in the same proportion.  I am a very moderate user.  This is mostly due to my not wanting to leave a trail behind me as I walk through life.  I see fragrances as an intimate affair between myself and my lady. That said, I only applies 2 small swabs and this projected for about 2 hours.  Because of its incredible portability, you can carry the solid cologne with you throughout the day and apply as needed.
SUMMING THINGS UP
HAWK & SONS brings an original twist to the solid cologne space.  The scents are totally different and very well crafted.  While also avoiding the common traps of many solid colognes where there is either to little fragrance to deliver the experience or having one participant taking the whole thing over. Having been fortunate enough to sample all 4 fragrances, I believe that just one will not satisfy fully and that you should get all 4.