Mandarin & Patchouli cologne by St. James of London
In this third post covering the St. James of London product line we are focusing on the Mandarin & Patchouli cologne.
St. James is an incredibly well presented brand.  The packaging and presentation are elegant and stylish with a slight touch of colour in order to distinguish the aromatic grouping.  The Mandarin & Patchouli is appropriately identified with orange.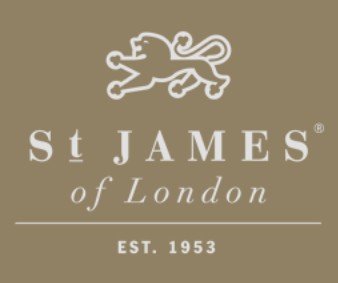 Just like everybody, I have been enjoying aromas and colognes all my life, but it is only recently that I have started to describe what it is I am smelling.  Interestingly enough, the scent itself is clearly the guest of honor, but the unexpected other guest and  perhaps even more exciting is the emotion of feeling triggered by the scents.  Yes, we use cologne to make ourselves more palatable to the people in our surrounding.  That is perhaps the altruistic portion of the experience.  But cologne or perfume is clearly also a very personal and selfish thing.  We obviously want to wear something we like and that brings us joy.  No one in their right mind would voluntarily apply a perfume they do not like, right?!
The St. James cologne is making me reach deeper or is pulling things out of me.  Either or, I am enjoying these succulent scents.  The first was the Tonka & Tobacco Flower.  Having smelt a number of tobacco based colognes this past year, I was more attracted to start there as I already had a basis in mind of where this could go.  That said, it is the Mandarin & Patchouli that has revealed the biggest surprise, the purity of the scents.
At every application or sniff in passing, I kept making myself the same observation without necessarily seeing the big picture: "how pure the fragrances smells".  Typically, a cologne has a noticeable alcohol element.  There is also a recurring basis among many if not all mass-produced colognes that I am NOT smelling in the colognes by St. James.  I am guessing that those are the chemical stabilizers and other similar ingredients which are absent.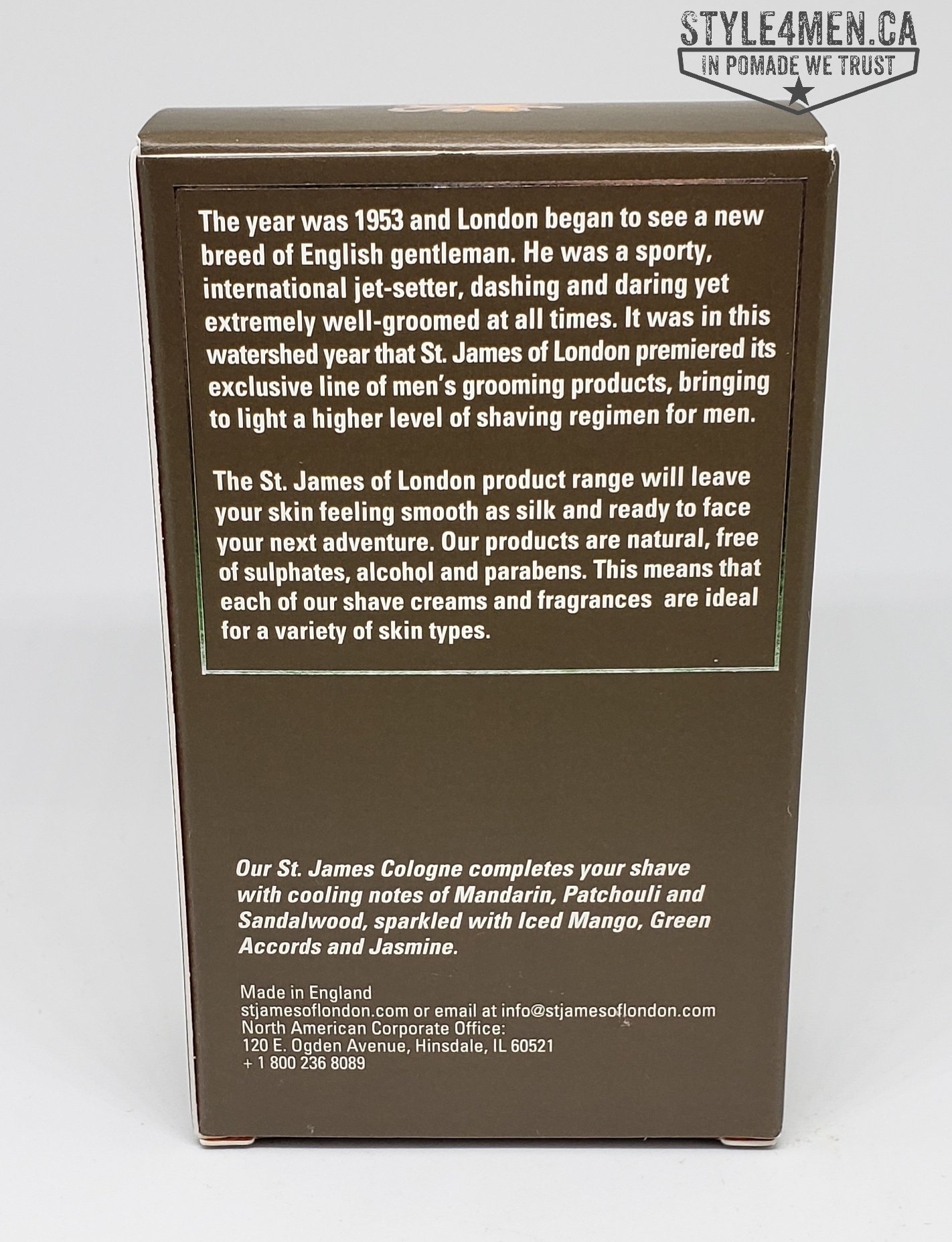 With St. James, the scent and the experience is "pure"!  My nose is not confused by other elements that I will call noise.  The aroma is light and delightful.  This Mandarin & Patchouli is not an overly complicated fragrance, where you are trying identify 35 participants.  But this doesn't mean that this is a simple cologne.  Quite to the contrary, the mandarin and patchouli aromas are blended in such a way that the result is something new, fresh, pleasant, original and elegant.
Mandarin is obviously citrusy, but it doesn't have that acidic or bitter element to it.  The sweet orange aspect is more present and in my olfactory opinion, mandarin smells more inviting than orange.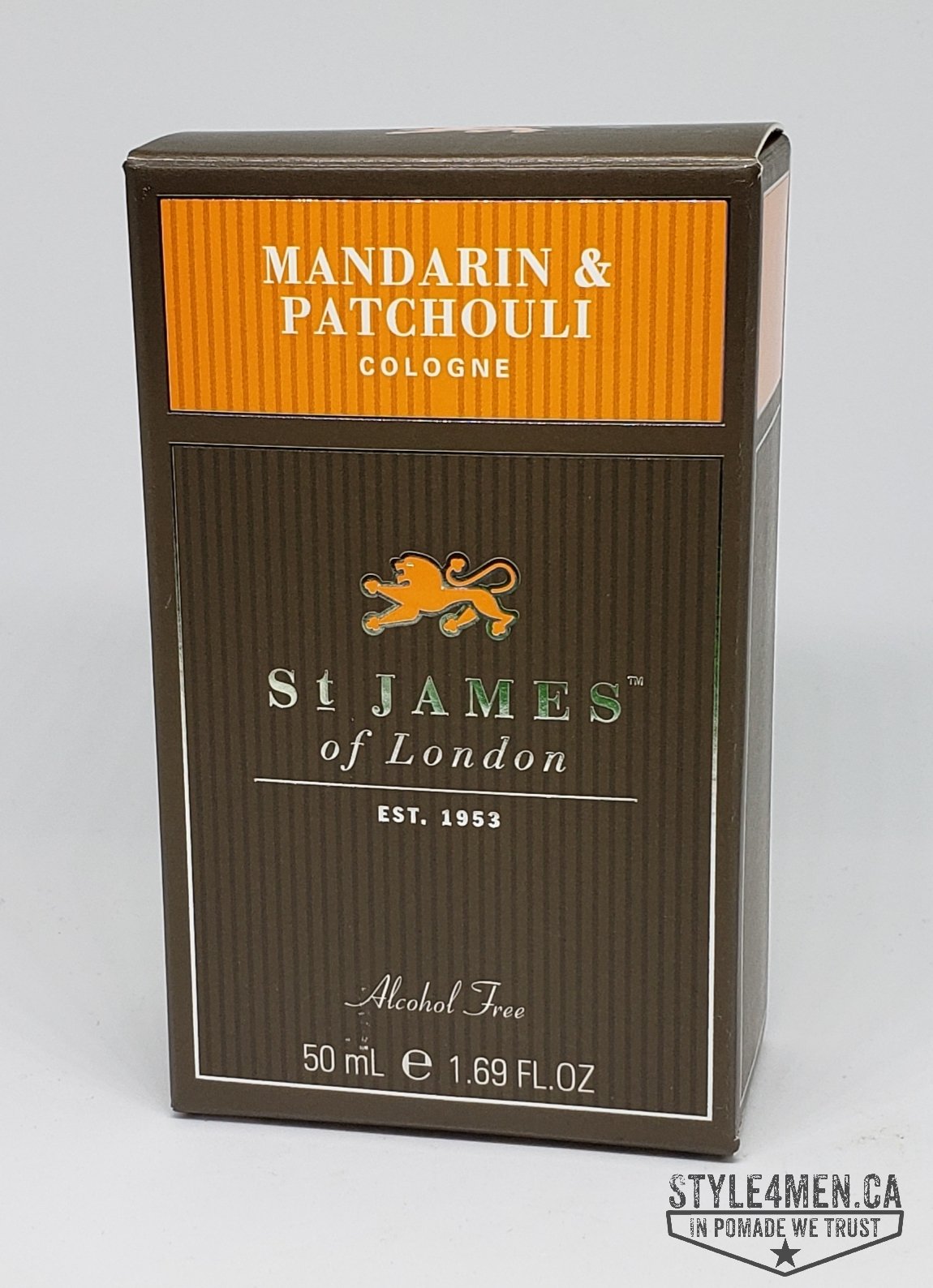 If you were to take essential oil bottles and smell mandarin and then patchouli you would wonder how did St. James manage to get something so perfect.  On it's own patchouli is nearly repulsive, but I am starting to understand that it is a taming or balancing agent.
Plainly put, this arrangement is pure perfection to my nose.  In my opinion, this is a considerably more modern fragrance.  Now a days, scents are no longer targeted for men or women in the traditional way.  Perfumers are making things that smell fantastic, period.  The Tonka bean & tobacco leave cologne I featured earlier fits into that more classic aroma to gender complex.  Here, the mandarin & patchouli could very well go beyond gender boundaries and be perfectly suited to both a man or a woman.
Earlier, I mentioned the emotions associated with a cologne.  The Mandarin & Patchouli created a comfortable, peaceful, sunny and happy aura.  Let's just call it the way it is, this is pure and total aroma-therapy!  🙂
How long does this scent last? Somewhere along the line of 4 – 6 hours.  I could still clearly identify it at the 3-4 hour mark and it gradually started to fade from there.  An interesting note is that I did not find this cologne to change over time or to mutate like many others do.  In my humble opinion, the cologne stayed true to itself for the duration.  This is a big consideration as what you think you are wearing is in fact what you are wearing.  🙂
I want to make a small detour on how St. James makes their colognes.  Typically, colognes are composed of alcohol in surprisingly large proportions.  The numbers suggest anywhere from 60% to as high as 90%.  St. James uses specially filtered and treated water to house their fragrance arrangements.  I get the impression that this is what renders such unaltered or pure flavours.
For the summer months, the is without a doubt a go-to cologne!  I will also venture that the mandarin is probably more of a day thing.  But we are in age where conventions are being flushed faster than yesterday's soup and if it works for you – then anything goes!
Bottom line, this cologne was a total winner for both its incredibly positive aromatic composition and lasting power.  We give the full 5 stars!