Solid Colognes by Ulio & Jack
In this review we are trying out the new fragrances by ulio&jack. This is the second post in this series on solid cologne!  Check out the first post on Fixxxer's Gun Powder.

As I became aware of solid colognes, my searches brought me to Ulio & Jack.  Clearly, Ulio & Jack are finding their inspiration in travel, exploration and an active life style.  Their site is a nice visit and will speak to the world traveler in you.  Having an active lifestyle, you might also be concerned about smelling decent while living that awesome life.  This is where having a practical and convenient solid cologne comes in.
What is a solid cologne? It is a solid bar of oil and wax in which a fragrance arrangement has been trapped!  Here are a few reasons as why you might be interested in a solid cologne:
Airport approved
No alcohol
Awesome portability and convenience
OK, I want one! -but how do I put that stuff on?  Scoop a tiny portion with your finger and apply it in the usual spots. See the body map lower in the post.  The standard waxes and oils used to make solid colognes are part of the "Rock Star" group of healthy skin care products: jojoba oil, shea butter and bees wax.  As we have explored in previous posts, these natural ingredients are full of goodness for your skin.
The presentation of these solid colognes is perfectly in line with what you would expect from a traditional cologne.  A classy box where the cologne is securely packaged.  The outer box with its sliding drawer like design, is just as original as the metal which contains the solid fragrance.
Ulio & Jack have a line up of 3 fragrances.  The fragrances are nice and modern.  To my nose the 3 fragrances are somewhat similar where the most noticeable difference is the intensity or potency. Overall, these 3 scents are within the same olfactory space.  By that I mean that the bottom and mid notes are similar.
Drifter – This one is the most potent of the 3, but we are understanding that with a name like "Drifter", you might need that extra umpft fragrance wise.
Explorer – this one is the midway option.  It is milder than the "Drifter" and stronger than the "Aviator"
Aviator – Mild, fresh and clean smelling – this is one is my favorite
The Explorer reminds me of Lacoste Essential (which now appears to have been discontinued), while the Drifter is similar but sweeter and a touch stronger.  All 3 of them are within what I would call the modern men's fragrance category, or in other words, the "IN" fragrances.
The Aviator is clearly my favorite as it is lighter, fresher and perhaps a bit more original.  The Drifter and Explorer are very pleasant fragrances, but maybe stronger than what I would wear.
Concerning the life span of the fragrance, it is comparable to a sprayed on cologne.  You are in for some 4-6 hours.  Something I might add that was bought to my attention by a co-worker with whom I shared some of these solid colognes; the fragrance does not change.  Generally, the spayed on colognes mutate a bit over time.  You might have heard something like: try it for an hour and see how it will work with your own chemistry.  Solid colognes, stay true to themselves.  This is a major perk in my mind as you are working with a known scent as opposed to something that will become something else over the course of you wearing it.
Price wise, these colognes go for $24 US plus shipping.  Considering the standard cost of an "IN" fragrance being around or over $50, this is somewhat of a deal. Buying on-line is a bit of a leap of faith, but hopefully my humble descriptions will be of assistance.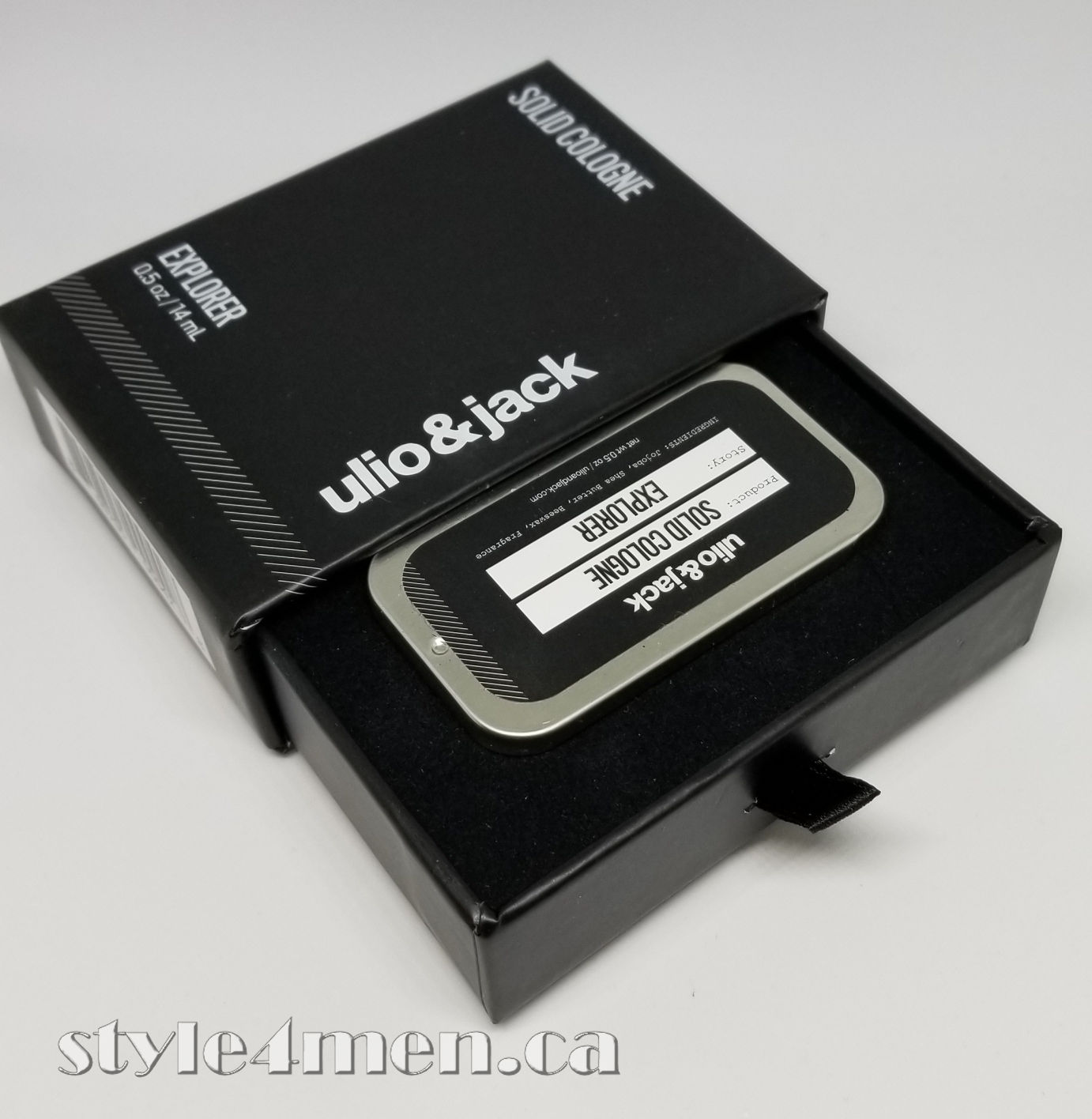 Taking off on a tangent…
In this new day and age of political correctness and respect of everything, we are certainly reaching a higher level of civility as humans, but it has also come at a price.  Colognes and fragrances as a whole have been pushed to the background.  How many of you work in an environment where colognes are no longer acceptable?  I am of the opinion that my own rights are being ruffled by not being permitted to enjoy the scents of life, the good and the bad.  We are now living in a world where things don't smell.  Wake up call – life smells!  Years ago when I lived in Toronto, we played this silly game called: Name that revolting smell.  At the time Toronto still had a number of manufactures producing all sorts of things, some of which where particularly potent.  The point of this, is that evolution gave us this amazing sense and it's a shame to not be able to embrace it.  Smelling stuff is fun and it has great potential on our moods and state of mind. Imagine eating chocolate or having a coffee without being able to enjoy its smell – it's half of the experience out the door.  When you have a cold, food is just not the same, right. In the animal kingdom, with dogs in particular, much of a relationship is decided only based on smell.  Based on something or someones smell, the dog will decide if it likes you.  In many respects we do the same thing.  Someone's scent might make you be interested in them or quite the opposite.  Yes, we are more evolved than that and there is more to someone than their smell, but it does speak to their lifestyle, habits and so on.  Our nose is there to help us identify what or who is in front of us.
This also goes hand in hand, with why we came up with fragrances to begin with.   Yes, in some respect to hide our stench, specifically before we had proper hygiene accommodations like soap and running water, but the real reason why we might want to change or improve our scent is to make ourselves more palatable to others.
But this is a more of a anthropological and social observation and  well beyond the boundaries of Style4Men.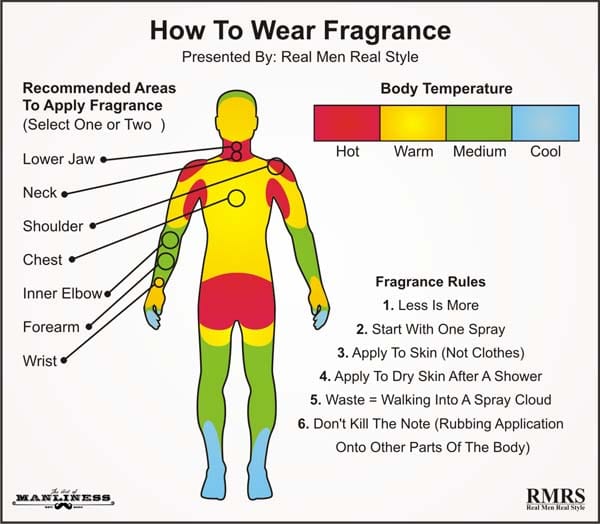 Reference: Art of Manliness
Solid colognes are a fairly new offering on the market and there are still only a limited number of players.  You will notice that none of the big brand name have yet jumped on this band-wagon and it is remaining a more artisanal type of product. I think that these smaller players are also producing new and more original fragrances as new people are taking a stab at it. Here are some of the other brand I came across: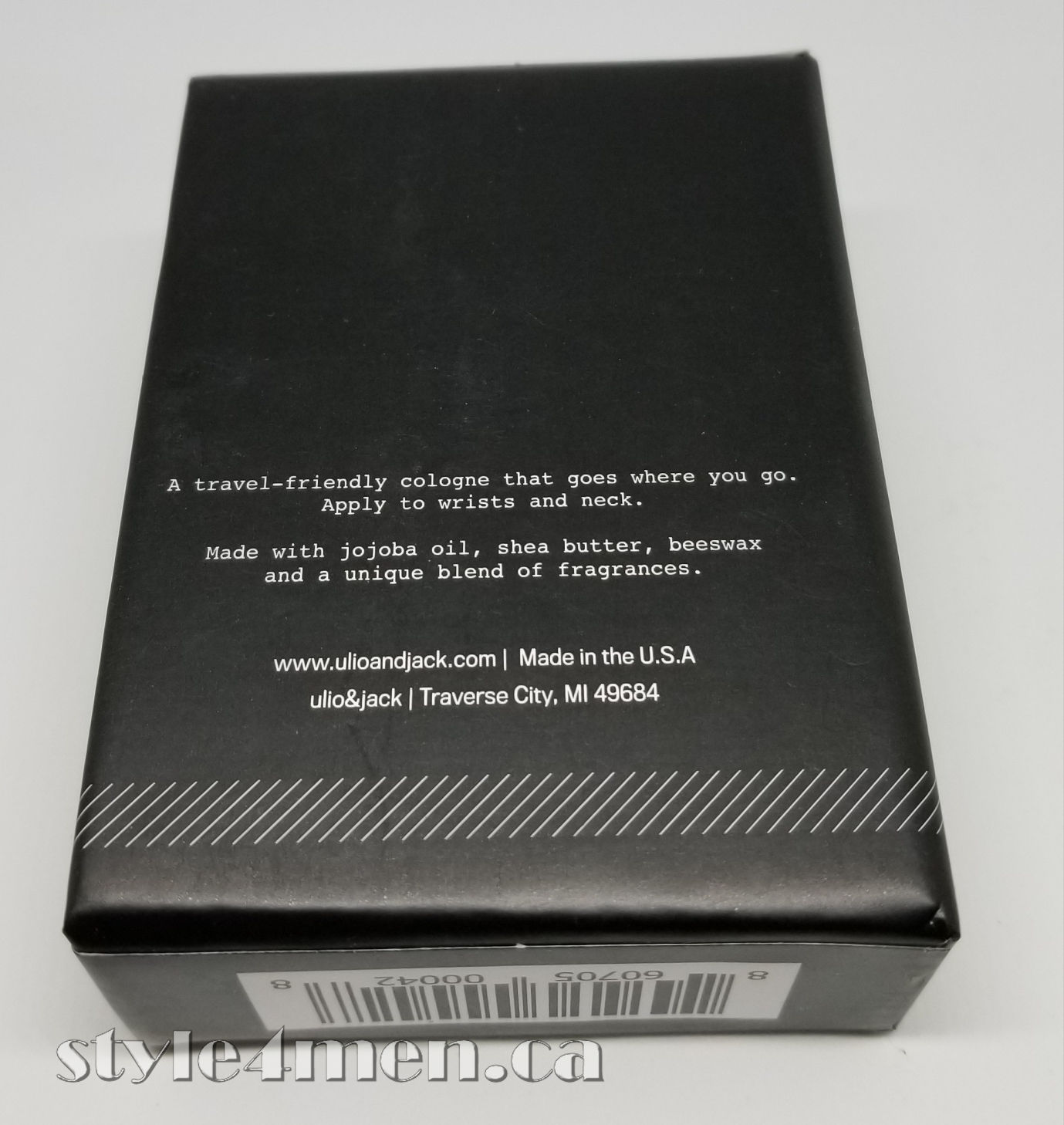 In closing, the colognes offered by ulio & jack are "solid" options with pleasant scents.  The practicality and portability of the little metal box is a winning solution.
Use these links to shop for solid colognes: