SOLID STATE Solid Colognes – Elegance meets convenience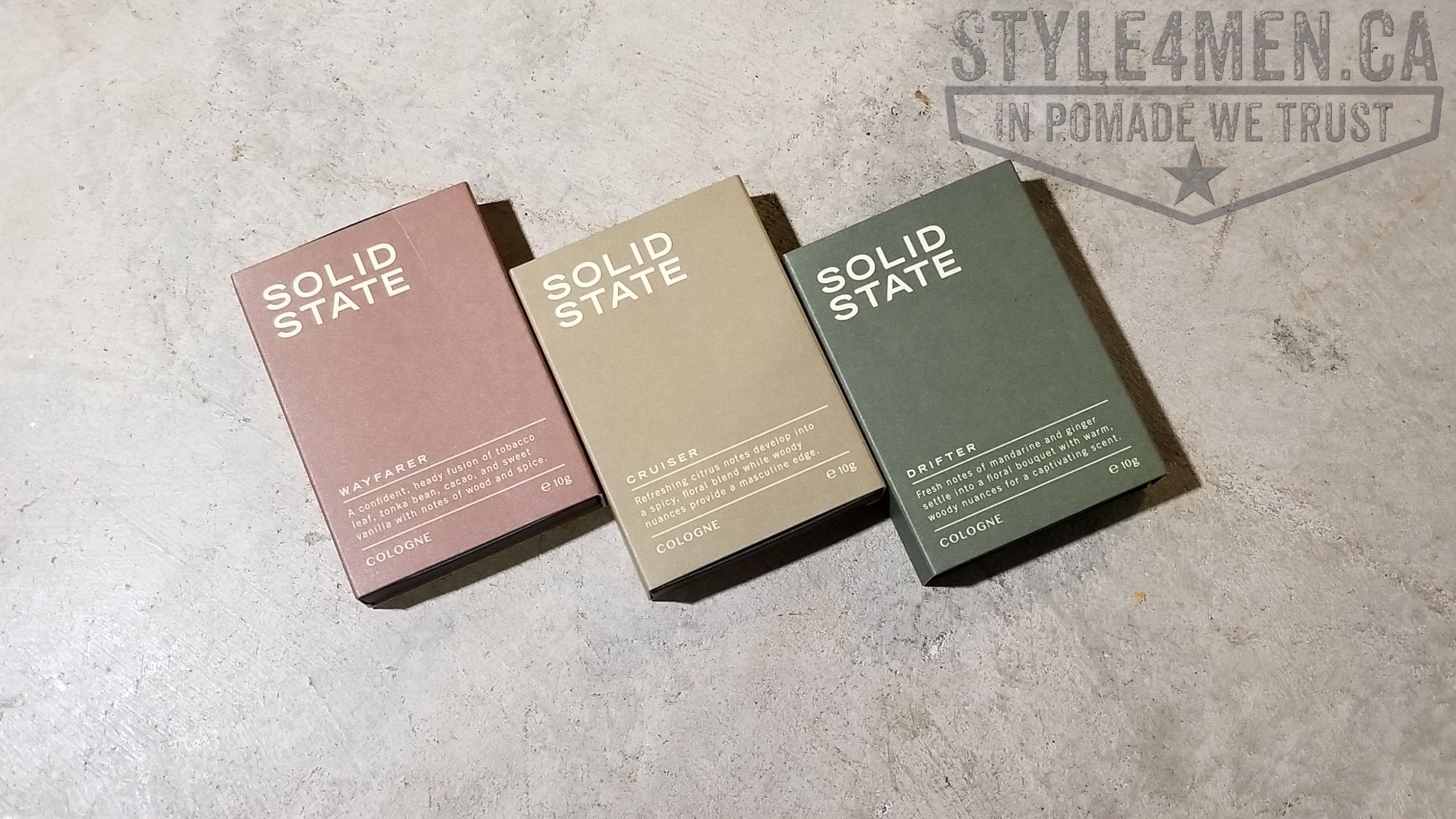 Today's post is about a very nice solid cologne range coming to us from some folks down under (Australia) at SOLID STATE.  This is actually the second brand of Aussie solid cologne we are reviewing.  The last one was the Concrete El Dorado from the Bearded Stag.   Read our other Solid Cologne posts. If there are any doubt in your mind about the state of "men's grooming" in this part of the world,  put your mind at ease and be blown away.  The industry is doing extremely well there.
With no further ado, let's get right into it.  First off, choosing the "SOLID STATE" as a brand name for solid colognes is brilliant.  It couldn't be more to the point.  Secondly, they have a very decent selection which currently is as follow:
Drifter
Journeyman
Aviator
Freshman
Wayfarer
Cruiser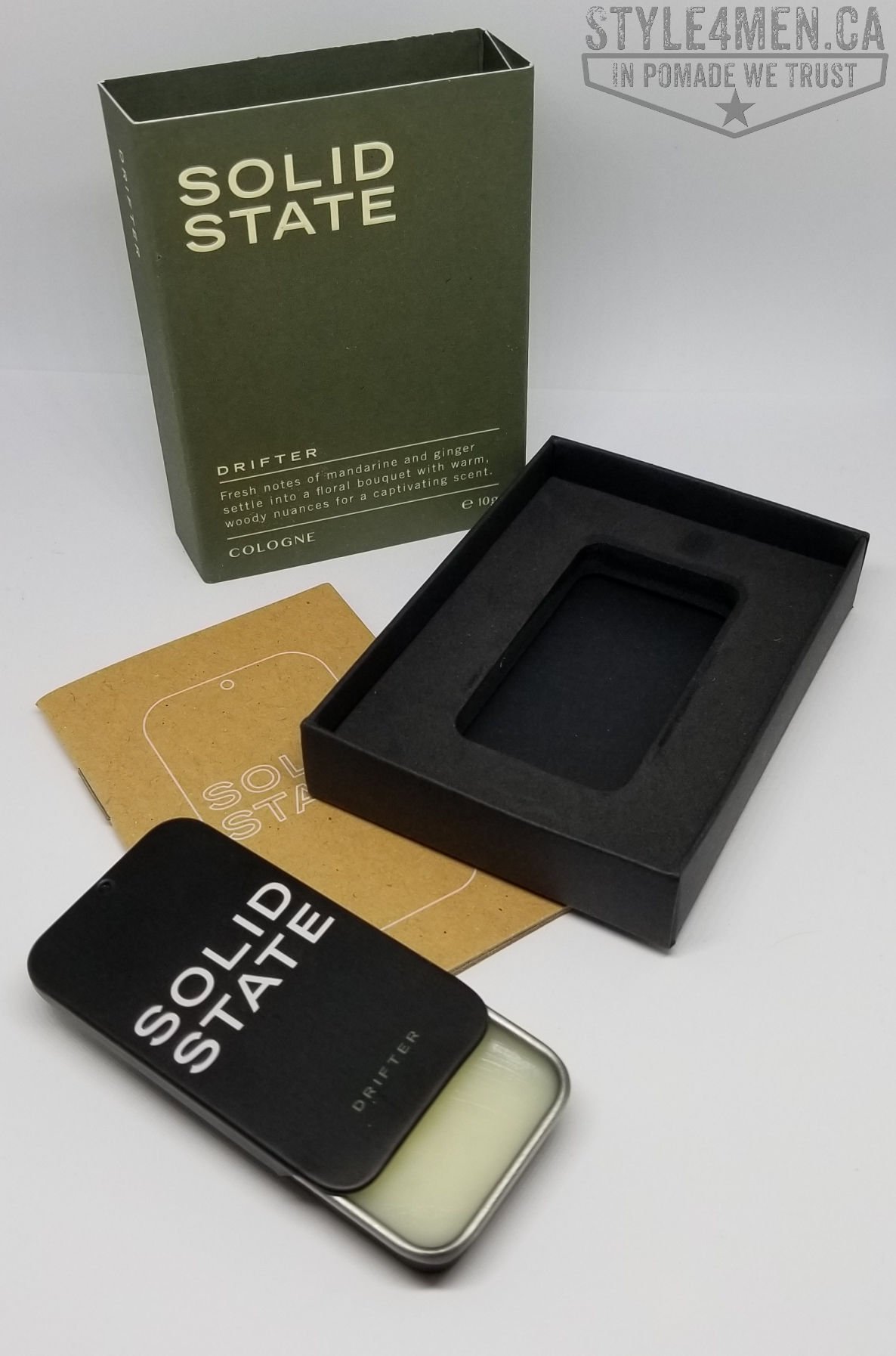 These colognes are further broken down into two sets:
 Marrakesh
Corsica
Freshman
Aviator
Journeyman
A BIG shout out goes to Sophie at SOLID STATE for making this review possible.  🙂
For this review, I have the Marrakesh threesome.  Honestly, after trying out all 3 colognes over the past week, I couldn't imagine being disappointed with the Corsica set.  But we are jumping a bit ahead.
Up front, the packaging and presentation of these solid colognes is worthy of any fragrance counter in a fancy department store.  It's elegant, simple, masculine and informative.  Men's colognes are rarely sold with a written description of what to expect.  It usually is a very subjective process.  Here SOLID STATE is taking a "guy" approach to the experience and simply telling you how it is.  No BS!  For my simple mind, it could not possibly be any better.
The solid cologne is beautifully packaged in a sliding box cover which opens on a small pamphlet which when removed will reveal the cool rectangular solid cologne can.  This can is a nice aluminum container with again a sliding lid.  With the can painted in a nice matte black, it is undeniably meant for a man.
Out of the 3 I tired (Wayfarer, Cruiser and Drifter), the Wayfarer was a distinct winner.  That is, if I have to choose, because we are working in a league above here.  These are not simple bing bang scents.  Your nose will be having some fun identifying things.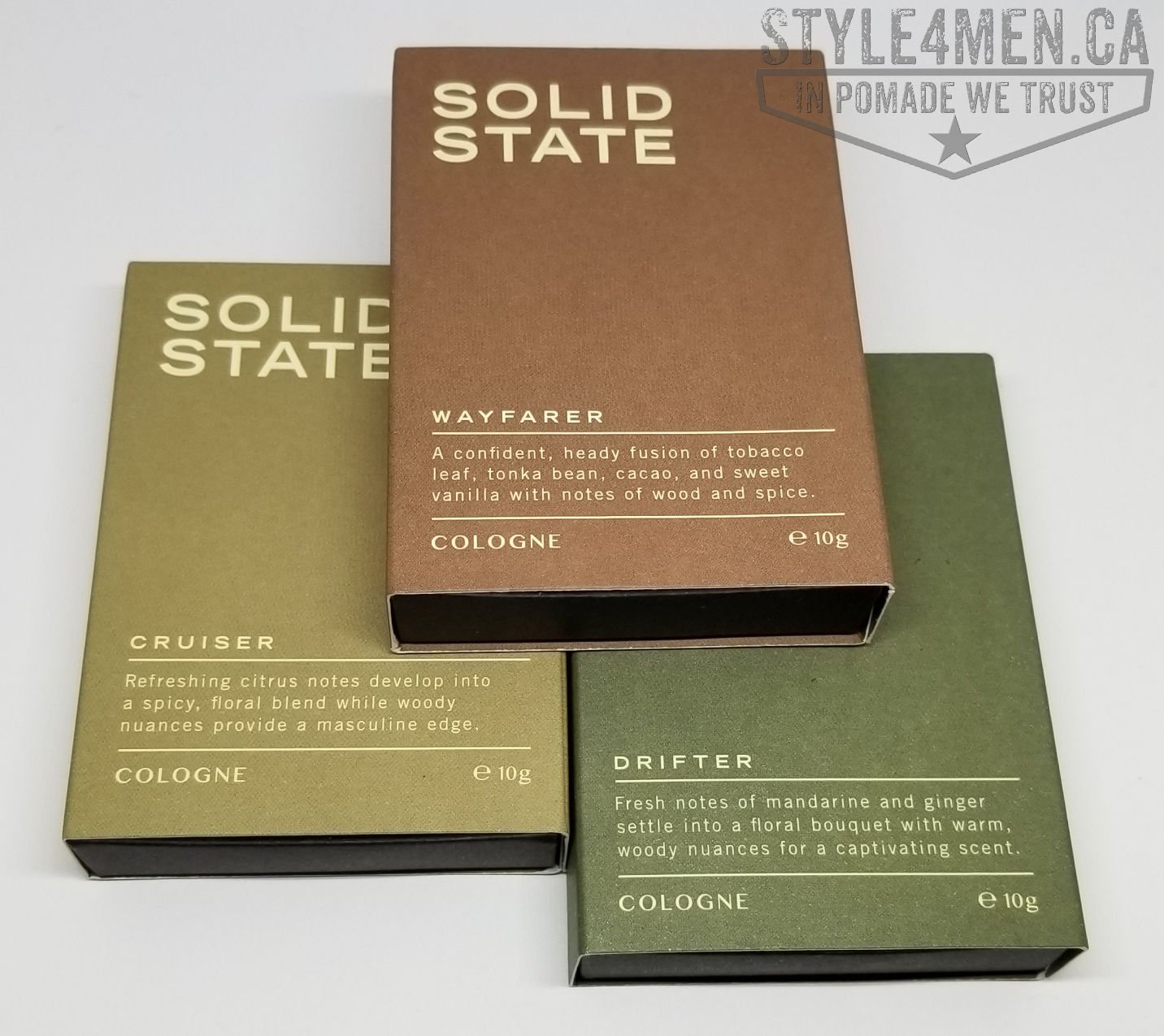 The Wayfarer
The tobacco leaf, tonka bean, cacao and vanilla arrangement made for a beautiful and subtle concoction.  Each element is very well dosed and none of them dominate the other, thus making for a very harmonious and balanced fragrance.  Yes, you will be able to identify all parts but together they make something new.  Although tobacco is present, it doesn't smell like a cigar or a pipe.  It is a refined and mature fragrance without smelling like a retired gentleman on a golf course.  It's more of 1950's Cuban casino thing.  If I were to be transported to a place and time by this aroma. 🙂
The Cruiser
This one is my second favorite.  The citrus, spice and wood elements make it a perfect contender for summer days.  It's fresh, crisp with elements of sweetness.  Working in an open and busy office space, carefully choosing a cologne that makes me happy while being respectful of others is key.  The Cruiser fits that agenda very well and was a winner for me this week.
Last but not least, the Drifter.  This one is a tad more potent than the first 2, thus appropriately named.  It is an equally well-crafted perfume, but perhaps more along the lines of the modern men's fragrances.  The players are: mandarine, ginger, flowers and wood. In this one, the floral aspect along with the ginger makes the top note and almost masks everything else.  The mandarine is sadly almost unidentifiable.  I was disappointed, because I am a mandarine enthusiast as well as all things "citrus".
As you know, Mrs. Style4men.ca is asthmatic, so choosing a fragrance is always a delicate affair.  Obviously, the scent has to be pleasing to her, but there is also the whole chemistry side of thing to be considered as alcohols and other strong players generally trigger reactions.  She had no aversions to any of the 3 colognes.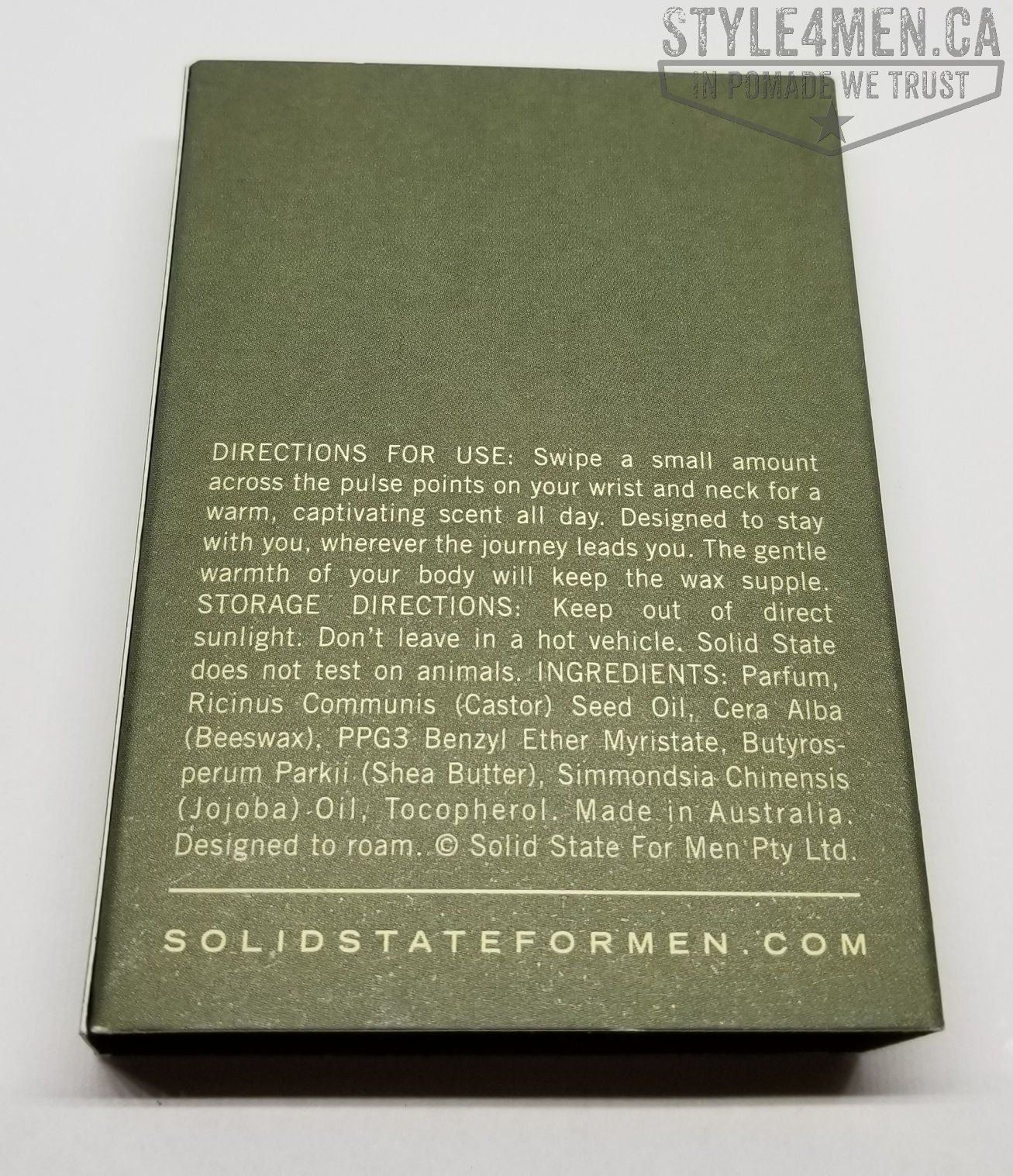 The life span of these colognes is in the 2-4 hours ballpark.  I typically will only apply a small amount.  A few swipes of the index on the wax which is then transferred to my forearms and neck.  Just enough so I can smell it.  Moderation is the only word to live by when it comes to colognes.  Considering how convenient these little cans are, taking one with you for a later application is as simple as carrying your money clip.
Aside from portability and convenience, solid colognes also offer a huge leap forward for anyone with allergies or skin ailments.  The sum of the ingredients used are of natural source: castor oil, beeswax, jojoba oil being the front line players. Being a simple man, I find comfort in knowing that if a product is made with stuff that is safe for me to eat, I have nothing to fear from it by putting it on my skin.
Although I have mentioned this in all my other post on solid colognes it is worth repeating: the 10 gr container is actually a generous portion.  First off, you are not wasting almost 50% of it by spraying it all over and only getting a small percentage. Secondly, you are getting so much fragrance fun with a single index swipe that very little is needed.  This little can will last you a number of months.
In closing, the SOLID STATE solid colognes are impressive, manly and refined. If you have any worries about buying goods from Australia, you might be surprised to know that even if shipping is expensive it is faster than orders coming from the US to Canada.  It was under 2 weeks for this shipment. There are also no special or hidden taxes between Common Wealth Countries.
These colognes get 5 starts from us.
You can shop directly with SOLID STATE using this link: