The amazing DEMETER Fragrance Library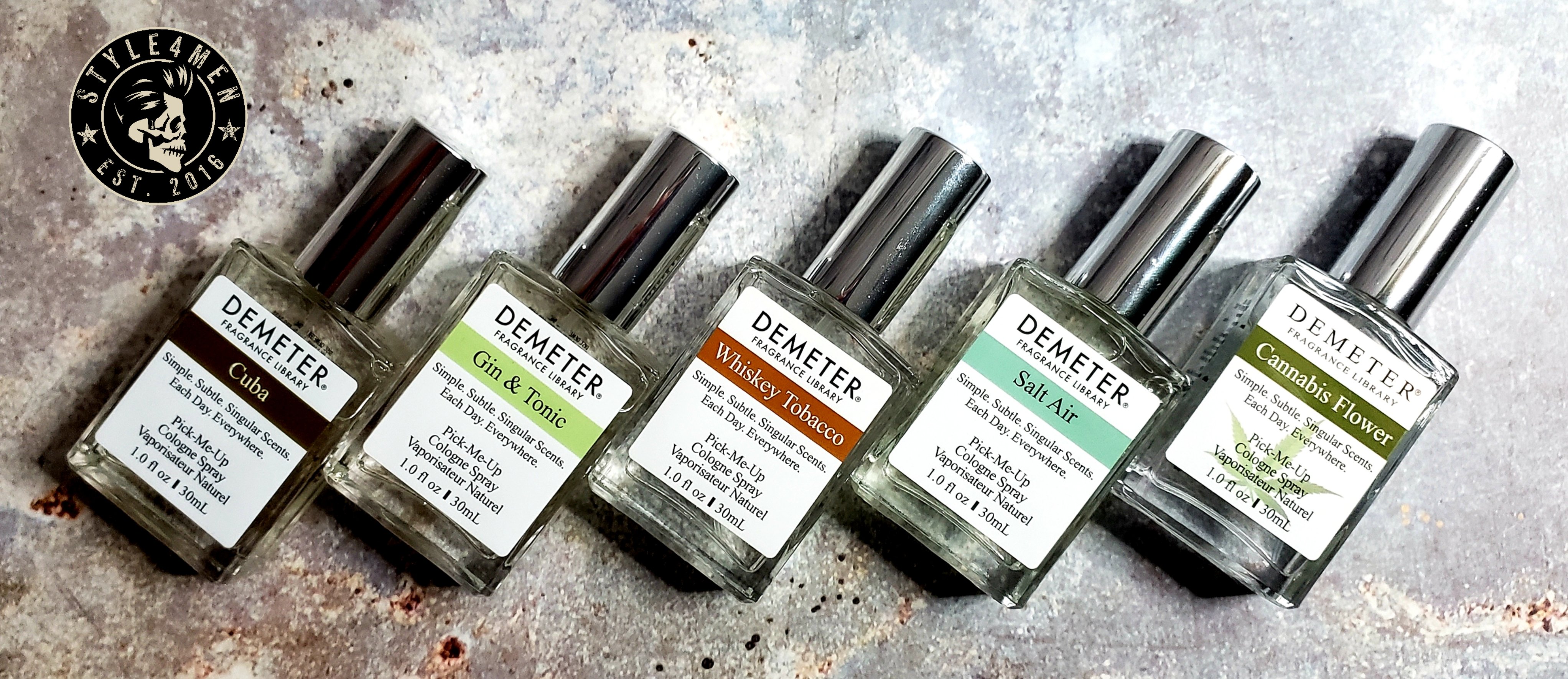 These past few weeks I have been trying out perfumes by DEMETER Fragrance Library.  I came across this brand on Instagram and was blown away by the incredible size of their catalogue as well as by the originality of their arrangements.  This is where DEMETER stood out for me.  Forget what you think you know about a niche fragrance house and embrace the pure and simple joy of raw scents.  From things like "Kitten Fur" or "Baby Powder" all the way down to "Elvira's Zombie" with a detours down Candy avenue for a "Tootsie Roll".  In short, a completely unpretentious fun ride for your nose and anyone lucky enough to be around you!
Shout out and a huge thank you to DEMETER for giving me free range to their library for this review.
They also have some very manly options.   I picked the following 5 fragrances:
Whiskey Tobacco
Cuba
Salt Air
Gin & Tonic
Cuba
Cannabis Flower
You can see that there is a bit of theme going on.  Old-school, classic scents!  Without wanting to spoil anything, I will let you know that I loved all 5 of these fragrances.  My nose finds comfort in the warm aromas of the early to mid-20th century.
Although I loved all 5, I did have some favorites: Whiskey Tobacco and Cuba scored highest with me because these fragrances sparked my imagination and triggered pleasant memories.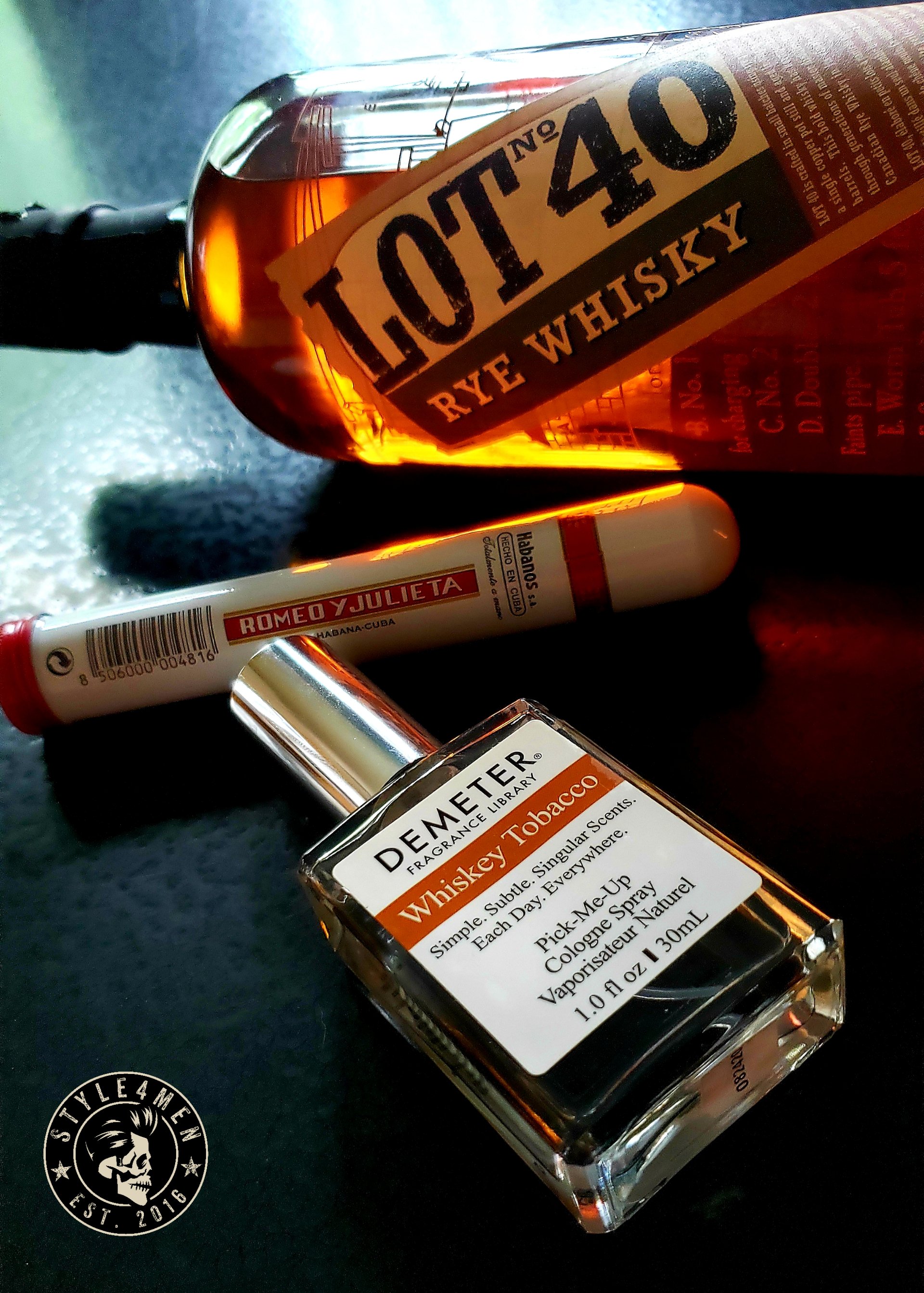 WHISKEY TOBACCO
During my unboxing, this is the first fragrance of theirs that I sampled.  The name is perfectly descriptive and I identified both whiskey and sweet tobacco leaves right away.  There was also a peaceful and soothing green element to the mix.
For anyone not to clear on what tobacco might smell like, rest assured that we are not talking about the bitter scent of cigarettes.  Think pipe tobacco or cigars.  Tobaccos leaves have a surprisingly pleasant aroma that is often augmented by soaking the leaves in various alcohols, like wine, or sherry and so on.
The imagery is along the lines of a sunny afternoon with a sweet whiskey and perfect cigar and you are a wearing an elegant 1950's light coloured suit and a wide straw fedora.
Projection: mild-medium-strong
Longevity: 4-6 hours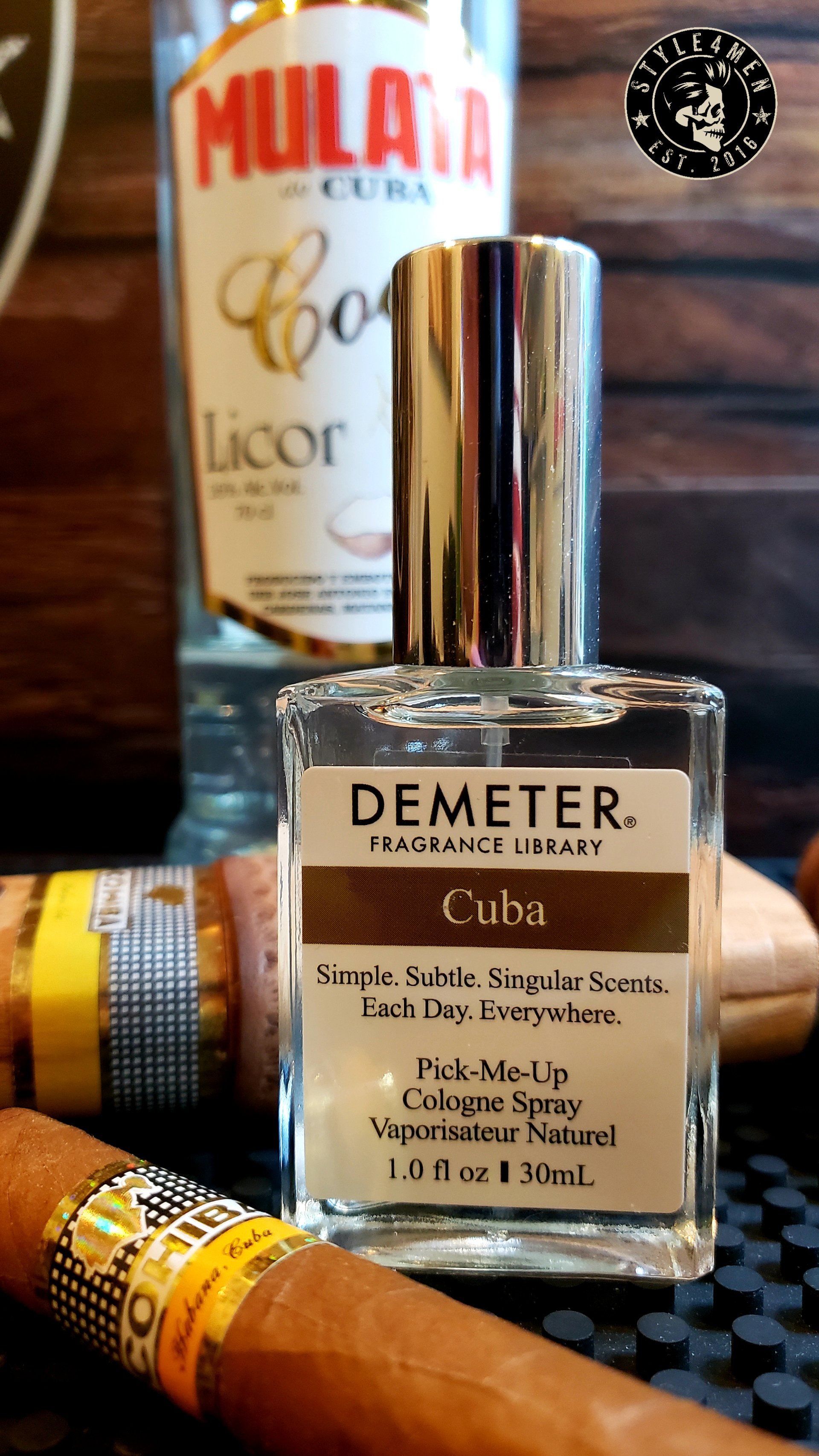 CUBA
Cuba has been a recurring winter destinations for Mrs. Style4men and I and this island obviously holds a special place in our minds and hearts. Cubans do a number of things well, but are known worldwide for their exceptional rum and cigars.  Generally speaking, Cuban rum is available in 3 varieties: 1 year, 3 years and 5-7 years of aging. The older the rum the darker it becomes as the sugar ages.  For those of us who might want even more of a sugar taste, there are various coconut rums.  Why I am taking off on this tangent? – Because this Demeter fragrance is reminding me so much of that sweet delicious coconut rum!
In many respects, this fragrance is more of a gourmand arrangement.  For sure, there is a big rum presence which is balanced or accompanied by others like coconut, sugar cane and chocolate.
If you have explored old-school bay rum aftershaves and have been disappointed because of approximate rum aromas and generally absent sweetness, Cuba will be fragrance to fill in that void.
Demeter's Cuba wins me over by being a sweet rum arrangement that you literally want to drink/eat.
Projection: mild-medium-strong
Longevity: 2-4 hours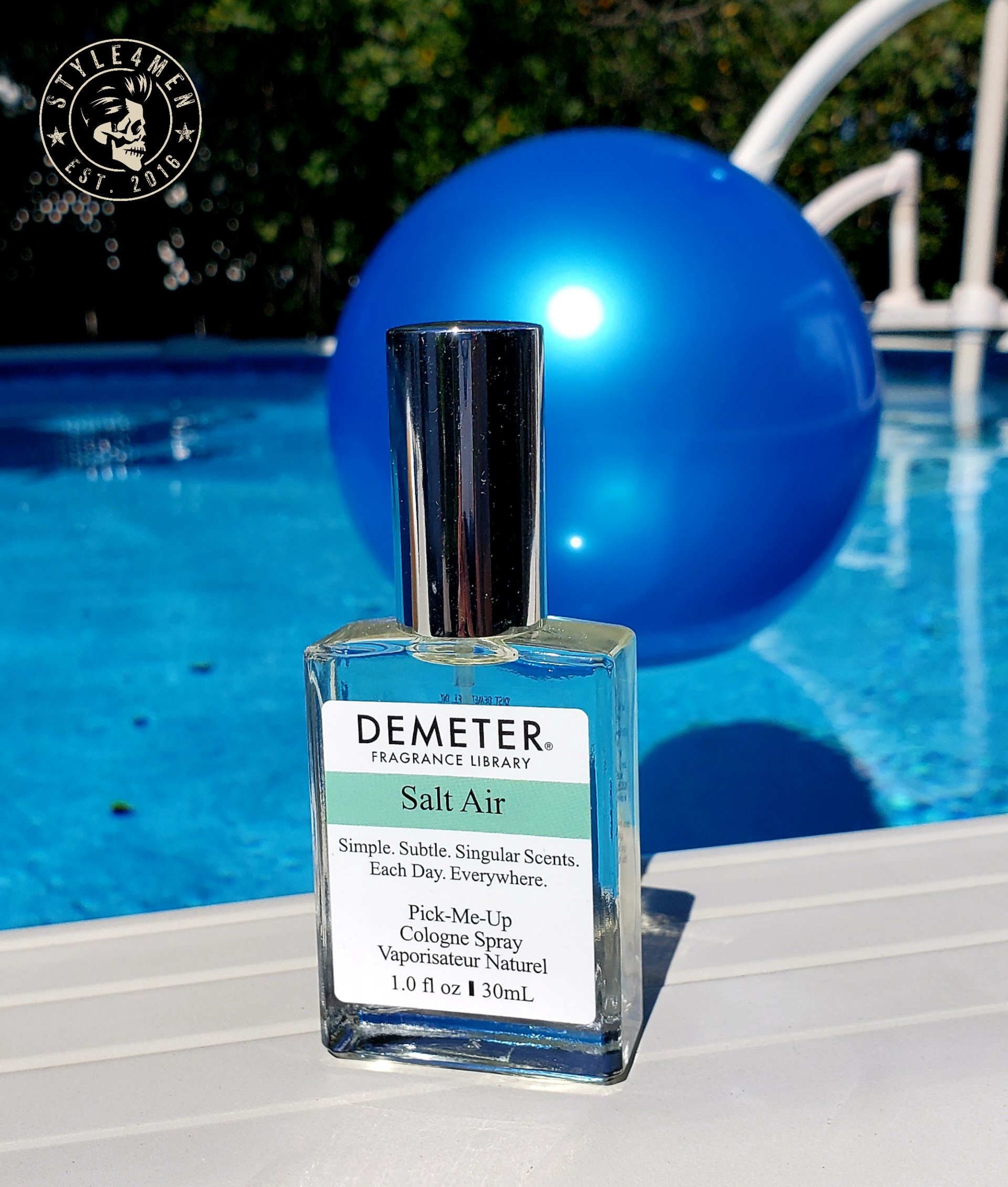 SALT AIR
This fragrance turned out to be somewhat of the revelation of the set.  Everybody out there is marketing a fragrance inspired by the sea or the coastal life.  So much, that no matter which one you try there is generally a sense of disappointment.   This is the first time I smell a fragrance that without a doubt makes me envision the ocean and feel the wind.
Picture yourself on a large bolder overlooking a beach.  Elements of salt, seaweed, driftwood and that ocean breeze.  My reference point for that ocean breeze is the Canadian Atlantic and where the Atlantic meets the Caribbean's.
A very pleasant arrangement that would work well on a cool summer evening.  I will add that this scent might work well on a woman also as it would bring out different facets of this fragrance.
Projection: mild-medium–strong
Longevity: 2 – 4 hours
Gin & TONIC
Having enjoyed a Gin & Tonic on multiple occasions, I was hoping for strong elements of freshness.  At the same time I wasn't entirely sure what to expect in a fragrance since gin is a rather mild smelling alcohol. Considering how gin is made you would expect it to have stronger olfactory qualities. Some of the following ingredients are used to make gin: juniper, coriander, citrus peel, cinnamon, almond, liquorice…
The top note is a clear refreshing tonic quickly followed by an appropriately balanced touch of lime. In my mind this is the perfect summer afternoon fragrance as it will cool and refresh your senses.
Projection: mild-medium-strong
Longevity: 1-2 hours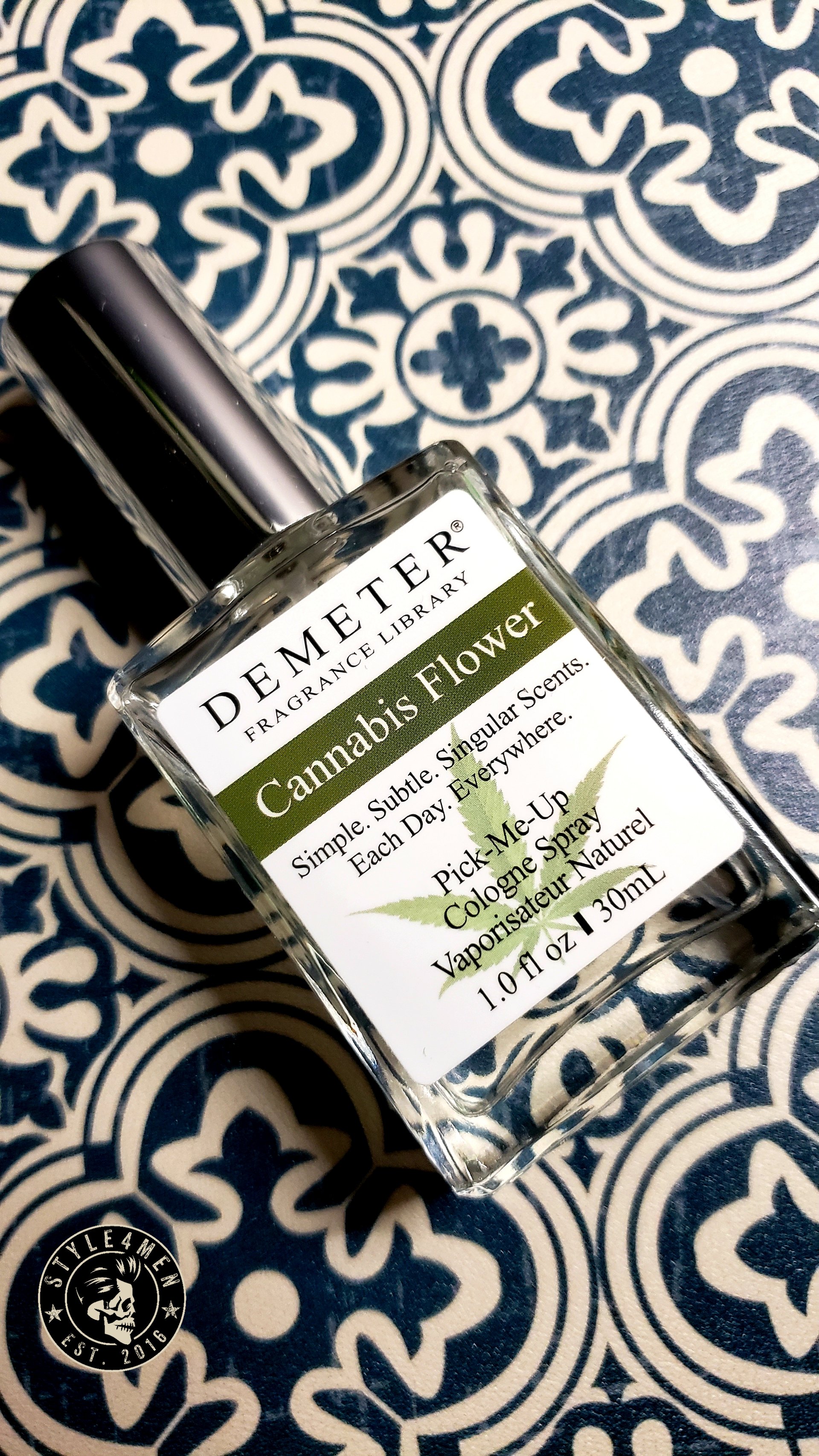 CANNABIS FLOWER
This one was picked just out of sheer curiosity.  I am by no means an expert of this plant, but I do have a few points of reference.  The typical cannabis I have smelt would have been dried buds and some leaves.  In that state, there is little aromatic beauty. Then there is the more common scent of the burning cannabis.  Obviously, our minds associate the good vibes that come from that, so in that respect we say that it smells good.  That being said, I do not know what a cannabis flower might smell like when it is in bloom.
Out of the 5 Demeter fragrances tried out here, this is the most tamed of the set.  By that I mean that its scent is further away.  It is considerably more faint than the others!  But if you give your nose a bit of time to get used to it, you will detect a first big blast of freshness, like a refreshing breeze coming off a mountain lake. Then there are more earthy elements, like moss, fern and woods.  And at the end, the base note, there is an element of cannabis.  But it is completely civilized.  I find it to be a green and earthy fragrance with a summer breeze top note.  Don't worry, you won't smell like Cheech or Chong!
Projection: mild-medium-strong
Longevity: 1-2 hours
The Verdict
Exploring these fragrances by Demeter has been extremely enjoyable.  The aromas are pure, straight forward and beautiful.  Most designer fragrances are a complex arrangement of scents to finally arrive at that finished "perfume".  The experts will be able to identify and gauge all of the participants, but most of us have to simply accept the beauty of the fragrance without necessarily being able to identify more than 1 or 2 ingredients.  Forget the confusion!  Also forget about those fragrances that more or less all smell the same.  The Demeter fragrances caters to a more primal space in our minds, to raw emotions, to the simple pleasure of an aroma.  It's like a direct connection to your memory center.  Exploring these fragrances has been a total joy ride!  I sincerely hope to try many more of their fragrances and get lost in their library.