The olfactory delight that are the Gallagher Fragrances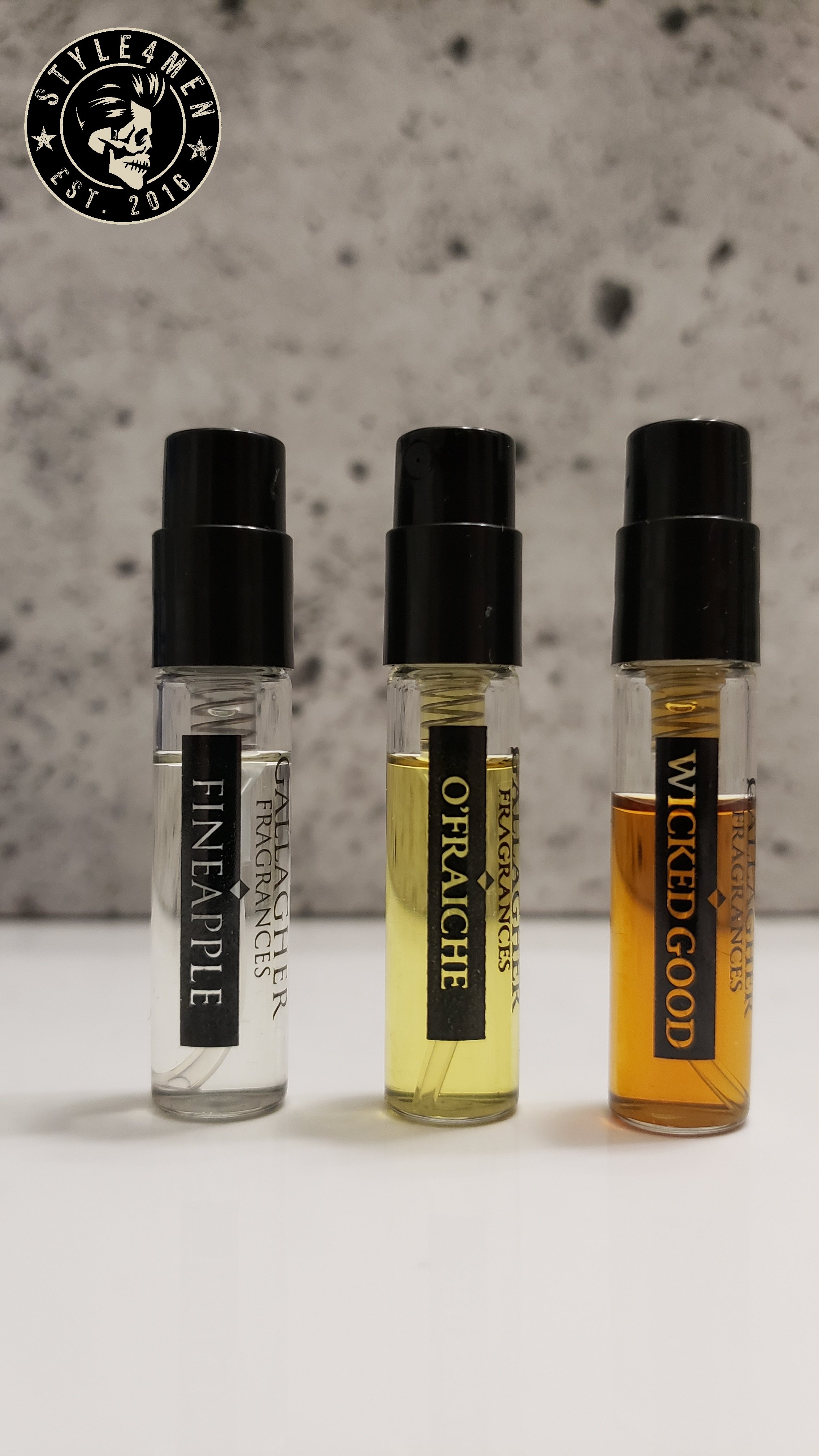 Recently, I came across a fragrance maker I did not know on Instagram, Gallagher Fragrances.  This line is the brain child of Daniel Gallagher, Founder and Sole Perfumer.  Daniel had been looking for something new, something original and wasn't finding it so with a Creator's spirit he simply decided to make it. The brand was launched in 2016 and has been dedicated on producing niche fragrances since.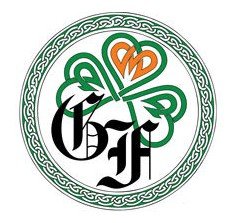 What is a niche fragrance? Simply put, it is an olfactory experience not available in the common array of colognes and perfumes.   How many times have you gone to the big department stores in hopes of finding a new aroma and more or less came to the conclusion that almost everything was roughly in the same palette.  Yes, there are small distinctions: a bit more musk, a little less citrus, a touch of bergamot, but bottom line there is a lot of commonality.  Yes, you can of course go over to the "exclusive selection counter" where the possibilities are endless, but you would also have to consider missing a few car payments.
As you may have notices on the site, I take great joy in exploring scents, colognes and fragrances that are not produced by the big established perfume houses of Paris, Milan or London.  Don't get me wrong, there are some amazing colognes being created there, but if you are looking for something that goes in new directions and that not everyone will be wearing, a niche fragrance might be just right for you.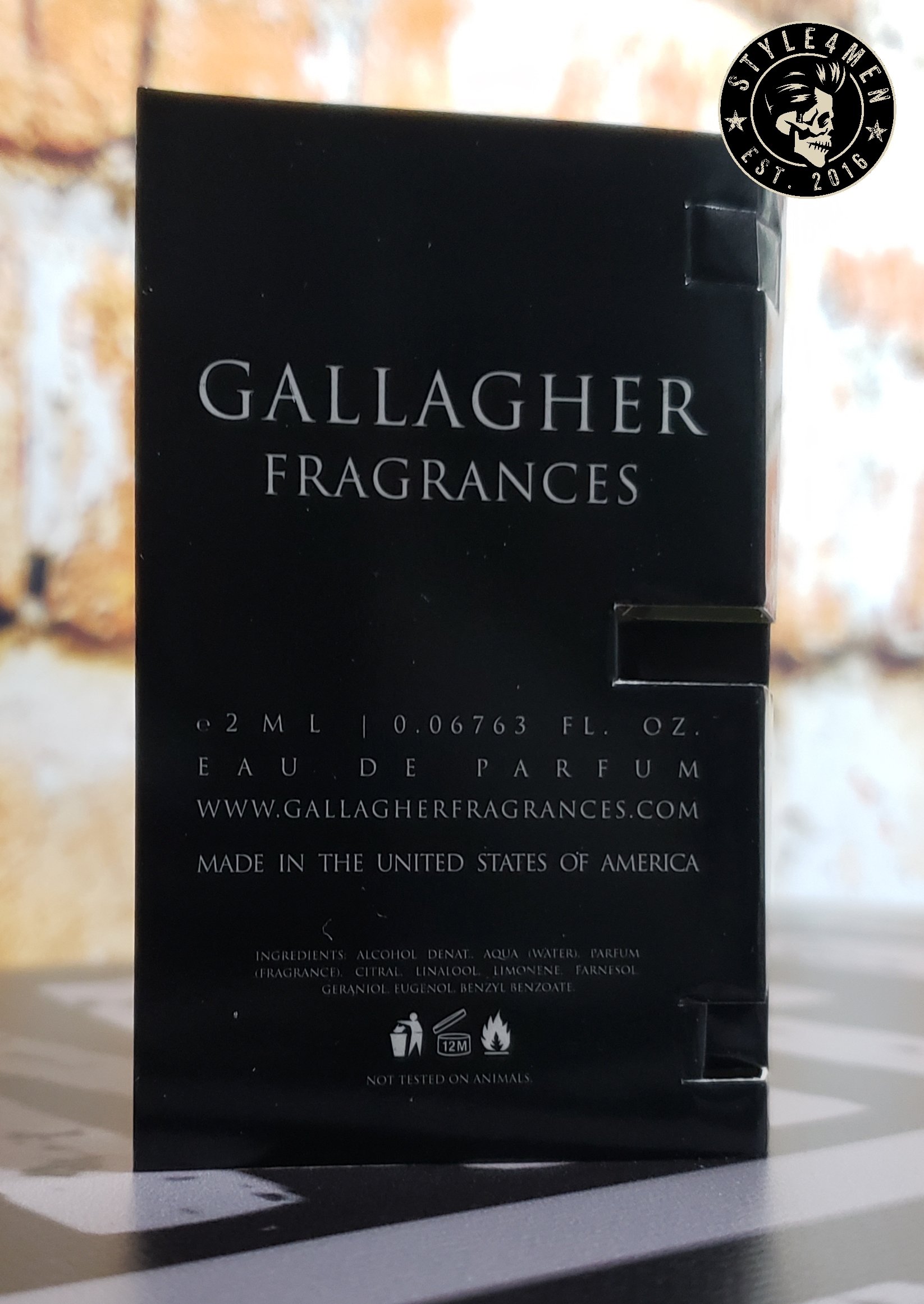 So here I am with samples of the whole Gallagher Fragrances!  I will admit feeling like a kid on Christmas morning.
Daniel produces 7 fragrances:
Amongst Waves
Bergamust
Evergreen Dream
Fineapple
O'Fraiche
Rose All Daé
Wicked Good
The first fragrance I tried was the Wicked Good, for no other reason than its name.  I like straight forward things and if the maker thinks that this is wickedly good, than that's my starting point.
Pull out the bottle.  Pump a shot.  Pause.  Pause. Shock!  Deep smile.  …words can't do justice for this fragrance…it's sublime!  Instantly, I was brought back to simpler days of my childhood where on Saturdays we would go to the market to buy our fruits, vegetables, meats, bread and occasionally chocolates and pastries. The kind that are made by Chocolatiers and Pastry Chefs.  I don't live in a big town, but it is nevertheless the capital of Canada and as such we were fortunate enough to have wonderful Chocolatiers and Pastry Chefs.  Walking into these stores was always an olfactory joy.  Going into a Bakery fills you with comfort and warmth.  Walking into a pastry shop is all of that times 10.  The arrangements are considerably more interesting.  Yes, there is flower and butter, but there is also sugar, vanilla, cinnamon, coconut, almond, walnut…and chocolate!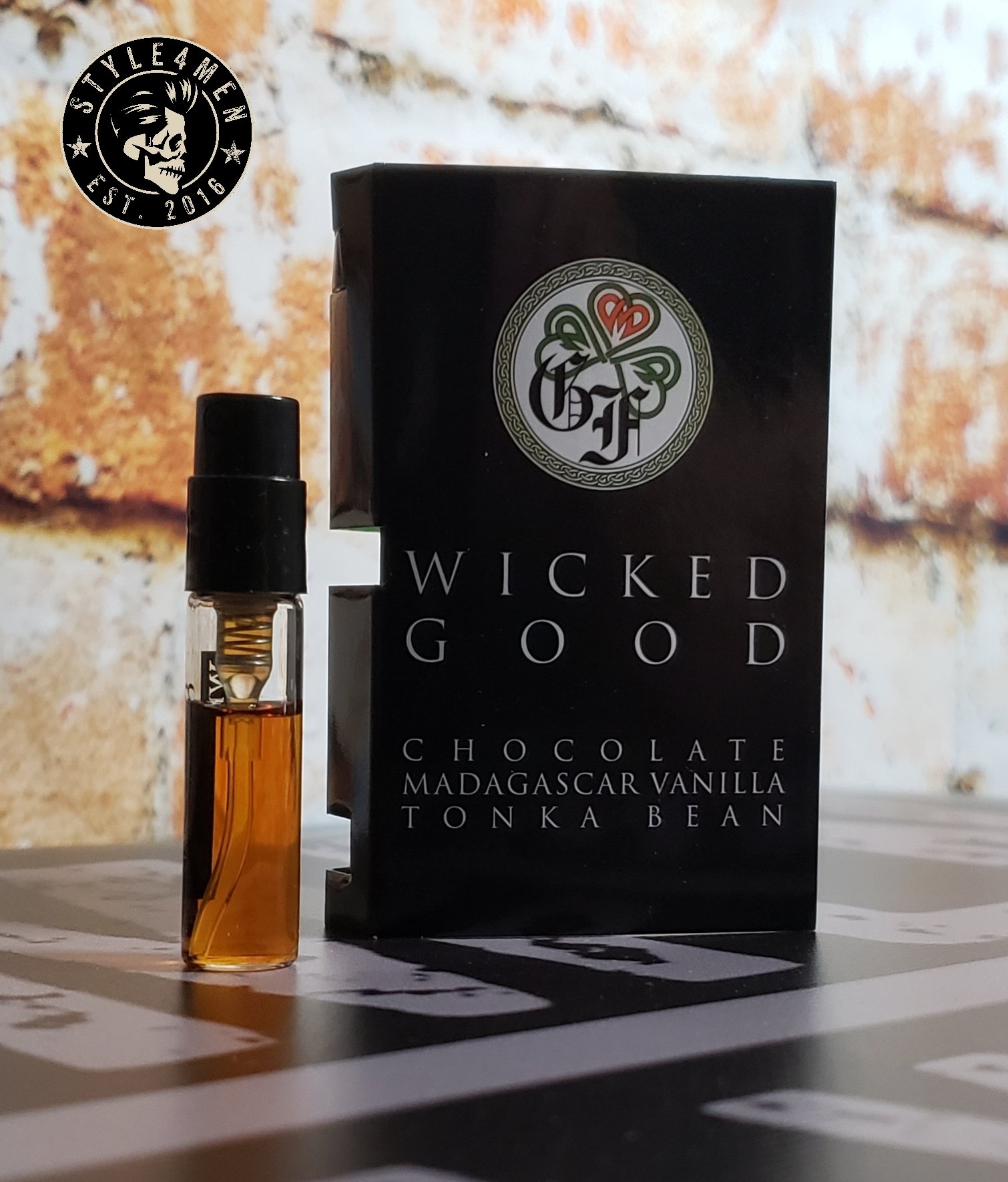 As of late, the bulk of the fragrances I have been exploring have been Barbershop oriented.  The Wicked Good goes in a totally different direction, but there is a commonality: the simplicity of the arrangement.  There isn't 35 participants all competing to be the top, middle or base notes.  There are 3! And instead of competing they are working in harmony. Yes, the chocolate element is the top and dominating note, which blends seamlessly with the vanilla in the middle, who then does the same with the tonka bean as the base.
This fragrance makes me happy, fills me a loving joy of life.  My attempt to a description would go like this: Sweet, warm, distantly bitter and woodsy.  Think: the best chocolate, but in its original state. Not once joined with butter and sugar.  The same with the vanilla – in its purest state.
If we were to have a visual for this fragrance, it would be that of a time when people still smoked and where tobacco was often flavored with these aromas. Now a days the only place you might find something like this would be in chocolate liquors like: Godiva, Tia Maria, Frangelico, Kahlua, Amaretto.
Although this is a chocolate fragrance, I would classify it as a mature arrangement.  This might not work so well for a young man, but will be very appealing to a gentleman and to his lady.
Lasting power?  I clocked this dream at 12 hours!  Impressive or what?! Obviously it had less intensity but was still recognizable.
As indicated above, there are 7 fragrances and that will clearly be too much to cover in one review. I came to this conclusion when on the second day of exploring these fragrances, I tried both the Fineapple and O'Fraiche. These aromas were both so beautiful in there own respect that I couldn't stop myself from taking notes.  In that light, I will share my quick attempt at describing these beauties.
Fineapple
The green apple and pineapple are the top notes, followed quickly by the dry wood.  This is fresh, sweet and dark all at once.  Complete and elegant.  As if everything you needed had been carefully packed in your suitcase for you. The fragrance is incredibly pleasing.  It's as perfect as waking up to a beautiful present.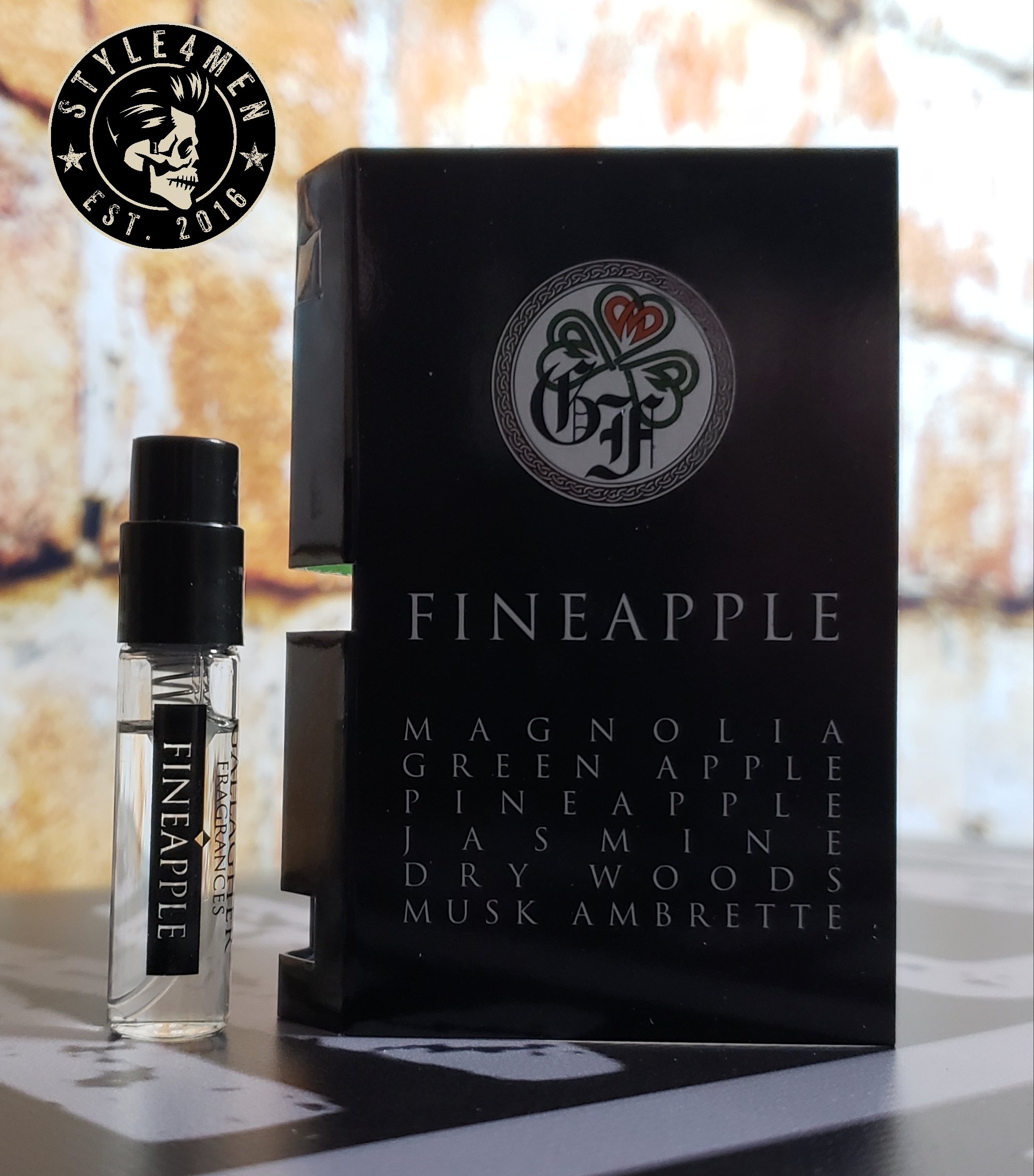 O'Fraiche
Blackcurrant is a scent I enjoy very much.  Partly because it is taking a step off the beaten path, but also because it invokes distant memories of collecting such berries. This one is a considerably more complex composition: Blackcurrant, Concord grapes, Dried Tobacco Leaves, Sandalwood, Orris Butter, and Ambergris. I will admit not being able to distinguish where one starts and the other finishes. I will simply state what I liked. It is a totally delicious scent.  On the 4th attempt, I detected the sandalwood, but surrounded with these friends it shows a new side of itself.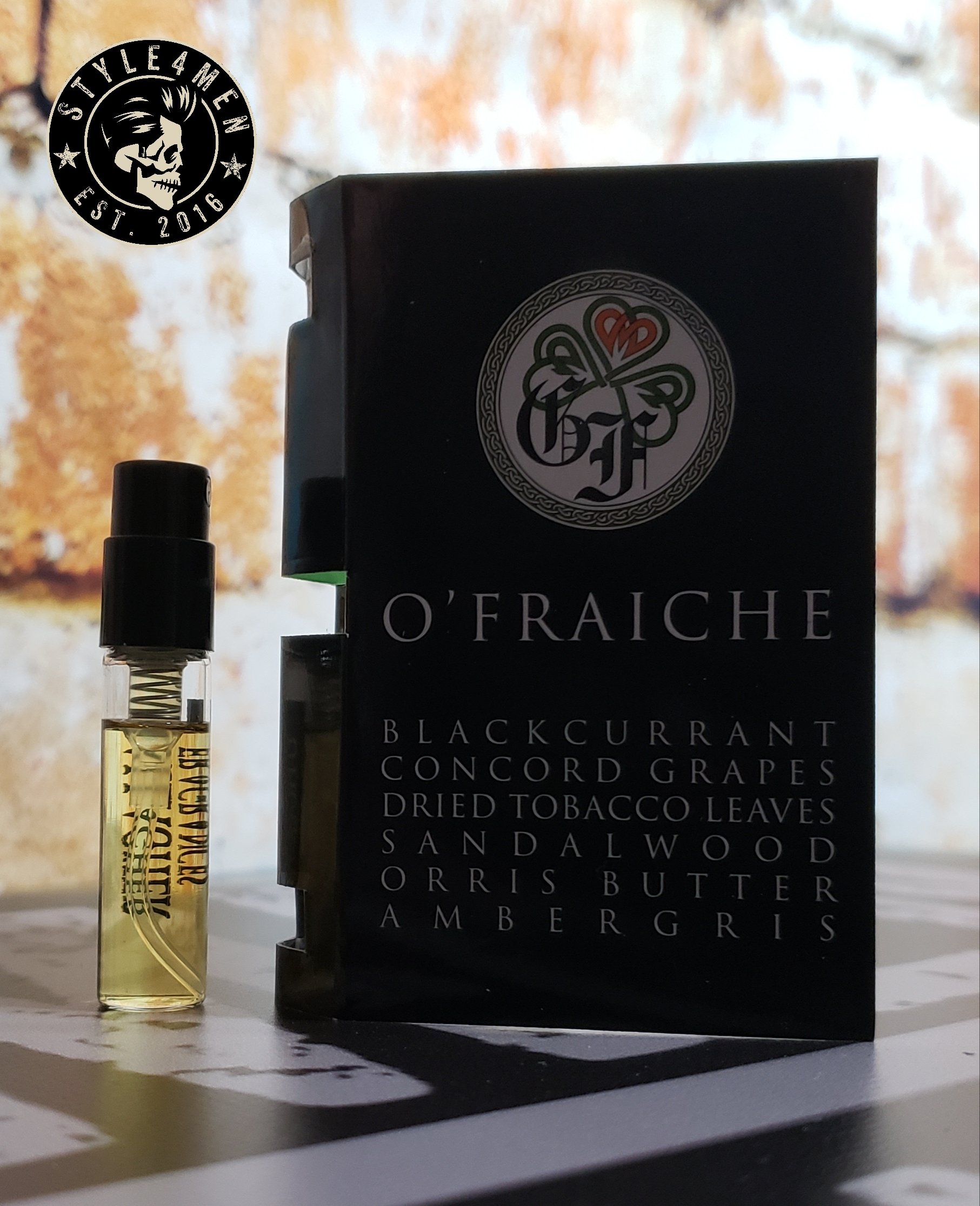 This transformation of sandalwood is reminding me that transformation is one aspect of the aromatic experience, but at the root of it all is the sourcing of aromas.  There are often numerous possibilities each with subtle differences.  Let's take any given scent, cucumber for example.  My olfactory record of cucumber might be different from yours.  It has everything to do with my exposure to cucumber, the type of cucumber, the season, etc.  This leads to different essential oils for the humble cucumber. What I am painfully trying to get to here, is that Gallagher Fragrances has obviously spent a great deal of time to narrow down the best essential oils to work with.
But back on topic Mr. Big Nose!  I have been exploring these fragrances from the point-of-view of a man wearing them, but with the O'Fraiche I realized that a gender assignment is irrelevant.  I want to be clear with you here, I am not saying that this is an ambivalent fragrance.  Quite to the contrary!  I am saying that this is such an original fragrance, that it goes beyond the man/woman assignment.  This will have tremendously more to do with the "personality of the wearer than simply gender. I am picturing someone well groomed, accomplished, determined, motivated, but that in many respect fits outside of the normal conventions. For example, the man who rocked a royal blue plaid suit before it became main stream, an artist, a business owner…
In closing
Typically, I am able to sum things up in a few lines, but here I feel nearly helpless.  As if I am under a spell. These fragrances were/are a velvet for my nose.  The arrangements I had the immense pleasure of smelling are evocative of a Master and get all of the stars we have to give.
Note: As I continue my exploration I will also document my findings.