Baxter of California – Deodorant
Baxter of California is a brand that caught my eye early on with its elegant yet edgy presentation. The brand was launched in 1965 in California with "Super shape" a skin recharge cream. At the time, Baxter Finley the man behind the brand wasn't finding skin care products for men and created his own.  Fast forward to today and Baxter of California offers products in the following categories: Hair, Skin, Shave, Body and Lifestyle.
Shout out the folks at Take Five for making this review possible.  They are the Canadian distributor for Baxter of California.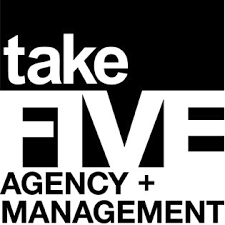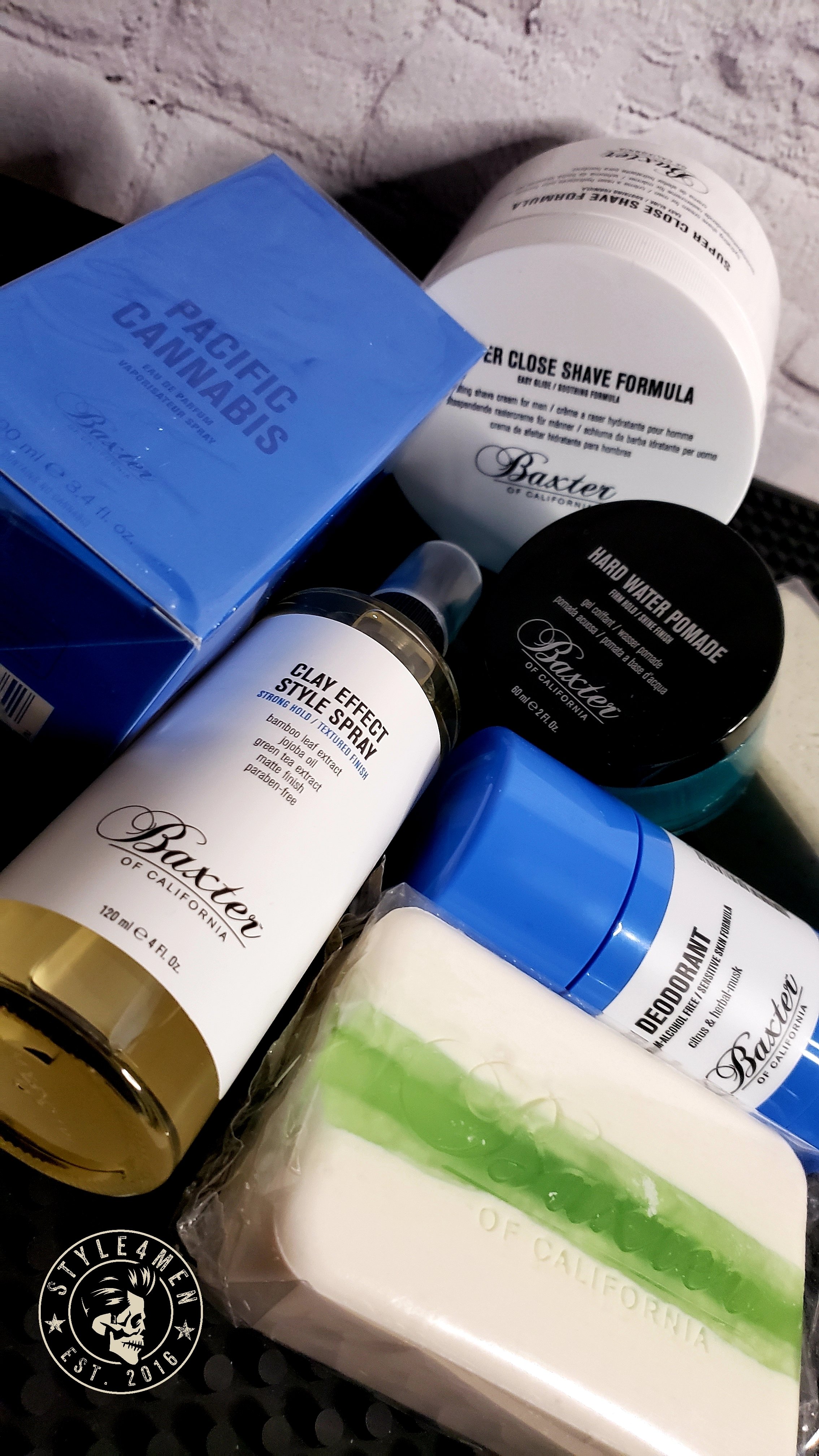 As per my story-post of last week, I am thrilled to be exploring some of the amazing offerings by Baxter of California. In this post, I want to focus on their deodorant.
For the bulk of my teen and adult life I had to turn to antiperspirant because deodorant just wasn't cutting it for me.  That changed about 2 years ago when I started becoming aware of the possible side effects of aluminum salt commonly used in antiperspirants. At the same time a number of men's grooming companies I was following also started producing natural deodorants. I tried a few and honestly was quite surprised at how efficient they were.
Since I had not explored deodorants years all those years prior, I don't know if these "better" products were there all along without my knowing or if we are looking at a new generation of products.  I am going to assume that there were already some good options out there that I didn't know about.  As well as manufacturers starting to shift their offering to a more natural composition in order to respond to the growing concerns over the usage of chemicals in beauty/health care products.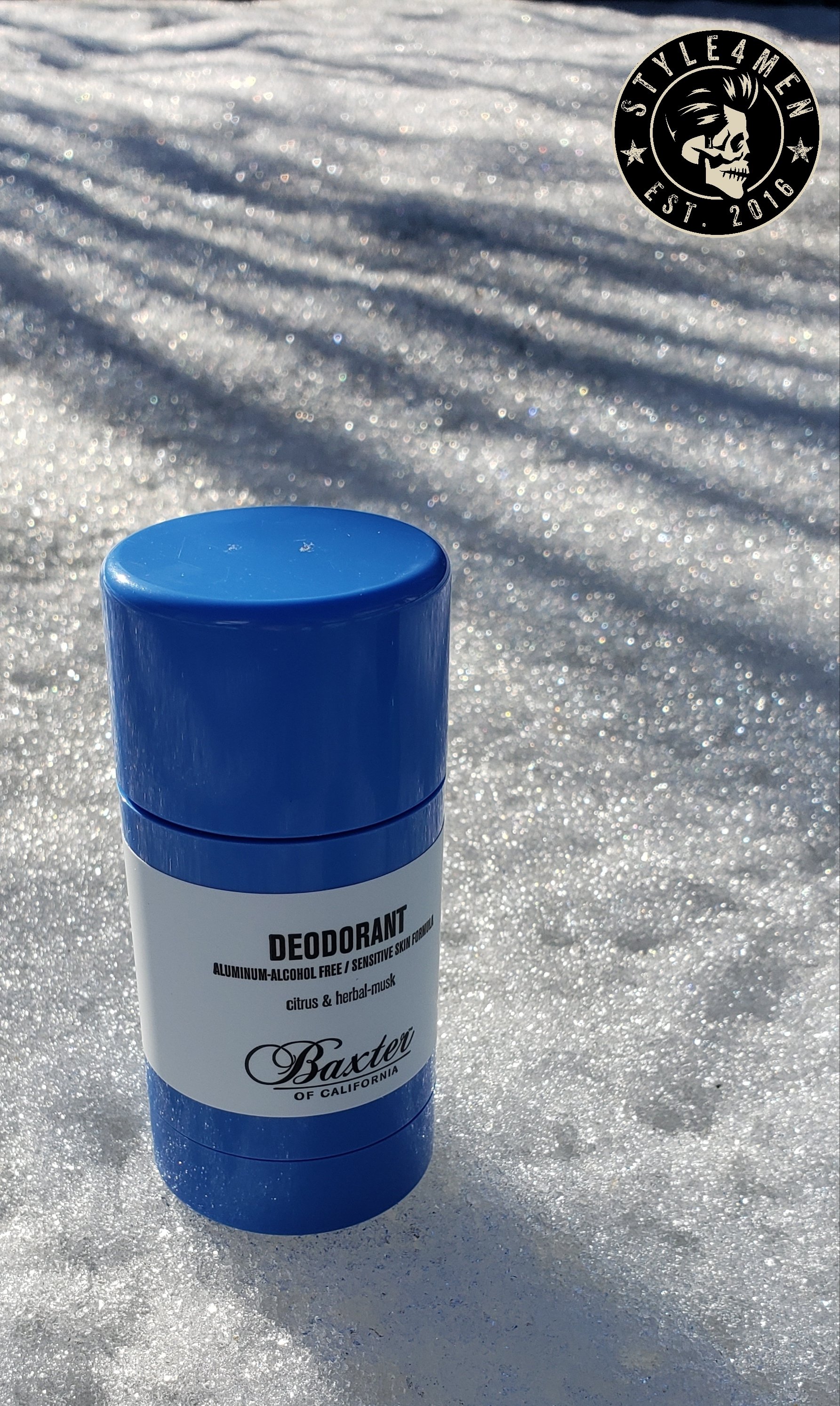 This brings me to the deodorant by Baxter of California (BoC).  First off, like all BoC products, the packaging/presentation of this stick is totally captivating.  Think, elegant, timeless and cool all at once. The stick comes in a blue cylinder that feels like it's made out of a ceramic/plastic combination.  Feeling strong and very well made.
Upon uncapping the stick you will find a clear plastic lid protecting the deodorant solution.  Once off, you will be caressed by a fresh, spicy and slightly musky aroma.  The fragrance is a winner for me.  It's manly and fresh without being overpowering. The product is clear and as such leaves no undesirable white residue that is so common.
With the current social distancing measure currently in place to battle the Covid-19, I am lucky enough to be able to work from home.  As such, my activities and movements are less demanding than my usual lifestyle.  Nevertheless, if I don't wear anything in the armpit space, an unwelcomed stench makes it way out fairly soon. Perfect time to try out this stick!
It goes on nicely.  Does not feel wet.  Offers a beautiful aroma.  And 6 hours after application I am not thinking to myself – "You stink!" The aroma is not strong enough as to complete or even replace your cologne/aftershave,.  Just perfect for its target space.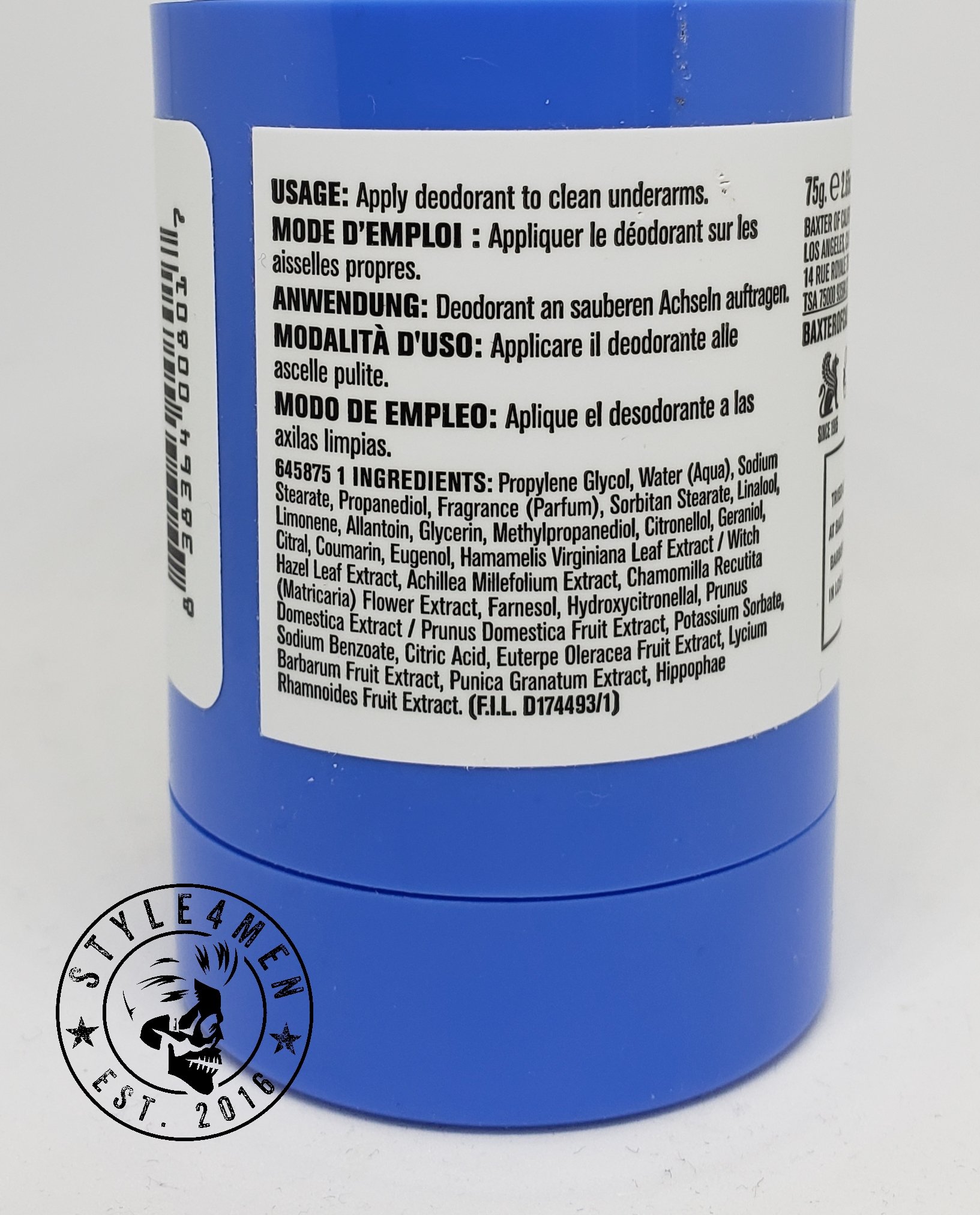 This is the 6th or 7th natural deodorant I test out and will say that it fits among my favorites.  I want to say that it works efficiently at masking bodily odors, but I suspect that it is doing more than "masking".  Tea tree and witch hazel and known natural ingredients to prohibit odor-causing bacteria.
Check it out for yourself.
In closing, a very impressive deodorant that has staying power.  Stay tuned for more coverage on Baxter of California.