Beard oils are for every guy!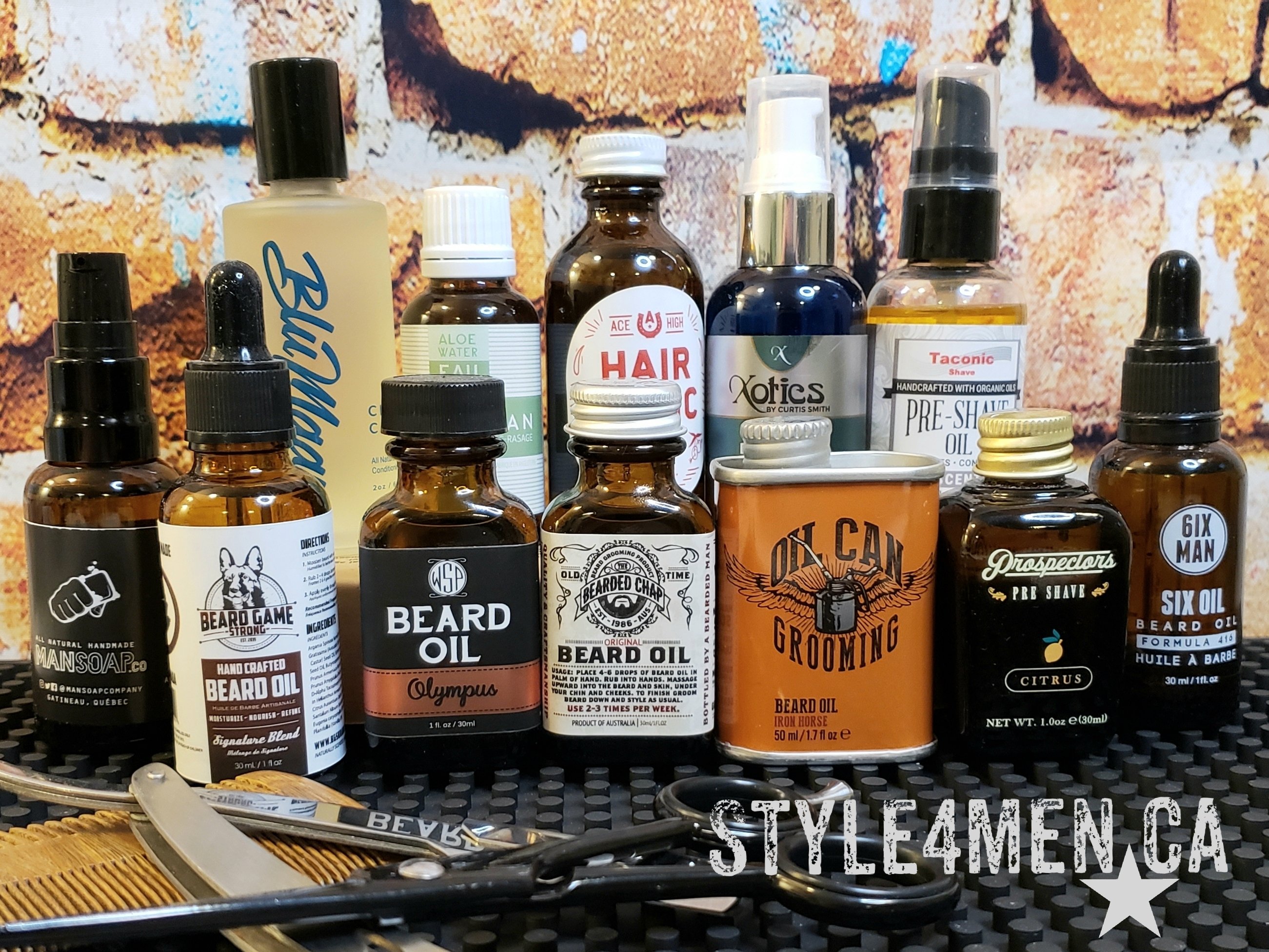 This post has been rumbling in my head for some time.  It's more of "TIP" kind of post than a product review and I hope it will help elevate your mug's comfort level.
The market is flooded with all these awesome beard oils.  Every one of them is offering a better scent than the other while being packed with nutrients for your beard and skin.  You are starting to feel left out as you are not sporting a pirate worthy mane.
Beard oils are not just for the tattooed and bearded Rock stars (or God's). I'm going to share a poorly kept secret with you; the nutrients in beard oils are just as good for your skin as they are for hair. Just like any other guy I was drawn in by some of the fabulous packaging, aromas and promises of a healthy and comfortable mug.  Yes, I am a shaver, but for the past few months it hasn't been a daily thing.  To keep my face and facial hair comfy, I use beard oil.  Obviously the quantity is proportional to the length of that beard and just a couple of drops usually does the trick.
My face feels great and my skin is appreciating this extra hydration and moisture.  The beard oil also alleviates any pulling or tugging sensation as a result of the beard growing.  I am actually blow away at how comfortable I am feeling using this type of solution as opposed to after shave balms.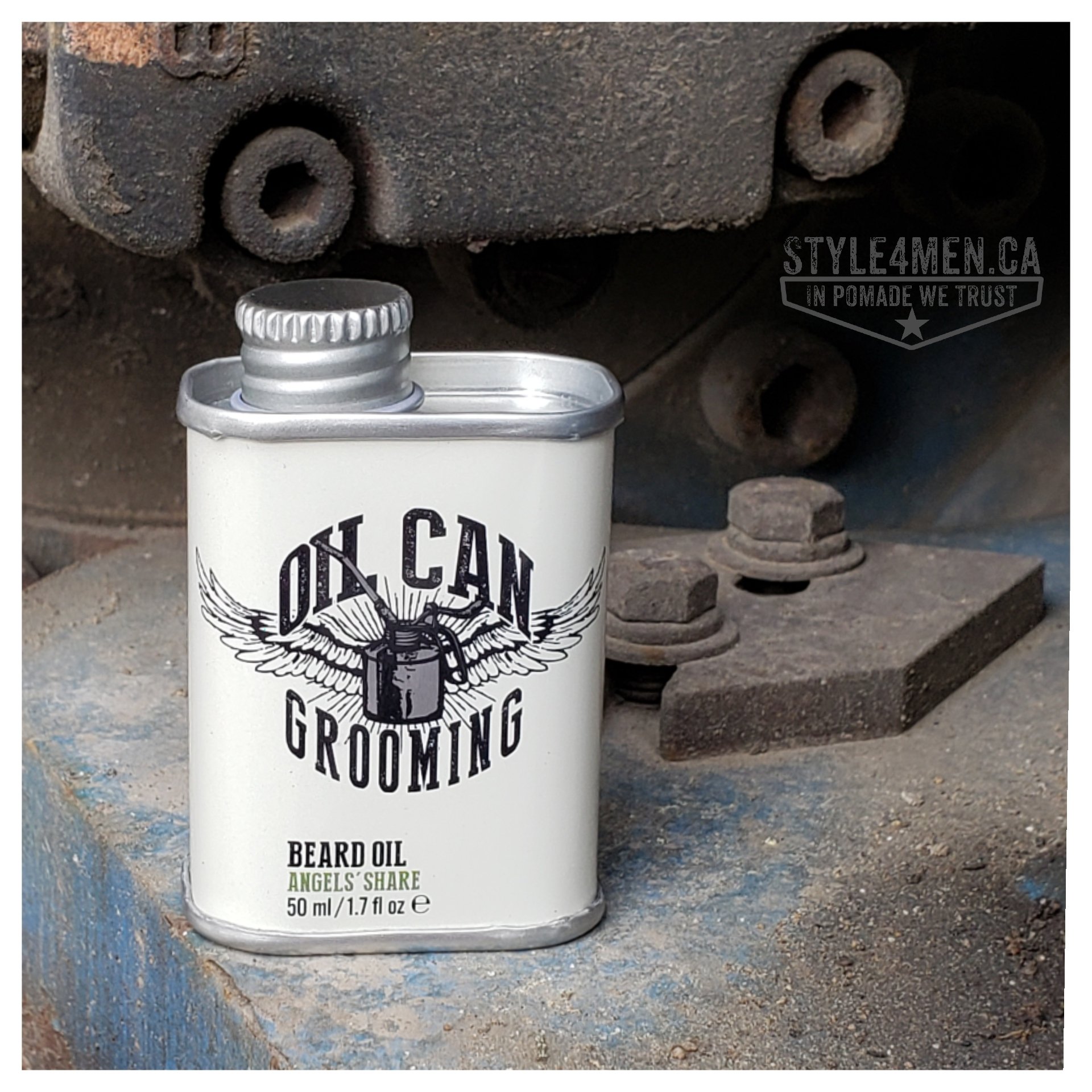 Let's go over some basic observations here, nothing scientific.  Take a look at the ingredient list on any beard oil bottle and then compare that to an after shave balm or lotion. I am expecting you will notice the difference in length and the total or near absence of chemicals in the beard oil.  It might make you think about what you are putting on your skin.
When shopping for a beard oil, I would expect to see at least one of these below listed oils as a key participants (early on in the ingredient list). See for yourself what these natural (carrier) oils can do.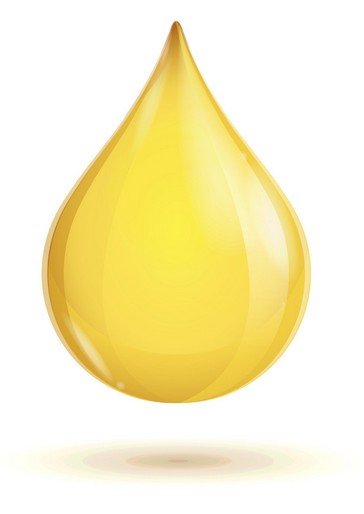 As an example of what a beard oil ingredient list can look like, see the OLYMPUS by our friends Wet Shaving Products.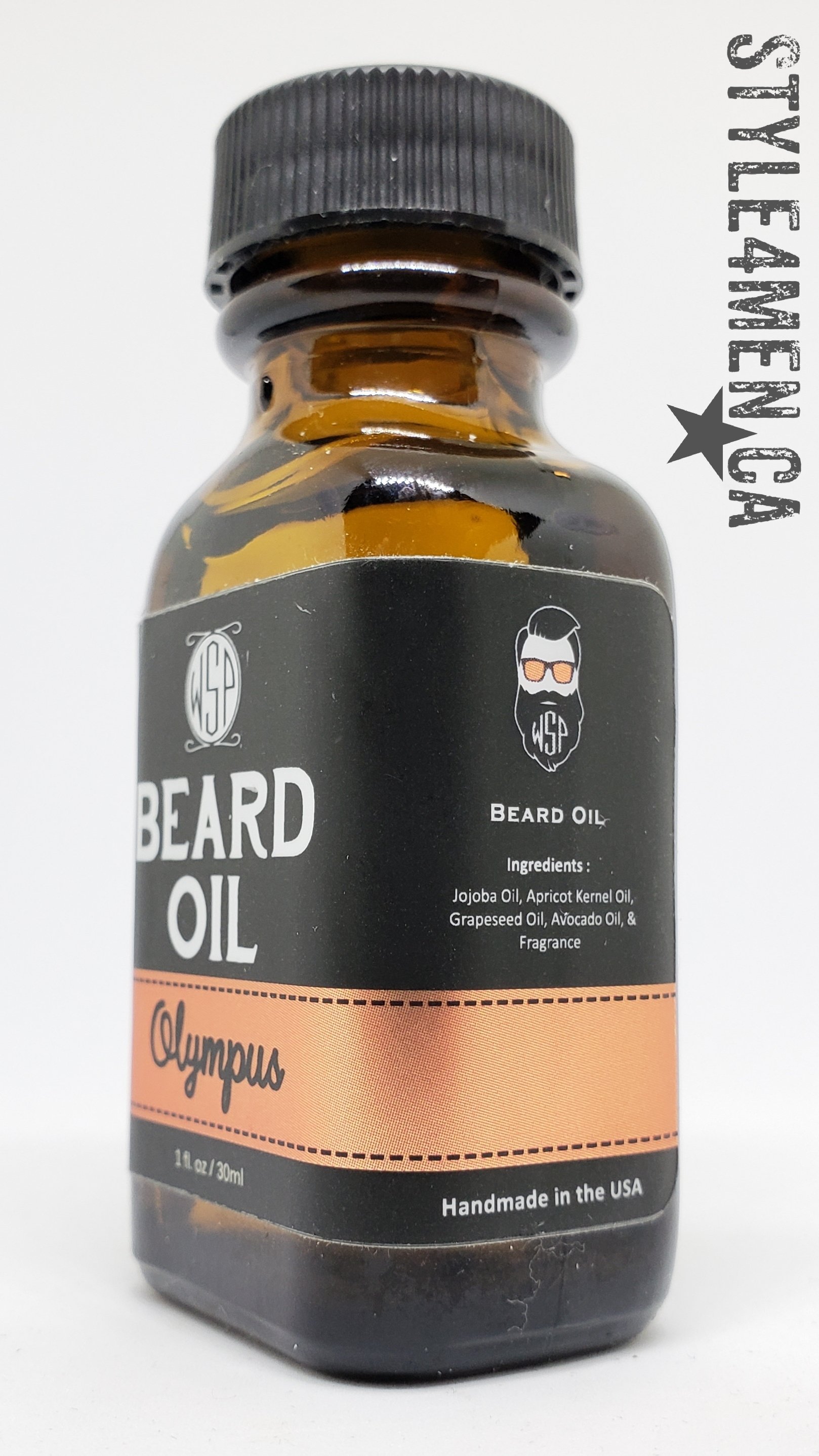 One of my favorite beard oils these days is the Angel's Share by The Oil Can Grooming, which is pictured up top.  It contains, grapeseed, jojoba, argan and coconut oil along with a lovely aroma that lasts about 2 hours.
A good beard oil is not slimy nor overly greasy.  Your skin and beard will absorb it quickly leaving your skin feeling hydrated and your beard soft.
Another interesting tip about beard oil: You can use it  as a pre-shave oil!  Yeah, really!  Beard oil and pre-shave oils are essentially the same thing coming down to nothing more than labeling. In case you are wondering  – What the hell is a pre-shave oil?  We are obviously assuming that you are a wet shaver and are doing it old-school with shaving soap and a blade.  A good shaving soap will offer great insulation and a basis of lubrication. But no matter how good the soap, it will rarely contain the amount of oil to be comparable to a pre-shave oil.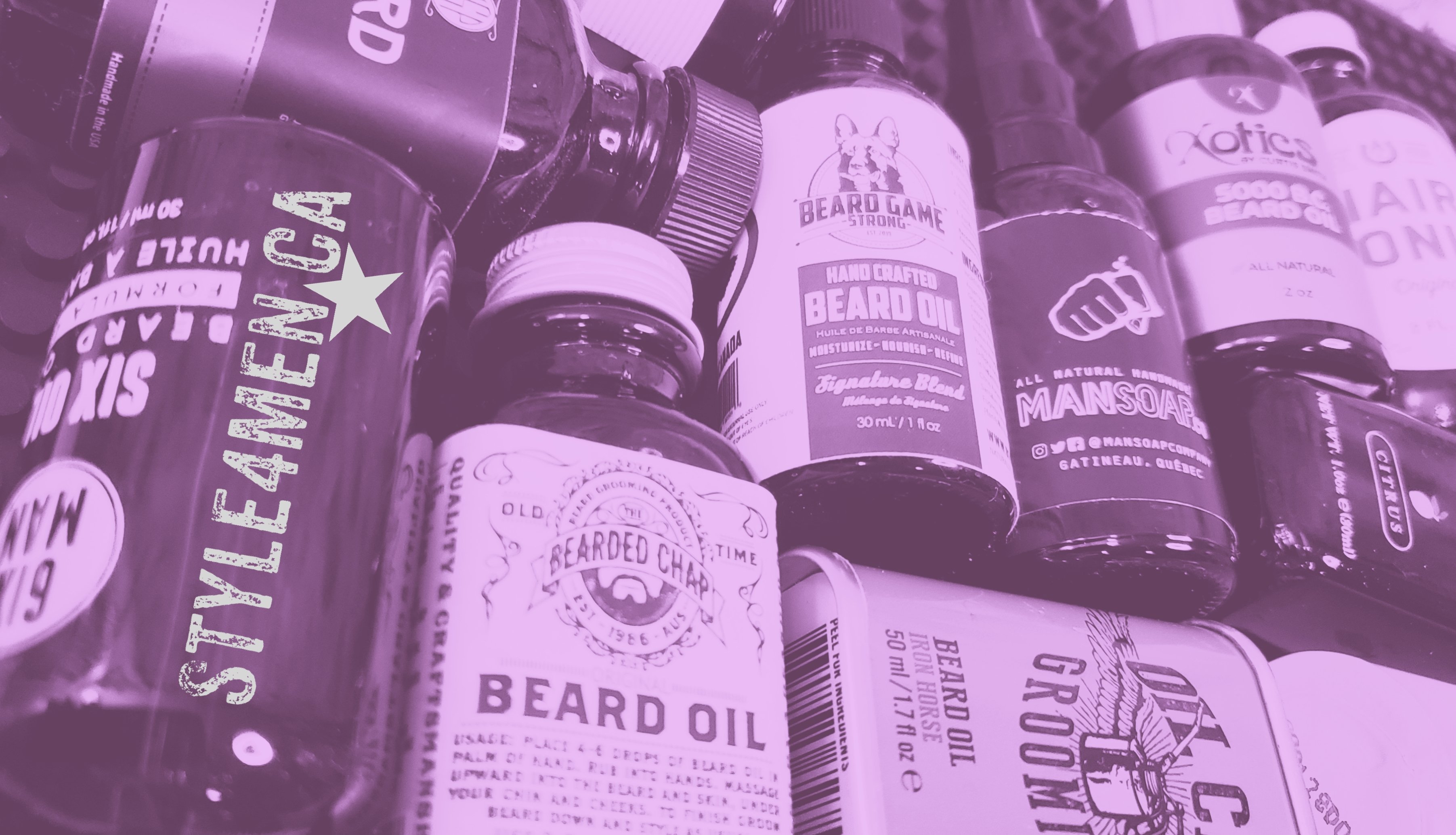 Here's how to:
Coming out of the shower
Apply a few drops of beard oil on your mug
Lather up your soap and apply
Shave
Be mesmerized by the incredibly smooth experience you are now living
Beard oils are great for:
Viking warrior beards
1 day old stubble to infinity
as a pre-shave
You may have noticed that in the pictures above, there are beard oils, pre-shave oils and hair tonics. The hair tonics included here are formulated very much like beard oils and as such, I concluded that they can be used for both purposes.  The hair tonics by Blumaan and Ace High are impressive in their own respect. Use common sense when portioning the oil out.  Hair is not as coarse as a beard and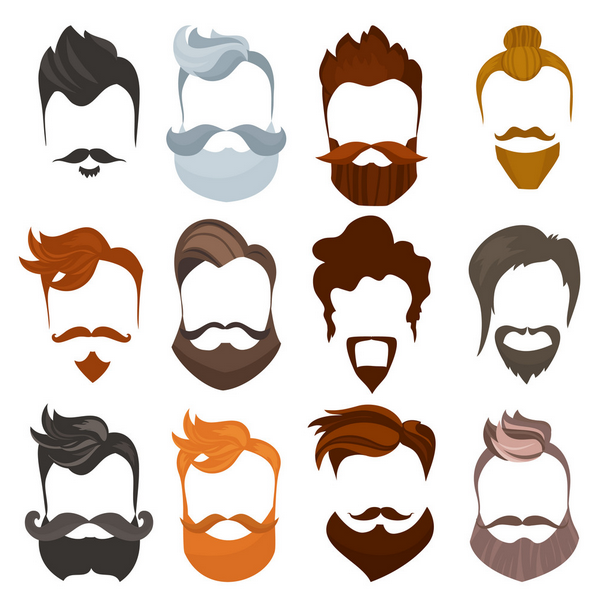 moderation is paramount. Generally speaking the same observation can be made for pre-shave oil and beard oil in that they can be essentially the same.  Be careful though when it come to castor oil.  Castor oil is thicker and has a bit more staying power which makes it an excellent candidate for a pre-shave but maybe not ideal as a first ingredient on a beard oil.  It all comes down to preference and your specific hair/skin needs.
Beard oils are the "new" men's grooming essential that every man should have in their arsenal. If you haven't tried this as of yet, know that you are missing out on something.  Not all beard oils are created the same and I encourage you to explore at least 3 different brands so that you can form an educated opinion and also find something that works best for your specific needs. I generally favor  the small scale artisan products, but don't shy away from some of the big brands that are now making their way into your local pharmacies as you will find some impressive beard oils there too. I will be putting out a post covering some of the bigger names in the shaving business, such as the Italian giant Proraso who are now offering beard oils.
Check out the beard oils that we have tested/featured so far. You might also want to take a peak at shaving oils as well.
Something that often comes up and I am realizing that we haven't covered is: Do beard oils work?
If you are asking if beard oil will magically help you grow a beard, the short answer is no.  Let me clarify that.  Let's say that you have never really been able to grow a beard, applying beard oil is not going to make any real difference.  Beard growth comes down to genetics, diet and health.
Beard oil will: alleviate the itch, clear dandruff, moisturize your beard and your skin underneath and if the oil is scented, you will also smell terrific.  Beard oil is not a fertilizer, it's more along the line or an irrigation solution.  It helps keep the soil and existing growth in the best shape possible.  Think of beard oil as your moisturizing and hydration solution.  By keeping your mug in healthy condition, your beard will grow thick and strong. so from that angle, beard oils do work extremely well.
To sum things up, if you have any facial hair whatsoever, you will benefit from a beard oil. Take care of your mug!
Use these links to shop for beard oils:
Realizing things can be better