Classic Body Powders by Balla for Men
Let's talk Body Powder a bit!  I use powder on daily basis to handle moisture, prevent chaffing and fight BO.  It's simple, efficient and smells good.  As of late there are a number of new products attempting to replace body powder, but I find that it's still the best solution for me.
Body Powder is fairly straight forward, but that said every brand is different and finding one that works for you is going to open the doors to all day comfort.
I came across Balla for Men on Instagram and loved their elegant presentation.  One thing led to another and we are.
Here is how I use body powder.  After drying myself off after the shower, I poor an amount a bit larger than a toonie in my hand.  I then apply it on my..euh…boys!  As mentioned above to handle moisture, prevent chaffing and fight BO.
You can also use body powder on your feet, arm pits…basically anywhere on your body that gets hot and sweaty.  As anyone who does regular exercise will know, body powder is like a quiet friend that you can always count on.
Body Powders are refined differently from one brand to another.   The Balla powder is one of the finest powders I have worked with.  Why is that relevant? – In my humble opinion the finer the powder is the more comfortable it is.  Considering the sensitive area I am applying to, comfort is my top concern.
What about duration?  I am applying powder around 7:30 AM.  Typically, my go-to powder has me feeling fine for 3-6 hours depending on the weather and what I am doing.  It goes without saying that the more active you are and the hotter it is, the shorter the powder will last.
When I started using the Balla powder, I sort of lost track.  I pretty much forgot all about it. What I mean here is that it was doing exactly what it should be doing: offering quiet all day comfort.  It was only around something like 8 or 9 PM at night that I realized that I was still feeling comfortable.  Damn!  This is some good powder!
Last but not least, body powders are frequently used for their deodorant properties as well as for their light fragrance. Balla offers its powder in 3 variations: Unscented, Original Formula and Tingle Formula.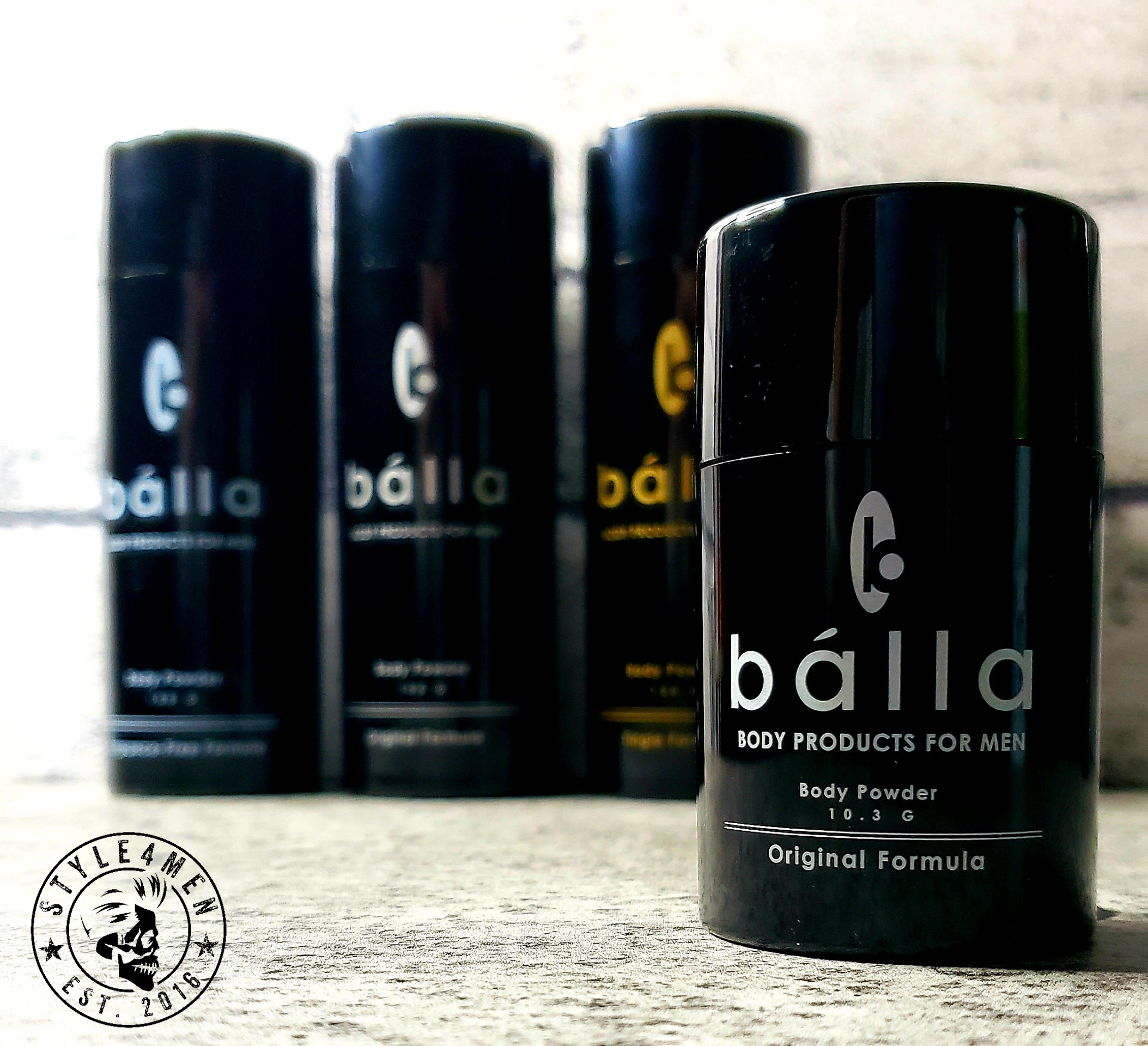 Mrs. Style4men being asthmatic, things like my powder usage can easily become a concern as we obviously share the washroom.  An unscented option is something that worked well as it triggered no reactions.
As per Balla, the Original formula is: musky, woodsy and spicy.  I concur!  It's a classic and manly arrangement that doesn't disappoint.  For my nose, the musk comes first followed by a touch of spice and a woodsy finish. It is reminiscent of timeless arrangements while still being its own thing.  Note that they also offer this in a body spray which I have drawn too over the past 2 weeks.
Then there is the Tingle Formula.  This is body powder with a little extra humpf!  That translates into a very delicate cooling sensation. It is not overwhelming or unpleasant in the slightest.  It lasted something like 20 minutes and just gradually calmed down.  The fragrance is more on the clean and fresh side.  That's because of the peppermint and eucalyptus which are also responsible for that cooling vibe.
Ingredients
Talc
Zinc Oxide
Zinc Stearate
Eucalyptus Oil (Tingle Formula Only)
Peppermint Oil (Tingle Formula Only)
Rosemary Oil (Tingle Formula Only)
Fragrance
In short, the Balla Body Powder line wins me over with very well crafted products that perform.  I felt like a proper gentleman all day long.