Formula 416 Beard Oil by 6IX MAN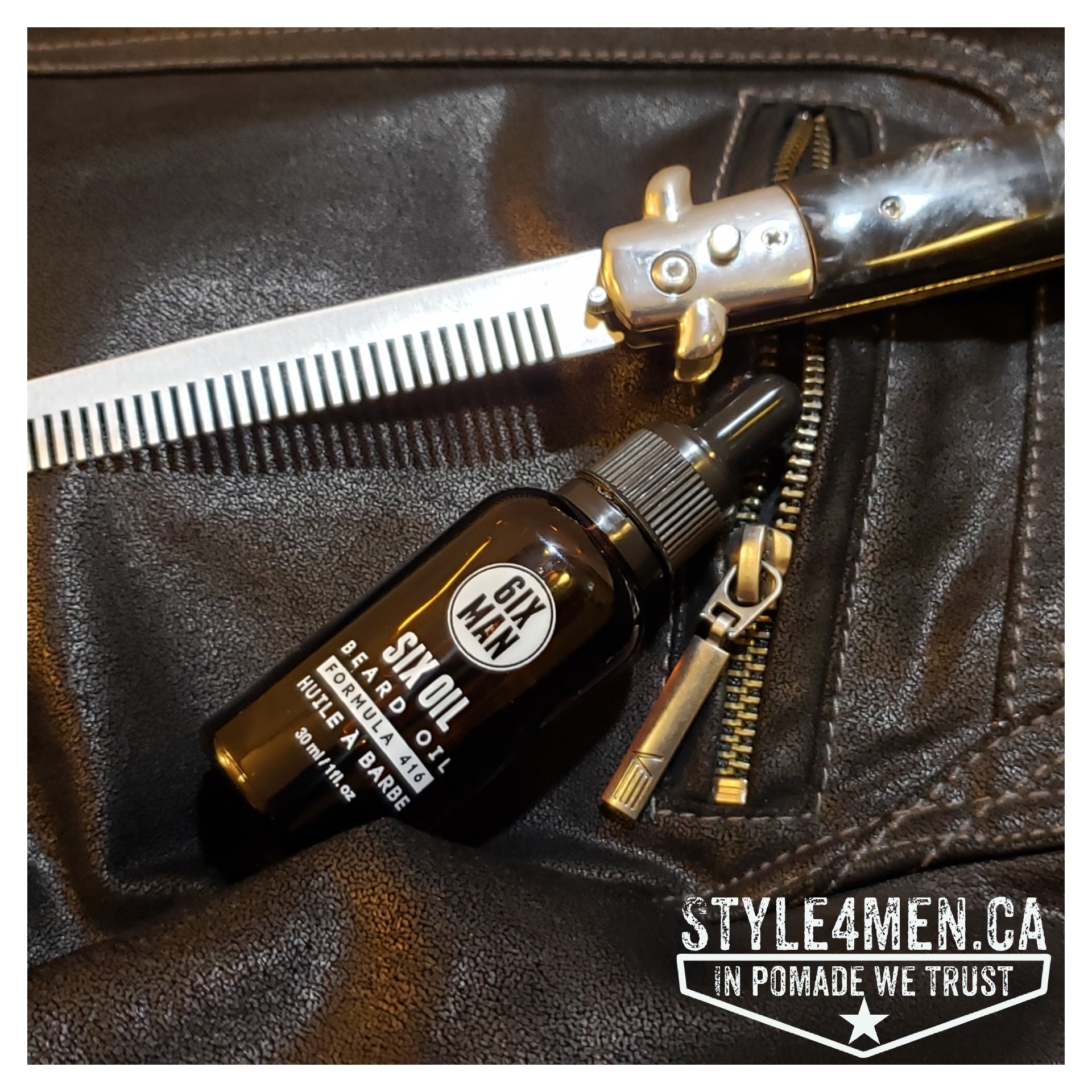 You guys might remember a while back my post covering the 6IX MAN pomade.  This pomade was impressive in many ways and the brand stuck with me.   I am thrilled to be back with another review covering more of their products.  This one will focus on their beard oil; Formula 416.  That has to be an homage,  as "416" is the long standing telephone area code of Toronto where 6IX MAN is from.
Why 6IX MAN?  As mentioned above, my first exposure to this brand was a very positive one and as such I wanted to continue on this happy path. 6IX MAN offers a wider product range than simply pomade.  They have you covered in the following areas: beard grooming, face care and hair styling. Having a wider product line means that I don't have to turn to another brand for some of my essentials. Last but not least, 6IX MAN is a Canadian enterprise.  Style4men being a Canadian product review project, I can't help wanting to feature Canadian brands on our platform.  Since the launch of Style4men.ca, I have been repeatedly impressed by the: originality, quality, performance and overall presentation of Canadian brands.  Spoiler alert; this is continuing to be true with this 6IX MAN product under test.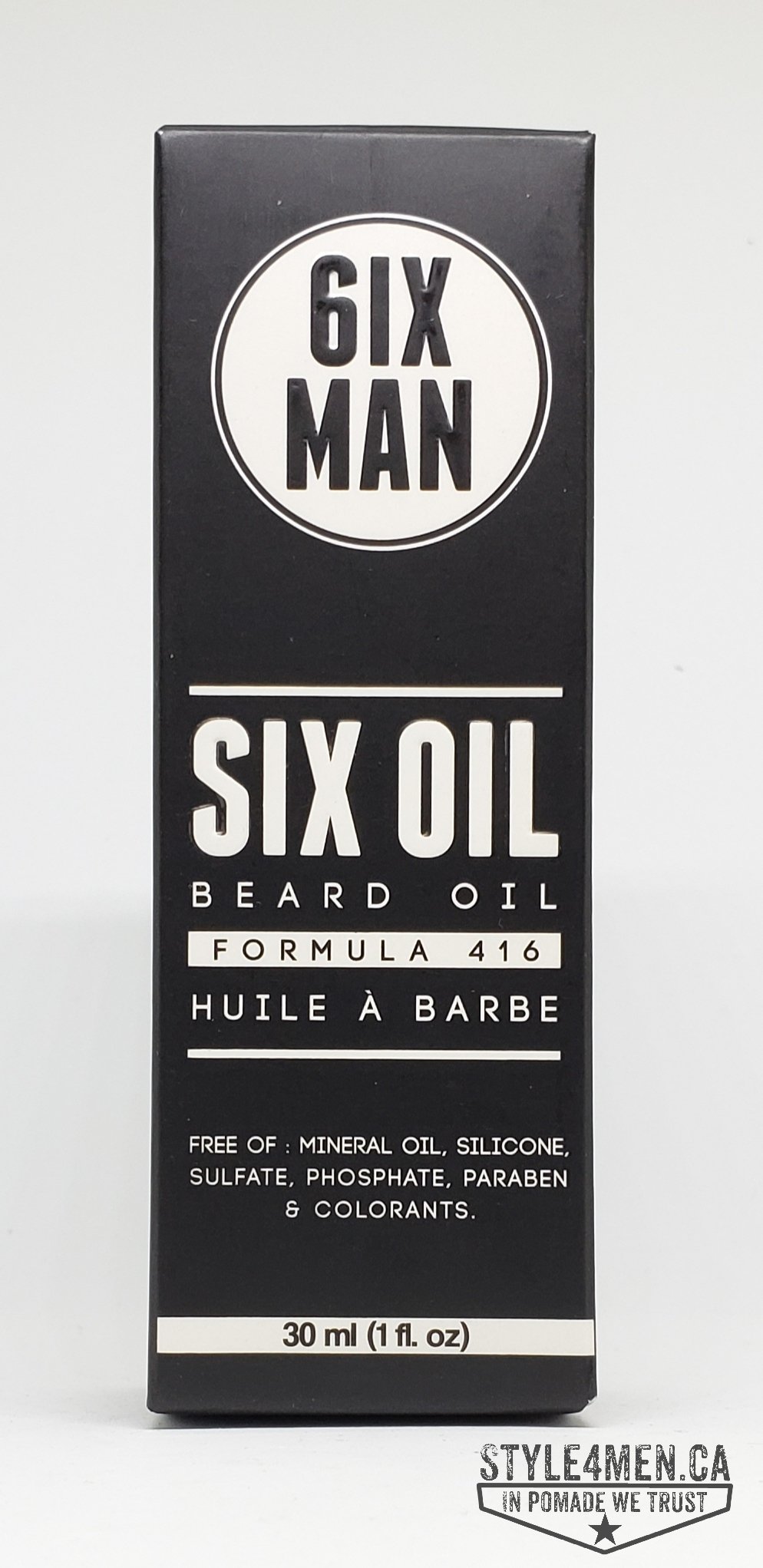 For the longest time I wasn't reviewing beard oils. Basically because I'm not sporting a glorious pirate beard like many of the cool kids. That meant that I was missing out on a pretty exciting portion of the grooming industry.  Not exploring these beard oils also pointed out that I was looking at things with a tunnel vision and ignoring the bigger picture of what this type of product can do. Where are you going with this, you ask?
Beard oil is for beard, yes but it also does wonders for your skin. I recently posted "Beard oils are for every guy".  The take away here is that beard oils are a fantastic option for any guy.  As a standard, I shave Monday to Friday.  But there are weeks where I might skip a day or 2 or 5.  On those days, I would typically apply an aftershave balm or lotion to keep my skin feeling fresh and to avoid that tugging caused by the beard growing. At some point I felt that my 4 or 5 day old beard might benefit from a few drops of beard oil, so I tried it.  I am so happy to have opened that door, because beard oil turned out to be somewhat of a revelation.  My skin was feeling seriously more hydrated, healthier even and there was no tugging whatsoever.  The side effect of this is that I essentially stopped shaving on a daily basis. For the last month or so, it's been a Monday morning thing only.
Now all of a sudden I am a beard oil enthusiast!  Having worked with a number of beard oil and pre-shave oils over the past year it became clear that not oils will work with your beard or skin.  Not all beard oil will have aromas that you will like. But something rather basic made rethink what I was putting on my face.  The ingredient list on beard oils.  It's ridiculously short.  OK, yes there are a number of oils to create that perfect and subtle arrangement, but we can sum that to natural oils.  How simple is that?  Forget about that long list of chemicals and trying to figure out what they do and why they are there…
Getting to it
Stop your rambling and get to it, what about the beard oil by 6IX MAN? It comes in a very decent size 30 ml amber bottle.  The dark amber glass is to block out the sunlight that would breakdown some of the healthy properties of natural oils.  The branding is nicely painted directly on the glass – no stickers here. Upon opening the bottle you will be greeted by a sweet and subtle arrangement.  I can identify the caramel, vanilla and bergamot.  To my nose these aromas make it a winner.
When dispensing the oils, I took 2-3 drops for each side of my face. It was easy to apply and was absorbed quickly by the beard and skin leaving nothing behind, but a healthy glow. I personally dislike that oily sensation.  Which there is none of here! This is a very light and easy oil to work with that leaves no sliminess.  It is also very simple to clean off your fingers with warm water and a touch of soap.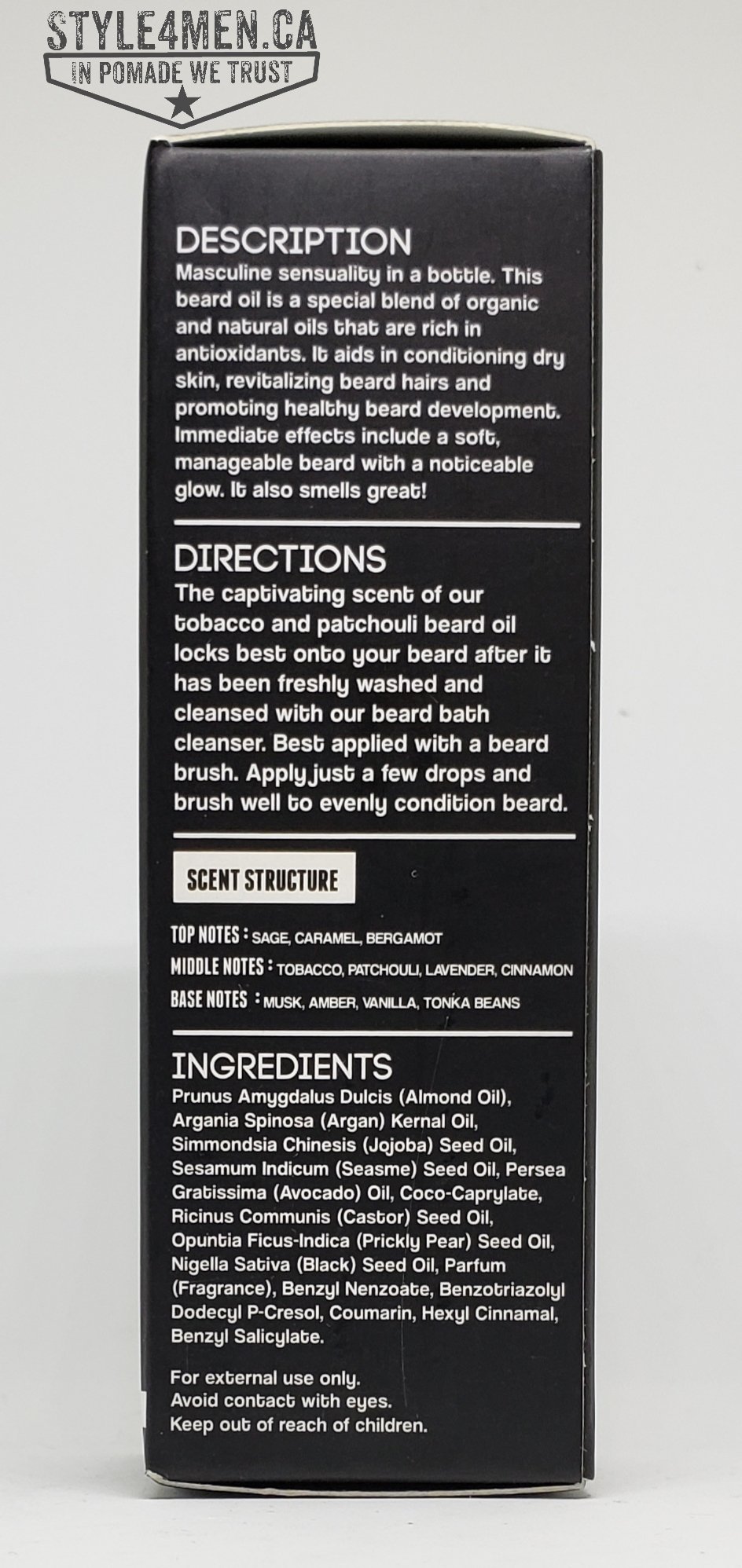 The oils used to create Formula 416 are all part of the "A" list of healthy oils: almond, argan, jojoba, sesame and avocado to name but a few.  Check out the benefits of these oils for yourself.  It's impressive to realize that Mother nature had sprinkled all these little gems for us.
After 2 days of morning application, I am converted!  My face feels and looks great.  This morning my routine was a little disturbed and I did not apply any oil.  The early after noon tugging reminded me that I had not put any oil on. Coming back on the scent of this oil, it is tamed.  No one will be smelling you coming from miles away.  It is essentially for you and that special someone who might be coming close enough.
Just like we do in our pomade and shaving posts, I figured that a little rating system might make things easy.  We will use a scale of 1 to 5, where 5 is the top mark. These will be the rating parameters:
Composition: This one will be based on the ingredient selection. More natural oil in attendance, the better the grade.  The same with chemical, the less of them are there, the better the grade.
Aroma: This is one is completely subjective as it is based on my nose and what I think of the scent.
Performance: Overall performance, how does the oil feel, how long does it last, does it improve the dryness of my skin and beard, etc…
Formula 416 by 6IX MAN gets the following rating from us:
Composition: 5
Aroma: 5
Performance: 5
In closing the bear oil by 6IX MAN is a subtle olfactory arrangement as well as an elegant and light natural oil assemblage.  Bearded men will appreciate this product as well as those like myself who aren't has committed to the cause but who are seeking that next level of comfort.  Formula 416 get a spot on our shelf of favorite products.
In our next review covering 6IX MAN, we will tackle their: Fresh Face (face wash) and Daily Armour (face moisturizer).
Use these links to shop for 6IX MAN products: