Marc Anthony Argan Oil Hairspray

This post is somewhat after the fact.  I have been using the Marc Anthony argan oil hairspray on and off for a number of months now and realized that I had not given it a place on the site.  This hairspray deserves a post for two reasons:
First, of the hairspray I have tried out in the last year, it is the best one
Second, it contains some of that amazing argan oil

As I have mentioned in other posts, hairspray is somewhat of a contradiction.  According to hair experts there are two main elements that damage hair; heat and alcohol.  Heat from the repeated usage of hot hair dryers and the usage of fixative products made with high concentration of alcohol.  As you may have noticed most hair dryers now a days come with a cold setting.  So that issue is taken of. On the hair spray front, the first ingredient in "ALL" hair sprays is alcohol.  The Canadian ingredient listing requirements dictate that you don't have to reveal your proprietary recipe, but that you must list the ingredients in their order of volume, from greatest to smallest. With alcohol appearing in first position, you do the math… But when all else fails, hairspray is usually an efficient solution.
In my pomade testing, there has been a number of products with limited hold.  Those are usually the pomades offering high shine
This bottle of hairspray was purchases before I had any appreciation of what argan oil was and the good it does for your scalp and hair.  It was more or less a "trust-by-association" purchase.  I had been using the Marc Anthony Macadamia Oil Shampoo and conditioner duo and loving the results.  In that sense, it was just a logical choice to try another product by Marc Anthony.  As mentioned above, it is my favorite hairspray, so the "trust-by-association" worked out well here.
What do I like about this hairspray?
It is an easy brand to find and is sold in most pharmacies
It is  reasonably priced under $12 (The bottle was purchased at my local Walmart for about $10)
It dries fast
It doesn't have an aggressive or toxic scent
It does a great job of holding your hair in place
It has worked with all of the pomades I have tried it with
Now for the "Argan oil"bonus points.  The word on the street is that argan oil has a number of benefits in the hair department, including treating hair loss.
Argan oil helps prevent hair loss by ensuring that you don't lose more follicles than you're able to grow – when that happens, hair loss becomes noticeable. Multiple studies on the oil's effect on hair re-growth have found that it can stimulate the scalp due to its rich nutrient content to produce more hair. Other research has indicated that it helps hair grow faster in a shorter period of time. One particular study out of South Korea found that 44% of participants experienced "clear hair regrowth" with Argan oil treatment – as good as the drug minoxidil, but without the potentially harmful side effects.  Reference:  http://www.naturallivingideas.com/argan-oil-for-hair/
See also:
Argan oil is the 8th ingredient in this hairspray list.  Well after the nasty alcohol, but it is there nevertheless as well as a number of other natural oils.   Kudos to the folks at Marc Anthony for making that effort and making a solid hairspray.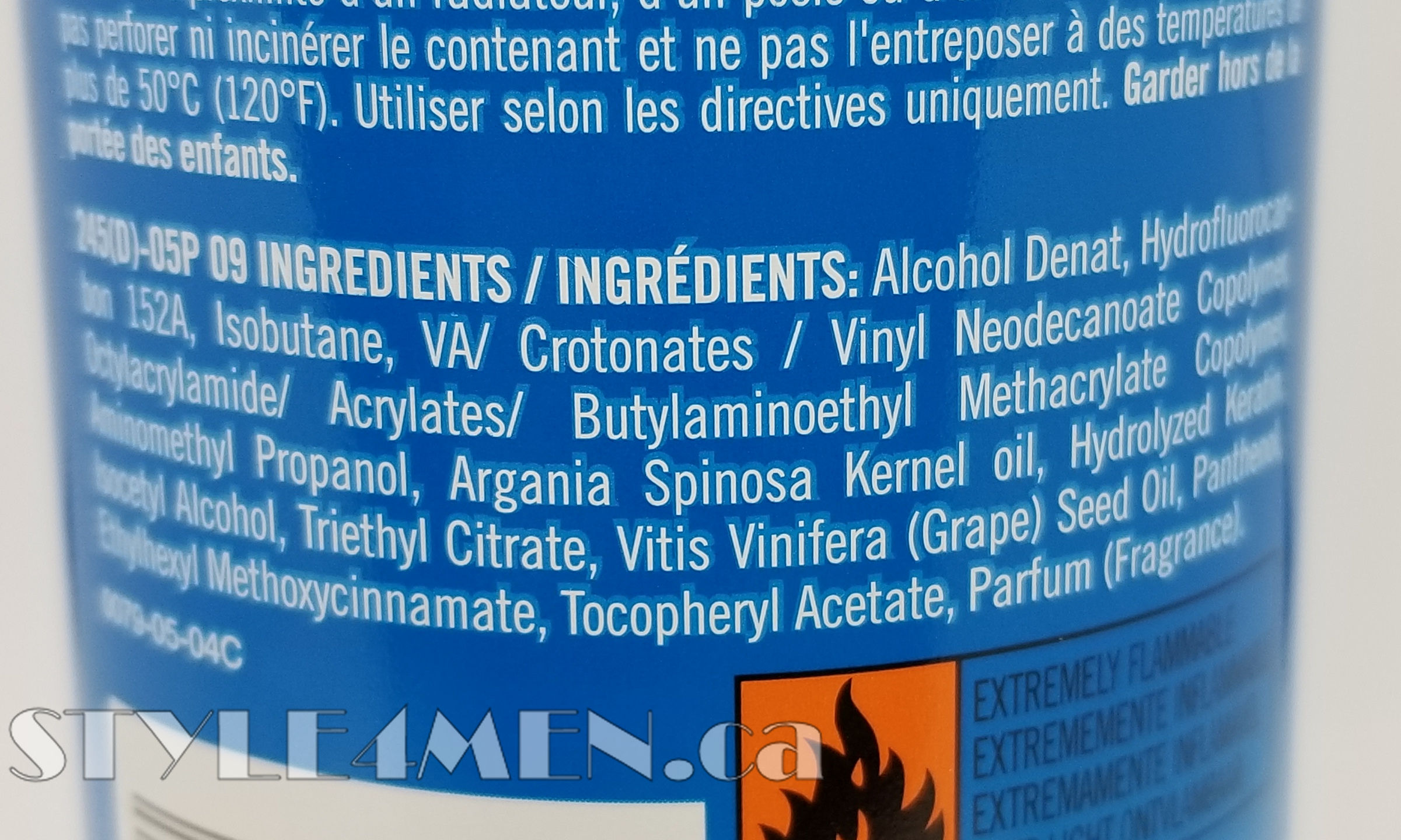 Here is the rating on a scale of 1 to 5, where 5 is a perfect score and/or level of shine:
Hold: 5
Shine: 4
Texture: 3
Feel in hair: 3 (This is a hair spray, so expect some crispiness)
Facility to wash out:  5