RASCAL MAN Body Lotion and Face Moisturizer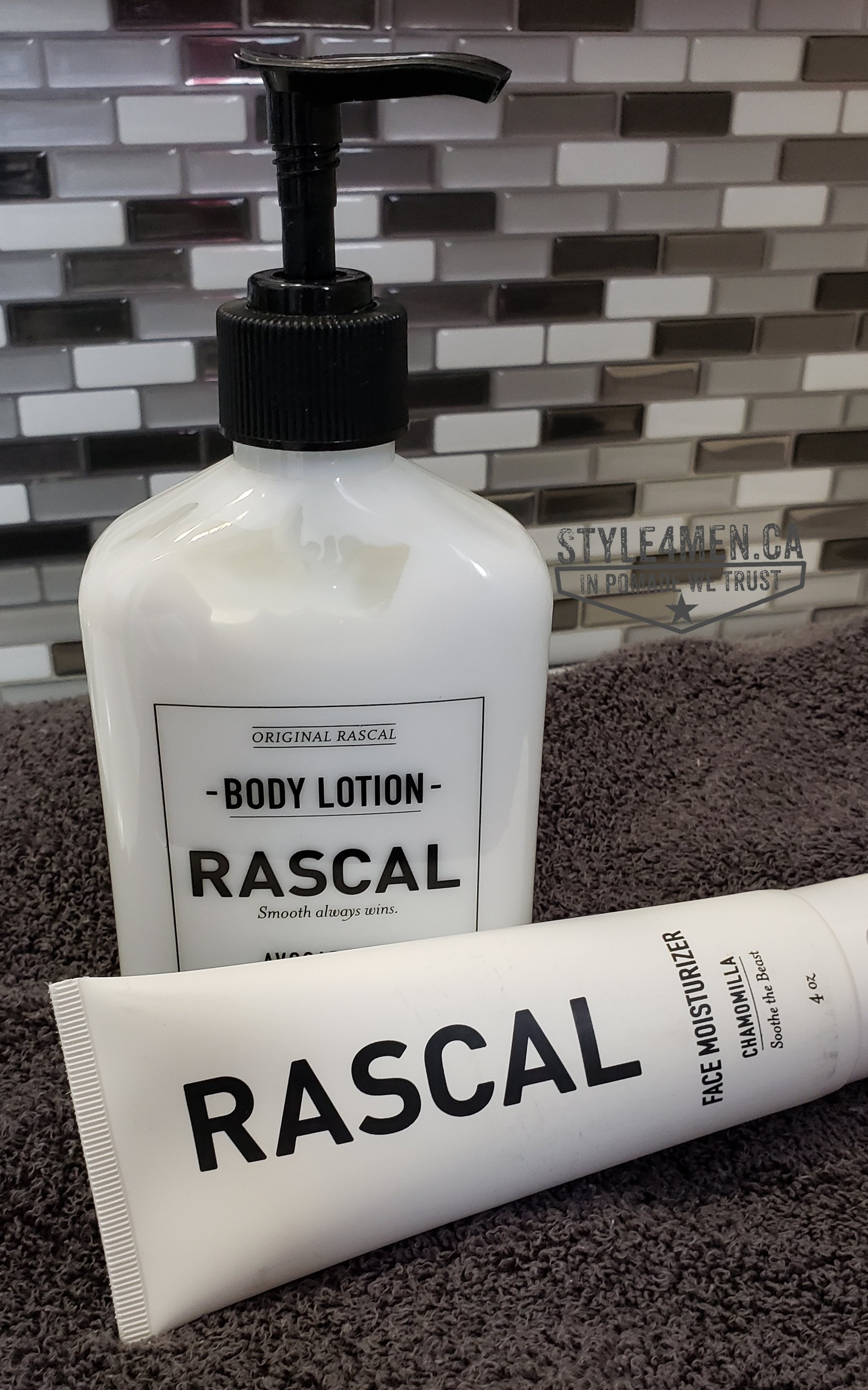 Yes, it is true that our motto is "In pomade we trust"! But there is more to a proper grooming regimen than simply hair styling. Lotion as a whole is not something we touch upon very much and that is a shame because taking care of that outer shell (your skin) is crucial especially has we enter the summer months and more skin will be exposed to the sun.
In the last few months, I have gotten interested in the American grooming brand called Rascal Man. The products presentation is bold and clean.  White or clear containers with a black font labeling.  They offer products in 3 spaces: Hair, Face and Body.
In the "Hair" space they have a full pomade range as well as shampoo and conditioner.  In the "Face" space they have face washes, moisturizers and a toner.  Finally in the "Body" space you will find a body wash and a body lotion.  I should add that they also have a few hardware essentials in the shaving space.
For this review we have the Body lotion and Face moisturizer to work with. I will admit being guilty of not taking care of my skin as well as I should.  Getting older this is clearly something I need to make an effort on.  Having the Rascal Body Lotion handy is a perfect excuse to take care of this.
Shout out and thank you to the folks at Rascal Man for trusting us with this feature-review.
Here is our unboxing:
One of my big road blocks to using body lotions is the recurring strong floral scents, the slow absorption and the nearly unavoidable greasy feeling that lingers.
The Rascal Body Lotion is light, unscented and goes in quickly while leaving no oily or sticky residue.  For my first test, I dispensed about the size of a dime and this covered both of my forearms.  Considering that my skin was nearly reptilian looking before, I am blown away at how nice it is and how smooth it still feels almost 8 hours after application.  The Rascal brand being targeted to men, these results demonstrate that they understand their clientele.
I am no chemist or skin expert but I am cognisant of some of the skin care rock stars and am impressed to see that they are playing at this gig.  The lineup includes: avocado oil, sunflower seed oil, aloe vera and jojoba oil.  Impressive!  See for yourself!   When you add it all up, it's a chart toper!
As far as the face moisturizer is concerned, I took the same no none-sense approach and applied about half the size of a dime to my face.  First off this cream is extremely silky and worthy of the more delicate skin of your face.  I am usually a daily shaver and as part of the shave I will generally use an after shave balm or lotion thereafter.  On the days where I don't shave, I usually also apply a balm to keep my mug feeling fresh as well as to reduce any beard related itchiness.  Any itchiness can pretty much be blamed on some level of dryness.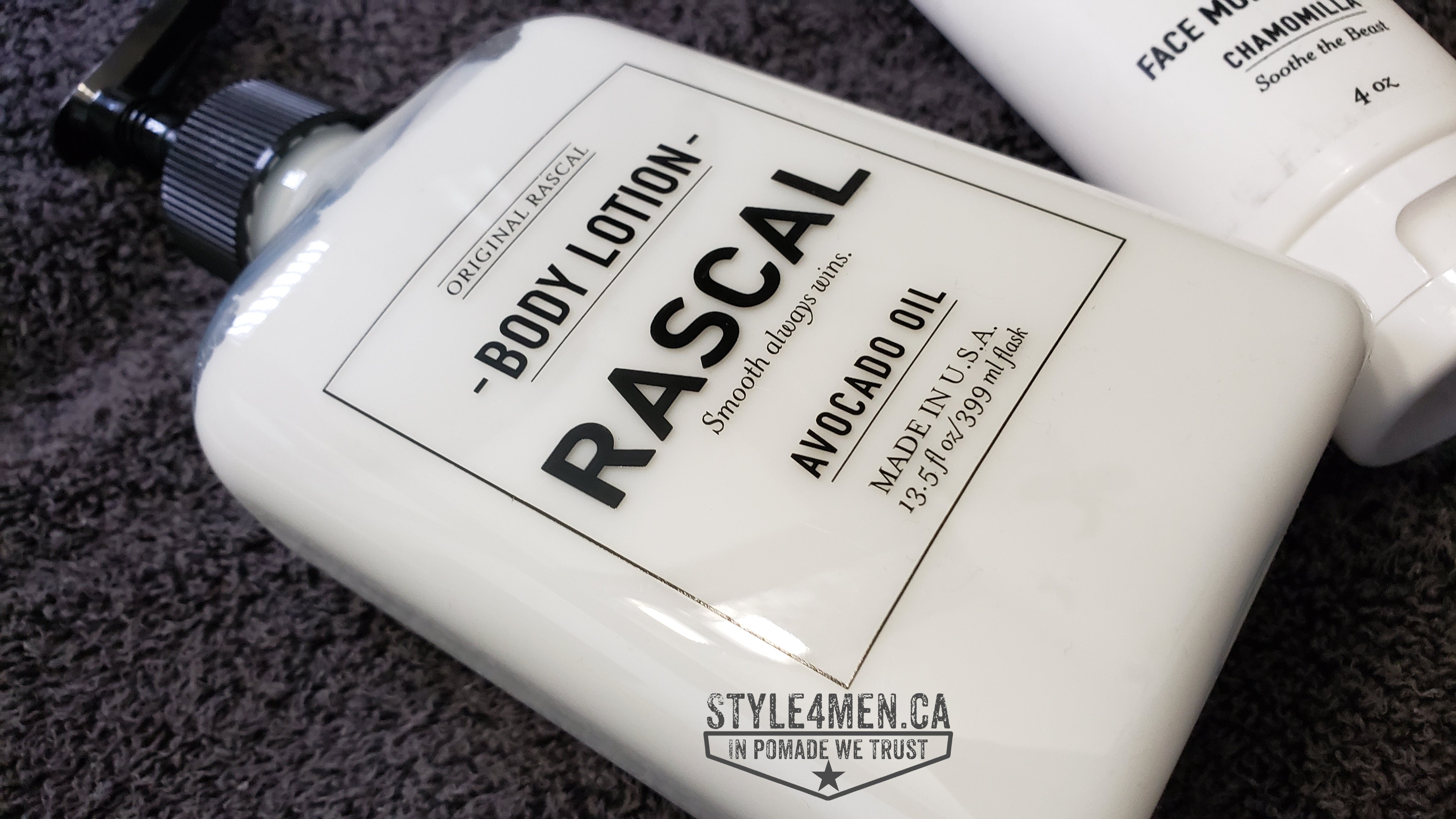 Just like the Body Lotion, the Rascal Face Moisturizer was light, quickly absorbed and left no lingering oily residue.  The one difference is that the Face moisturizer is very lightly scented with a touch of chamomilla.  Think mild tea.  Perfectly discreet and no competition or confusion with your cologne.
I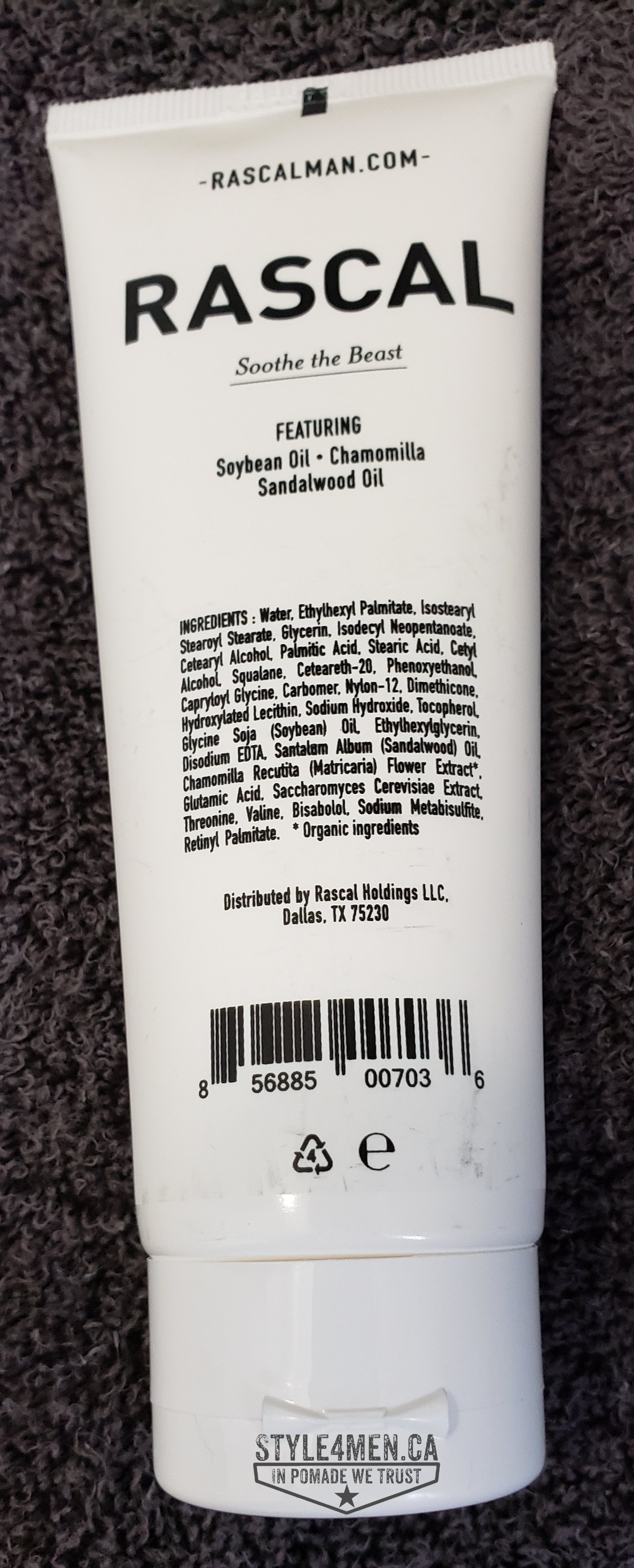 mentioned above that I use a balm or lotion on the days where I don't shave; take that as I am not sporting a beard and this moisturizer is a not a beard oil substitute.  My 1 to 5 day old beard is not Zeus like.  If you have a beard, a moisturizer will certainly be better than not using anything at all, but it might not be the best suited product.  A proper beard oil will give you nicer results.
In closing, the Rascal Body Lotion is an impressive option that will make you rethink what you thought you know about body lotion by doing everything you wanted but weren't getting with your other product.  In the same manner the Rascal Face Moisturizer will very easily become the silent partner you won't want to do without.