REUZEL "Spray" Grooming Tonic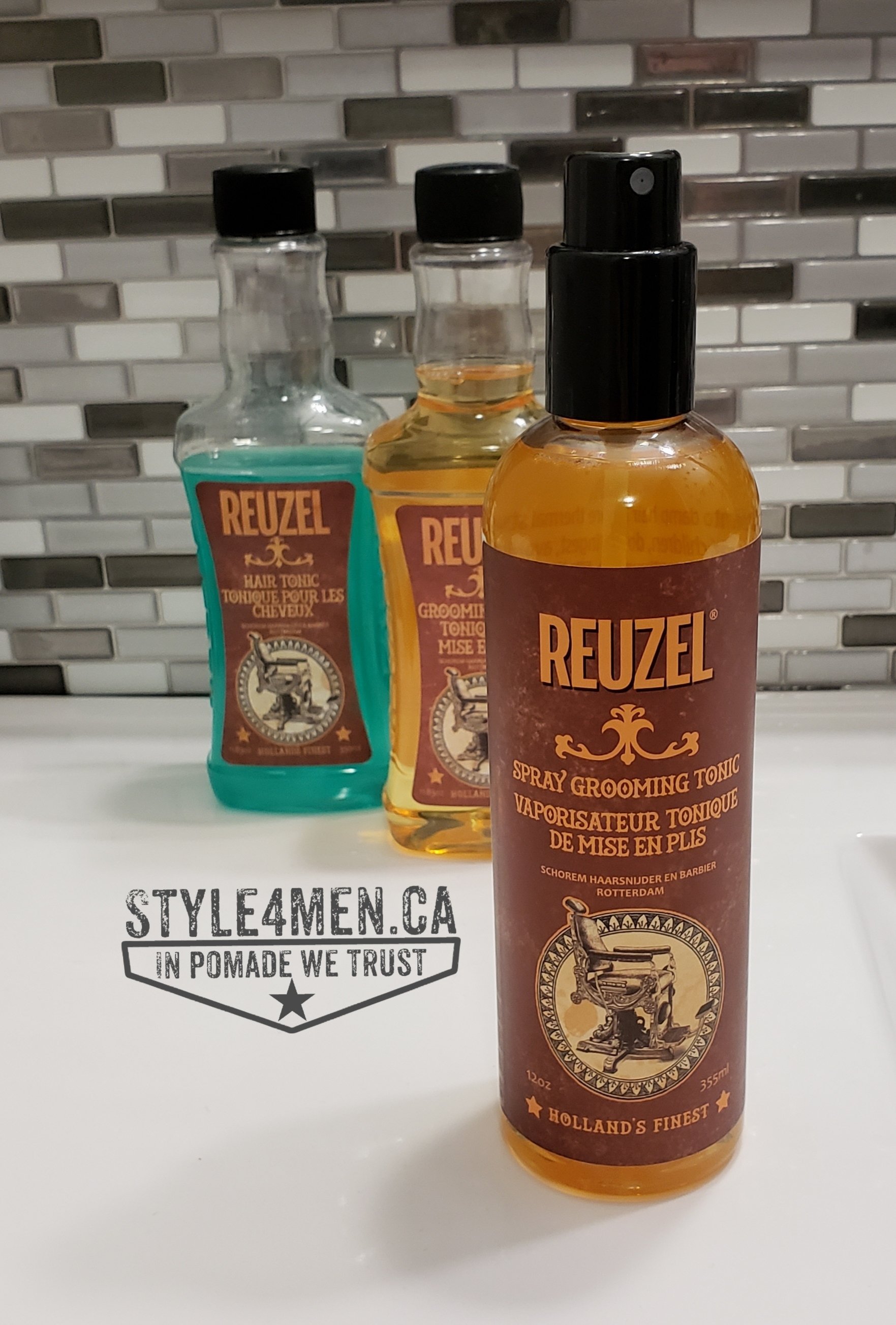 REUZEL is back in full force with their Grooming Tonic. They added a very relevant improvement; a spray nozzle.
Up to now, REUZEL was offering a very traditional "Barbershop" like hair tonic in a bottle with a reducer mouth.  You can see my original review here.  REUZEL being all about tradition, this first bottle made perfect sense.  I might also add that they were among but a few to offer a hair tonic.  Yes, Barbershops are back on our Main streets, but that doesn't mean you can find all the products we ounce did.  Fast forward to today and REUZEL has re-imagined how this great hair tonic is dispensed.  That's the spray nozzle!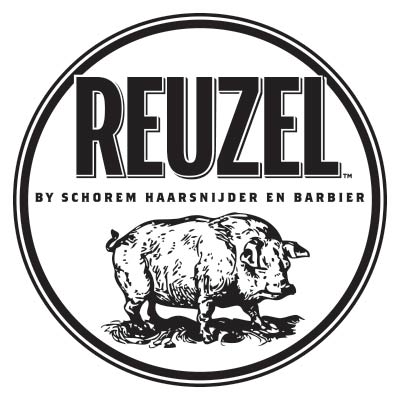 We are going to touch on a couple of things, first why is hair tonic a relevant product and secondly why having it delivered in a spray is of interest.
As you might already know, I am a big fan of REUZEL and I cannot really be taken as an impartial reviewer. In my defense, I did not start out being partial – it came after a number of impressive results and consistent performance.  My love was earned!
I was going to start this sentence by stating that if you are a pomade enthusiast, a hair tonic is that products you didn't know you needed.  But really, hair tonic goes well beyond just the pomade community and should encompass anyone who uses styling products.
Let's start with a concrete example of when to use a hair tonic and what it can do for you.  It's Tuesday morning and you started the week right and washed you hair on Sunday night or Monday morning.  Now you're in a rush and are wondering what do to about your hair.
You could wash it again with shampoo and start afresh, but you are realizing that the detergents in your shampoo is drying your hair and scalp out and making the whole thing itchy.
You could also simply just rinse yesterday's pomade out under the shower head and start nearly afresh as well.
Then you might also consider adding a bit of water to your hair and try to rework your pomade and style. This is generally an okay solution but with limited results depending on what pomade you are working with.
If you are using a water based pomade and are applying a mist with a barber spray bottle, you are already ahead of the game and will get decent results.
But is there yet another solution?  Yes, there is and here is where hair tonic comes in. Hair Tonic is like that back store secret tool.  Historically, hair tonics came in two formulations; alcohol based and oil based.  The goal of these original tonics was to break down grease pomades in order to wash them out or relax them before restyling.  Today hair tonics offer a greater range of possibilities.
Volumizing / Texturizing (create big volume)
Heat protection when blow drying
Nourishing the hair and scalp with natural oils
Preparing or pre-styling the hair before the pomade application
Relaxing the hair and the pomade already in place in order to restyle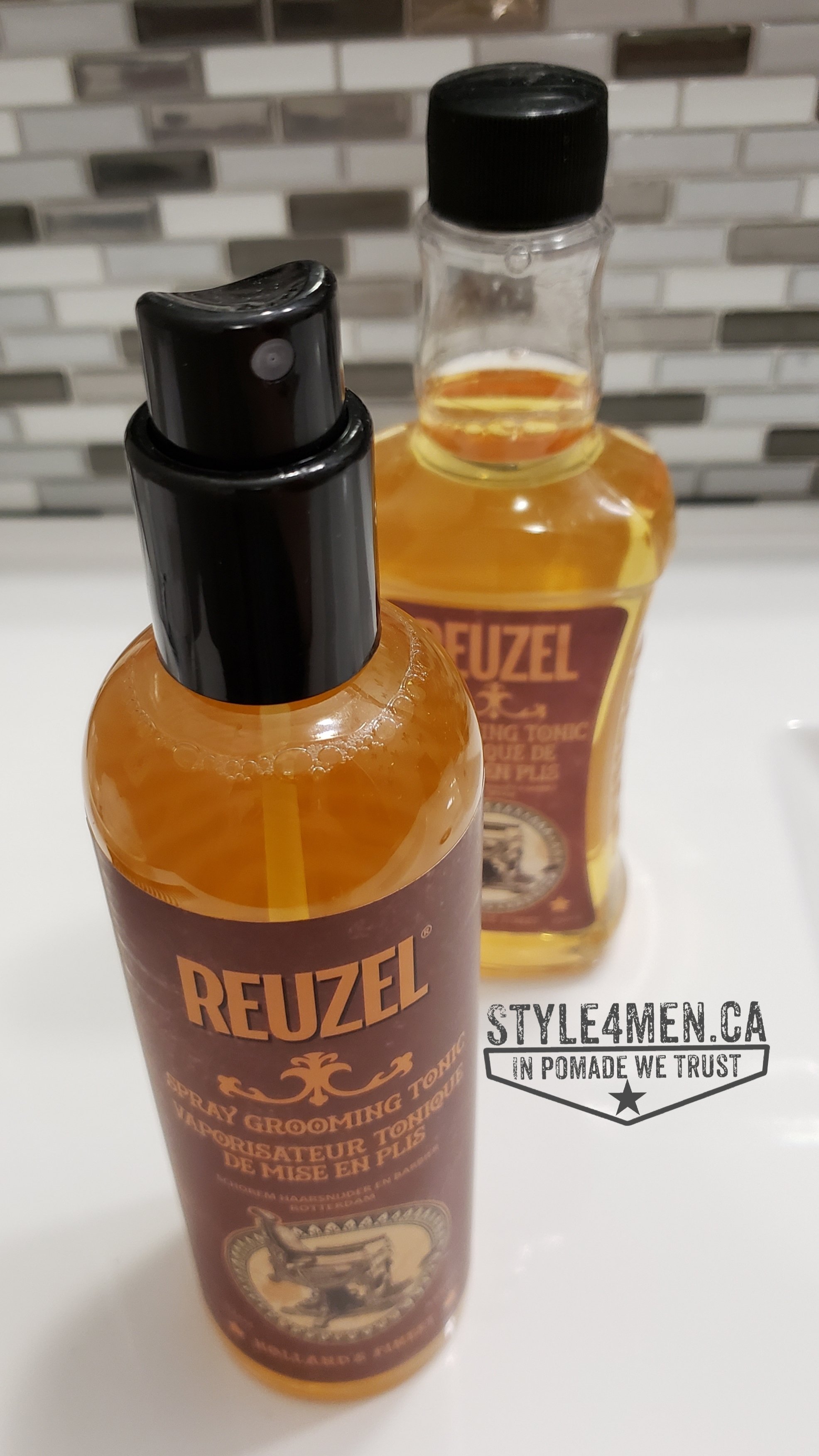 It was about 2 years ago that I became aware of hair tonics and I have fully embraced them.  I now see this product as being just as essential as the pomade itself.  The REUZEL grooming tonic is one of my favorites because it was my first but also because it is a straight forward and simple product.
On the ingredient side, it contains both argan oil and witch hazel.  Argan oil is a hair care rock star and witch hazel is a phenomenal soothing agent which will help with any scalp discomfort like dryness and itchiness.  The small amount of argan oil will not make your hair greasy or oily.  There is just enough for you to benefits of its great properties.
Coming back to our morning situation mentioned above where you are bypassing the hair wash, simply spray 4-6 shots of mist over your hair.  Blend it in and restyle with a small portion of pomade. WOW!  Your mope is looking just as good as if you had washed and styled!
This is something I mentioned in numerous posts already, but there is value in restating it: washing your hair with shampoo every day is very hard on your hair and scalp.  The detergents in the shampoo strip all of the natural protective oils your body produces to keep your foliage strong and healthy.  Hair loss is a nasty thing.  Delay it as long as possible by being gentle with your noggin!  I wash my mope with shampoo every 3 -4 days now.  The other days, I either use tonic to restart the party, rinse under the shower head or do a conditioning.  You may have noticed that your lady is on a similar path and her hair is gorgeous!  I totally get the need to get that clean feeling, but pulling out the SOS pad every day to wash a plate is overkill.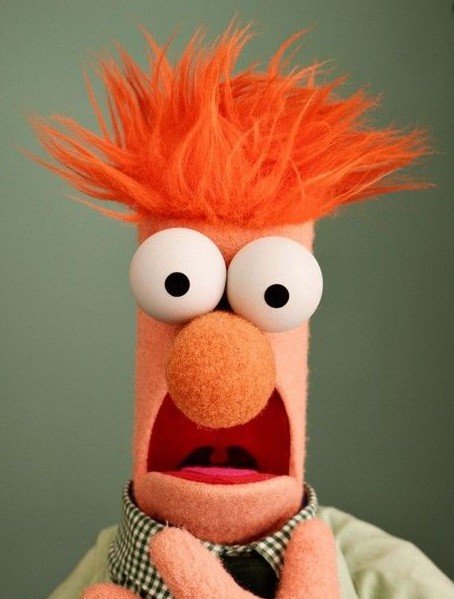 Back to our tonic! In the context where you have washed your hair, spray 4-6 shots of the mist and blow dry your hair.  The texture and volume will be ridiculous! I do this as part of my routine and my hair looks hilarious at this point.  Mrs. Style4men calls me her muppet.  Why would I do this? Volume should be understood as "height".  This prepares my hair for the pomp I will shape it in with pomade.  I find that the difference in results is very noticeable.
Because the REUZEL Grooming tonic has a bit of oil in it, it will also be a very interesting choice for Greasers (grease base pomade users).
Up until now, I have been using REUZEL grooming tonic in their regular bottle with a nipple or reducer.  Similar to the aftershave bottles. From usability point of view, having the tonic in a spray bottle is a great improvement as you are not over-doing it and getting it exactly where you want/need it.  As a side note, before this I was using my tonic by pouring some in a barber spray bottle with a bit of water.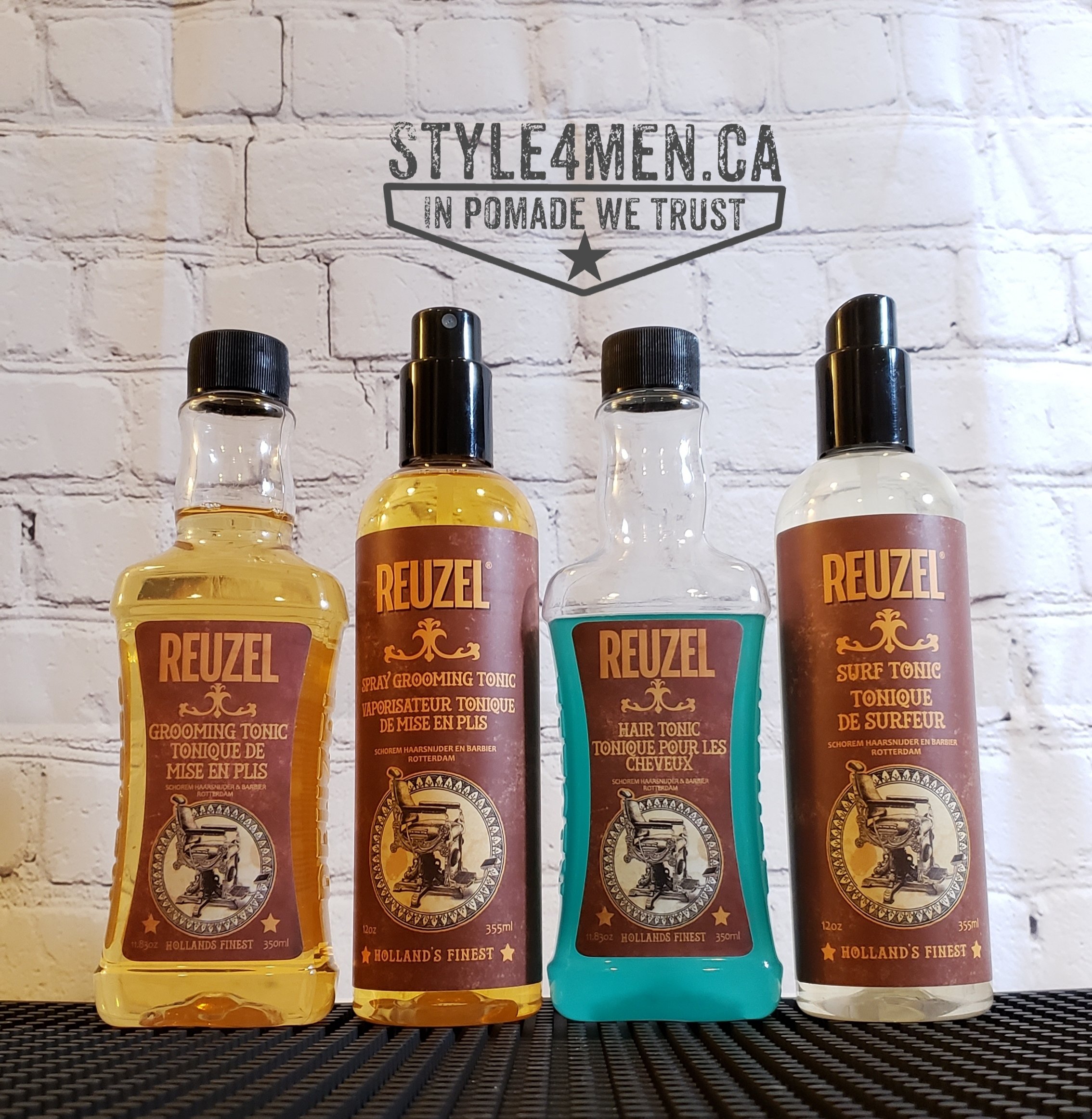 This is the full Tonic line up
Last but not least, the scent.  This is done very nicely and I am almost sad that it does not have a lasting presence.  It is after all a hair tonic, not a pomade! Sweet, earthy and musky.  Like caramel meets sandalwood or something.  Sorry guys!  That's as good of a description as I can do.  But to my nose, – WOW!  If REUZEL was to offer this in cologne or a solid cologne, I would want one!  Come to think of it, the aroma is in the same ball park as their aftershave.  It might even be the same thing.  Eh?!
A small note on the spray nozzle.  In an effort to reduce on plastic and waist, REUZEL did not put an extra cap on the bottle.  Instead, the pump has a twist-lock mechanism so it doesn't accidentally spill.
Shout out to Reuzel and Nouveau Communications for making this review possible! 🙂