Shake & Rake Styling Powder by Uppercut Deluxe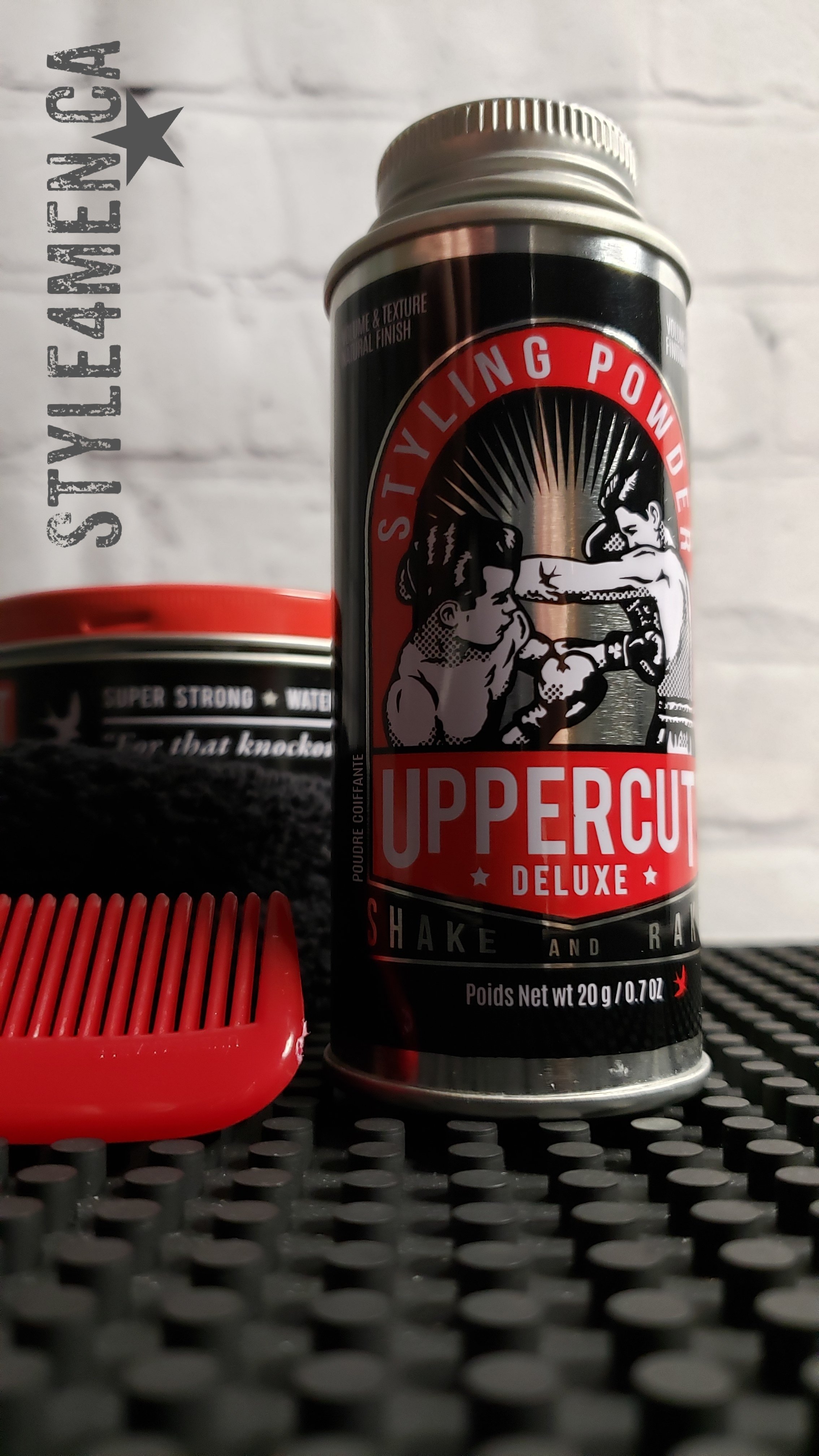 This review is a follow up to the earlier Instagram post where I mentioned that there were 2 Uppercut Deluxe products on the test bench.  The post covering the solid cologne being out and what a cologne it has turned out to be, we now move onto the "Styling Powder".
Shout out and thank you to Toucan Trading the Canadian distributor of Uppercut Deluxe for making this review possible.
Uppercut Deluxe having achieved that level of notoriety and they could have just let things be.  It is after all one of the most recognized brands in the barbershop sub-culture.  But, no!  Resting on their laurels is not their way and they have been busy these past months. In 2019 two new products saw the light, the solid cologne and a styling powder.  For 2020 a salt spray has just been announced. Can't wait to get my bottle of that!
So what about this Styling powder? Uppercut Deluxe going all the way out when it comes to presentation, the packaging for the styling powder is no different and comes in a sexy metal bottle with the trademark boxers.  Bottom line, there is no mistake to be made, this is Uppercut Deluxe.
In case you are wondering or interested,  hair powder has a long history and goes back as early as the 1500's and becomes a huge thing in the late 1700's with the original pompadour and big hair wigs. After going somewhat in abandon, hair powder resurfaces in the 1960's as dry shampoo. Yes, hair powder is a bit of a multi-tool.  Because powder absorbs moisture and oils it can be used to refresh your hair allowing you to skip a shampoo.  In the same light, hair powder is often used as degreaser.  You might have seen your lady work with a can of spray that wasn't hair spray and then came out of that cloud looking like a delicious refreshed vixen.  That's dry shampoo!  What can be a bit confusing with dry shampoo is that it is available as a powder and more frequently as a spray.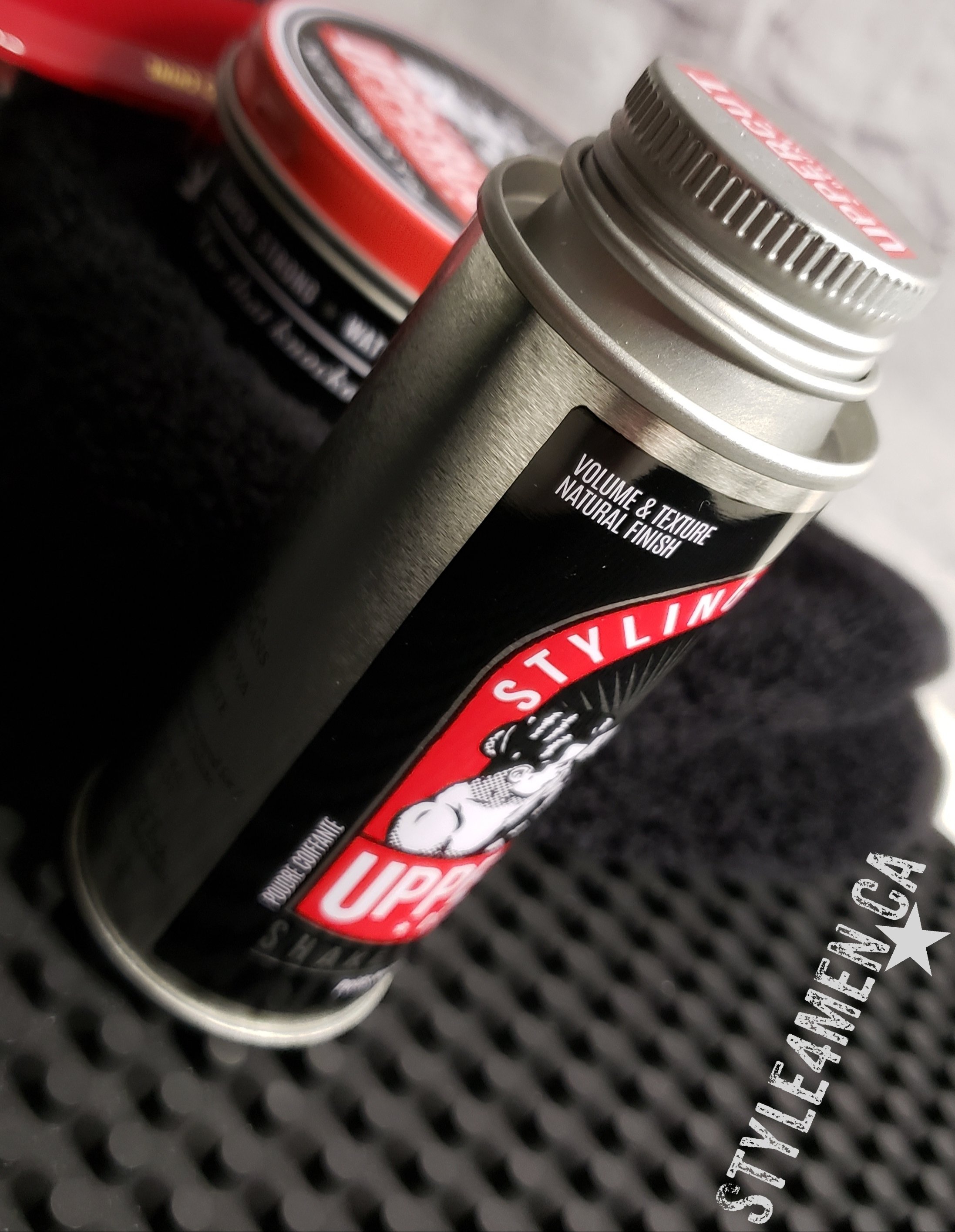 Check out our Uppercut Deluxe Pomade Review.
Styling powders are becoming quite a popular product category and for good reasons.  These powders are quite versatile with properties to create volume as well as to degrease hair.  The multi-purposes of this product lead to brands using different naming conventions.  Here are some of the possible names you might encounter for this product type.
Styling powder
Volumizing Powder
Texturizing Powder
Hair Powder
Hair Degreaser
Dry Shampoo (available in a powder or in  spray)
In the context of "Styling", powder creates volume. In the simplest explanation possible, powder will lightly bond the hair together helping to create volume.  How does it do that?  Powder is essentially weightless, thus allowing your hair to reach its full height and volume potential.  Being so light, powder won't bring your hair down.  Because of its slightly tacky properties it bonds your hair together making it look thicker and fuller.  Note – Guys with thinning hair, this stuff will be of interest!
Before you get too excited, powder on its own might not be enough to produce a finished style especially if you have a jungle mope like me. But because it creates incredible volume it is a perfect pre-styler.  If you want to sport anything like a rocking pomp or a quiff, volume is your No 1 objectives.
You are probably understanding where I am going.  Styling powder is part of a bigger plan!  Here we go!
Pre-Condition: Your hair is clean and dry
Sprinkle a small amount of the Styling Powder in your hair
Blend it in with your fingers or with a hair pick – amazing volume will ensue!
Commit the whole thing in place with a small amount of your favorite fixative (pomade, clay, wax). I want to emphasize how little pomade you should use.  Basically, you just want to secure things in place.
Live a great hair day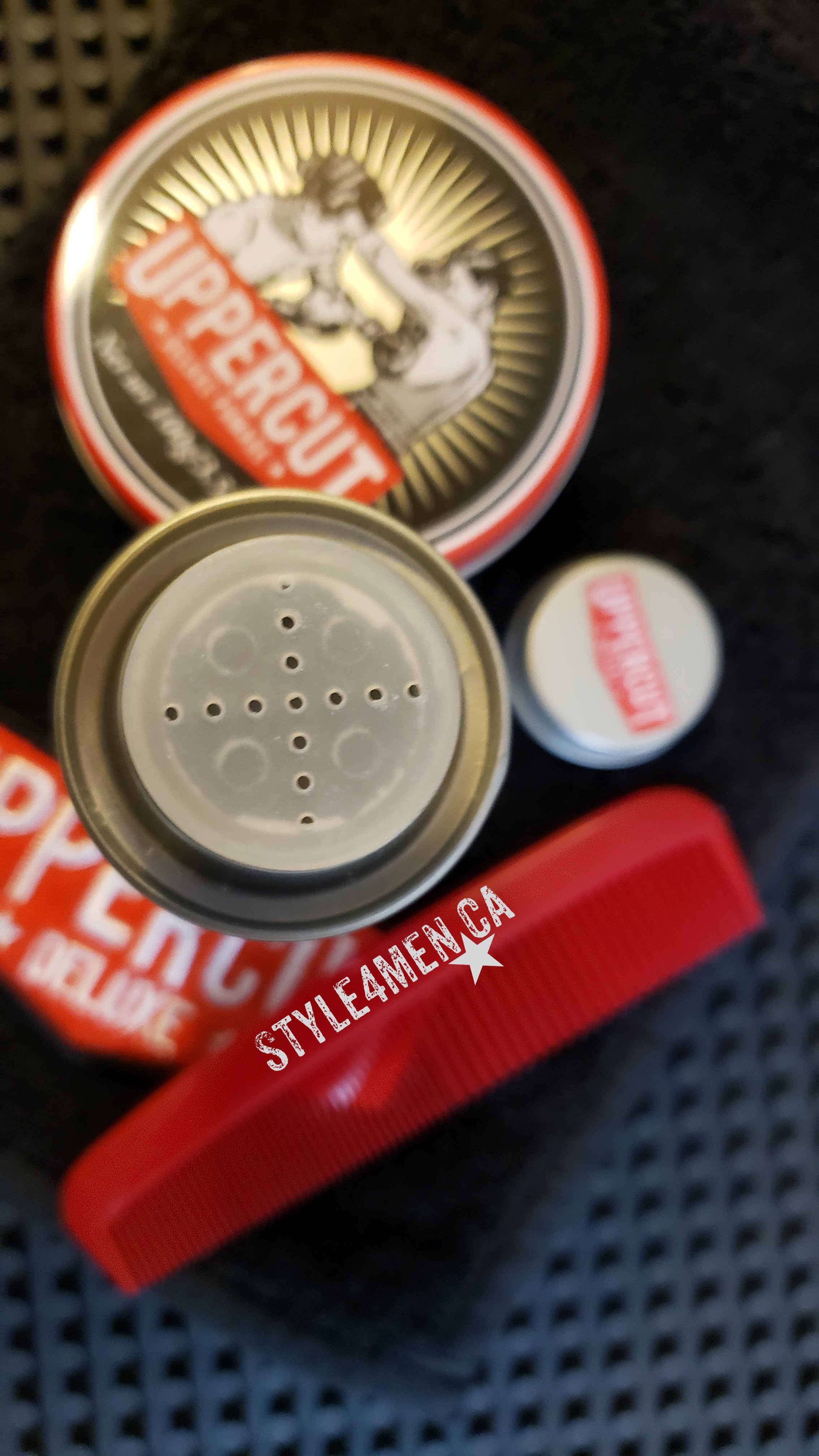 When you open the lid of the bottle you will see that there are small holes very much like a salt shaker. You will basically, sprinkle a few shots on your hair.  For my hair I did about 4 shakes. The shaker is well made and the dust goes where you aim the bottle.
If a comparison is to be made, powder produces similar results to hair clay but without the trouble.  Clay is notoriously sticky and often a bit harder to wash out because of the paraffinum elements in its composition.  So with powder you get even better volume without the draw backs making it a win-win!
I personally find that this powder does such an impressive job of creating volume that pomade alone is not enough to tame my now mega rocking pomp and I have needed to call in some hair spray help.  Keep in mind that I am sporting a fairly long uppercut.  If your hair is shorter than 2 inches, the powder alone will most likely be enough to create and secure the style.
BTW – I did not identify any scent to this product.
As mentioned above, hair powder can also be used as a dry-shampoo making it a real go-to product.  On the morning after, you don't have time to wash your hair – no worries!  Sprinkle a few shots in.  Shake and rake!  Commit the whole thing with a touch of pomade – live to rock another day.
This is the 3rd or 4th hair powder I have worked with and is turning out to be my favorite for the following reasons:
Creates insane volume
Is just a little tacky making it easy to work with
Feels good in the hair
Convenient
Plays well with pomade and hair spray
Easy to wash out
Summing things up
The Shake and Rake powder by Uppercut Deluxe is a welcome addition to the product line as it will allow you to go beyond the slick back look.  Uppercut Deluxe has also done an excellent job of creating a unique powder that goes beyond the beaten path.  Because this stuff does double duty (volumizer, dry shampoo), you are really getting 2 extra tools for your styling arsenal to help you take your game to the next level.