Suavecito Signature Scent Deodorant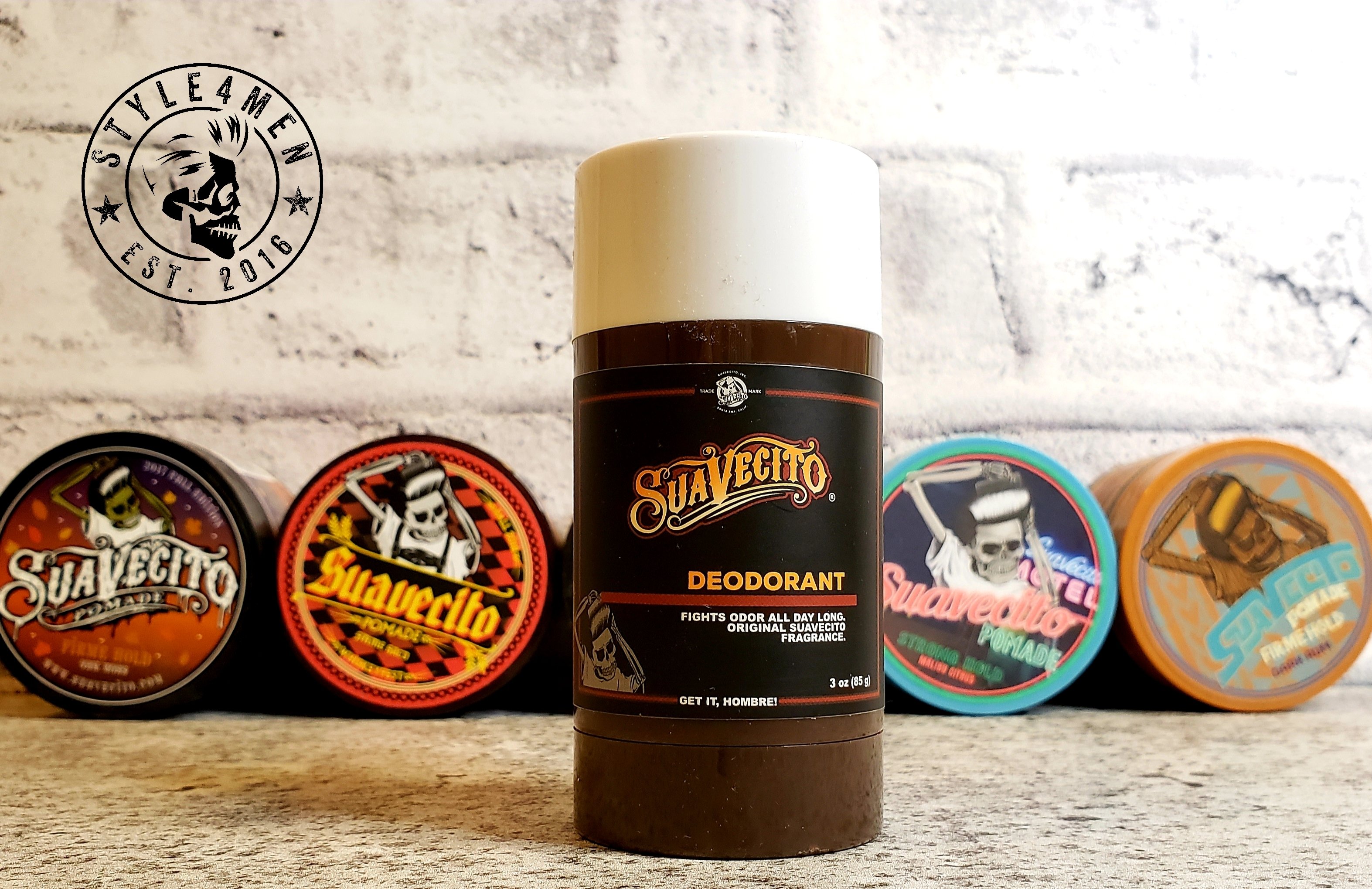 With the intense summer heat we have been getting, Style4men has aimed to test out as many deodorants as possible.  It might seem like a nearly irrelevant item in your toiletries bag, but I have come to realize that not every stick should be considered the same.  The last thing any self-respecting man will want is to be sweating and stinking the place up.

Earlier last week I was able to pick up a stick of Suavecito deodorant at my local Suavecito purveyor: Not your Father's Barber. The Suavecito brand has been in my good books for the last 10 years or so.  Obviously, pomade is at the root of their business, but over the years they have grown to the point of offering relevant products in almost every area of men's grooming.
One of these items is a deodorant.  The Suavecito signature scent is quite unique and original.  Think spicy and playful with elements of cola sweetness.  To be totally honest, it is not for everybody, but those like me who like it, like it allot.  Back when I first tried the Suavecito pomade the scent was an instant love.
Obviously, a deodorant from Suavecito will come with a fragrance.  This is actually the underlying reason why I purchased one of these.  The Suavecito signature scent is one that I do not tire of.  The intensity of the fragrance here is gauged accordingly to a deodorant, it is strong enough for you to identify it but it is not strong enough to replace your cologne.
The other major point of consideration with the fragrance is will it actually cover up the stench of sweat?  Considering that Suavecito is a Californian brand, I am assuming it can handle the heat.
During my testing week, the weather in Ottawa has reached 40'C a few times.  That being the case I am not very active – in fact it's more along the line of the iguana pace.  I am also working from home like many people during these covid-19 days of social distancing.
That said, I didn't feel wet nor did I smell myself and go: yuck!  That being the case, this stick of deodorant gets full marks from us!
The ingredient list is incredibly short with only 7 participants.
Propylene Glycol
Water
Sodium Stearate
Fragrance
Sodium Chloride
Stearyl Alcohol
Saccharomyces Ferment Filtrate
As you can see, the product is rather well presented in a dark brown tubular stick which stays in line with the brands overall look and feel.  The actual deodorant is a nice firm and clear solution that goes on very smoothly.  It didn't make me feel wet or sticky.  Just rub it on and you're good to go.
To sum things up l was impressed by this product.  The Suavecito signature scent comes out in a perfectly gauged manner, the deodorant goes on nicely without making you feel wet or sticky and last but certainly not the least, I felt dry and confident that I wasn't stinking the place up.
In Canada, you can also shop with: