Suavecito Talcum Powder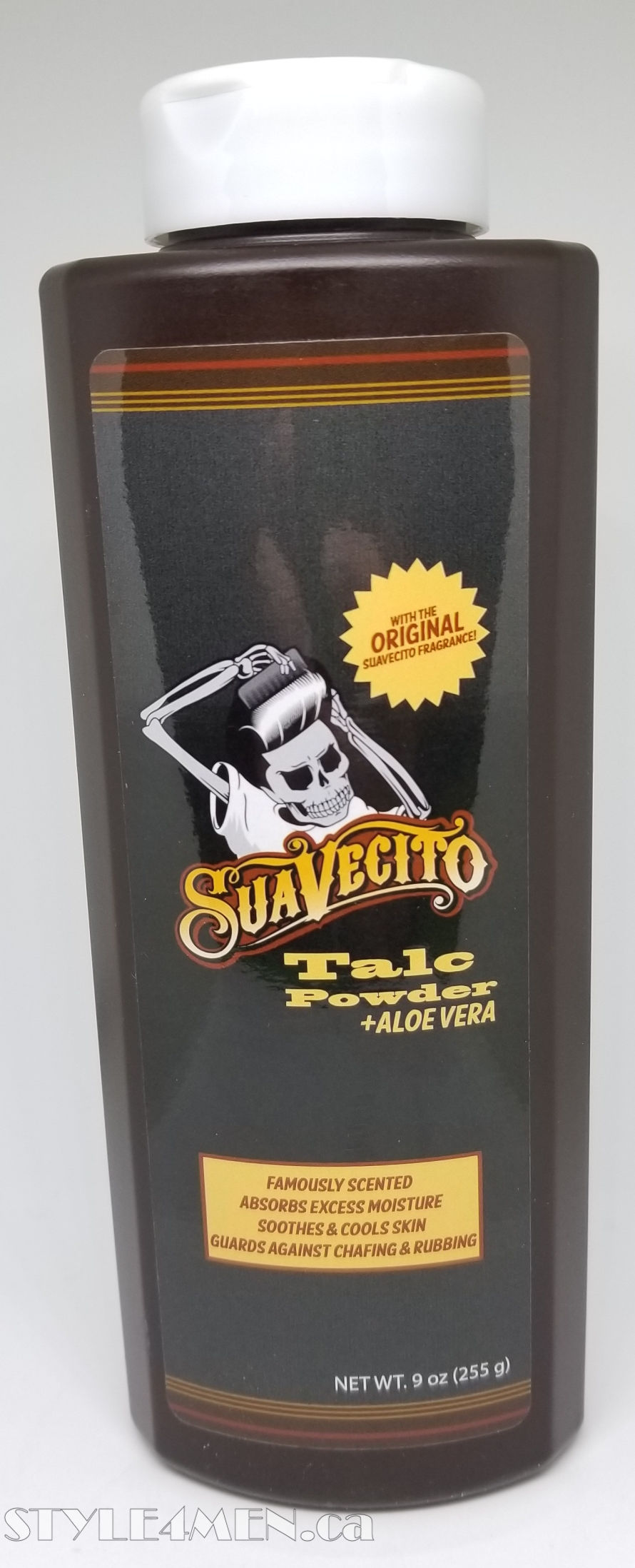 This morning I am testing another product from Suavecito, their new talcum powder.  Loving all things Suavecito, it was just a question of time before I got my testing hands on a bottle of this stuff.
To purchase a bottle of this talc, I turned to my local Suavecito supplier, Not your Father's Barber.  The shop did not have it on hand, but ordered it for me and it was on site within a couple of days.  It was sold for $12.  Quite decent when compared to ordering directly from Suavecito in the States ($6 US + $15 US for shipping X 1.3 for the currency difference =$27 CND ).
I will not spend much time going over what is talc and why one would use it as this was sufficiently covered in my previous posts: Pinaud-Clubman, AXE.  Suffice to say that talc is a great option for the following concerns: absorbing moisture, sooth and cool skin, guard against chafing and rubbing.  Suavecito has also filled the void of this forgotten personal hygiene product by clearly indicating it's purpose on the bottle.   Something the other brands have not done as clearly. I like talc to protect against chaffing and for the added comfort from moisture.
The last time you might have had talcum powder on your bottom was when you were a baby.   Yes, talcum powder is a solution from a past time that is making a proper come back as a result of the Barber Shop Revival.  I will admit only having gotten interested in talc as a result of my product research on "how things use to be".
What is different about this talc compared to the others?  First off, it's made by Suavecito.  Yes, I know that sounds cliché, but if you have used some of their products, you know that you won't be let down.  Their products are also targeted for the regular man's budget.  Suavecito tends to always bring an element of originality or novelty to their products.
The packaging indicates that the talc includes some Aloe Vera.  With the skin benefits of Aloe Vera, we have to give kudos to Suavecito for bringing it to the party.  My usage of this talc as led me to move it up ahead of the Pinaud-Clubman.  It feels like the aloe vera does increase the overall level of comfort and this talc is a slight notch ahead.
I applied it around 8 AM this morning and it's now 11:30 and I still feel perfectly comfortable.  Bottom line, that is what one wants from talc.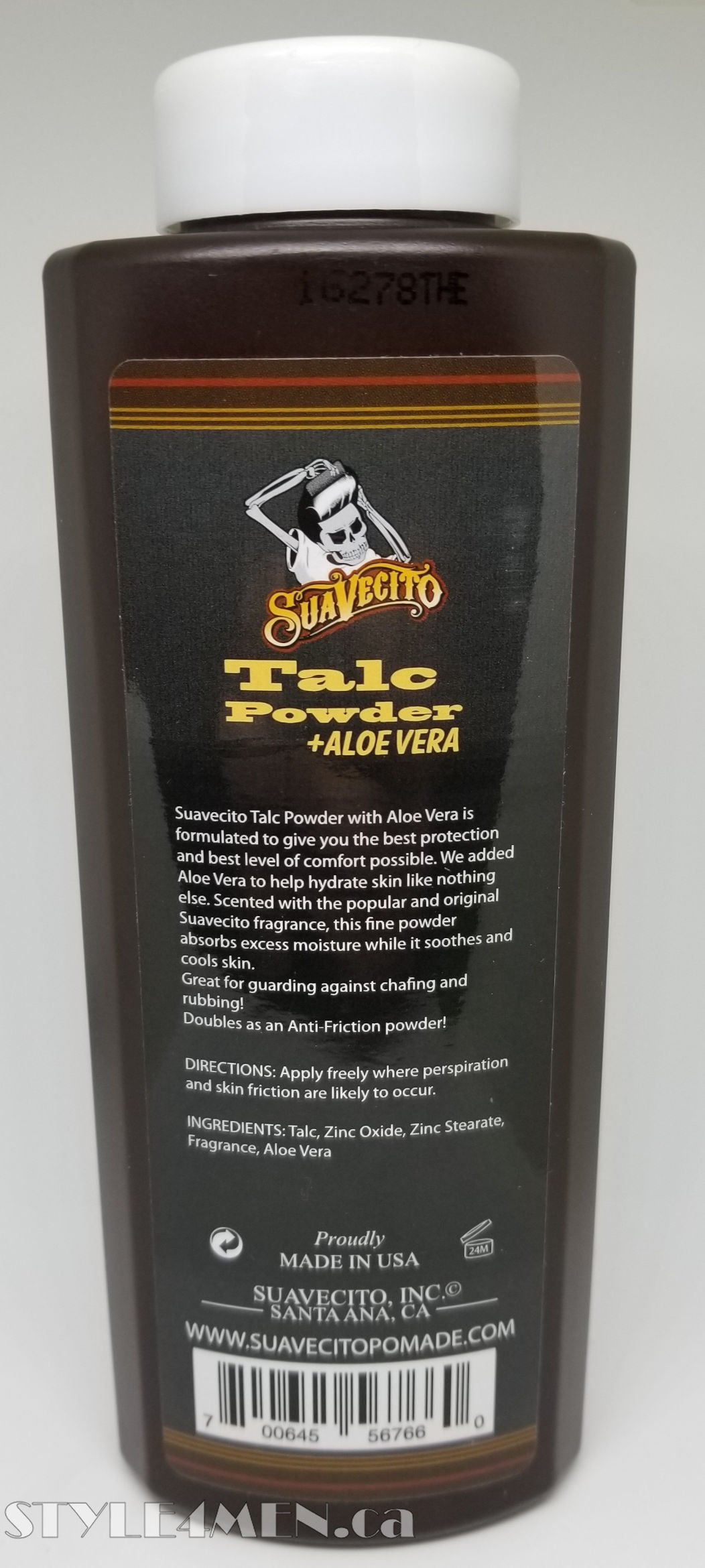 A big ticket item when choosing a talc is the fragrance. Let's be honest, the performance delta between one talc versus another is somewhat minor.  One big distinguishable difference between talc's is the fragrance.  I am now up to 3 talc's: Pinaud-Clubman, AXE and now the one by Suavecito.  BTW – I have another one that still needs to be opened. But that is another story.  In my talc testing, this bottle has been the largest at 225 g (9 oz). The fragrance found here is the standard Suavecito mainstay. It is done appropriately for a talc and is not overbearing.  Just enough to get a pleasant nose tickle.  I should also mention that the talc scent works very well with the OSCURO fragrance.  They are not identical but complement each other quite well.
While researching talcum I was made aware that not all is perfect with this solution.  If you have kids you might have noticed that baby powder is no longer the solution of choice because the powder is so fine and volatile that it can be absorbed by the baby's airways and cause trouble.  The same is true for adults.  In that light, moderation is key and make an effort not to create a cloud of talc dust and end up breathing it in yourself.
As an indication for quantities, I have been using maybe the size of a Canadian quarter and that does the trick.  As you can see in the picture, the head of the bottle is a like a spice shaker and works well.  Just be careful to not over do it.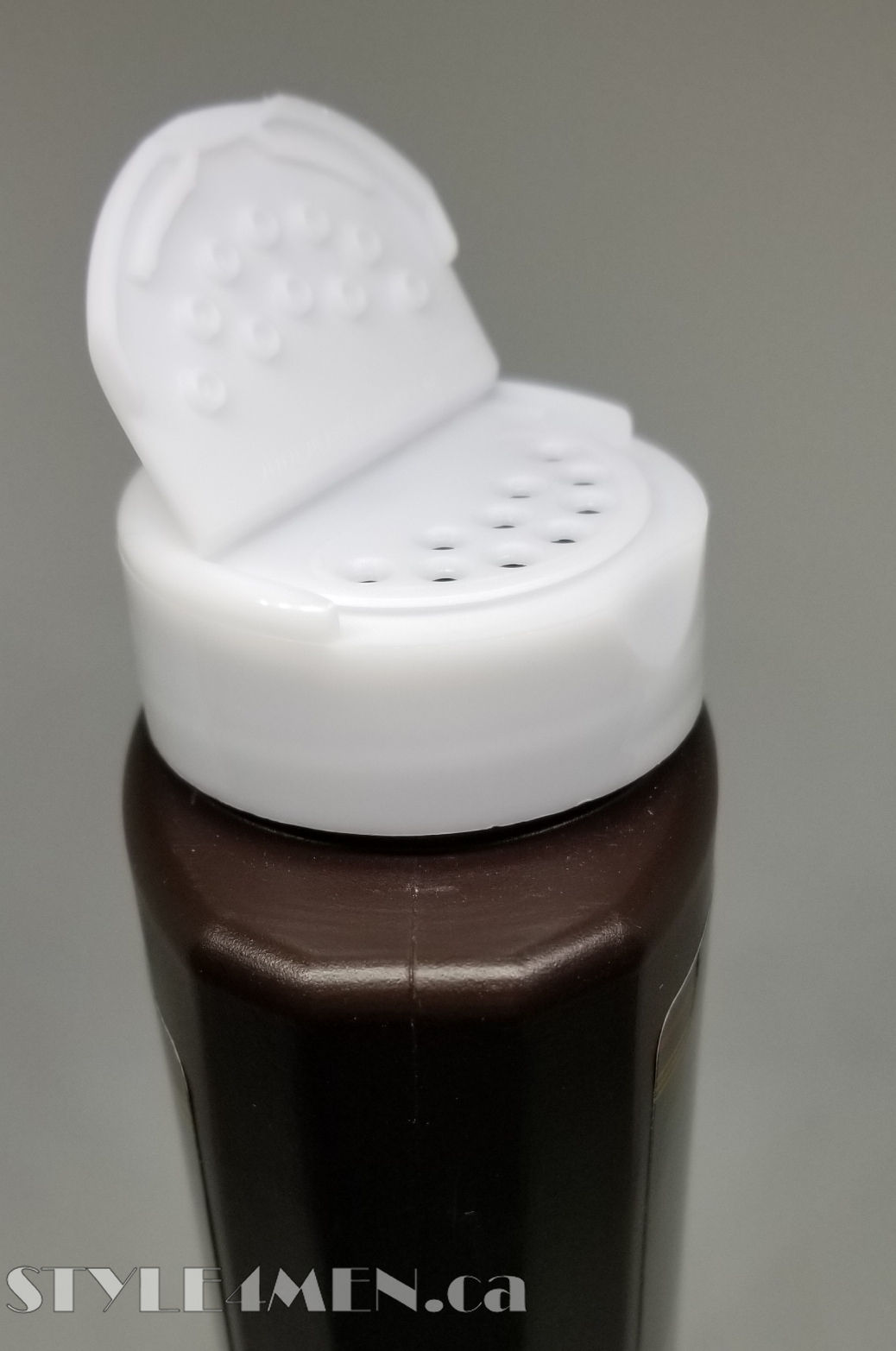 Use these links to shop for this talc powder: