Supra 56 power wash by the Fury Bros.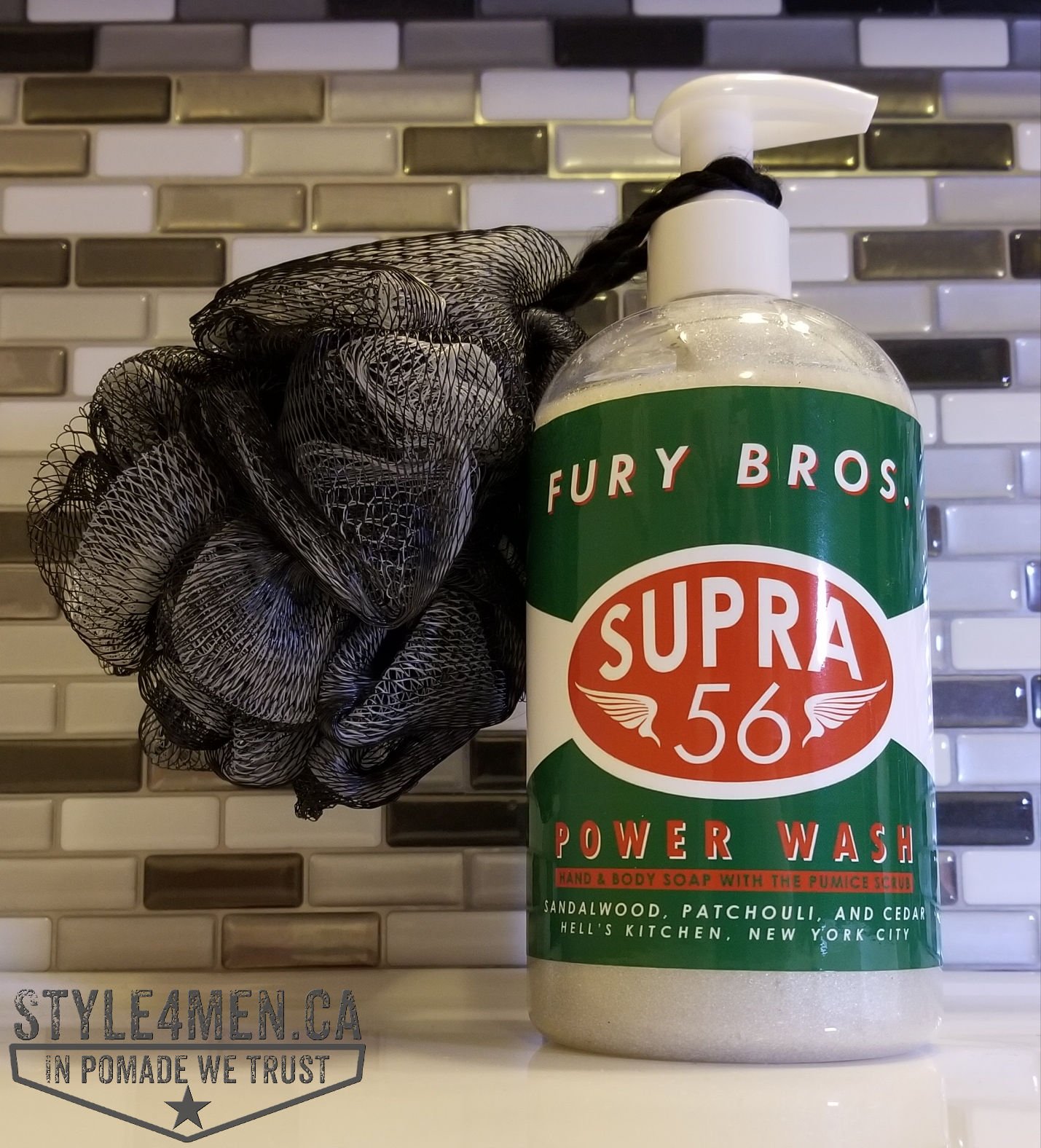 This is our second piece covering the American made Fury Bros. product line. In the first review we explored the totally down to earth and comfortable solid colognes as well as their manly scented candle.  In this second review we will try out their body wash.

What attracted me to the Fury Bros. brand was the early 20th century branding and labeling.  It is perfectly done.  The products look like items coming straight out of a 1940's general store.   Being a memorabilia buff, I was sold!
The bottle under test is of the Supra 56 scent.    At 473 ml this is a generous amount.  The bottle is a standard elongated shape that will be easy to store in your shower space.  The clear container shows a very inviting creamy liquid.
Now a day everybody is making or offering a body wash.  They are big step up from the old bar of soap.  But just as not all bars of soaps where created equal, the same is true with body wash.  You might love the pomade from Super XXX (fictitious brand), but that doesn't mean that they can make a quality body wash.   The guys at Fury Bros. know how to make a body wash!
That's a broad statement Pomade Guy- what makes you say that?  A few things!  First off is the incredibly short ingredient list on their bottle.  I am repeatedly blow away by how many ingredients companies are putting into a body wash.  I am also flabbergasted by how many of these ingredients are man-made.  I am trying to choose different words here, because I fear that I might repeat myself if I flat out say: chemical Party!!!  So the Fury Bros. have my attention with both a short ingredient list and the skin care rock star: Aloe Vera.  Then there is the actual usage of said body wash.  Bottom line, how does the damn gunk work?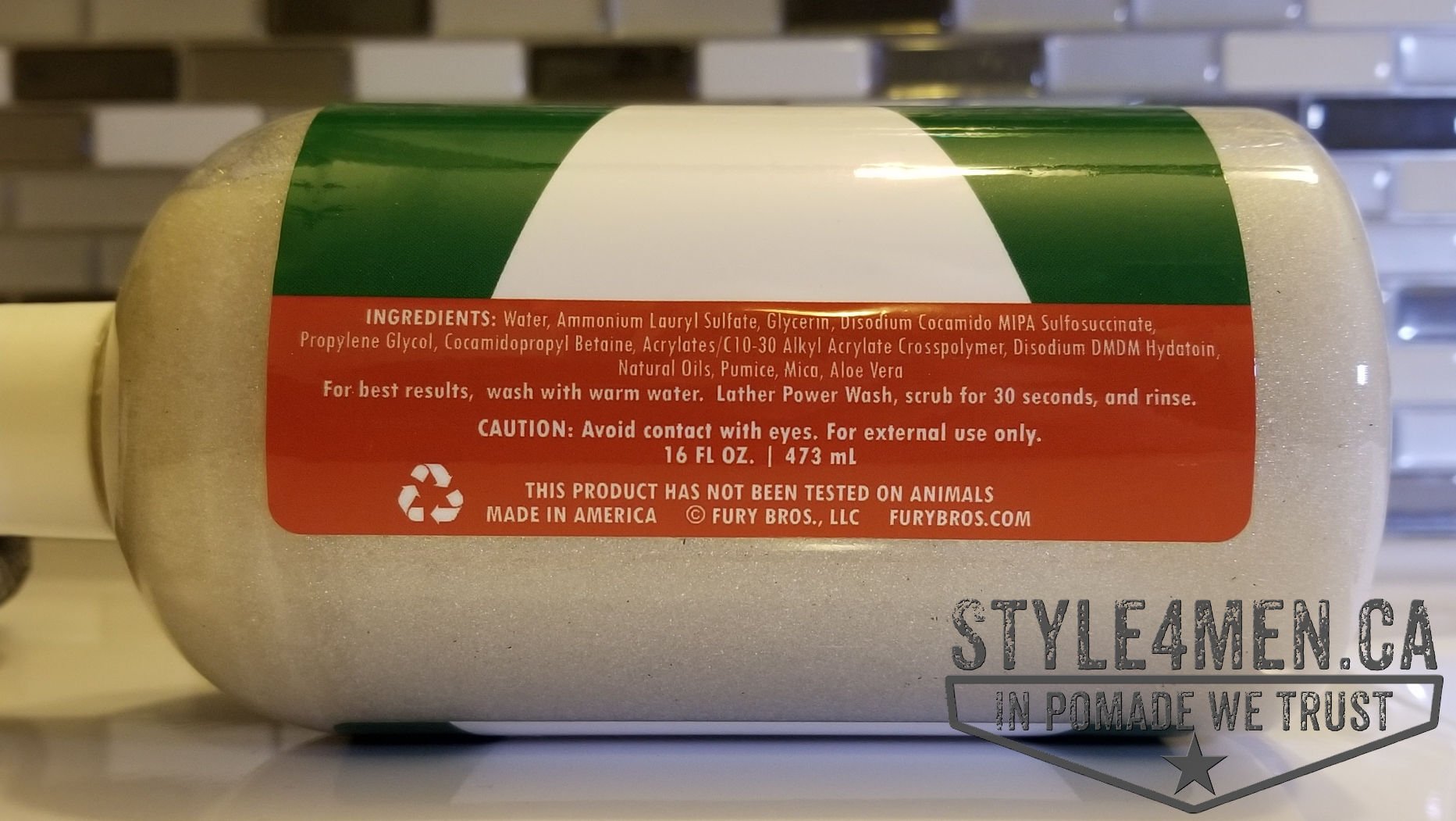 Up front, this product feels like a very gentle and smooth soap.  Not a detergent.  Don't let yourself be fooled; a number of body washes out there are in fact detergents.  What's the difference?  A detergent is a suddzing chemical which will remove dirt and thus wash you, but it will also most likely remove some of the natural oils your skin is producing to protect itself.  Granted, it's a good thing to wash everything off once in a while, but when doing so you have certainly felt that very dry sensation thereafter.
Soap can also be drying, but soap also generally contains a good element of oil or wax which will serve to restore some of that balance with your skin.  The result is that you won't feel so dry or itchy.
I found the Fury Bros. body wash to leave me feeling both clean and comfortable.  Like refreshed skin as opposed to dried out skin.  As for the scent, the body wash I was working with was the Supra 56 which I liked, but in this concoction it is extremely mild and the aroma will not stay with you past drying yourself off with a towel.
The key aromas in the Supra 56 are:
Sandalwood
Patchouli
Cedar
The sandalwood and cedar are the main scents I can identify and are kept in perfect harmony with the patchouli.
I used about the size of a Canadian dollar of liquid in my sponge thing.  This was more than enough to clean up a full size dude (6', 200lb).
In closing, if you are looking for a different body wash that will be gentle on your skin while offering an original scent that fill's your nostalgia cravings, then this is certainly a brand you have to try.
Use these links to shop for Fury Bros. products: