The Sack Pack by BALLSY – Something for your boys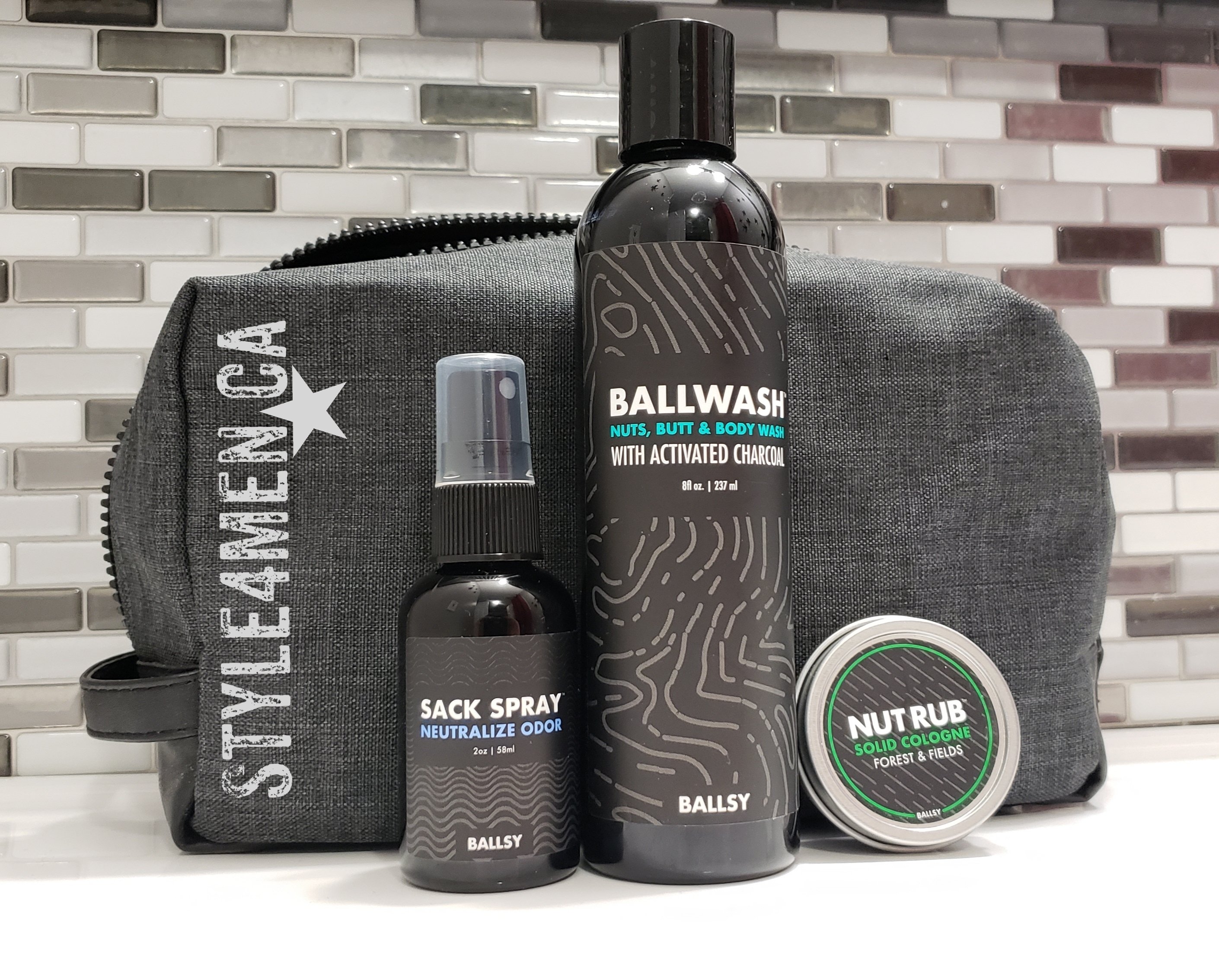 Today's feature is just nuts!  Actually, it's about taking care of your nuts!  Specifically, how to keep them comfy and smelling fine.  BALLSY, a fairly new player in the grooming arena has launched a suite of men's grooming products with the extremely original idea of targeting them for your nuts.

I was first made aware of BALLSY through Instagram where they presented the brand with simple, colourful and effectively humorous shots. I was an instant fan!
BALLSY focusses on the cleaning and aromatic portion of the grooming process with: shampoo, conditioner, body wash, sack spray, body wipes and solid colognes.  The sack spray was the deal-maker product for me as the whole premise was hilarious, but equally relevant. The second home run was the solid cologne range. As you know, I am very fond of solid colognes and BALLSY offers 6 scents.  What's not to love?!
Ocean & Air
Forest & fields
Drift & Dunes
Sun & Surf
Citrus & Cedar
Smoke & Suede
I made contact with the folks at BALLSY and they were kind enough to agree to work with me for a review/feature.  For the purpose of this post, I am trying out the Forest & Fields "Sack Pack".  The Sack Pack is composed of a NUT RUB (solid cologne), a SACK SPRAY (nuts and body spray) and the BALLWASH (activated charcoal nuts and body wash).
BALLWASH
I wasn't entirely sure what to expect with this bottle and I had almost overlooked the "activated charcoal" mention on the label.  So I was a little surprised to pour out a thick black liquid in my shower sponge.  Activated charcoal is quite the rage and for good reasons.  The pitch is that the finely grounded charcoal used in the making of the body wash is also magnetized which will in turn act as a magnet and helps dislodge dirt off your skin.  Charcoal also offers some mild abrasive properties which will help with the scrubbing. I have worked with activated charcoal base products (face washes, deodorant, and toothpaste) before and have consistently enjoyed them.
While in the shower, I squirted a small portion of BALLWASH in my sponge and it lathered up nicely.  The product offers a discreet fresh scent.  The wash was efficient and smooth and the product felt nice on my skin.  I was expecting to feel dry after, but this wasn't the case.  My skin felt clean, refreshed and even moisturized.  The product rinsed off easily leaving no residue.
BTW – You might be concerned at first about this product leaving black streaks in your pristine white shower tub – rest assured it rinsed out nicely.
No matter what you'll feel pretty "bad a**" to be using a black body wash!
SACK SPRAY
As mentioned above the SACK SPRAY was the product that sealed the deal for me. As of late I have been exploring more body sprays as affordably priced alternative to colognes.  I also like that in many cases the composition of body sprays tends to be healthier. While getting dressed after the shower I gave myself a few shots here and there.  The aroma is a combination of tea tree, spices and green tea.  To me it's fresh, clean and manly.  The scent lasted about an hour. Aside from the nice aroma, this product capitalizes on a few natural ingredients:
As per ballwash.com
Zinc Ricinoleate– Absorbs moisture while helping deodorize your most odor prone areas.
Witch Hazel – Relieves inflammation & irritation associated with chafing.
Tea Tree – Contains antimicrobial and antiseptic properties that help reduce jock itch while acting as a natural deodorant.
Lavender, Aloe Vera, Green Tea & Chamomile – Anti-inflammatories that also help soothe skin.
In short, an impressive body spray. If anything I wish my bottle was bigger than 58 ml. 🙂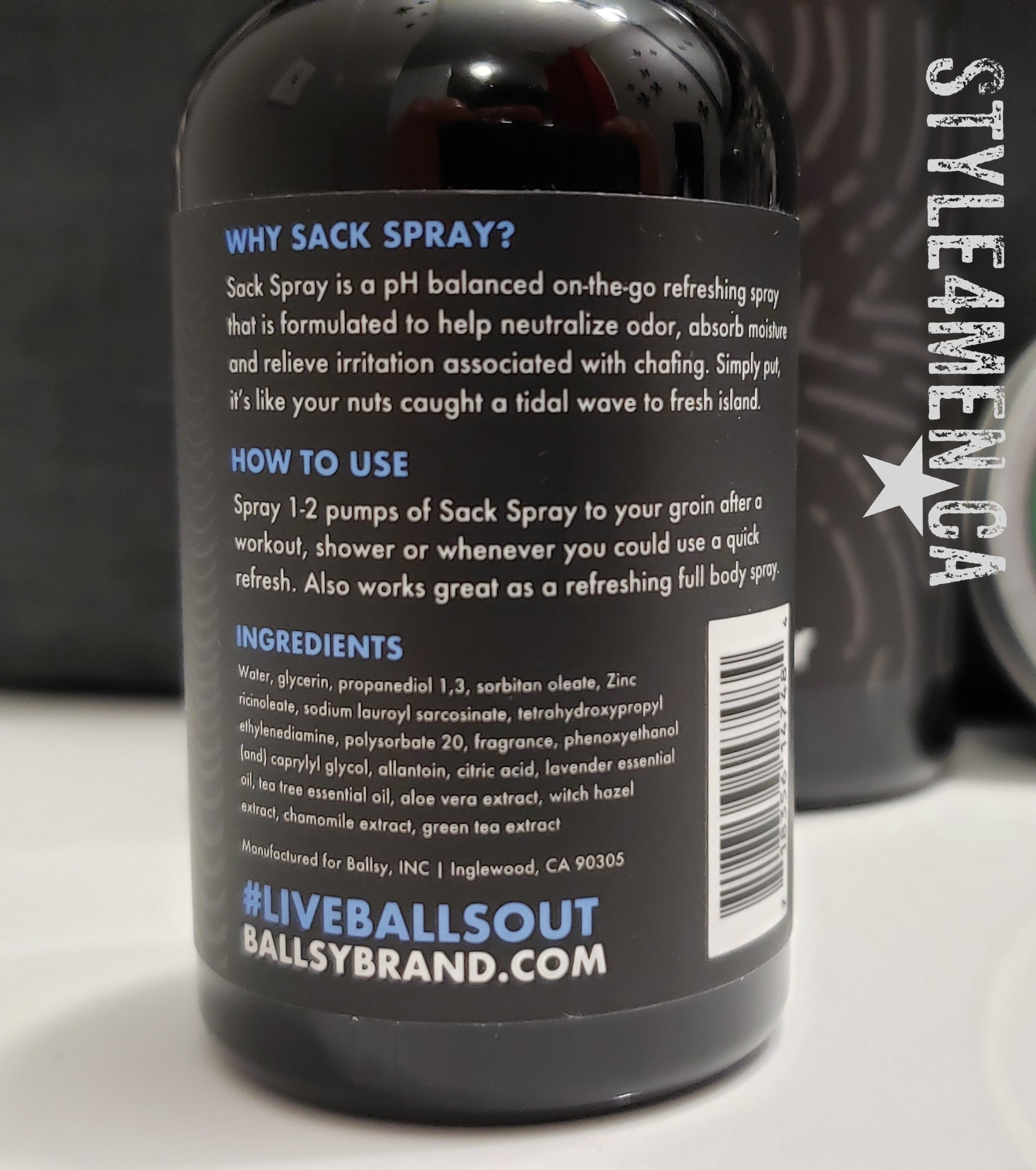 NUT RUB
The name of this solid cologne suggests where you might use it, but considering that I was using the sack spray in that area I figured I might just use the solid cologne as a regular cologne. Forearms and neck.  I will say up front that this arrangement is not a new thing, but it is nevertheless very well rendered.  The aroma is clear, crisp and very pleasant. It is a down to earth, fresh and woody arrangement just as it's named suggest. The scent in the solid cologne was more defined then in the Sack Spray and also lasted longer – in the 2 hour range.
If you are unaware of what solid colognes are, know that you are missing out on something awesome and you should make a point of trying one out ASAP.
A solid cologne is a cologne in the same respect as those found in spray bottle.  The difference is the delivery of the said cologne.  The aroma is housed in solidified wax and oil as opposed to alcohol.  That little jar might seem ridiculously small when compare to a 100 ml bottle.  Just keep in mind that when you spray, very little actually makes it on you.  And a large portion evaporates quickly with the alcohol. With solid cologne whatever you scoop with your fingers goes directly on your skin and stays there.  In my experience, a little jar of solid cologne is lasting me just as long as full size bottle of spray.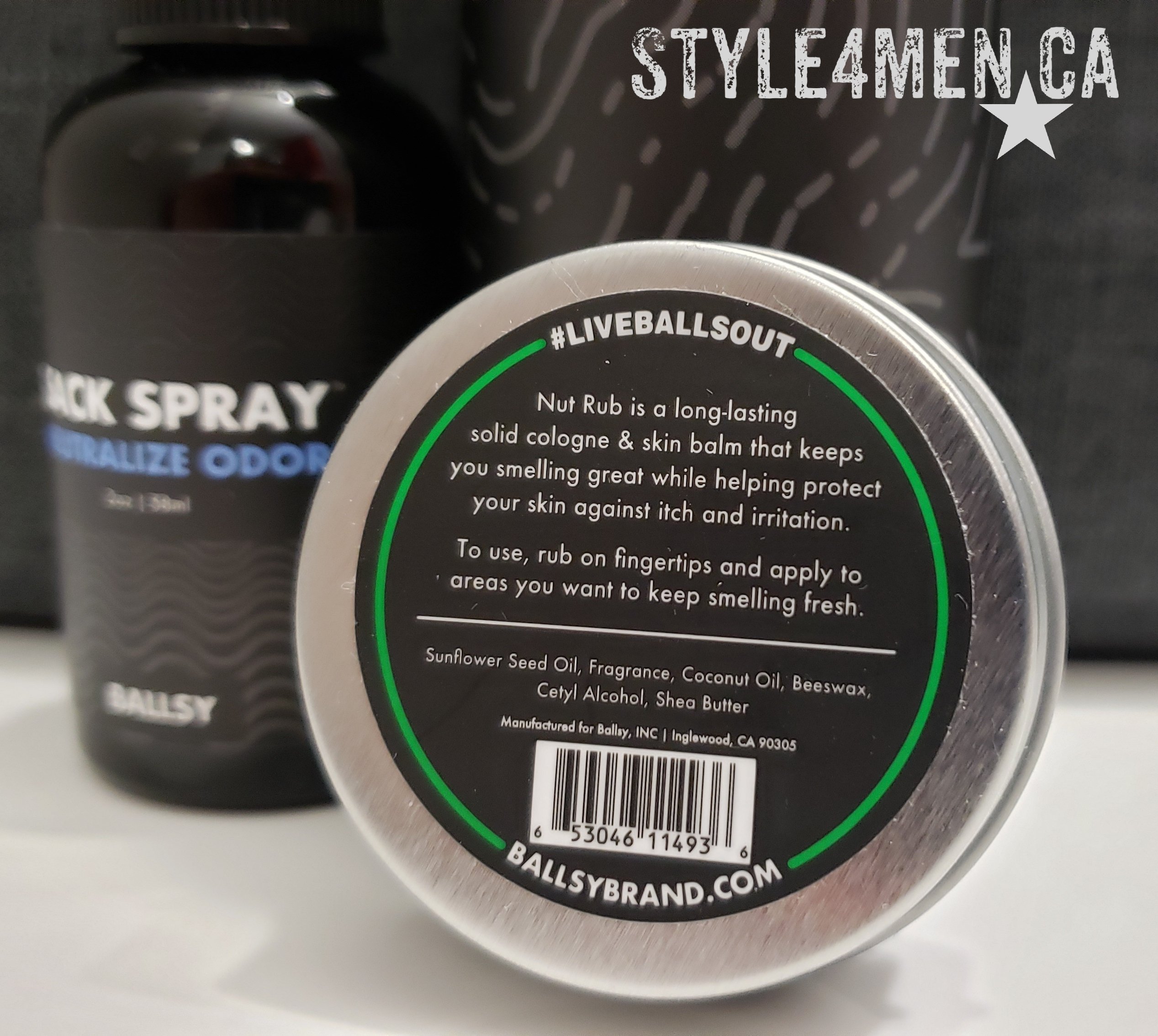 There are a few other significant perks to solid colognes: portability, airport safe (in case you are traveling) and last but not least the wax and oils used to house the fragrance are all natural and skin friendly. Check out some of the benefits of these ingredients for yourself.
Wrapping things up
The Sack Pack is a unique combination of grooming products that will makes your boys and the rest of you feel looked after. The activated charcoal nuts and body wash is original and effective. You have certainly sprayed your nuts with a body spray before, but the Sack Spray is actually designed for it. Last, but not least the Nut Rub turns out to be a solid cologne with enough presence and character that it might replace your old bottle.  The only con is that the Sack Pack is essentially an introductory kit and I will most likely go run out too fast.