Visit at the oldest Barber Shop in Hull – Mantha-Majeau
Yesterday I was finally able to get myself over to Papineau street in Hull to try out the Mantha-Majeau barber shop.  Oh what a treat it turned out to be.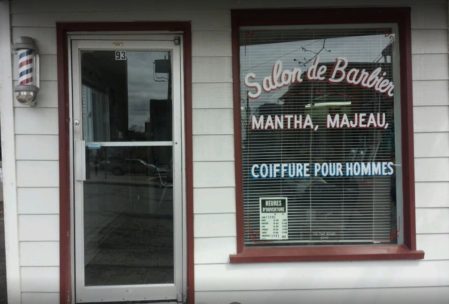 93 Papineau Street, Gatineau, QC J8X 1V1
Up front, this place has remained unchanged over the decades.  If you are after any sort of nostalgia or authenticity, this place will give you a full dosage.  I totally loved it!  It was authentic in a number of ways.  First the place looks like a Barber shop right out of the fifties.  Simple and un-pretentious.  It is also quite small.  Not so small as to feel crowed, but small in a cozy kind of way.  The colours and setting are also from a different time.  If the two original Belmont chairs could speak… This places does not take appointments, it  operates on the basic; first come, first served.  In that sense, 2-3 others guys were waiting for their turn.
There is a true Barber shop spirit that lives there and conversation flows easily.  Obviously, the Master Barber is King.  During my visit, it was rather the Queen of the shop, Nicole, as Roland was absent on Tuesday. Nicole made everyone feel welcomed and at home.  She was obviously busy taking care of the guy in her chair and did not take her focus away, but just enough to participate in what was going.  It literally lived up to the Hollywood portrait of the Barber shop, a relaxed place for guys to hang out and get a cut.
I was there for a shave and had 4 days worth of growth to trim.  In my case that turns out to be a fair bit of beard.  Here is what happened:
Clipper shave
Hot lather cream (my personal favorite)
Hot towel
Hot lather cream replenishing
Regular razor shave
Hot lather cream (did I mention that I like this step?)
Hot towel
Hot lather cream (aaaah)
Straight razor shave
Wipe
Alcohol after shave
Cream after shave
15$
The shave did not exceed 20 minutes.  It was both pleasant and efficient.   Nicole has a smooth and steady hand.  At no point did I feel like I was at any sort of risk.  Of the 3 straight razor shaves I have had so far, this has turned out to be the best. There is something to be said for experience and skills acquired over the many years of doing something with pride.
I am not clear on what brand of products were used.  To me it smelted like Pinaud-Clubman, but when I inquired I was told it wasn't Clubman and Nicole didn't remember the brand name.  I guess when something is such an integral part of your process it becomes second nature and it's brand might not be that important.  I would also suspect that this might of been the first time this was asked.  Most guys don't really care who made the shave cream it's more about who is shaving you.   The point here is that these old-school products agreed with my skin and I experienced no irritations. Just smooth and sweet results.  This makes me think that fancy and expensive doesn't necessarily beat time-proven old school solutions.
After hearing why I was there and the Style 4 Men project, Nicole almost refused to shave me.  To her, Roland the Master Barber is the attraction and she was disappointed that he wasn't there to answer my questions or comment on barbering as a whole.  She made me swear that I would go back and get a shave from him.  As part of that, I was given the privilege of making an appointment.  Considering the lovely experience this was, there is absolutely no doubt in my mind that I will be paying them another visit.
Style 4 men rating: 6/5
As I was so busy soaking up the experience, I didn't take my usual set of pictures for the post.  I will take some at my next visit and update the page.
You might also be interested in reading what the newspaper "Le Droit" had to say about the shop when it turned 75.