A third hit single from Railcar – Supreme Hold Pomade
Today we explore the Supreme Hold pomade from Railcar fine Goods.  The Railcar pomade had first caught my attention almost two years ago and it had taken me some time to manage to get a jar. This was there regular hold, red pomade.  Oh man, what a treat that stuff is!  The texture of the product, the resulting hold and the fragrance – phenomenal.  I was obviously interested in trying their supreme hold.  This became possible as a result of my recent testing of the Railcar after shave tonic.  Taylor at Railcar included a jar of it along with the after shave when she submitted it for our testing.  Thank you Taylor, your on-going support and trust of Style4men.ca is most appreciated.
As with all things "Railcar", the presentation and packaging has that authentic feel to it.  You are getting a proper glass jar with a metal lid – the way things should be.  First, this will help preserve the contents in top shape for as long as possible.  Second, these materials are all recyclable.  And third, by using materials that are no longer the norm, you get that vintage feel of something done right.  For my taste, this combination is the best. There is nothing like holding the weight of a glass jar.
The Railcar Fine Good font / logo also conveys a strong sense of retro-chic.  In fact, it almost looks like a 1910 poster ad for a show in an underground Paris Cabaret. I can't help but just like it!
Lets scoop some out!  The texture is typical of a quality water based pomade and feels somewhat like a firmish jello.  Easy to scoop out and equally easy to relax and spread in your palms.  Application is totally comfortable as you can feel that the product is thick and sticky, but not in such a way that it is a problem to apply.  You will be able to cover your hair effortlessly.  You will immediately see styling results, but the product remains workable and it is no trouble to comb and shape.  Be forewarned to not over do it as very little product is required.  I will say that I found this pomade iteration to take somewhat longer to dry than their regular red jar.  I don't see this as an issue, just be prepared to help the drying process along with your hair dryer.  Alternatively bring the jar along with you on your day in order to touch things up if by the time the pomade has  dried you are no longer happy with your hair.  Once dry this pomade is firm, but not crunchy or flaky like gel might be.
This is pomade in the true sense.  In other words, you are getting hold and shine.  Note, this is a water based product and typically that limits the shine qualities.  The shine output here is a 3.5 / 5.  Getting a 5 on the Style4men.ca shine scale, would mean that your shiny head could be spotted from space.  Suffice to say that it is a tad more shiny than most options, but still nothing like an oil based pomade.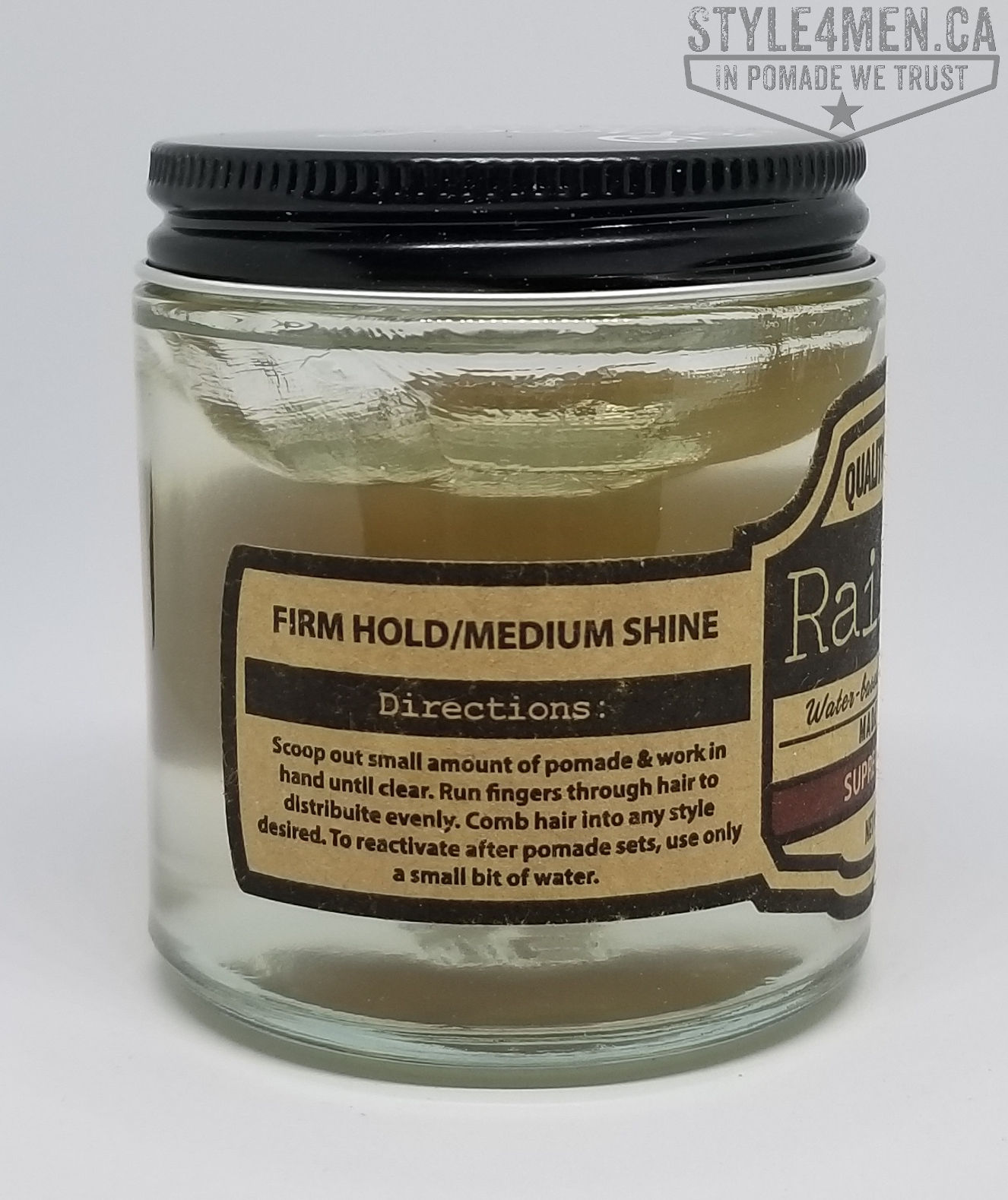 As an observation, this jar was shipped to me directly from Railcar Fine Goods and the contents are incredibly fresh.  The pomade is obviously firm but relaxes so easily and thus reveals its freshness. The relevance of that is how it impacts its "hold" properties.  This is a Supreme hold edition, but it holds nearly the same as the regular red edition.  I suspect that this has everything to do with how fresh this jar is compared to how old my regular hold jar might be.  No matter how fresh or old the product is, it still works incredibly well and we are in the "serious hold" space.  This stuff can tame my wavy, thick and unruly mope without trouble.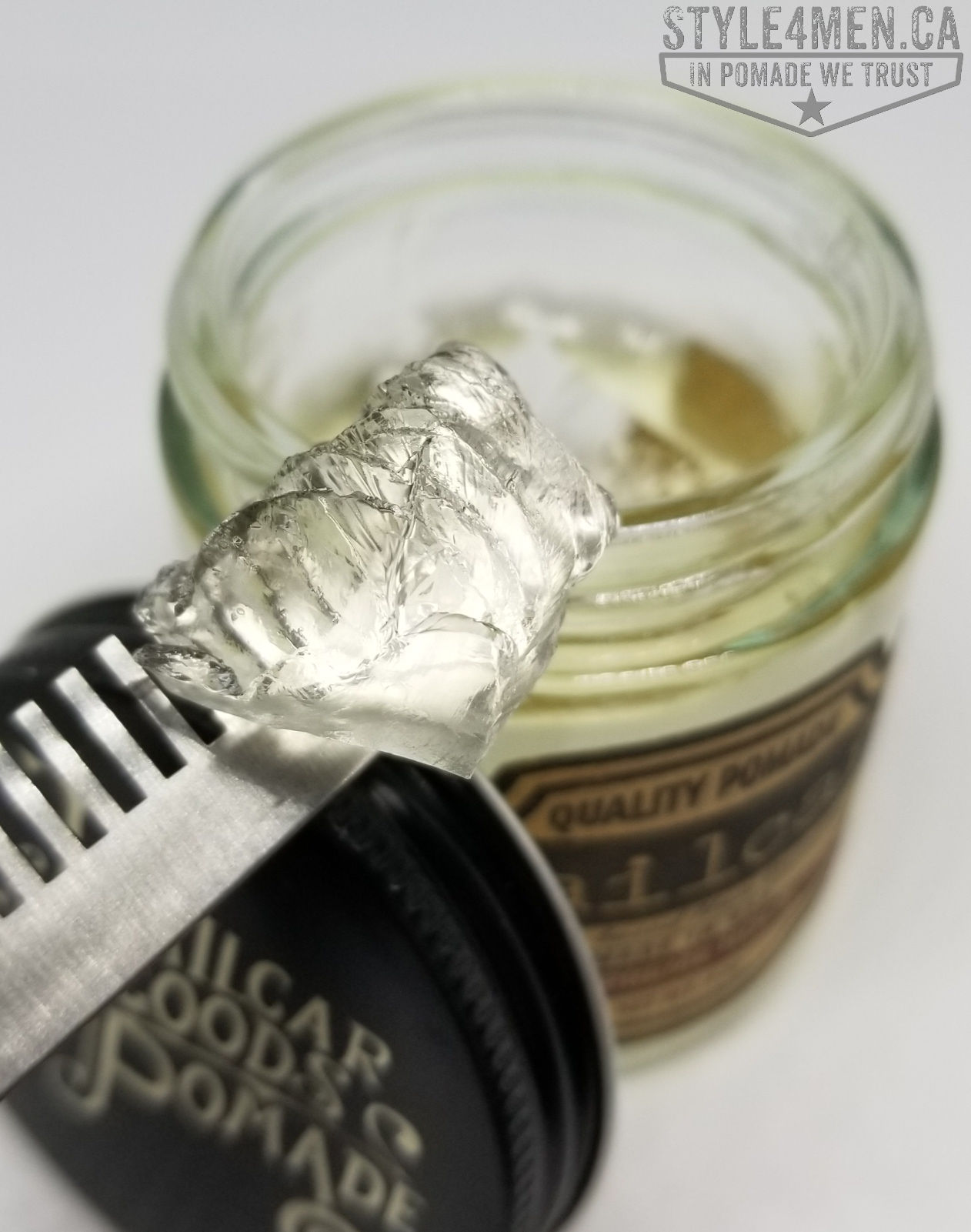 The product being clear, there are no concerns about colour alteration or dyes in any way.  This stuff will not alter your hair colour aside from maybe making it look a tad wet and thus a little darker.
Here is the rating on a scale of 1 to 5, where 5 is a perfect score and/or level of shine:
Hold: 4
Shine: 2.5
Texture: 5
Feel in hair: 5
Facility to wash out:  5
As you can see in the pictures, I have been using this pomade a fair bit.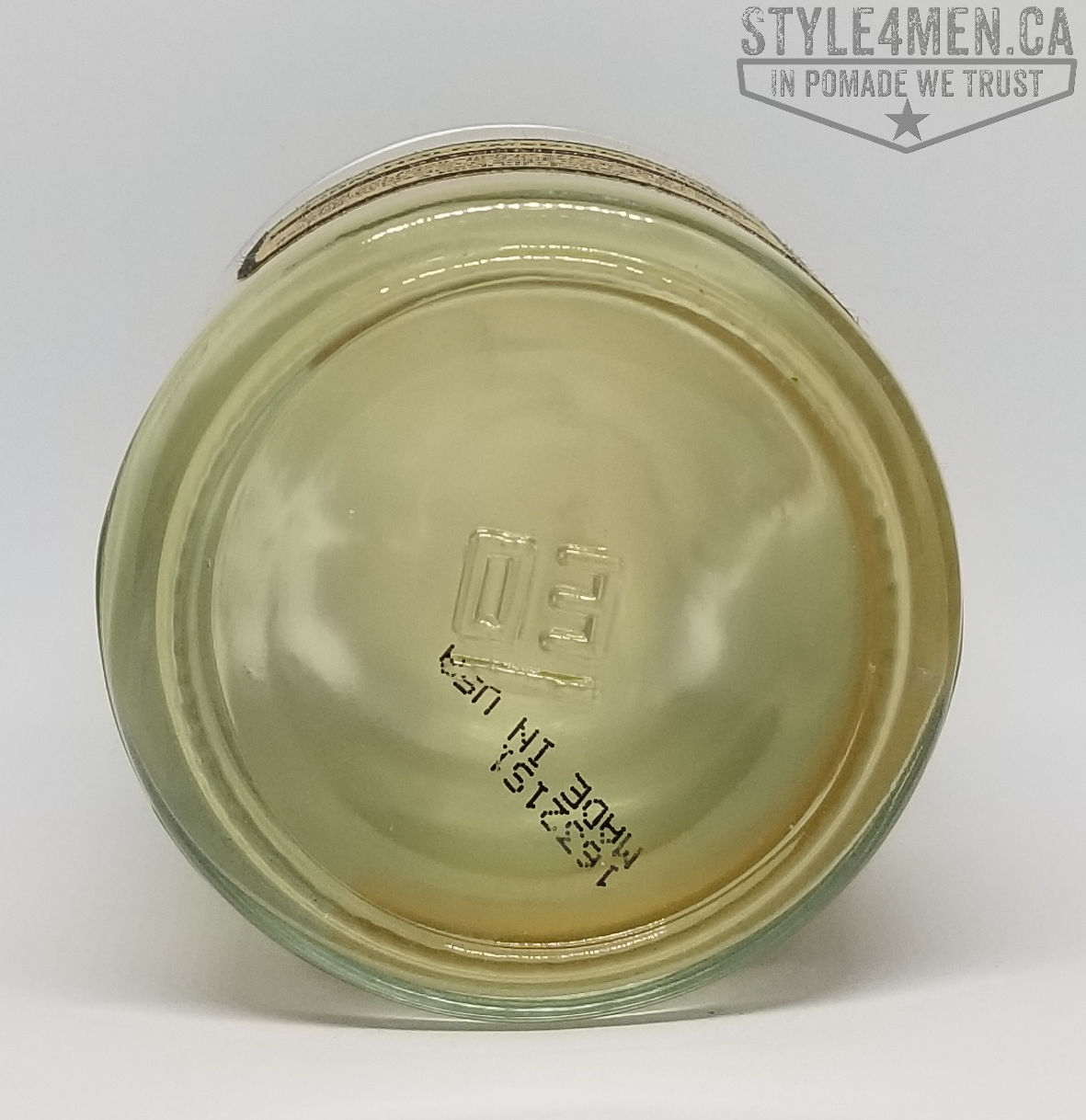 We need to mention the fragrance of this pomade as it is superb.  In fact, all of the Railcar Apothecary product share the same fragrance.  Bitter cherry or cassis is what comes to mind.  It is a unique fragrance in the hair and male grooming space. The intensity of the fragrance is also perfectly balanced as you will clearly smell it but nothing will be dying off  as you walk by. In fact you might be collecting a fan club as you stroll…  I will say that this scent is one of my favorites and now having it available in their lovely after shave is an awesome affair.
In closing, this is yet another solid product from our friends at Railcar.  Even tough this clear jar is the Supreme hold iteration, I think that if I were to choose one jar over the other, it might be the regular hold.  That's probably just because that red pomade was a first love story and as much as I like the Supreme hold pomade, I can't forget the first one. 🙂
You can shop for this pomade directly with Railcar using this link: