Ace High does a Hair Tonic
Our friends at Ace High recently expanded their product offering to now include a "Hair Tonic"!  What is a hair tonic, you might be asking?  In simple terms, a tonic is something that will: invigorate, restore, refresh and /or stimulate.  The word "tonic" is also somewhat of an older term that is no longer frequently used.  Considering the perfectly vintage presentation of Ace High products digging out an old term like "tonic" is perfectly in-line with the brand.
Hair tonics were a big thing in the first half of the 20th century and where used for a few things: cleaning out grease based pomade, restyling, refreshing the scalp.  Because the main styling solutions at the time were grease based pomades, tonics were used to clean the hair.  In order to do that the tonics would be made with either alcohol or a light oil to dissolve the grease.  By the time grease based pomade where a thing of the past, the companion hair tonic also gradually disappeared.  Today, there are very few tonics still designed in this fashion.  Clubman-Pinaud and Reuzel are among the few brands offering such solution.
As this is the case, producing a hair tonic now-a-day is a rare thing.  But is Ace High producing a classic hair tonic as described above or are they going in a slightly new direction?
Let's start with the product presentation.  Again Ace High has done a splendid job.  This is a classic dark amber bottle so that the contents are no impacted by the sun light.  The white cap and labels give it an entirely retro feel to it as this is no longer how things are packaged.  Being a vintage enthusiast, I find this bottle to be gorgeous!
When I first saw it on Instagram, I did not have a reference as to how big or small this bottle would be.  Because it is referred to as a "Hair Tonic" I was expecting a large bottle because this is how things use to be. I also had no prior knowledge of the product formulation.  Now having the bottle in my hands, we are looking at a 2 fluid OZ (60 ml).    The formulation consists of an all Star natural oil line up.  As per the above definition of what is a hair tonic, this will certainly live up to it: invigorate, restore, refresh, stimulate.
The other more obvious benefit of eucalyptus oil, might just be to contribute to that refreshing sensation.
Based on the ingredient list, for my first tests with this tonic, I used it as a beard oil.  The composition is very similar to that of high quality beard oils.  As mentioned in my beard oil related posts, I am not sporting a large pirate beard, but rather a week's worth of stubble.  What I have found is that beard oils do an excellent job at moisturizing the beard, but also the skin.  Obviously, the shorter the beard, the lesser the amount to be used.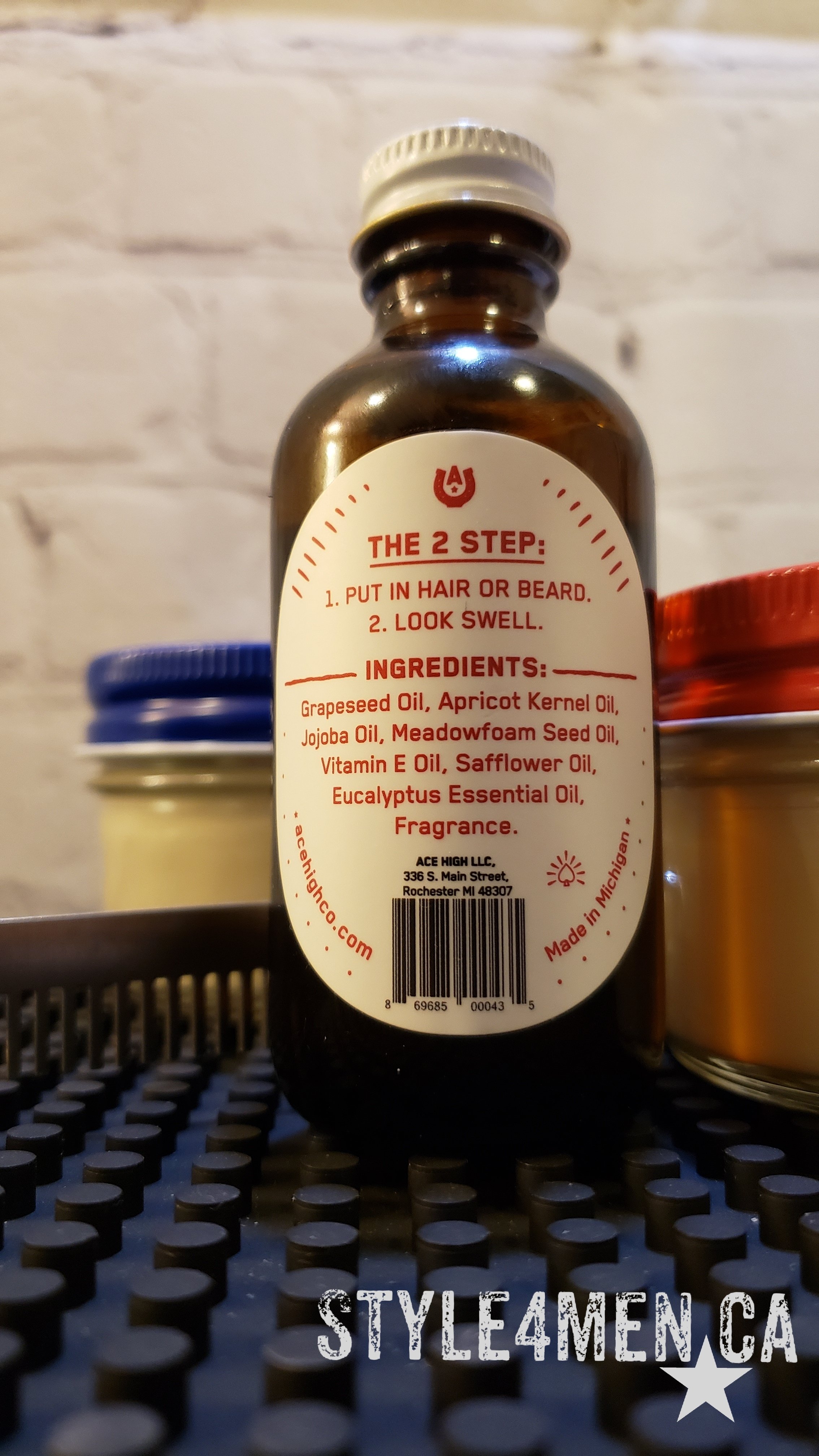 The first thing that struck me was the incredibly pleasant aroma of this product.  There is without a doubt some tea three, but alongside more subtle elements like perhaps cinnamon.  The short version is that I liked it immediately and Mrs. Style4men who was beside me indicated her support of this aroma.
My mug felt immediately more comfortable.  The aroma stuck with me for a good 2 hours.  As for that comfortable hydrated feeling, this lasted much longer, maybe 4 hours.
So that's using it as a beard oil, but what about its official "hair tonic" purpose.  When and how would you use such a thing?  You will be a little surprised with the incredible versatility of the hair tonic.
As a conditioner – Coming out of the shower blend in a few drops in your towel dried hair and blow dry.
As a restyler – on the morning after, blend in a few drop to moisturize your locks and restyle
As a fly-away controller – blend in a few drops while combing to give a little weight to those loose strands and get them to stand down.
If you are a daily hair washer and your scalp is feeling itchy and your hair is losing some of its luster, using this hair tonic will revitalize the party.  Basically, you can use this any time you are styling your mope.
Now, moderation is key.  Although you might be tempted to soak your hair in this stuff, this won't help and might just be a mess to clean up.  A few drops at a time.  I have a longer upper cut at some 7 inches and I would use about 2-3 drops.  Since the formulation is composed of all natural oils, this will not be an issue to clean out of your hair.  Your usual shampoo will do the trick.  We can also assume that there will be little to clean off as your hair and scalp will lap this stuff up like a kitten does milk.
I am an extremely lucky mofo as I still have the hair of a much younger man while not being a young man anymore.  I blame this on genetics, but also to a few adjustments in my hair care routine.  For one, I often use a jojoba based cream that I blend in before blow drying.  This has put me in an incredibly receptive position when it comes to anything containing jojoba oil.  The same is true for grapeseed oil.  I am not saying that this tonic will solve all your problems, but it will certainly help in the hair department.
Answering the question above:  Is Ace High producing a classic hair tonic or are they going in a new direction?  I think we can say that Ace High is going in a new direction as this is not a classic hair tonic, but rather a considerably healthier proposition that can also be used as a light styler.
The guys at Ace High should be commended for this healthy product.   Considering that we men are at great risk of losing our hair, having a simple and affordable option is a huge thing.