Admiral Matte Clay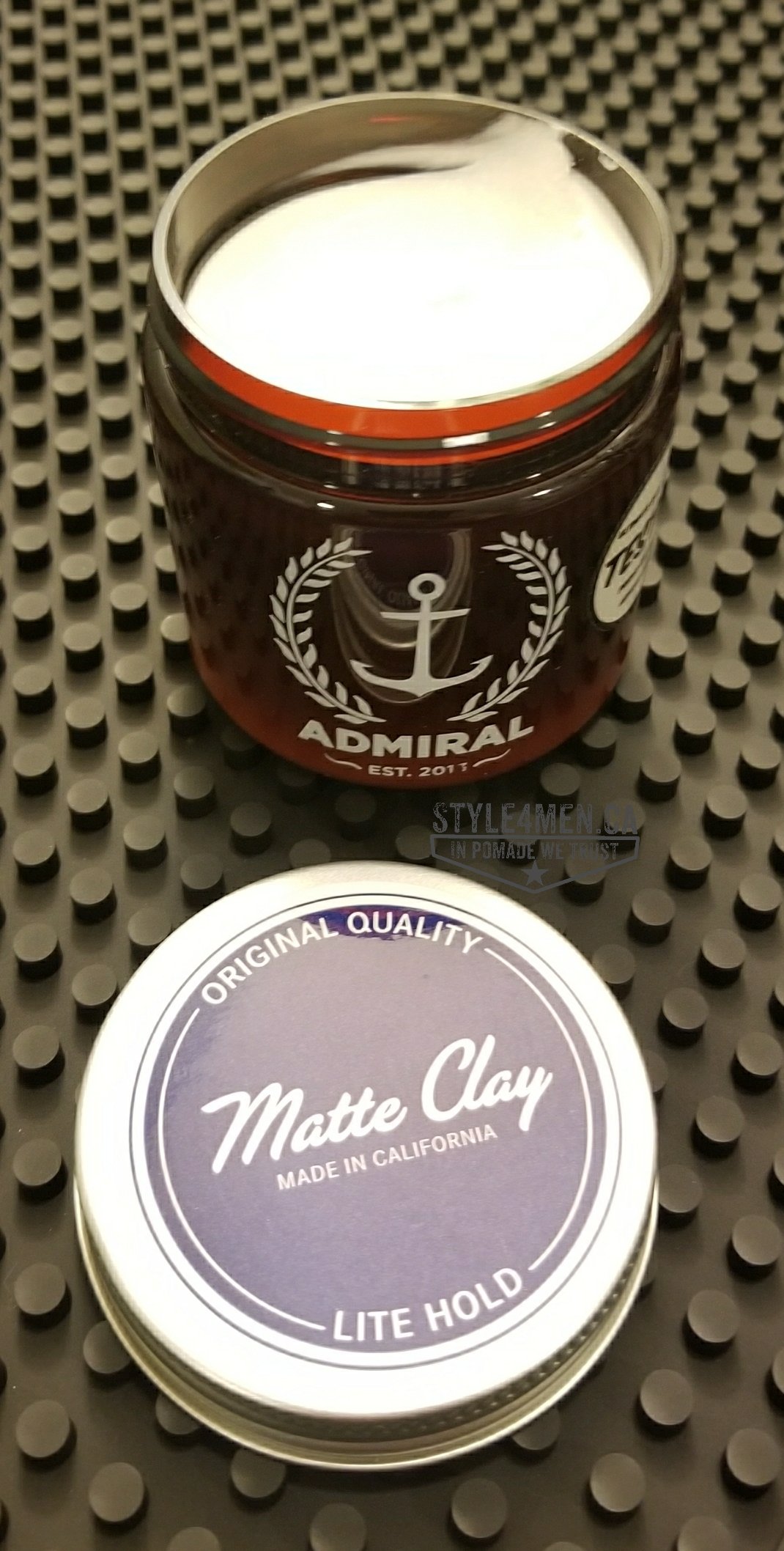 Continuing with the Admiral line, today I worked with the "Matte Clay".  As I have mentioned in other posts covering this type of fixative, clay has a lot going for it as it generates great volume and looks totally natural.  The recurring terms to describe the natural look is: "matte".  By opposition:  gels, pomades and hair spray will generally render a shiny finish.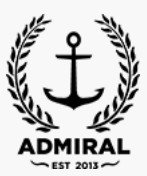 Upon opening the jar you will be presented with a paste like product.  Your nose will also be tickled by a lovely mild sweet vanilla scent.  It is extremely mild so worry not about it colliding with your aftershave or cologne.
Shout out to Ultimate Barber Supplies in British-Columbia (Canada) for their continued support of our project and for making this review possible.  You guys rock! Ultimate is  the Canadian distributor of Admiral. They will have your shopping and shipping needs covered.
The clay is easy to scoop out and to relax in your palms before application.  Quantity wise it is very similar to pomade and you might even use a tad less.  I go for about a dime size pearl.  You will want to blend this evenly in your hair and get a bit everywhere.  This will help with the styling as well as with a uniform looking result.
The mystery with clay is in when to apply it: damp hair or dry hair.  Clay is typically quite dry and when applied to damp hair it will absorb all moisture in a record time leaving you a limited window to style your mope.  Granted not all clay's are created equal and some will offer a longer window.
Because this product has a few elements of oils in its compositions, it is easy to work with and style in dry hair.  If on the other hand you blend it in to damp hair, expect to have to blow dry things in place and you might be dealing with more volume than you expect.
On that note, clays, pastes and creams are extremely interesting styling option for guys for with thinning hair as it has great volumizing properties.  It will make the hair you do have look thicker and smoother.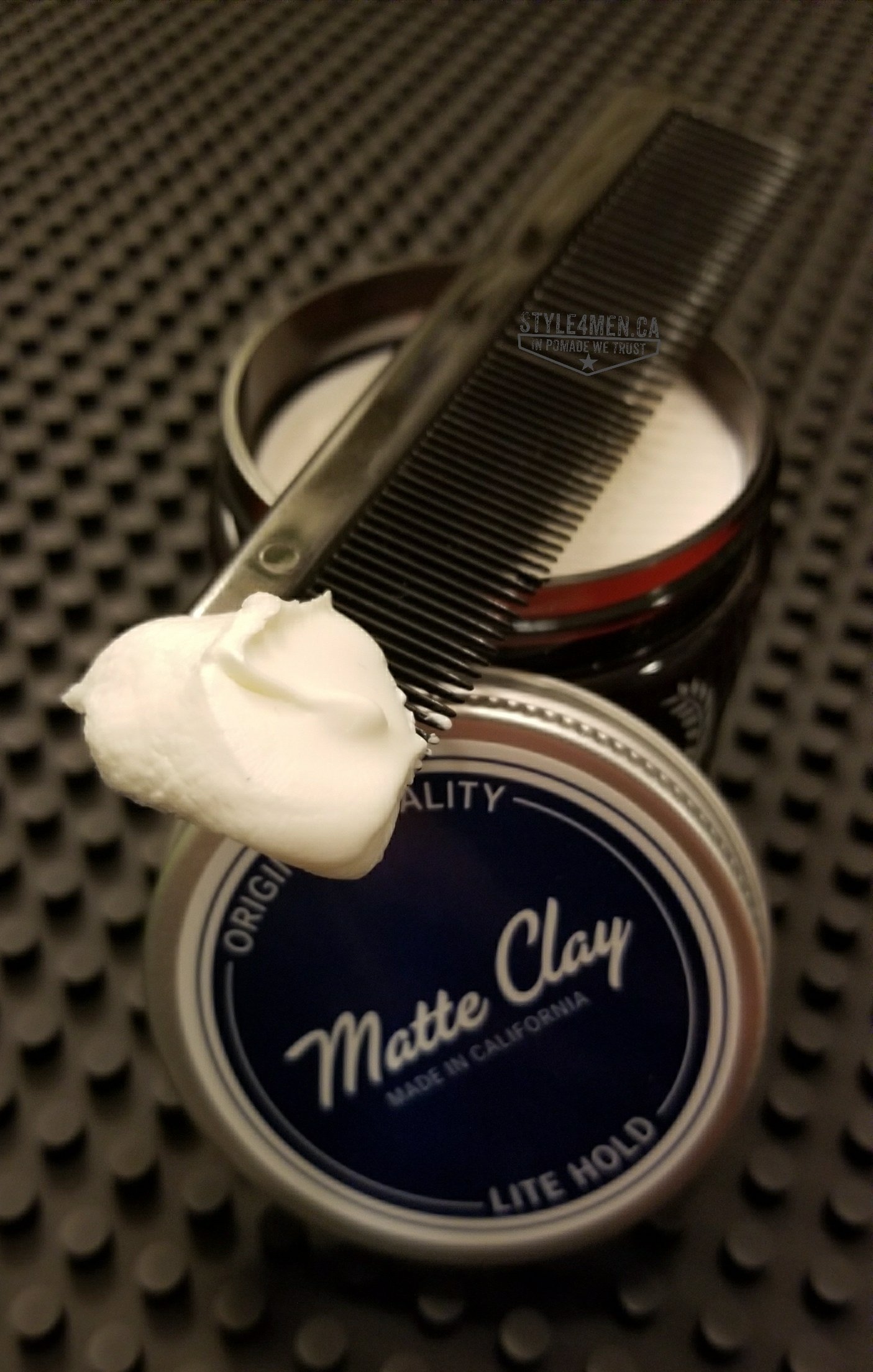 We should also mention that not all products labelled as clay are in fact, clay.  Creams and pastes can also be referred to as clay and I suspect that this is to simplify things for the consumer by sticking to a standard naming convention.  In the purest sense of the term, a hair clay will be composed of some clay or bentonite elements. Interestingly enough, bentonite is essentially: ash.  The word on the street is that clay promotes natural hair growth.  Damn!  What's not too love about that?!  Clay is found in a number of products such as face masks and is widely used in the women's cosmetic industry.  Clay and similar ingredients such as charcoal are becoming regular participants in the grooming industry.  You have certainly seen charcoal face washes, body washes, shampoos and hair fixatives.
In my humble opinion the Matte Clay from Admiral is more of a paste, but behaves as a clay.  By that I mean that you will get great volume and a natural looking matte finish.  Where it improves on clay is in the application; you will actually have a proper amount of time to blend this product in before it starts to set.  Typically, clay will seize in under a minute of blending it in.  With this product you have time in front of you.  It will obviously dry, but within some 15-25 minutes.
The super simple Admiral product selector

Being a fervent pomade supporter because of the firm hold such a product has to offer, I am not a regular user of clay or pastes.  Here's why: it will be easy to style and look FA-BU-LOUS! But it is somewhat of a short lived affair, as it 1-2 hours in my case.  If you want a longer commitment, you will have to reapply more product or seek the help of something like hair spray allowing you to stretch things along a bit longer.  In Admiral's defense, they have clearly labeled this product as "Lite hold" so there are no false pretences of this being a "lock everything in place" type of product.
Here is the rating on a scale of 1 to 5, where 5 is a perfect score and/or level of shine:
Hold: 3
Shine: 0 (matte product)
Texture: 5+
Feel in hair: 5+
Facility to wash out: 5
If you are OK working with 2 products, you might consider using the matte clay as a pre-styler to generate some volume and then lock things with one of the two Admiral pomades.   Using a pre-styler might make you think that you are taking things just a little too far, but really all you are doing is applying a coat of 1 product and then a coat of another.  Think of it as priming before painting.  Bottom line you are going to have to put 2 coats and sometimes maybe 3 – save yourself the trouble and use the right thing up front, right?
Further to the very natural look, the Admiral pomade is very nice to the touch.  Smooth and silky!  This is a perfect product for date night as you won't turn your lover off with greasy or rigid hair.   That smooth vanilla scent might also score some extra points.  🙂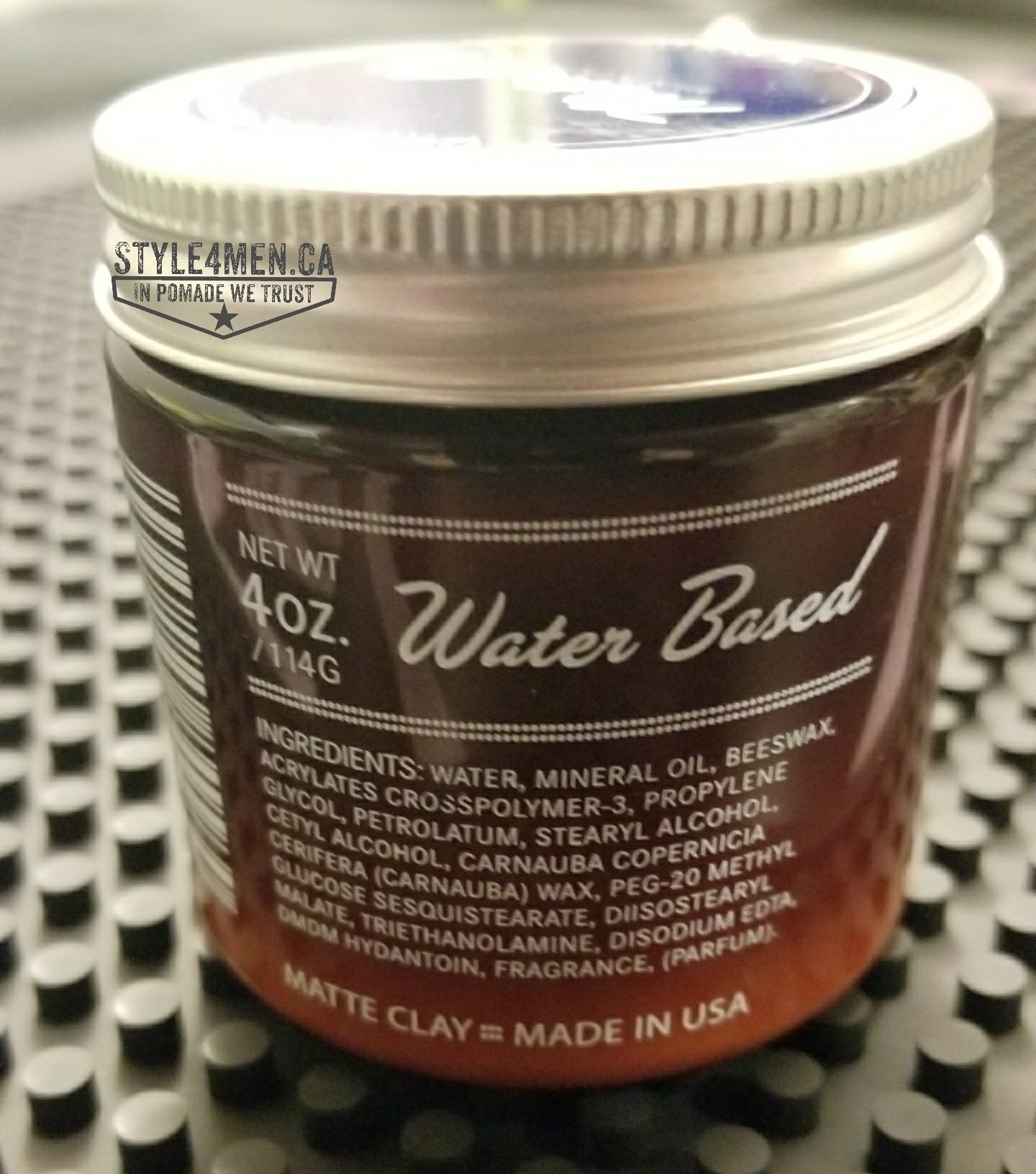 As with the Deluxe Pomade, the Matte Paste is a water based product but with the spirit of a "Greaser" since a number of oil type players are coming to the game: mineral oil, beeswax, petrolatum and carnauba oil.  FYI – beeswax is a rock star for keeping your hair healthy and moisturized.  Being a water based product, this stuff is a cinch to rinse or wash out.
In closing, I liked the Admiral Matte clay for a few reasons:
Great and perfectly gauge scent
Impressive volume
Natural looking results