Admiral Pomade – Admirable Hold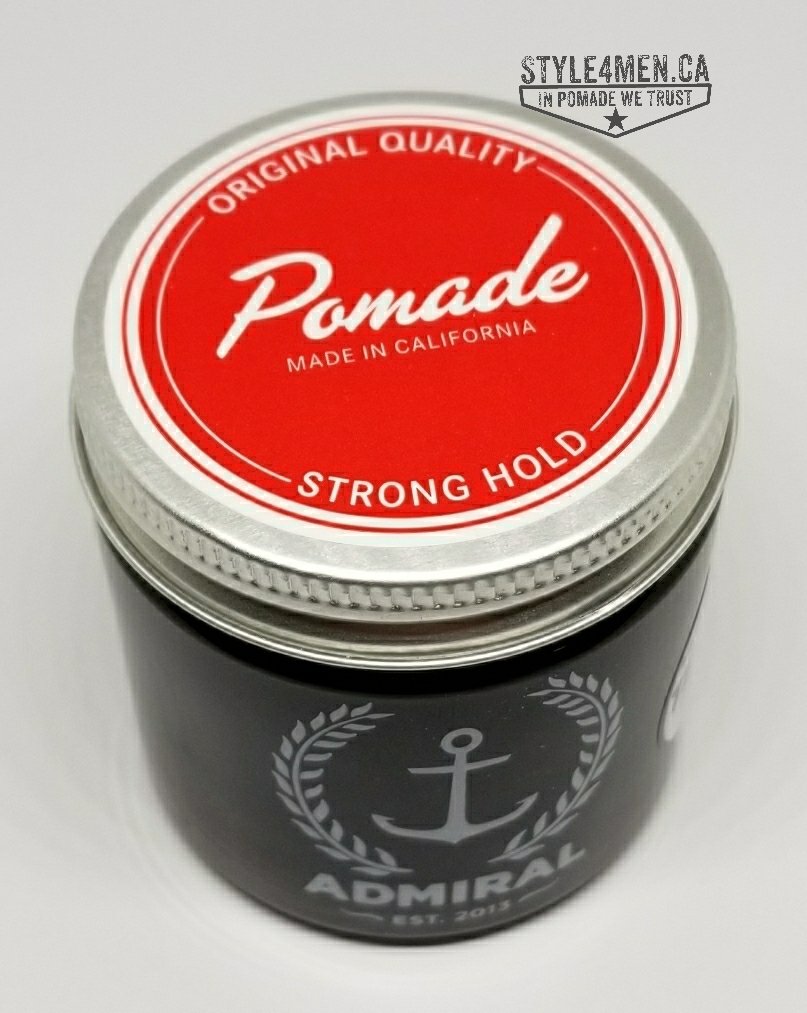 After 2 impressive products from Admiral (Deluxe Pomade and Matte Clay) it is now up to the Admiral "Pomade" to be featured.  Last but certainly not the least!  The Admiral brand has turned out to be quite the find.  There are more and more pomade players out there and we certainly love that as it shows that the industry is strong and healthy.  But not every product is a fit for your hair or a home run.   Admiral has carved itself a nice space in the market by making quality products that are well presented. 
Admiral is an American brand coming to us from California and is available in Canada through Ultimate Barber Supplies. Shout out to our friends at Ultimate for making this feature/review possible.
This jar identifies itself as a "Strong Hold".  Personally, I find that it is important for the brand to set some level of expectations of what their product will do, but the caveat is that it is a reference based on the scale of their product line.  A strong hold label from BRAND-X might have nothing to do with the Firm hold from BRAND-Y.  As a consumer, we are looking at all brands in hopes of finding  a product that might work for our hair.  Having thick, wavy and somewhat unruly hair, a pomade that identifies itself as having "Strong hold" is very interesting to me. I am a fervent pomade enthusiast because of the fantastic hold properties of this kind of product.  Spoiler alert; the "Strong Hold" statement on the Admiral jar is justified and true.  It kept my natural disaster under control.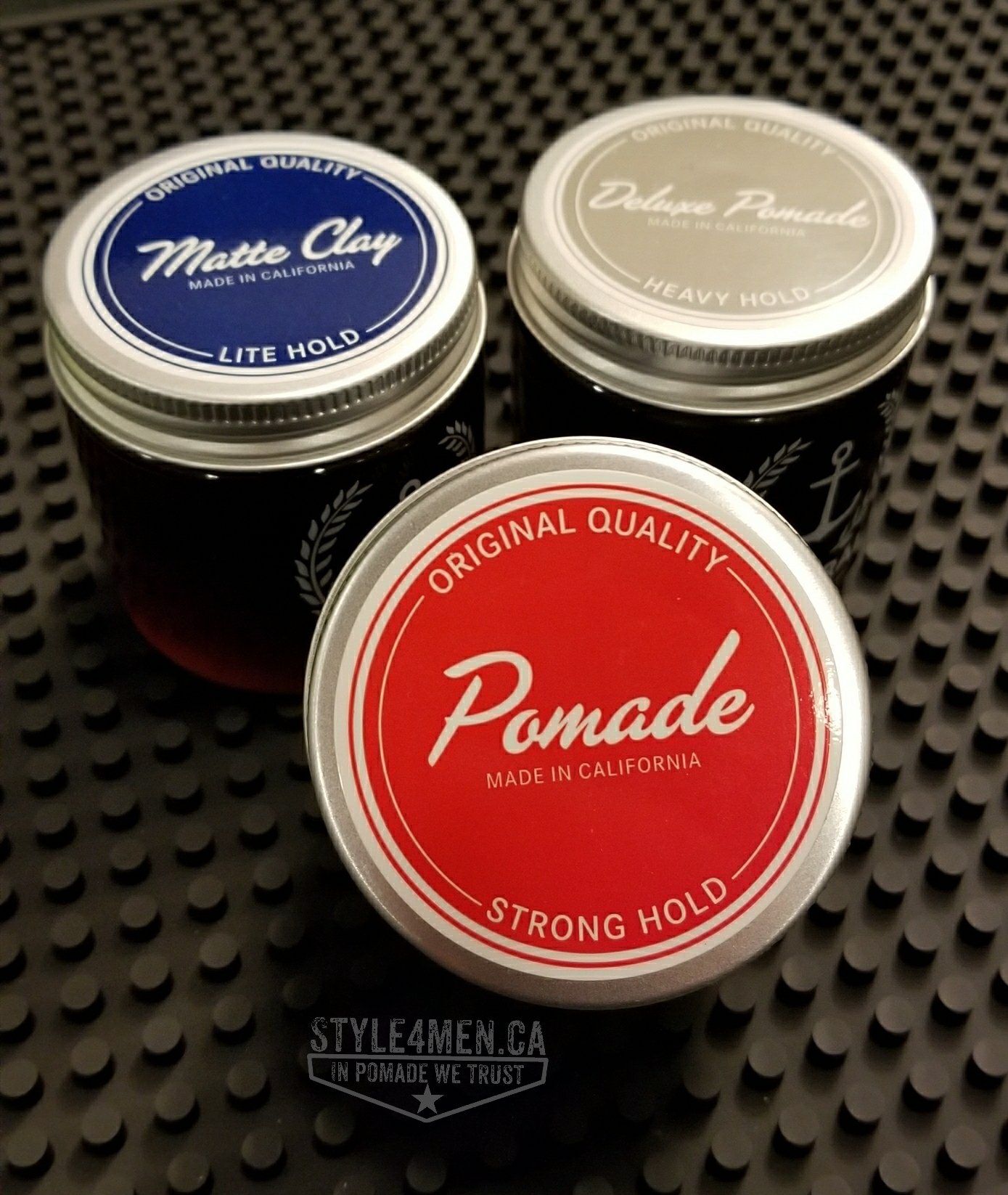 Let's start with the jar itself.  Admiral uses a consistent and uniform jar and lid for all 4 of their products.  The differentiator is the lid labeling and colour.  It is a simple retro design, but very effective. Loving all things from the mid-twentieth century, this type of presentation hits home for my taste.  The label colour for this pomade is a nice bright red.  It stands out and looks very inviting.  It also works very well with the brown jar and aluminum metal colour lid.  A cool detail is that the branding and information is printed directly on the jar itself.  A small detail, but also a classy touch.
Last piece of information on the jar is its sizing: this is the standard 4 OZ / 114 gr portion.  The shape of the jar is a bit taller than the common pomade jar.  This makes it unique and a bit more practical to store or carry around with you.
The super simple Admiral product selector

 Fragrance wise the aroma is very discreet.  Kudos to Admiral for taking this approach.  Yes, a strong an original scent can be a ton of fun, but you might not always want your perfume to be coming from your pomade.  The scent is a mixture of things to my nose:  vanilla, coconut, rum, brown sugar and maybe even banana.  OK so we are in a "sweet" space for sure.  But as mentioned this is mild if not timid in intensity.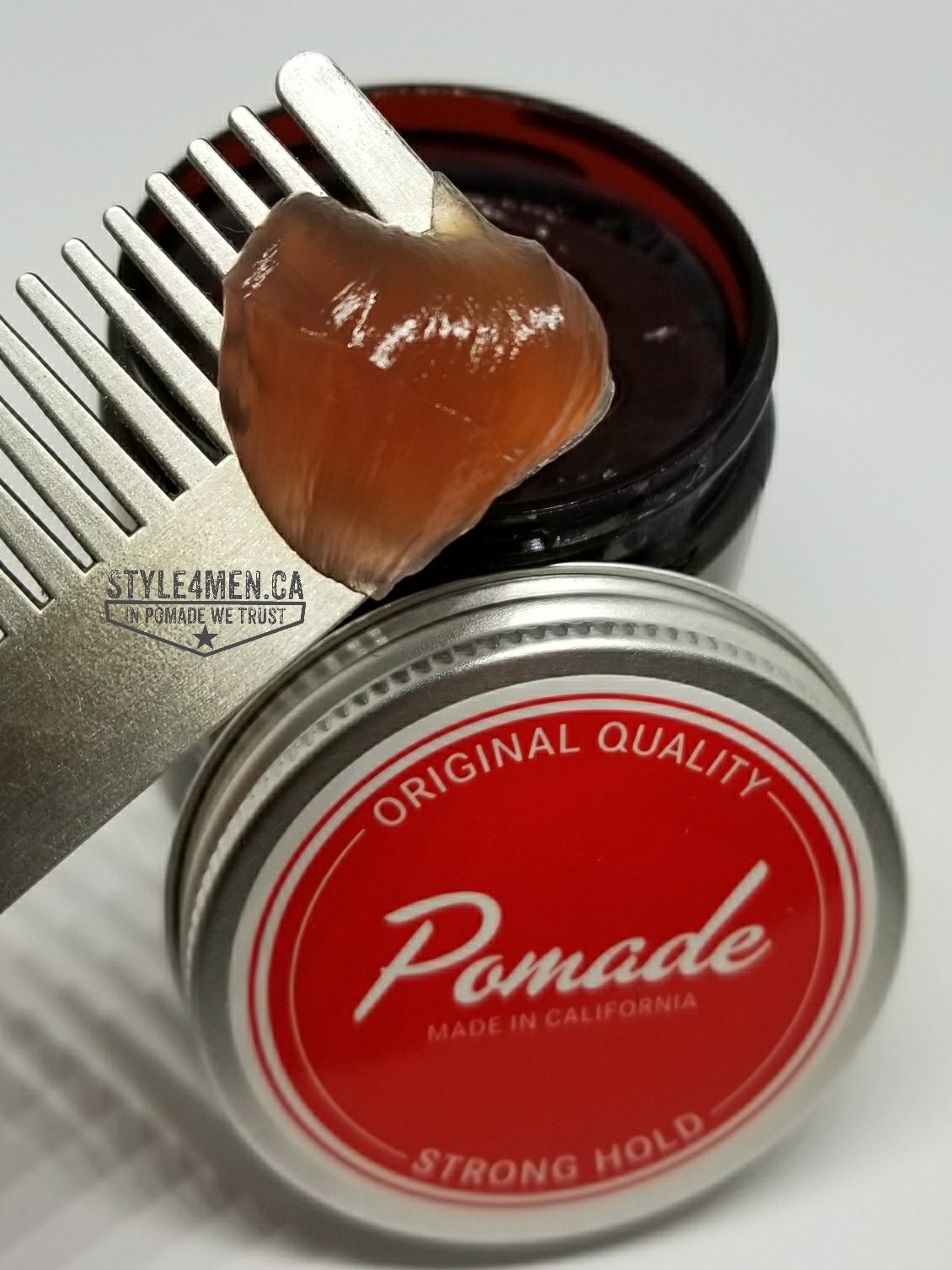 The product is easy to scoop out and somewhat of a soft jello like texture.  From our experience, this is generally the early signs of a great pomade.  I will admit, being a little worried that the pomade might be too soft to actually offer "Strong hold", but this concern was dissipated very quickly.
The pomade is clear with a slight hue of brown-gold. Generally speaking the pomade colouring has no impact whatsoever on your hair colour since once it is blended/spread in your palms before application it becomes perfectly clear.  I have tried pomades that were: blue, green, red and everything in between and can't say that I have seen a difference once applied.  Granted I have dark brown hair with some beginnings of white/grey on the sides.  Plainly put, a slight hue of bronze will make no difference to your colour.
I scooped out  about the size of a nickel, spread it in my palms and blended it in.  The product is very smooth but don't let this fool you as it is a serious player and my mope stayed in place some 7 hours without needing regular attention.
Typically, water based pomades also don't have much shine to offer as there is no or little oil elements in the formulation.  In the case of the Admiral pomade there is some castor oil, but not enough to consider this as a shiny pomade.  Adding an oil to a water based pomade helps the concoction retain that "workability" once applied to the hair.  If shine is what you are after, you might have to look elsewhere or top things up with a grease based finishing pomade.  If on the other hand, hold is what you are seeking then this jar will make you smile.
Like most quality water based pomades, it will dry in about 15-30 minutes but does not become firm or crunchy.  Things are in place but can be restyled.  An important item to mention in case you are new to pomades is that this is nothing like "GEL" which will solidify your hair in place and dry out your scalp in the process. Typically, you will spend a good part of the day itching as a result.  NOT WITH POMADE!!!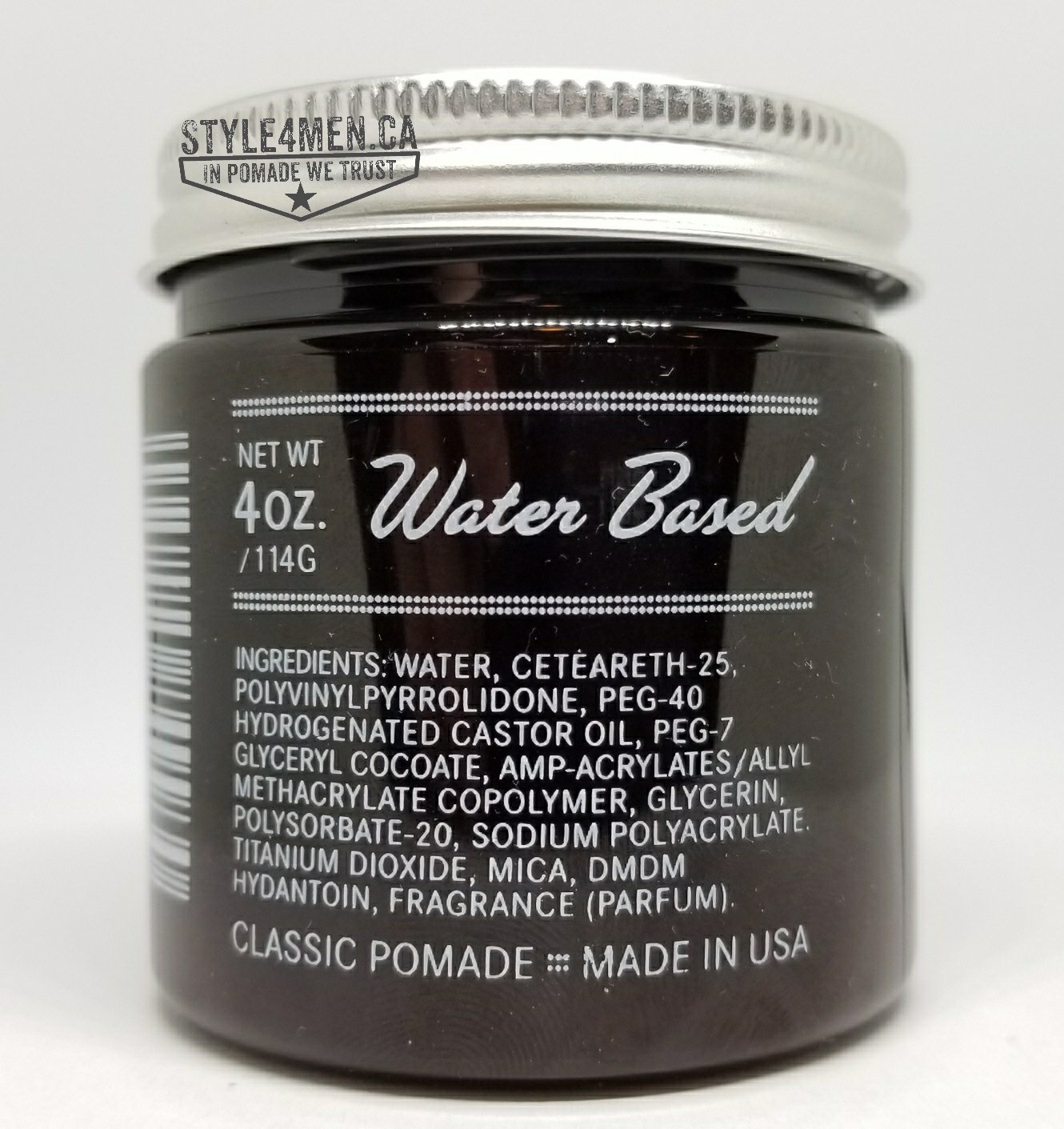 Another awesome thing about pomade is that you won't have to wash your hair on a daily basis in order to be able to style your hair back to perfection.  If you use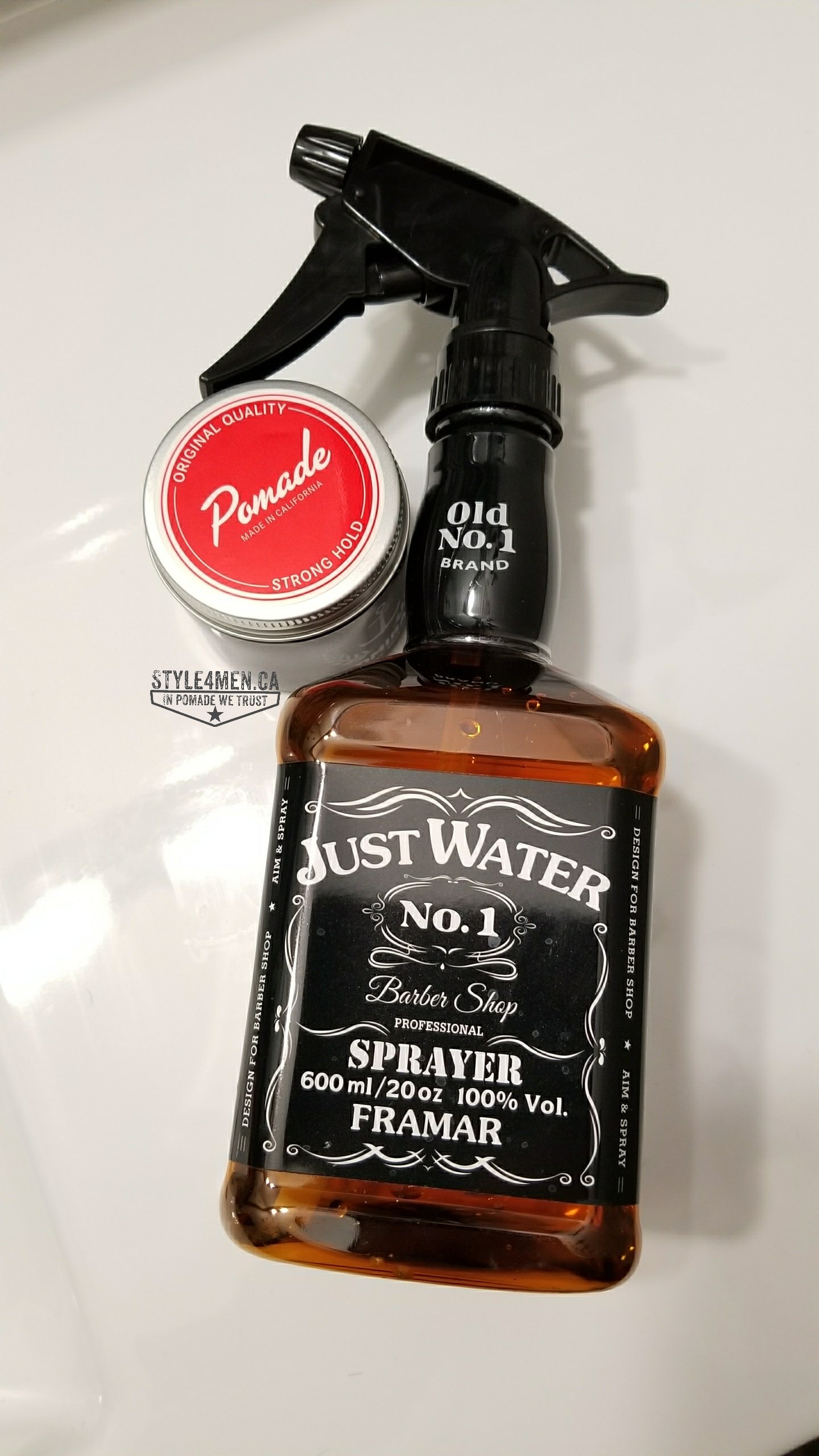 gel, there is no reviving that and trying to add more gel will just makes things worst. Pomade is a different kind of animal and can be revived rather easily but wetting your hair a little.  I would suggest you get yourself an inexpensive Hair Dresser water "Spray bottle".  There are a number of good options on Amazon for under $10. 

I use a Jack Daniels wannabe that I picked up at OBSCO in Ottawa.  Note that if you do have a Jack Daniels bottle, you can screw on a standard pump spray since the bottle mouth is also a standard (universal) size.  If times are hard, you can simply reuse any cleaned out spray bottle and fill it with water.
Here is the rating on a scale of 1 to 5, where 5 is a perfect score and/or level of shine:
Hold: 5
Shine: 1
Texture: 4.5
Feel in hair: 4.5
Facility to wash out: 5
In closing, the strong hold pomade from Admiral is an admirable option.  It works well, holds for real and smells deliciously sweet without being overpowering. I am very glad I got to work with the Admiral products.  They are the kind of products I would want to offer in my Barbershop/Salon/Lounge/Spot.  🙂
Peace!
PS: If you are shopping with Ultimate, use our exclusive discount code "STYLE" for a 10% break.