Apothecary 87 Manitoba pomade – A must have
Apothecary 87 is a UK brand that I became aware of through the Barber NV magazine where it was featured.  This brand hasn't really made its way over to this side of the pond.  The imagery is totally interesting by merging a 1930's gangster'esque to an even older image, that of the apothecary.  Of all things, this brand also sells a "bat".  Bad Boys!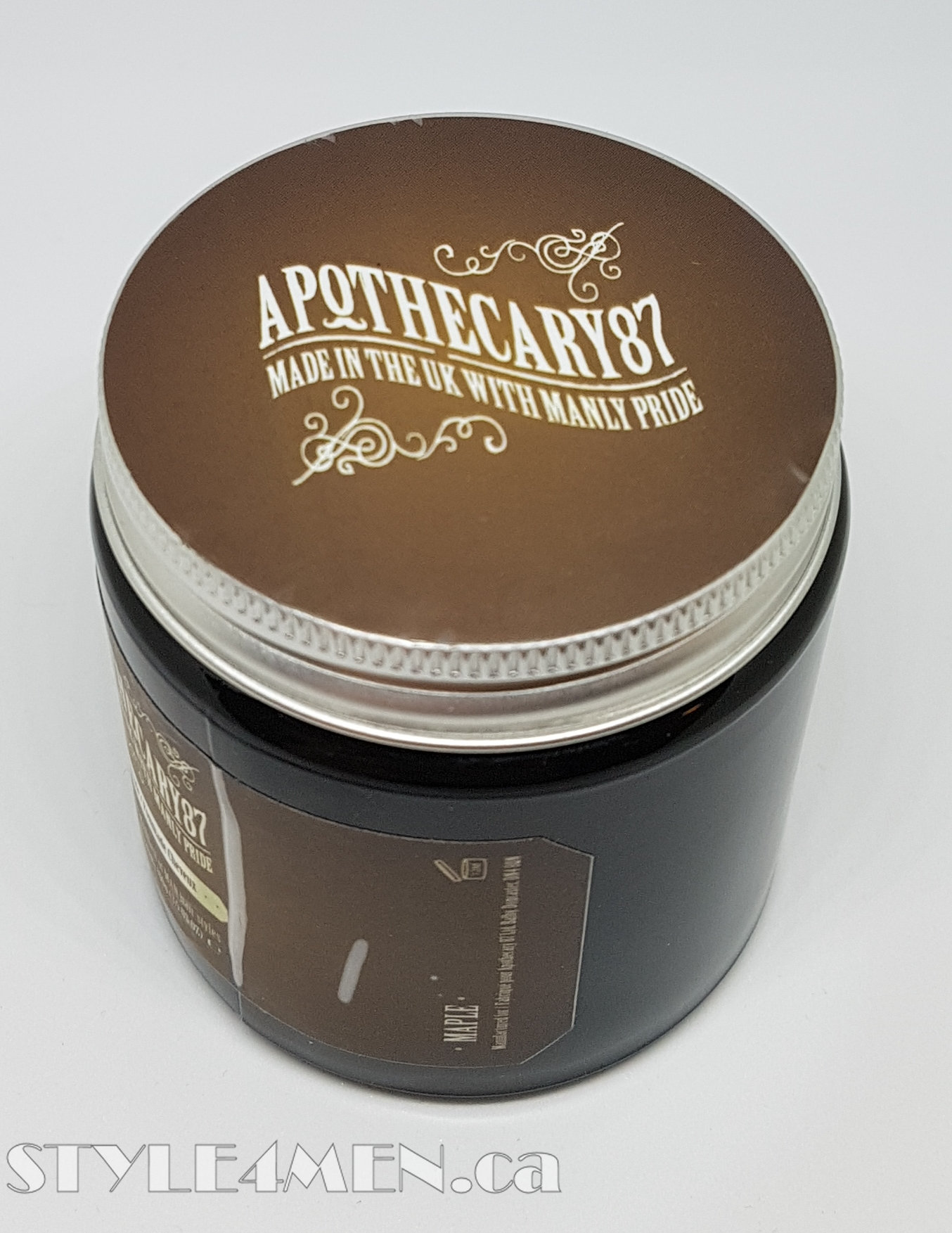 Somehow the branding and imagery makes it feels a tad more artisanal (authentic as opposed to industrial and mass produced) than many other pomades out there.
I bought my jar through our friends at The Modern Man" in the UK.  Yes, that far.  For those of you who are regular readers, you know about the awesome shipping speed between the UK and Canada.  For those of you who do not know about this, the average speed of delivery is 4-5 business days.  We can't get that from the US unless you pay a serious premium.  That is also the other benefit from ordering from our UK friend, shipping is either free or only a symbolic fee.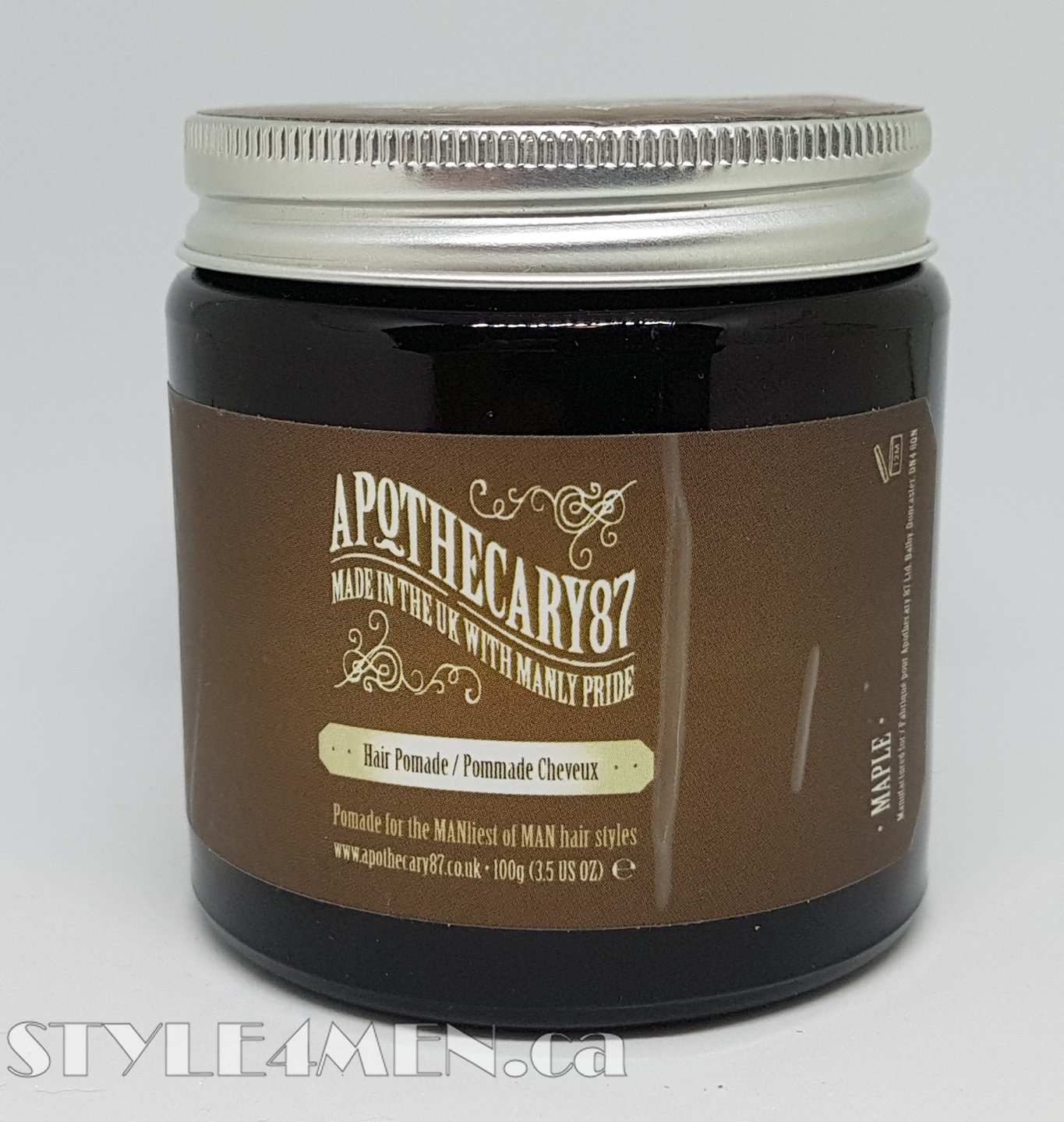 So here we are some 5 business days after placing my order and I am holding a nice box with my pomade inside.  Perhaps I will take a moment to details the packaging and when this is not done right, your precious cargo can suffer.  The folks at the Modern Man have a custom box that looks like a small shoe box.  It can be opened with a zip feature.  Inside you will find your purchase cellophaned onto a folder cardboard so it does not move within the box space.  Simple but efficient.
Now for the pomade.  The jar is somewhat different from what I have seen in the advertising as well as on the Modern Man pages.  But I will assume that like all brands, the labeling changes over time.  It is still nice looking and I am totally pleased to see that the jar is made of glass with a nice metal lid.  Perfectly old school, solid and 100% recyclable.  The jar is the standard 100g of pomade.
I happen to buy this pomade at a time where The Modern Man was also offering a nice wooden companion comb.  It's quite nice and sports the apothecary 87 branding on it.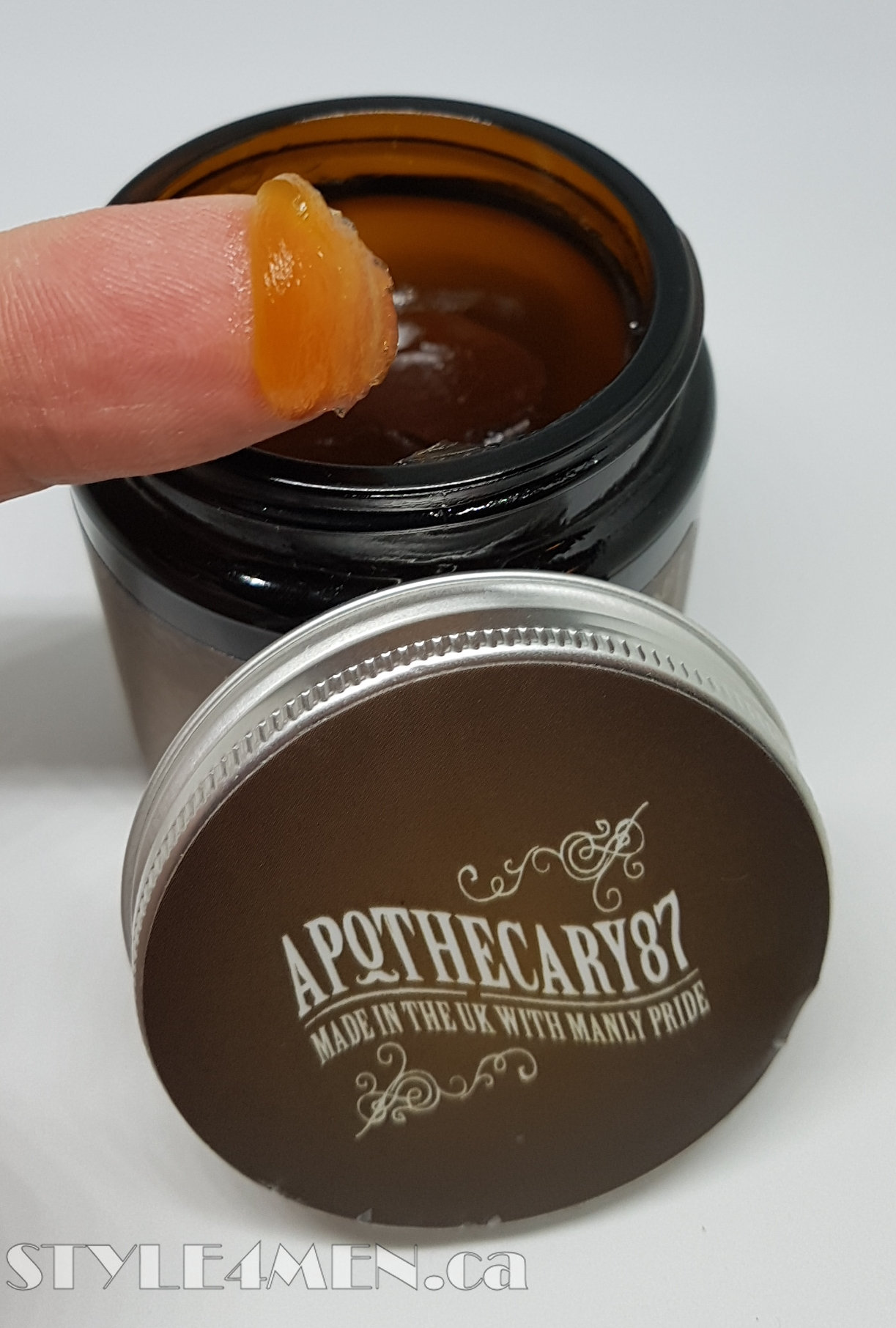 An element of interest for buying this pomade was the fragrance.  The pitch is that it is to smell like maple syrup.  Surprise-surprise, the scent is rendered quite well.  It is strong enough so that you are aware of it, but it's not so strong as to bother your cell-mates.   It certainly smells like a sweet desert.  Being Canadian, it's a bit funny to order a product from the UK that is made out of our national symbol, the maple tree.
The product name is a play on words with MAN and Manitoba (a prairie province of Canada) – MANitoba.
As soon as you open the jar and get in contact with the pomade, you know you are in for something good.  It is initially firm and only require a bit of relaxing in your hand before application.  Results are instant without needing to restyle it within a few minutes.  This stuff holds.
This is a water based product so no complicated degreasing and shampooing regimen to clean this stuff out.  Just rinse your head under the shower head and that will removed 95% of the pomade.  The texture is appropriately thick and sticky.  Firm on contact but very easy to relax and apply.  It takes some time to dry but that doesn't mean that your styling will fall.  Once styled, we can pretty much say that you are done.  Over the next few hours the product will dry but your hair will remain workable.  That's the beauty of pomades.  Nothing like gels which once dry is not restylable.   Today is an incredibly wet spring day and my pomp styling hardly suffered.  Some 8 hours after styling, things are still good.  This stuff offers a proper hold.  I wouldn't say that it's a strong hold as there is stuff out there that is stronger than this, but it is also not one of these product that barely does the job – it holds.
Often enough, folks turn to pomade for shine.  As this is a water based pomade, there is less shine to be had, but it renders awesome natural looking results.
I was a little surprise that my jar did not have an ingredient list, but from I what remember seeing on their site, it's a rather typical and proper pomade concoction.   It earns a spot on the top shelve along with other great players like: Boardwalk, Uppercut, Layrite, Reuzel, Suavecito and Zeus.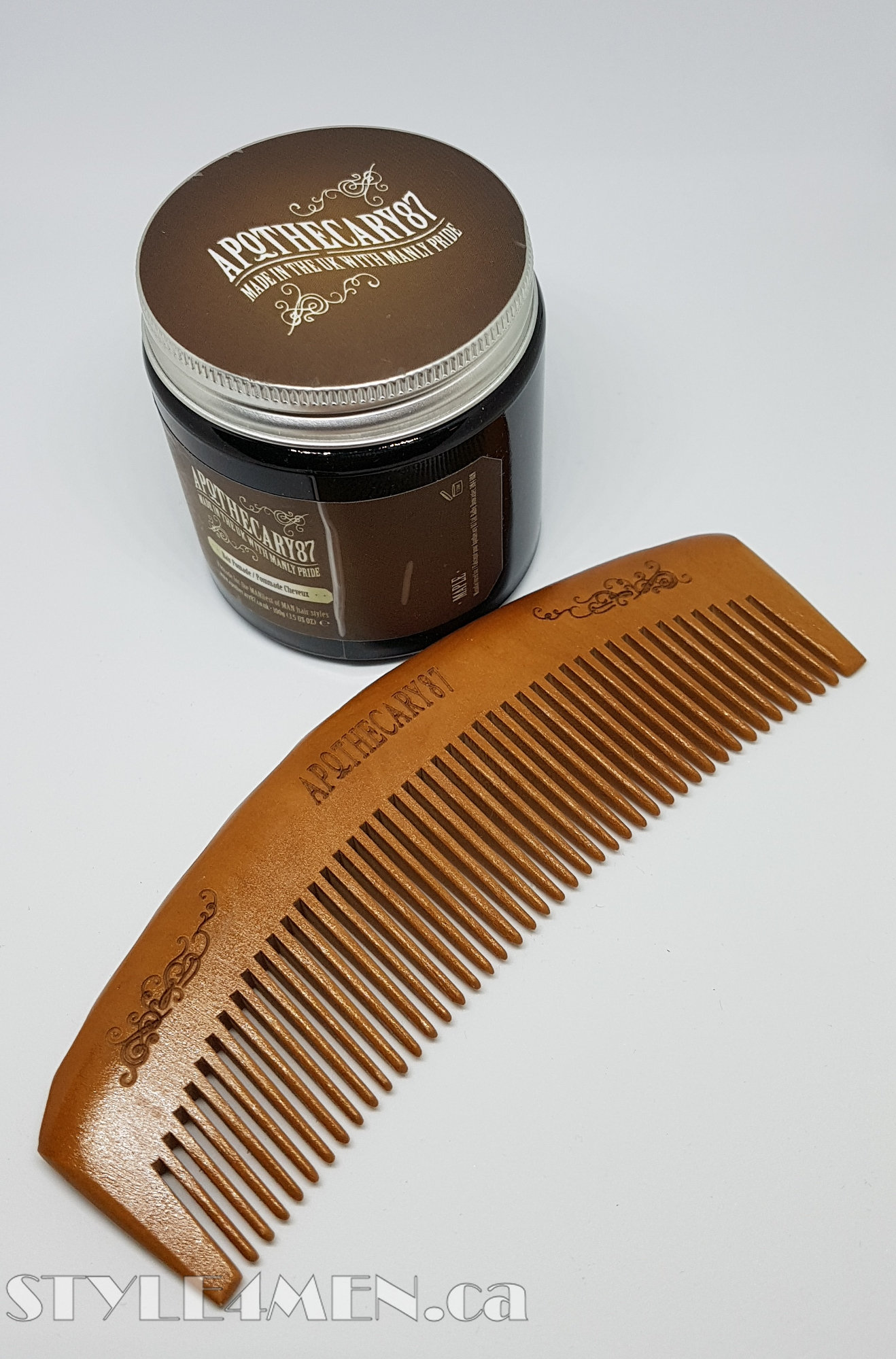 This pomade impressed me so much that I actually used it for 4 consecutive days before getting around to posting this review.  So far this year this is my favorite pomade followed closely by Boardwalk.  With the Apothecary 87 Manitoba pomade I had a great hair day every time.
Here is the rating on a scale of 1 to 5, where 5 is a perfect score and/or the level of shine.
Hold: 5
Shine: 3
Texture: 5
Feel in hair: 5
Facility to wash out: 5
You can find this product and many more by visiting our friends: