Art Naturals Argan Oil Pomade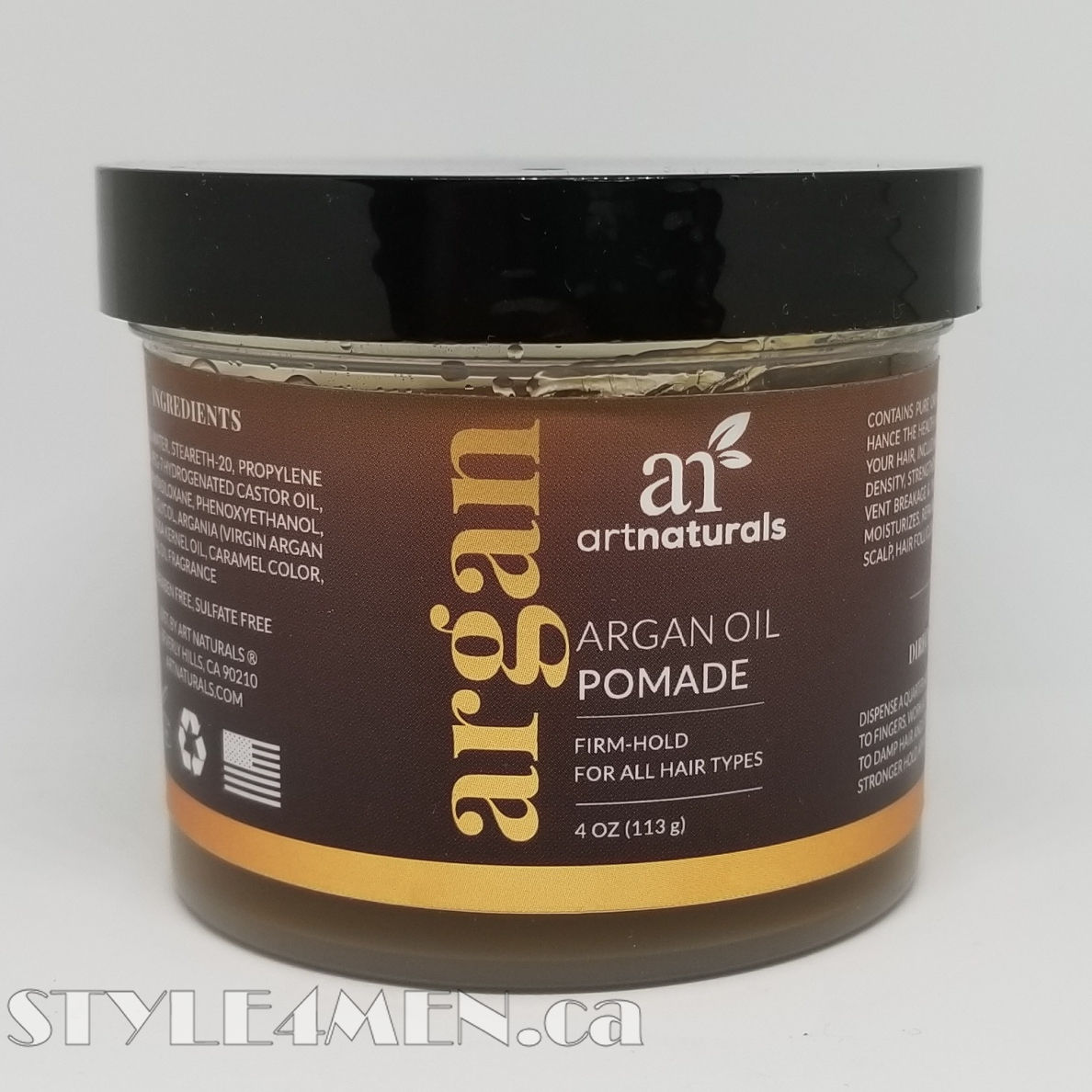 This argan pomade by Art Naturals came up as a suggestion on Amazon as a result of my on-going pomade purchases and possibly also because of another argan based shampoo and conditioner set I recently acquired.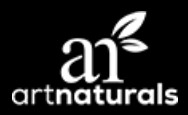 The word on the street is that argan oil has a number of benefits in the hair department, including treating hair loss.
Argan oil helps prevent hair loss by ensuring that you don't lose more follicles than you're able to grow – when that happens, hair loss becomes noticeable. Multiple studies on the oil's effect on hair re-growth have found that it can stimulate the scalp due to its rich nutrient content to produce more hair. Other research has indicated that it helps hair grow faster in a shorter period of time. One particular study out of South Korea found that 44% of participants experienced "clear hair regrowth" with Argan oil treatment – as good as the drug minoxidil, but without the potentially harmful side effects.  Reference:  http://www.naturallivingideas.com/argan-oil-for-hair/
See also:
A simple "argan oil for hair" query in Google will present a number of similar articles.
Note that argan oil might also go by the denominations: Morocco or Moroccain oil.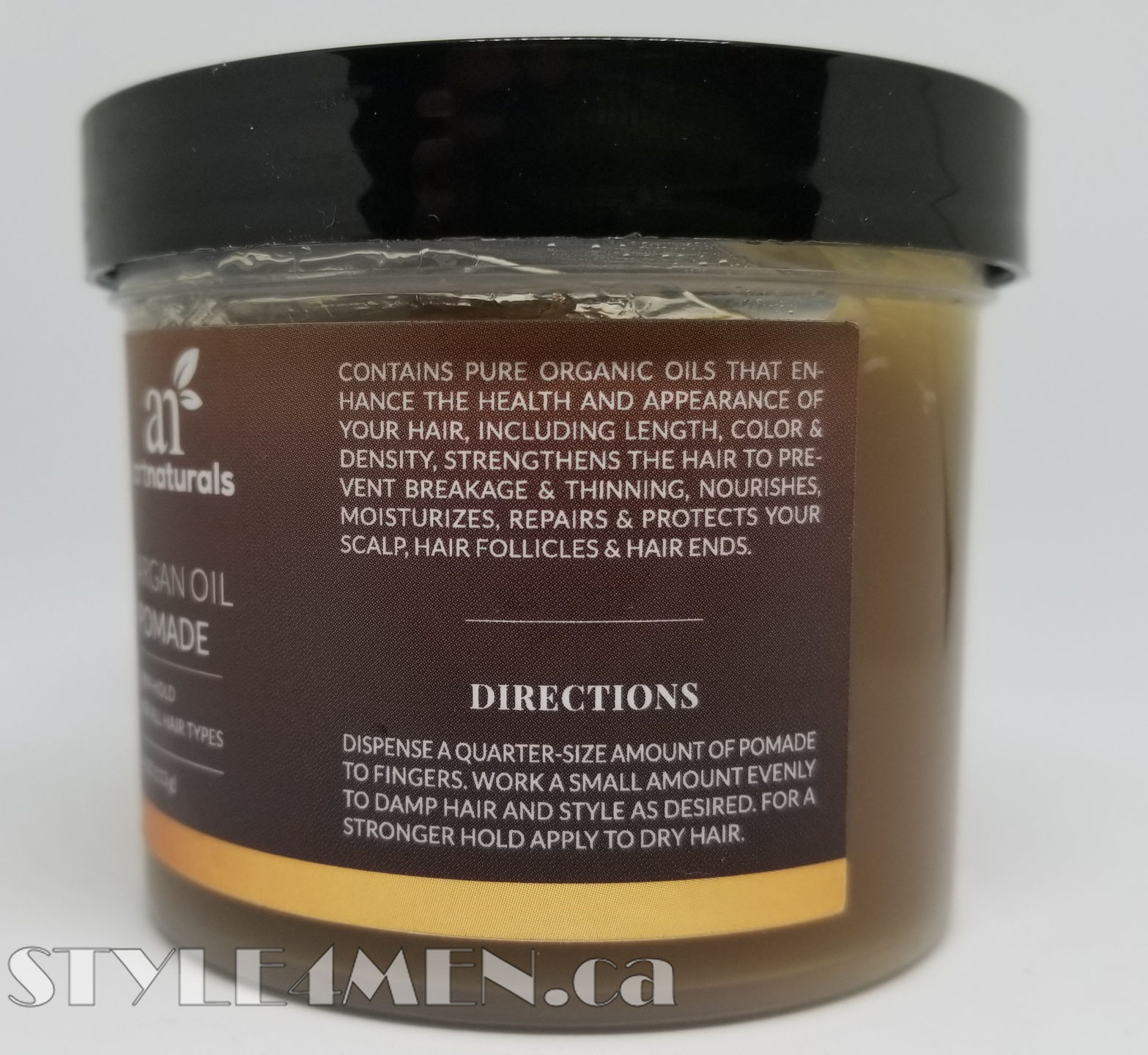 As I am getting older, keeping my hair and scalp in top shape is more of a concern and using products that are healthier and that might also stimulate continued hair growth are certainly of interest.  No matter what your hair condition is, opting for hair products with less fillers, chemicals and other undesirables is worth considering when shopping for hair products and to my surprise, you might not have to spend more for them.
I already use an argan oil shampoo and conditioner as well as an argan oil hair spray by Marc Anthony when needed.  Actually, the labeling indicates Moroccain oil.  In that light, it was pretty much just a question of time before I got a jar of this argan oil hair pomade.  My first concern was to identify if this was an oil based or water based pomade.  Although the product advertises itself as being made with argan oil, it is not the main ingredient and this pomade fits in the water based category.  That being said, this pomade like many others, does use oils as supporting ingredients in the recipe.  As you can see on the label, the ingredient list is very short with only 13 participants.  That's way we like our pomades!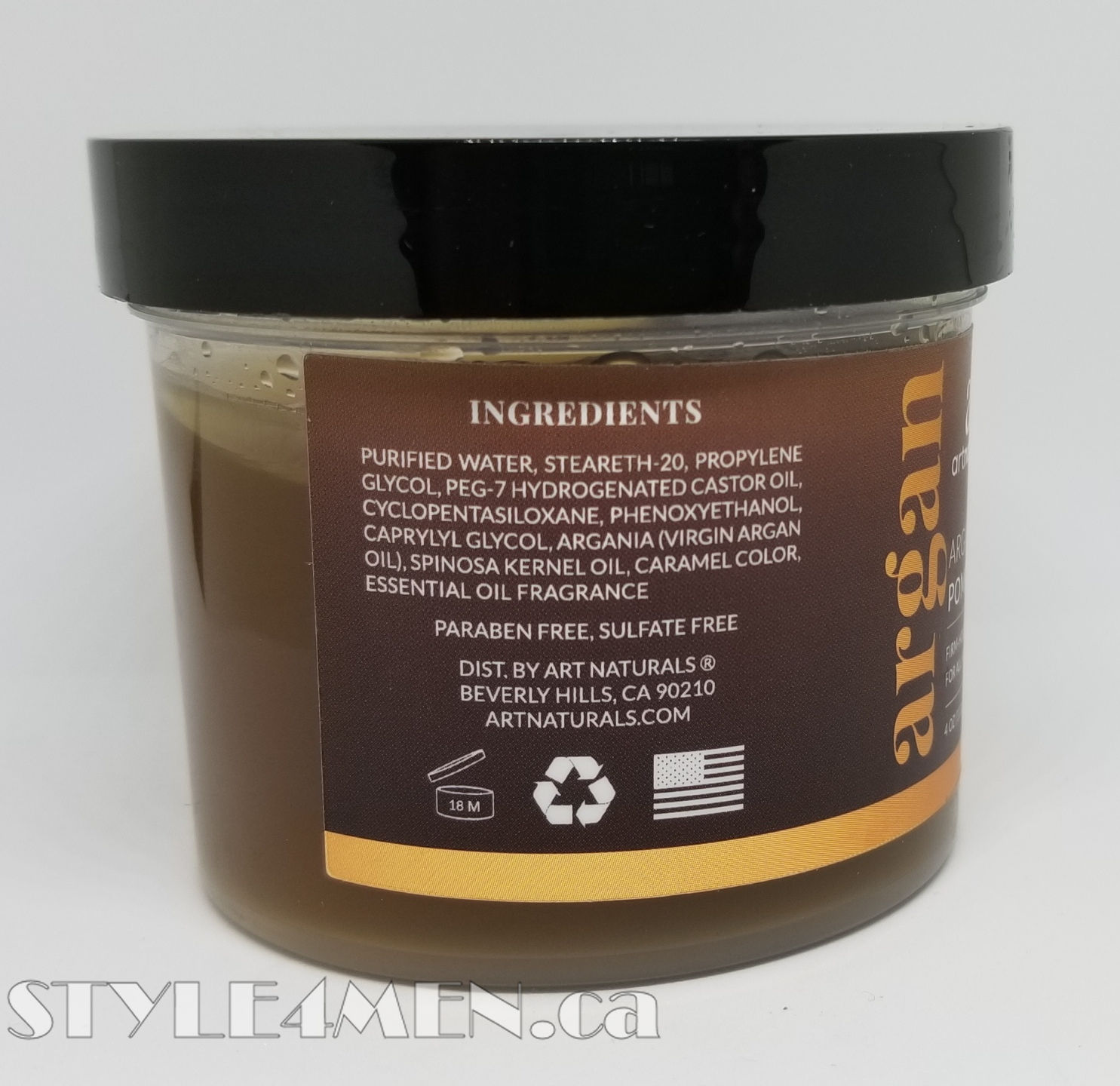 The tap test was done with the jar and a nice vibrating ring could be felt-heard.  Indicating a perfect consistency!  Upon opening the jar I was surrounded by a fairly intense fragrance.  It is very much in line with current fragrances.  So nothing simple or old-school like coconut,  bay rum or coca cola that we might find in the more "underground" pomades.   The fragrance was strong  and nice enough that there was no point in using any other fragrance today.  Even 4 hours after application I can still smell it.  Not so strong that you will upset others, but just enough that you have a distinct thing going on!  Note that my asthmatic wife did not make any mention.  Usually, when something that I am trying out smells too strong she notices right away.  My apologies as I have no reference points to describe this scent.
On contact the pomade was firm but relaxed right away when rubbed in the palms for application.  It felt like a fresh product.  I applied it to dry and clean hair and was able to style a proper pomp with some decent height.  On the hold front, this pomade can compete with the big guns.  It doesn't dry hard.  The hair is firm, but completely toucheable and pleasant.  Four hours in and I haven't had to restyle or recomb.  By the end of this humid summer day, things had started falling but nothing that a little touch up couldn't fix.
The pomade is a nice caramel brown and is inviting.  The light brown blends very well with my dark brown hair.  I would think that this fairly light colour will be agreeable with all hair colours.  This is not really a shiny pomade.  Perhaps a healthy glow would describe it best.  You will obviously look like you have used a product, but this is not a "Greaser's Shiny Delight".
As with other  water based pomades containing some oils, my scalp did not suffer any itchiness or dryness.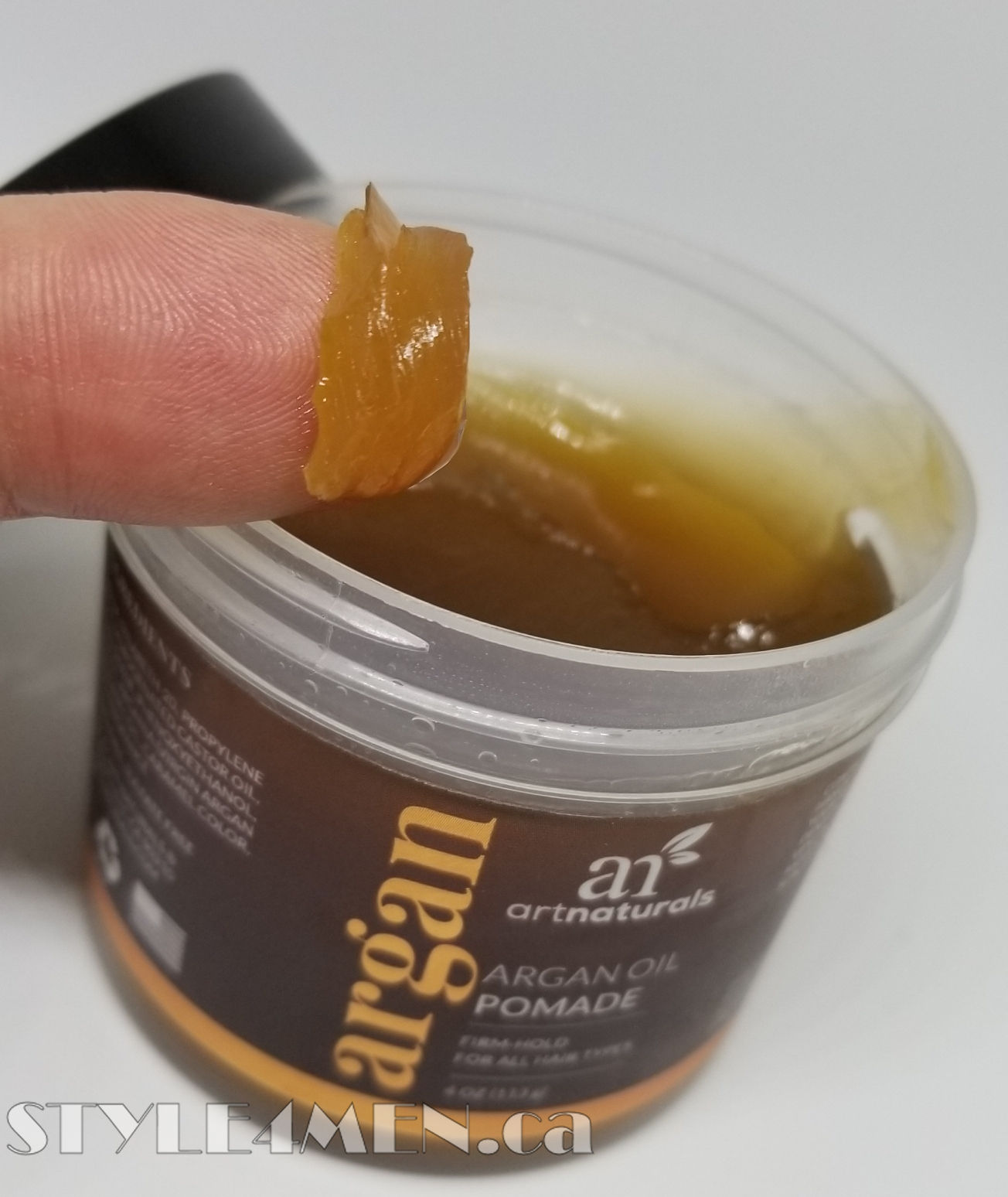 Often enough we jump on the "natural" band-wagon for a number of good reasons but can be disappointed by the performance of these products. By being exposed to super-performing chemical products, our reference point and expectations tends to be high.  This is not such a product!  Performance is rock solid.  Then again, the recipe for a good pomade is usually not very long nor is it very complicated, but nevertheless I want to make a point of mentioning that this "natural" pomade performed very well.
What I love about this pomade:
Argan oil benefits
Medium to strong hold
A hair thickening effect
Inexpensive
Nice scent
Here is the rating on a scale of 1 to 5, where 5 is a perfect score and/or level of shine:
Hold: 4.5
Shine: 2.5
Texture: 5
Feel in hair: 5
Facility to wash out:  5
The overall Style4men.ca rating is:
At $12 for 113 g on Amazon (Canada), this is a nice deal.
Use these links to shop for this pomade: