Baxter of California – Style Spray and Hard Water Pomade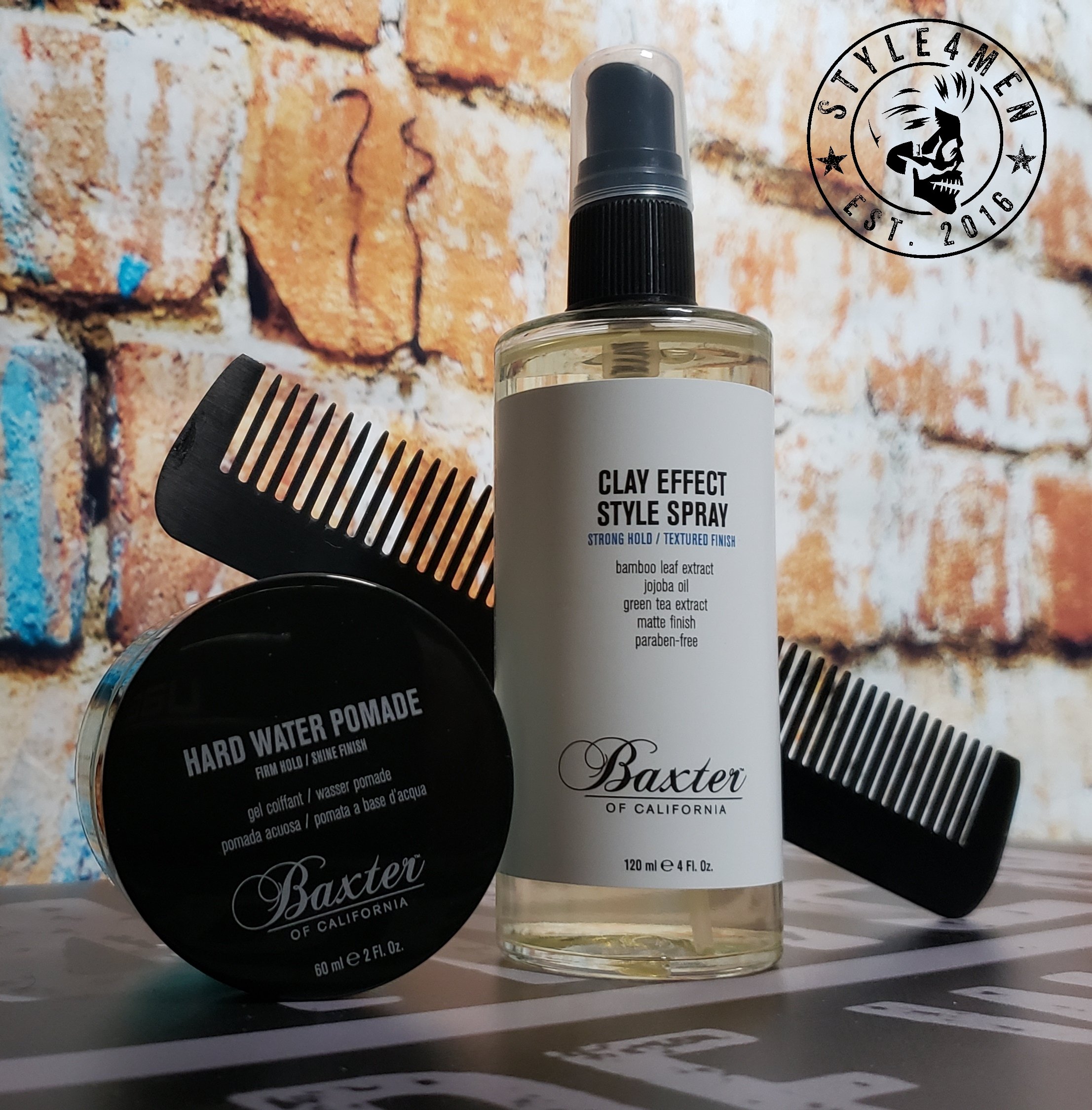 This post is the second in a series covering the forever elegant Baxter of California line.  As mentioned in the first post, Baxter of California has been helping men look and feel their best since 1965 with products covering: Hair, Skin, Shave, Body and Lifestyle.   Today we will focus on two of their products from their "Hair" offering; the Hard Water Pomade and the Clay Effect Style Spray.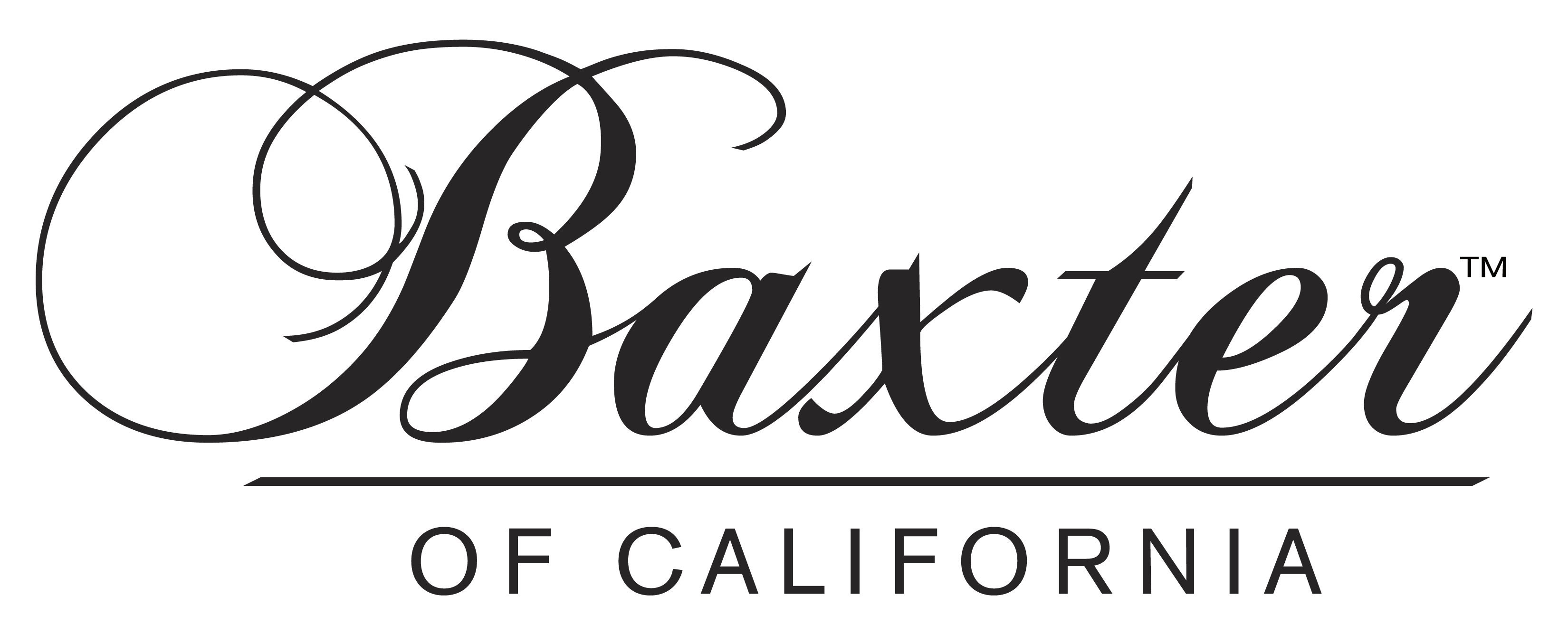 Shout out to the folks at the Take Five Agency who are the Canadian Distributor of Baxter and who have made this review/feature possible.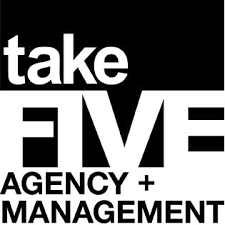 Being a pomade enthusiast, I always jump on that jar when a brand has one in their catalogue.  And yes, I am thrilled to say that Baxter offers one!  A very attractive jar as well.  Clear glass container revealing a Caribbean blue pomade inside.  The Hard Water pomade is certainly inviting.
But before we get into the pomade, we need to talk about the "Clay Effect Style Spray".  If you are a regular at Style4men you have probably encountered a post where I praise the benefits of using a styling spray before working in your pomade.  The official position of Style4men on this subject is that no self-respecting man should live without such a product in his arsenal!
It is important to know that Styling Spray is NOT Hair Spray which is a hold everything in place product.
Styling sprays are as integral to a successful styling as a good pomade, clay, paste or cream.  Here is why and how.  Once your hair is clean and ready to be styled, it probably doesn't have much volume or body, right?   And you are probably thinking that this is good because the last thing you want to look like is a long haired cat coming out of the dryer; all puffy!  Agreed!  No one wants that as the final result.  But what if I told you that it will be OK and even desirable to have that as a middle step before styling your hair with a final product such as pomade? I am going with the assumption that you are OK using 2 products.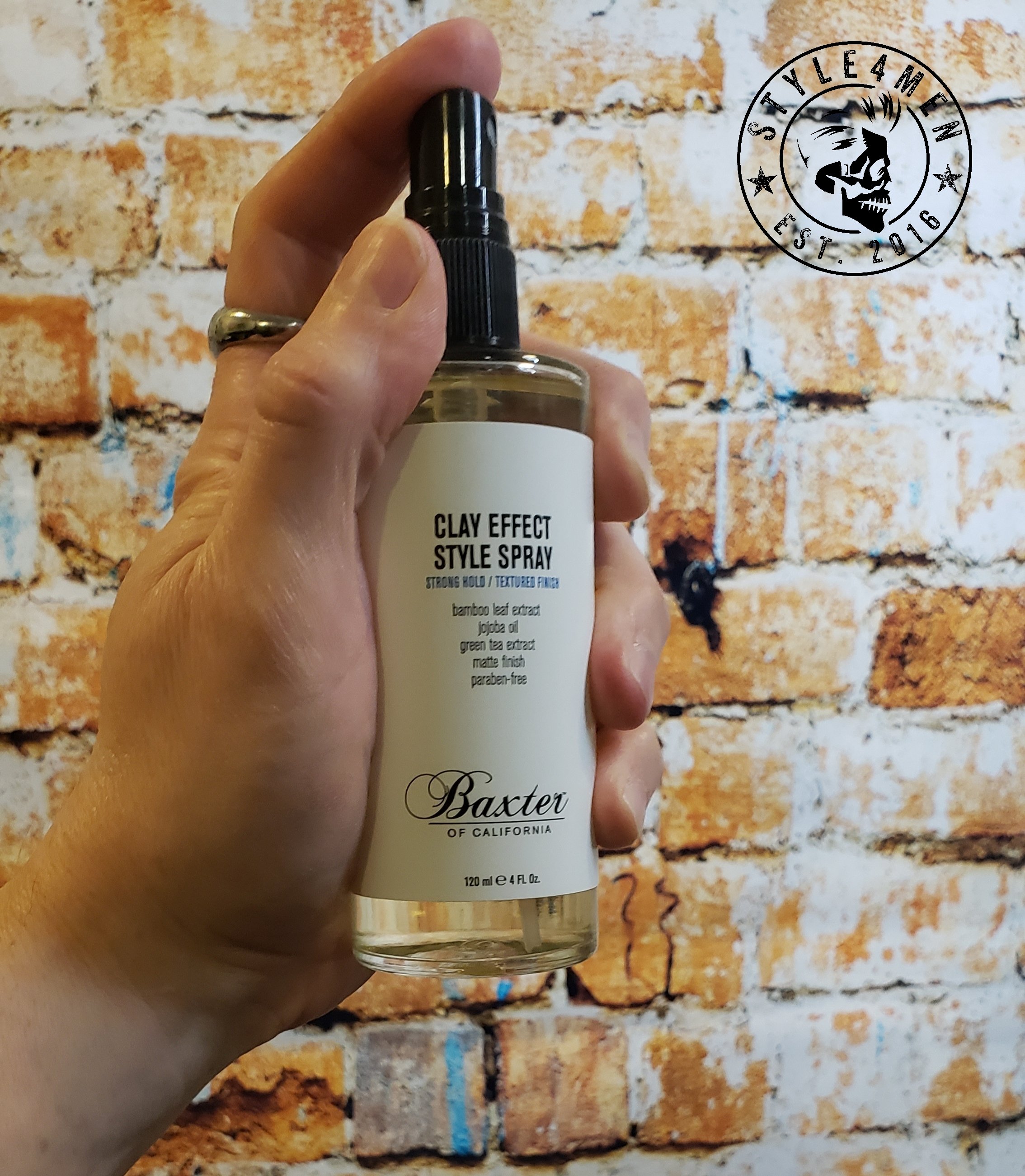 What I have come to realize is that creating volume and texture before styling results in a considerably better looking style.  So here is how to do that.  As usual wash your hair and towel dry it.  Then squirt a few shots (5 – 7) of the Clay Effect Style Spray and blow dry.  I personally don't really try to shape anything at this point.  Yes, it will look a bit ridiculous as your hair might be just too big.  Rest assured that the next product will tame this volume into an awesome style.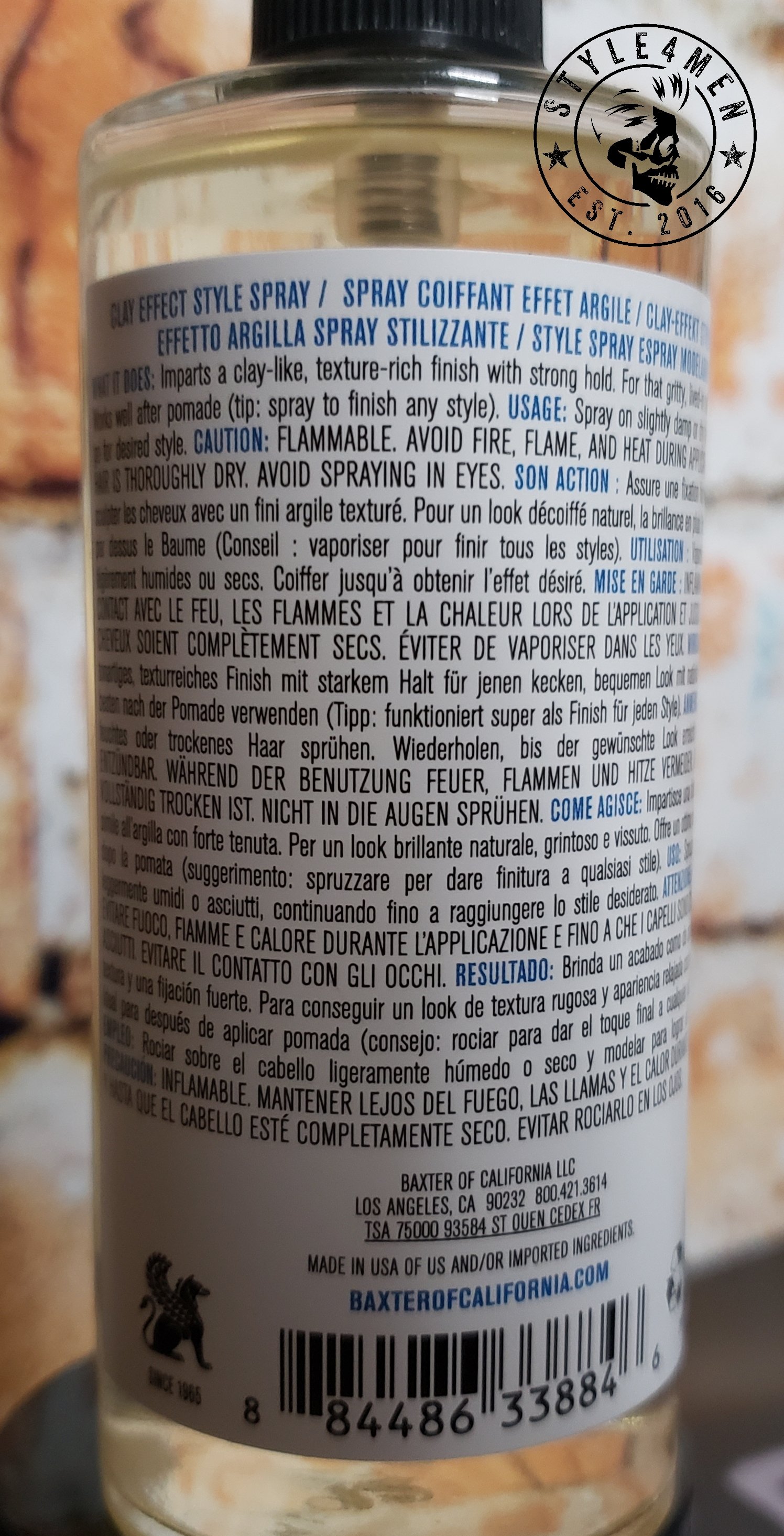 The Style Spray has a very slight aroma.  Think fresh and manly.  Almost like citrus and musk.  Similar to the pomade which we get into next.
The Clay Effect Style Spray essentially creates a gritty effect by gently bonding hair together.  On its own I don't think it is enough to create a finished results, but as a pre-styler it is a game changer.
We are now ready to get into the pomade jar. The pomade is firm while being easy to scoop out.  It relaxes nicely in the palms and let's itself be blended in the hair just as smoothly.  I applied it in pre-styled and dried hair. Note that this pomade covers hair extremely well and as such very little product will be required. No one than the size of a dime.  If you need more you can always scoop more out, but if you overdo it right way you will be kinda stuck.
The grittiness of the spray disappears as you blend in the pomade but leaves much of the great volume it created.  Pulled out my hair pick and I was able to create a rocking pomp with minimal effort.
Here is what I liked:
Excellent shine
Incredibly silky
Curl enhancer
Inviting aroma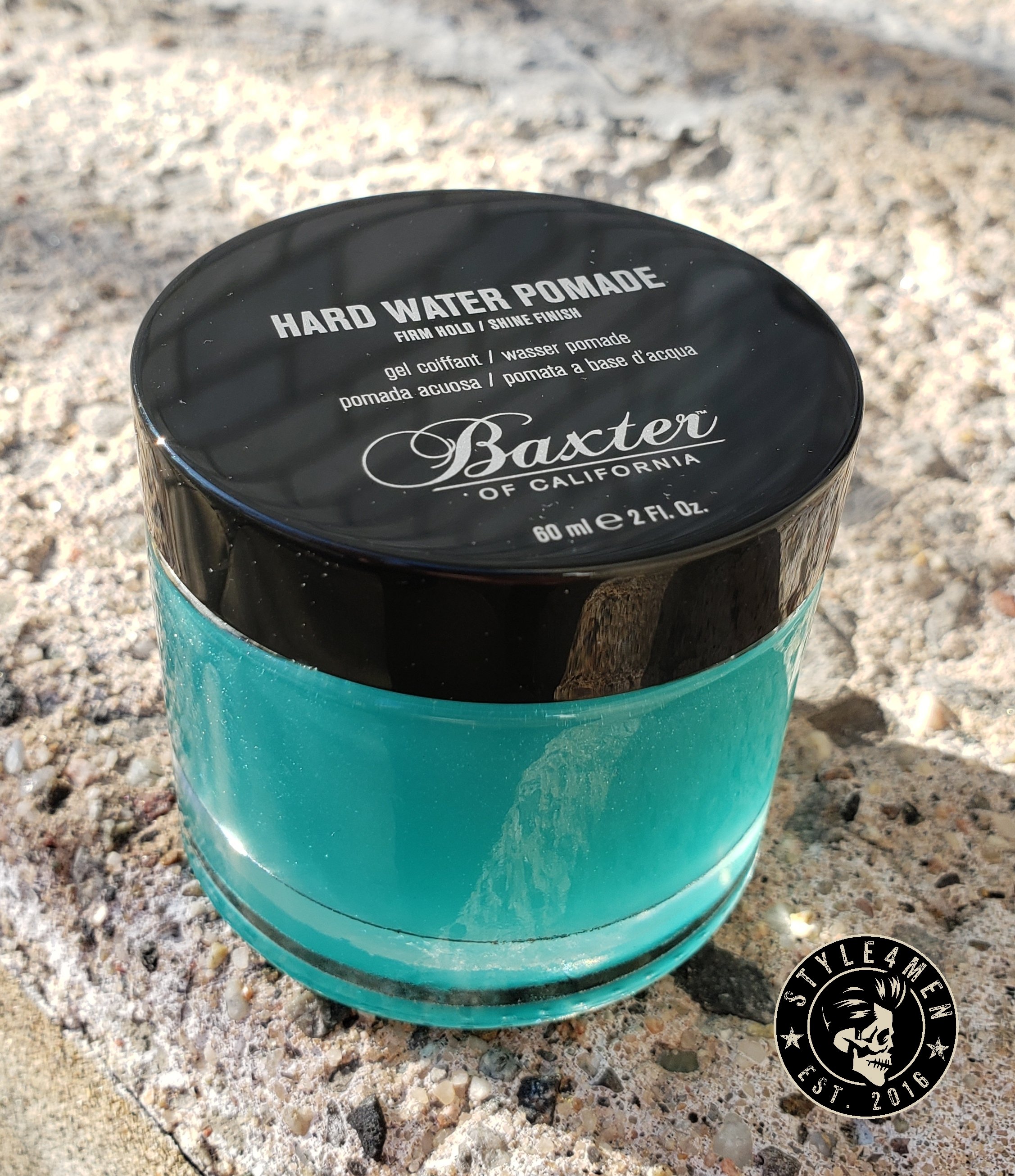 I will classify the Hard Water as a classic pomade since it is a high shine product with good hold.  It is a water based product but with the personality of traditional oil/grease based pomade.   The ingredient list explained this duality with the presence of castor oil in second position.
Here is the rating on a scale of 1 to 5, where 5 is a perfect score and/or the level of shine.
Hold: 4
Shine: 5
Texture: 5
Feel in hair: 5+
Facility to wash out: 5
Fragrance: 5
The castor oil contents results in extremely smooth hair.  Perfect for date night! Something an old-school grease pomade could not quite offer.  If you use it on its own, as in without using the styling spray, I find that my curls are somewhat enhanced.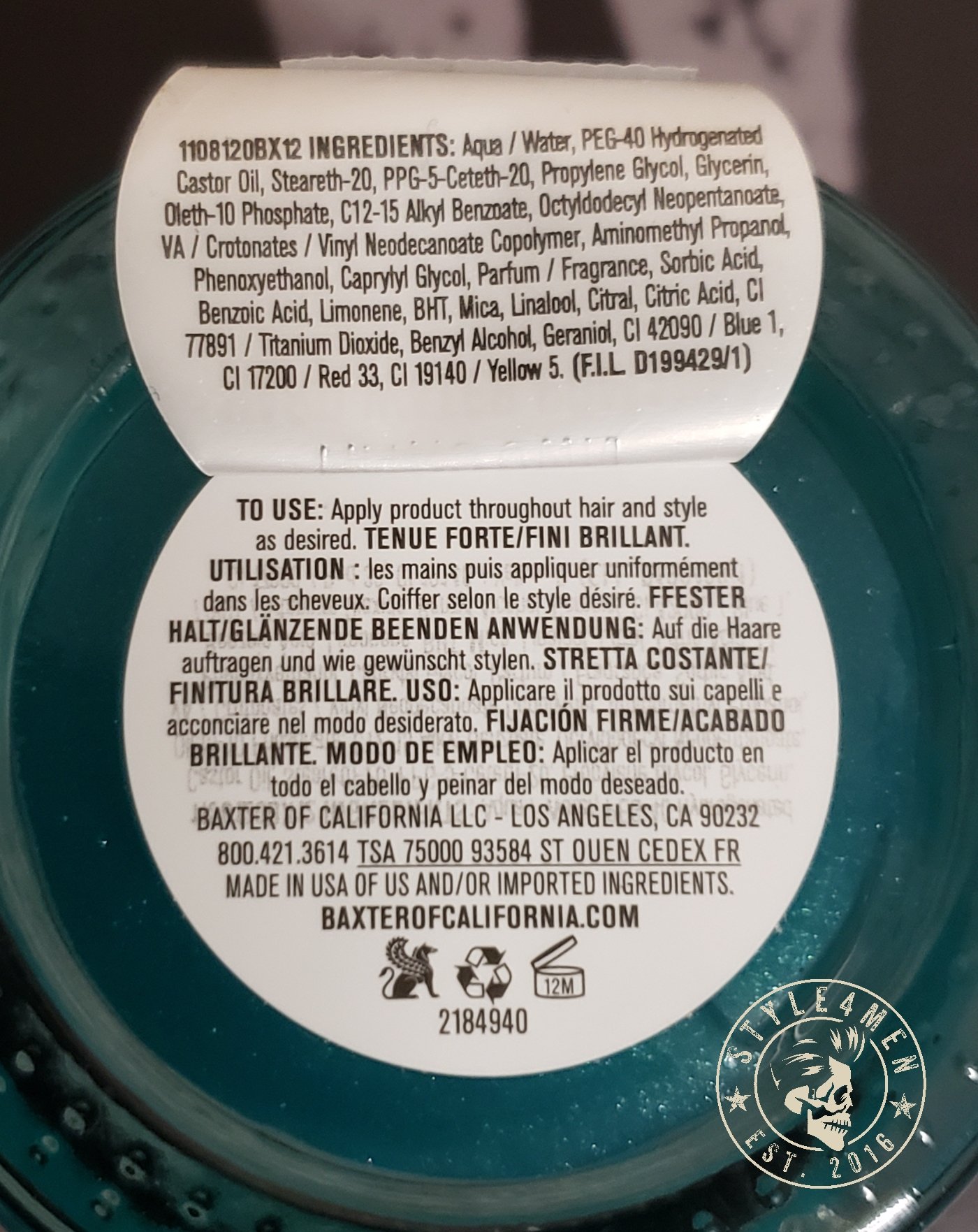 Coming back to the Style Spray, here is a little tip. On the morning after when you don't have time to wash your hair, spray in a few shots to loosen your leftover styling product and reshape things by adding a touch of new pomade.  Rock another awesome hair day!
Final Words
The elegant Baxter of California line lives up to the hype! Using the Hard Water pomade on its own will create a great loose California style with a medium hold.  Combining the pomade with the Style Spray will give great volume and shape.  Both products have a fresh and manly fragrance that pulls you in while being mild enough to not hinder the rest of your action.   Plainly put,  I am looking forward to continue the product exploration of this brand to see what other marvels I am about to encounter.