Billy Jealousy – Lunatic Fringe: A pomade for those stylish evenings
This will be a longer review than usual as there is a story that goes with it.
The Billy Jealousy product line has been on my radar for some months now. A few weeks back I had decided that it was time for me to try their pomade and I was shopping around for it.  This brought me to their web page.  While poking around I came across the perfect offering for someone like me, a full sampler set of some 20 products for $5. I was thrilled and immediately proceeded to order it. When getting to the shipping component of the order I was a tad disappointed to be presented with a shipping cost of some $20 US.  Then I noticed a redirection link for Canadian shoppers. I jumped on it, but could not find this same offering on their Canadian page. I figured that this offering might actually exists, but that it was just me not finding it.  So I dropped the folks at Billy Jealousy a line inquiring about how to get their sampler pack in Canada.  In their contact form, there was a "company name" field and I mentioned Style4men.ca.
This rendered a totally unexpected response.  The folks of Billy Jealousy actually called me up and mentioned that they liked the "Style4men.ca" page and that they would like to provide me with some samples so that I could review them.
The package arrived on Monday.  Thank you to my friends at Billy Jealousy for sending them.  The first products that I tested was the pomade.  I know, yes, yes.  It's always pomade-pomade-pomade!  😀
The Billy Jealousy pomade packaging and presentation is top notch.  It screams modern and cool!  The jar is black making the metal like labeling stick out. The brand dragon is also unmistakable. There is a good element of creativity in the product naming.  This one is called "Lunatic Fringe".  Each of the Billy Jealousy products have original and unique names.
Use the below links to check out their complete catalogue as well as shop directly on the Billy Jealousy Stores:
"About the Best" is the Billy Jealousy distributor.  Their catalogue is worth looking into as there are a number of other very interesting brands amongst which is the "Razor Pit" which I reviewed a while back.  Read the review.
Back to the pomade.
The jar size is on the smaller side at 85g.  The standard portion tends to be 100g.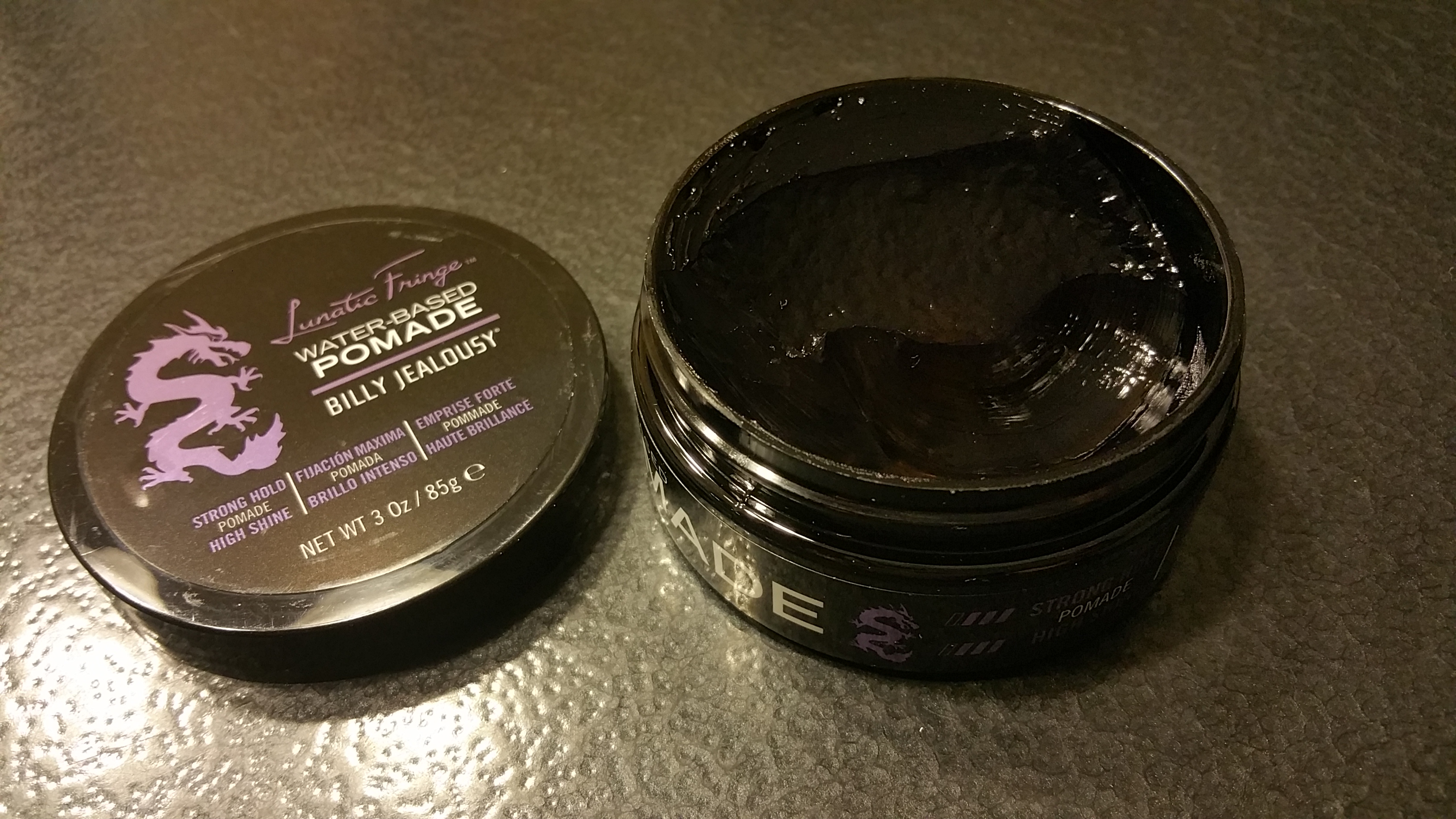 Fragrance wise, the Lunatic Fringe has a very modern scent.  By modern, I mean it is not a simple scent composed of maybe 1 or 2 elements.  It is certainly more complex, musky, fruity and fresh.  Typical of modern men's fragrance. I am by no means a scent expert, but to my unrefined nose, I can distinguish one of the scents as being "apple".  If it's not too much of a stretch of the imagination, it reminded me of the Dolce and Gabana Light Blue fragrance.
Note that the fragrance is very well dosed.  It is strong enough to make you aware of its originality but not so strong as to make everyone in a 2 km radius aware that you there.  So far, 3 other completely different people have expressed that they liked this scent including my asthmatic wife.
The pomade itself is an appropriately firm jelly.  It is firm on contact but offers no resistance when rubbing it in your fingers making for a very easy and uniform application.  Because it is a bit softer than some other pomades, it is likely that you might scoop more than needed.  Just adjust accordingly.  As it is softer, I expected it to not offer enough hold.  That wasn't the case.  Very easy to style and get proper elevation.  A pomp is completely possible.  Overall, working with this pomade was very agreeable.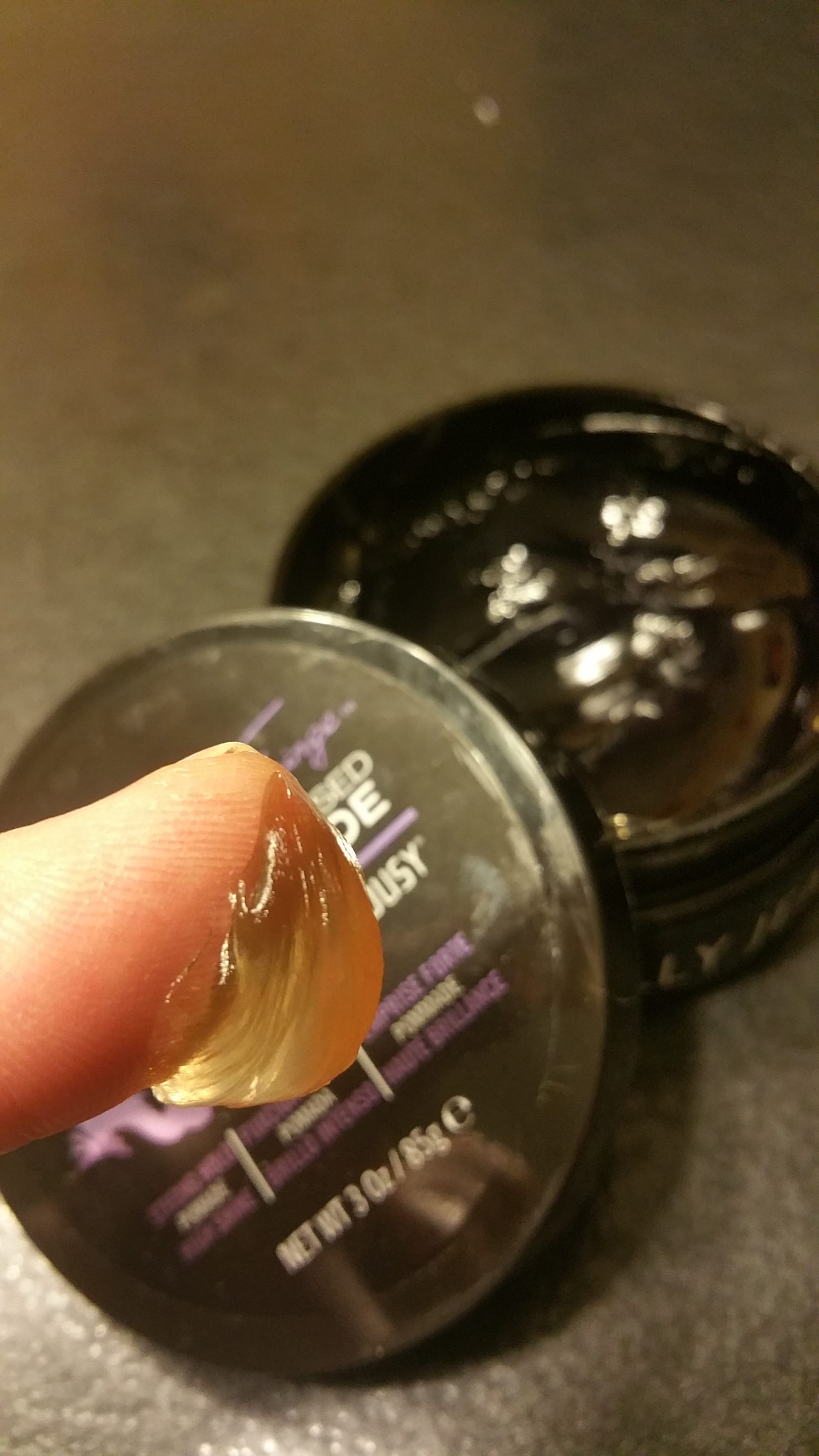 The black jar makes the pomade look like it might be a dark purple, but scooping it out reveals a golden shade.
It is now about 2 hours after application and the product has completely dried.  My hair is very smooth on contact, there are no clumps, nor any stickiness or crunchiness.  You can clearly tell that there is a product at work, but it is very nice to the touch.
Texture and hold wise, it is very comparable to the Blue Beard Revenge Pomade.
Eight hours after application, the pomade had lost of bit of its humpft.  My hair was still styled, but it had lost some of the morning height.  Take this, as your hair is not "locked in place" as it might be with other firmer pomades, like the "Rocky Mountain Barber Company" pomade for example.  The label does indicate that this is a "strong hold".  This might be true within the Billy Jealousy product offering, but not necessarily the case when compared to other brands of pomade.  I would say it is a tad lighter than the Layrite medium hold.  As with all water based pomades, restyling during the day is the simplest of things and you may want to make a few touch ups by applying a bit more. Basically, gauge your application accordingly.
As with almost everything, there are always aspects of compromise.  By that I mean, not every pomade is suited for every events in your life.  There is a pomade for a stylish evening, another for working on the car.  Imperial is the pomade to use when working on the car, while the Lunatic Fringe is the pomade for that stylish evening.
As with all quality water based pomades, there are no flakes with the Lunatic Fringe.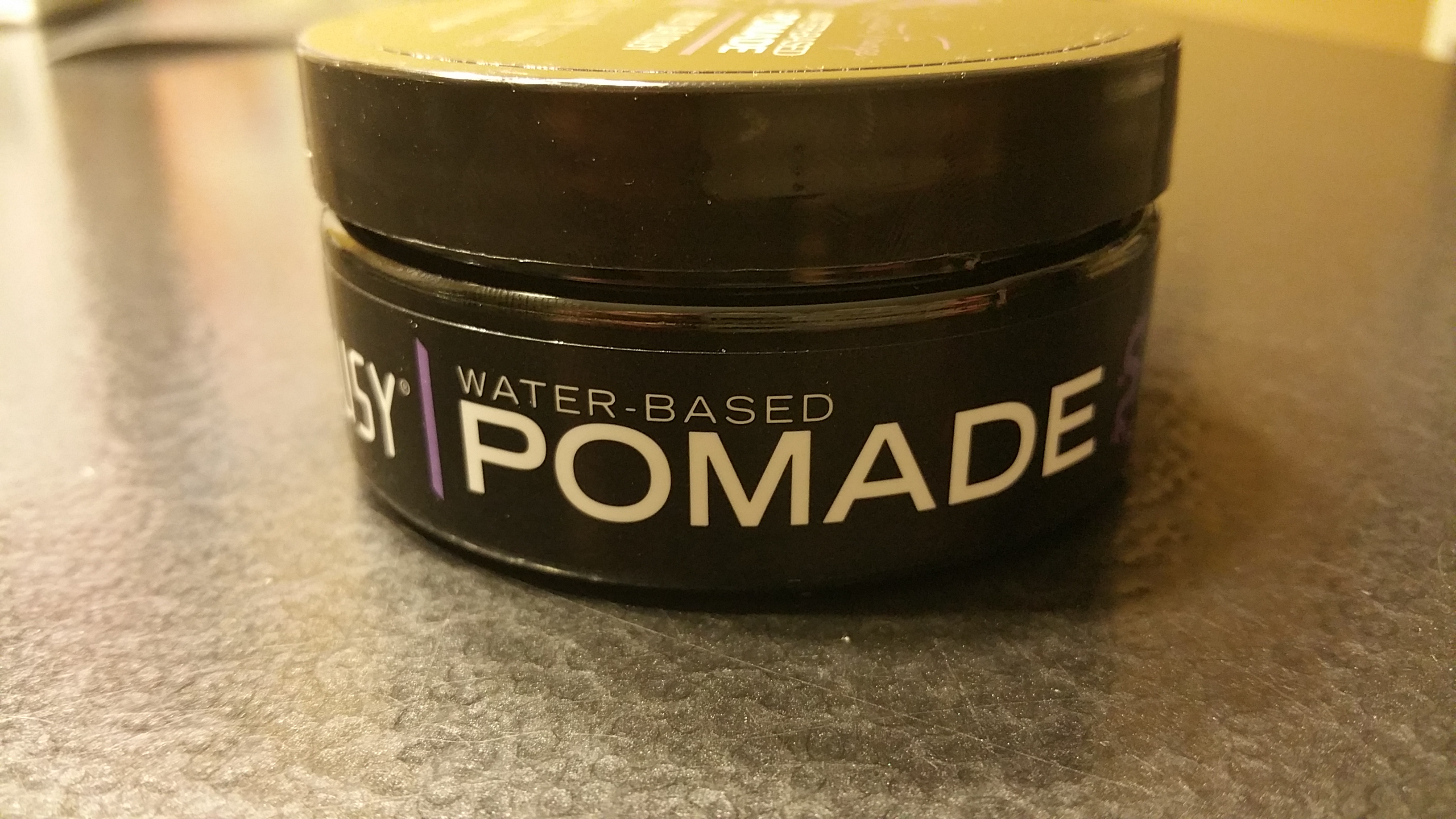 The packaging indicates High Shine.  Water based pomades as a general rule do not offer much shine, since shine comes for oils and/or petroleum jelly ingredients that are essentially absent from this type of formulation.  That being said, the lunatic Fringe offers some shine.  You won't be reflecting any lights into space, but it will give you a nice healthy look.
In summary, fabulous scent, ease of handling and smoother or more natural looking results.
Here is the rating on a scale of 1 to 5, where 5 is a perfect score and/or level of shine:
Hold: 4
Shine: 3.5
Texture: 5
Feel in hair: 5+
Facility to wash out: 5
Use these links to shop for the Billy Jealousy Lunatic Fringe pomade:
Note that you can use the"STYLE4MEN" discount code at check out on both the About the best and Billy Jealousy sites.
As of June 2018, Billy Jealousy products can also be found at: