Black & White Hairdressing Pomade
Today's pomade was brought back by my traveling buddy that just returned from the UK.  The Black & White Hairdressing Pomade. 
This is a completely old school and original product from the 20's. Even referring to the product as "Hair Dressing" is very old school in itself. Most brand nowadays simply state: Pomade.  That being said, B&W is still around and has a large following.    The first thing it has going for it is its low cost.  Most pricing I have seen was under the $10 mark.  I think my jar worked out to some $5.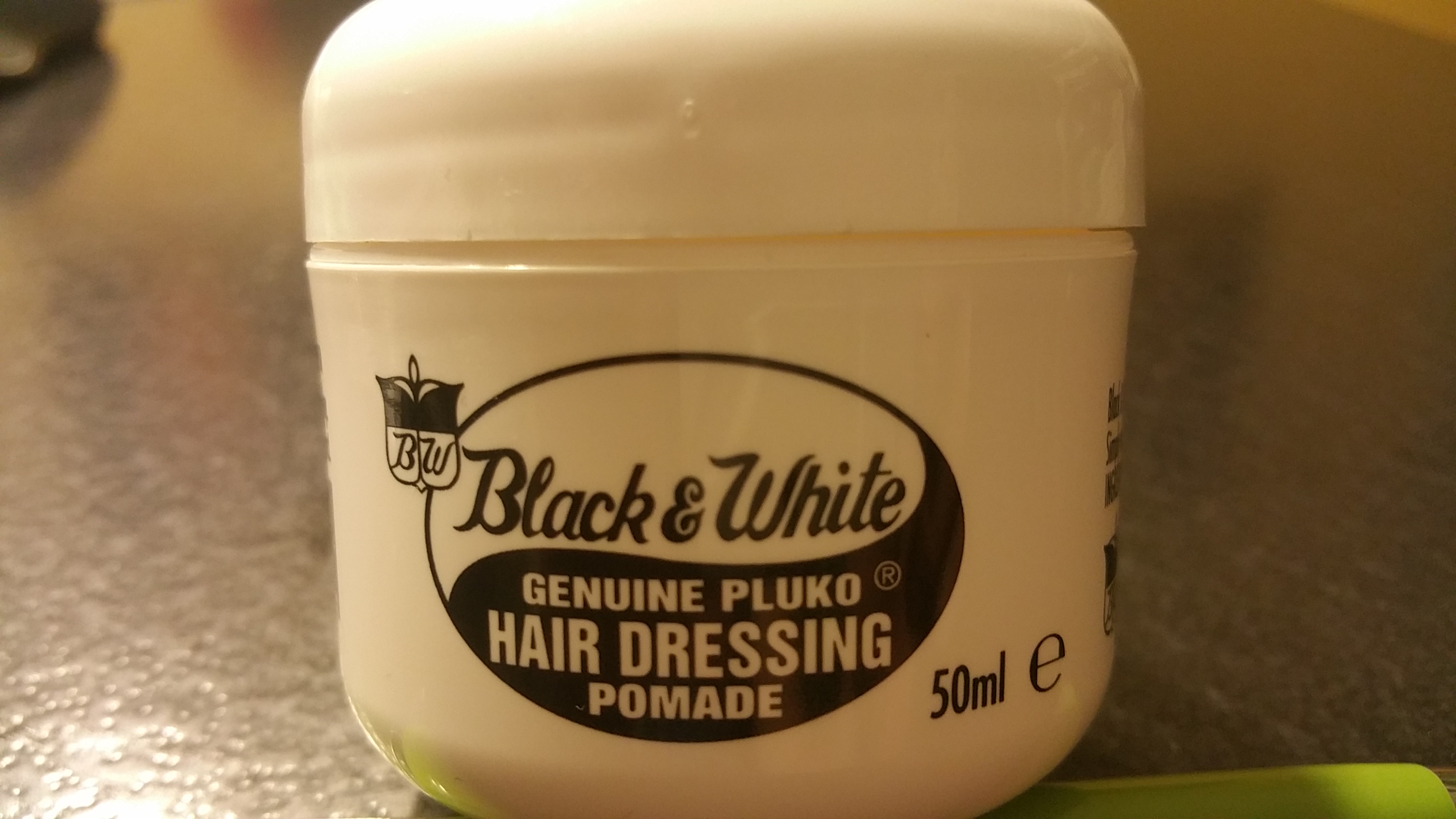 The jar itself it nothing special.  Basic white plastic.  Nor good, nor bad.  It's just a container. Upon opening the jar, the product looks very much like petroleum jelly.  Its physical resemblance is the only thing it shares with petroleum jelly as it looked a bit "fibrery".  It has next to no scent whatsoever. And whatever it does smell, I could not identify.  Plainly said, it is extremely mild.
The texture of the product is much softer than other water pomades.  You can also feel a small element of fibre to the concoction. You can clearly tell that there is an element of oil as the mixture smooths out in the palm with the sligthess heat.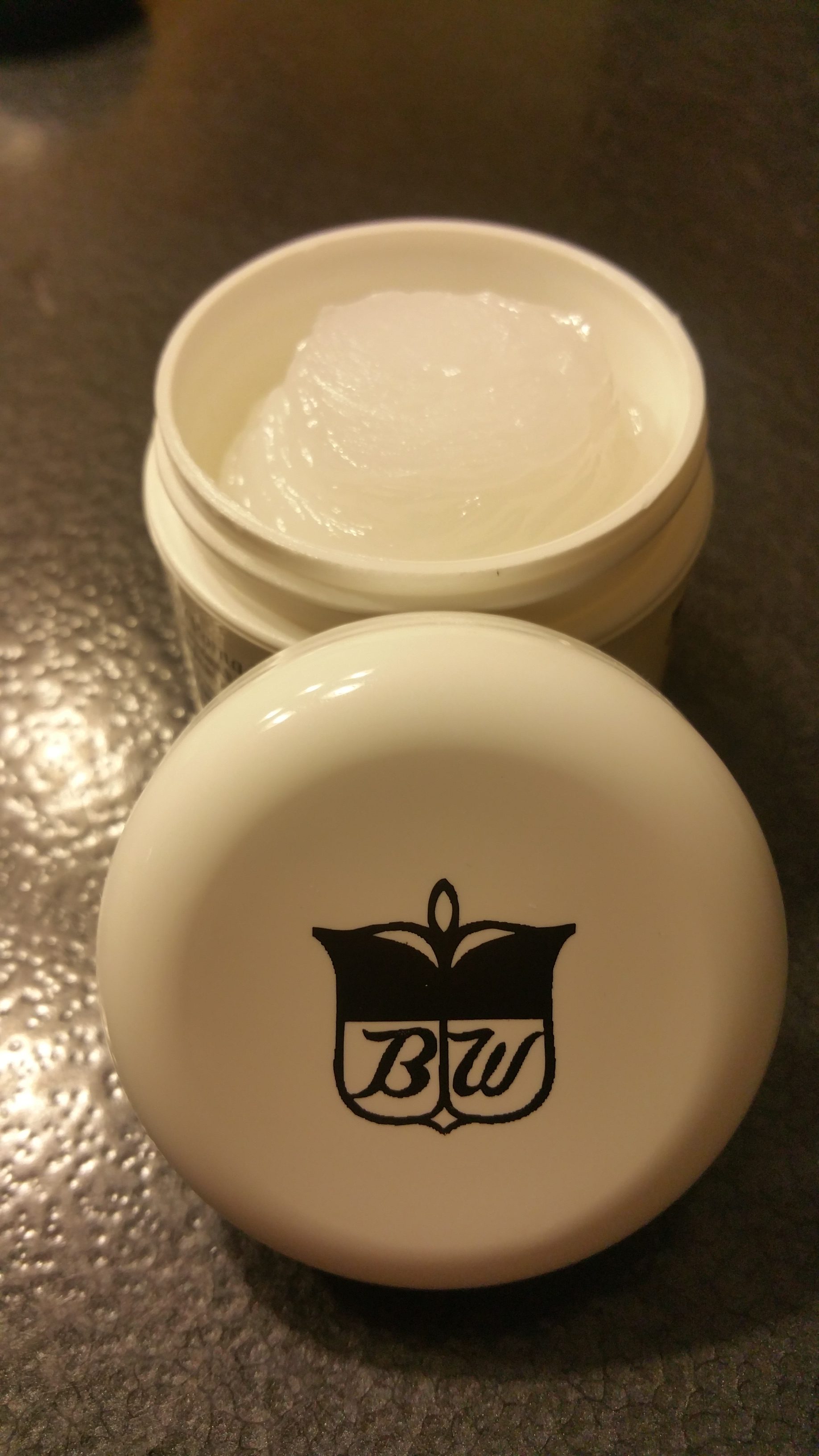 This makes the hair application a bit different than with other water based pomades.  The product being softer it doesn't need to be relaxed.  It is more a question of spreading it in your palms before applying it to the hair.  As with other pomades, you don't need much and it's easy to over do it.  On application it feel a bit wet and I wasn't getting the height in the bangs I usually sport.  About 30 minutes after application, the product had dried a tad.  It would remain at this same stage throughout the day.  The hair does not feel wet, but it does feel minutely greasy or waxy.
This is where this product is somewhat interesting: it is not a grease (or oil) based product.  It is water soluable.  I think that this choice of wording is a technicality.  So it is not "really" a water based pomade, but the claim is that you can wash it out with water contrary to oil based pomades.
Coming back to the feel and look in the hair.  I typically do not like the oil based pomades as they feel oily and are unpleasant to the touch once applied.  Water based pomades tend to dry in place and the level of firmness varies between brands and the amount of pomade that was applied.  Having crispy hair is also unpleasant.  The B&W pomade offers the best of both world.  It is not greasy nor is it crunchy.  I was able to achieve my almost usual look.  Since the product doesn't quite dry, your hair will move a bit more and some re-combing will be required throughout the day.  I will admit enjoying that part as the hair felt interestingly smooth and I found myself touching it more than usual.  I was surprised to see that my bang had in fact gained some height by this repeated pushing back.
It is not a very sticky formulation, so don't expect to be able to accomplish wildly original creation.  But for the staple looks associated with pomades, it does a very decent job.
A note on shine.  This is a whole lot shinier than what I am use too.  Not shiny like you just came out of the ocean.  More like you just finished drying your hair with a towel, shiny.  It is more than what I am use too, but I totally liked it.  Again, it was a perfect compromise between a "Greaser's" Pomade and the water  based options.
Here is the rating on a scale of 1 to 5, where 5 is a perfect score.
Hold: 3
Shine: 5
Texture: 4
Feel in hair: 5
Facility to wash out: 3
September 28, 2016 (Addendum)
After using this pomade for a couple days, I noticed a bit of a buildup in the hair.  Since this pomade's composition contains some oil, it is a bit different to wash out.   My regular shampoo does a great job removing water based pomades, but it is not strong enough to do a thorough job of removing oil based concoctions.   This resulted a bit of product building up between washes and weighing down the hair.  The hair styling was obviously impacted as well.  Heavier hair resulting in reduced styling height. The solution to this is to use a stronger or specialized shampoo, like that you will be able to sport that fantastic look every time.
Use these links to shop for this product: