BluMaan – For the animal in your hair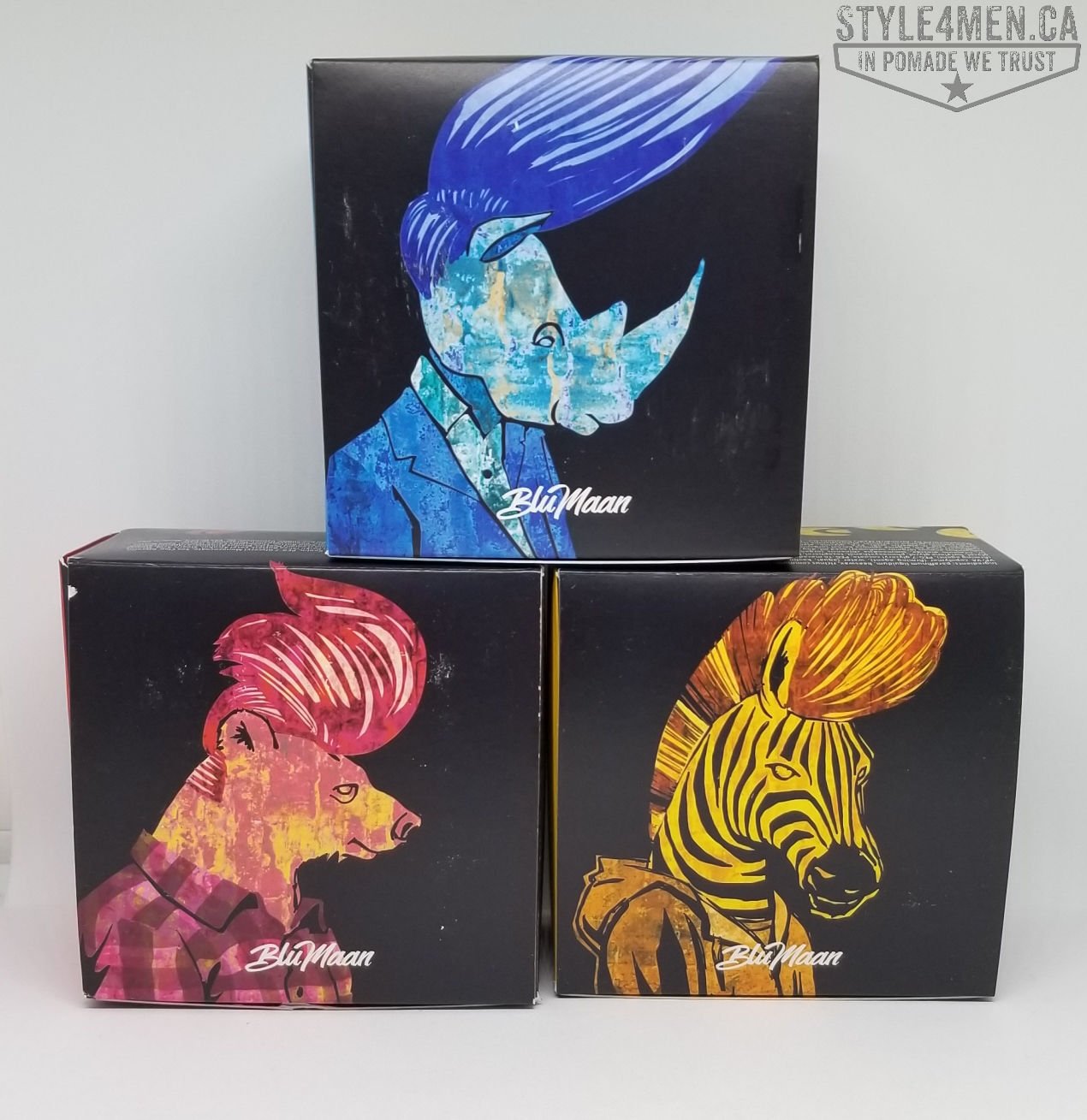 A brand that is certainly getting a lot of exposure on Youtube is BluMaan.  If you ever searched for men's hair grooming or styling, you have for sure seen the fun and energetic BluMaan himself; Joe.

BluMaan currently offers 3 hair styling products.  I say currently because they are in the process of launching a fourth product.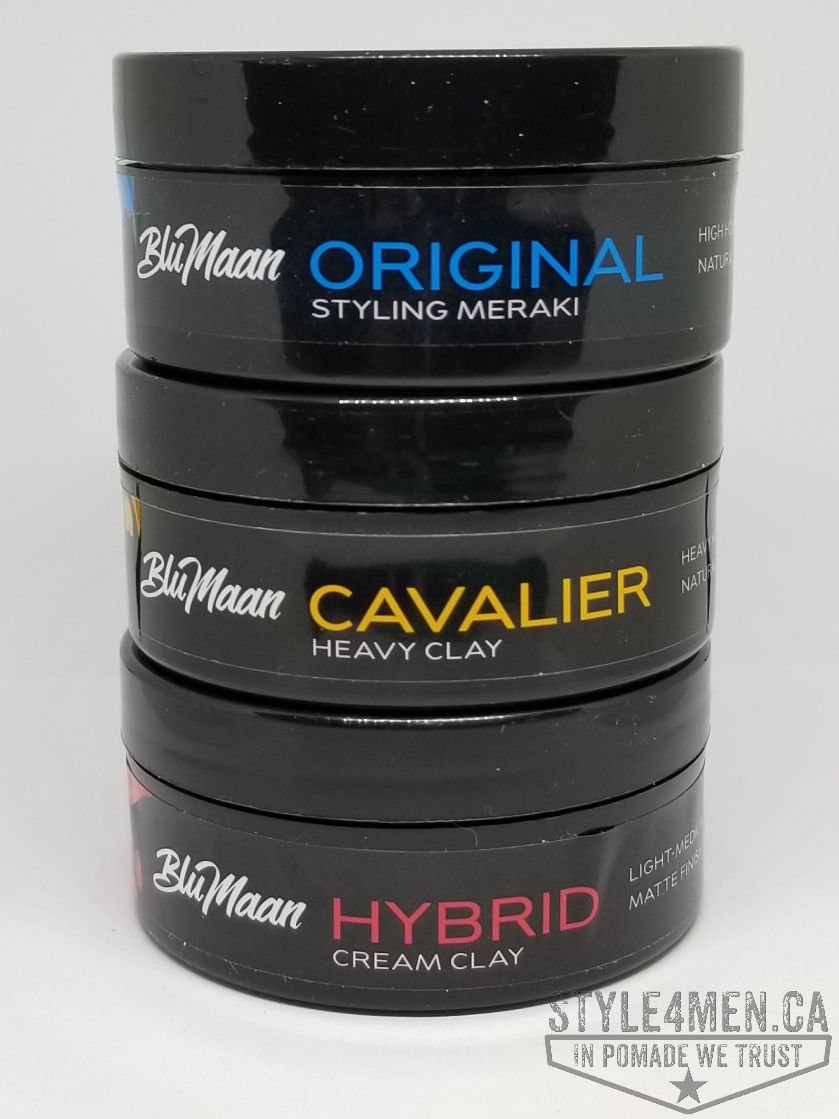 Cavalier Heavy Clay
Hybrid Cream Clay
Original Styling Meraki
A big shout out and thank You goes to Stephen from BluMaan for trusting Style4men.ca for this review.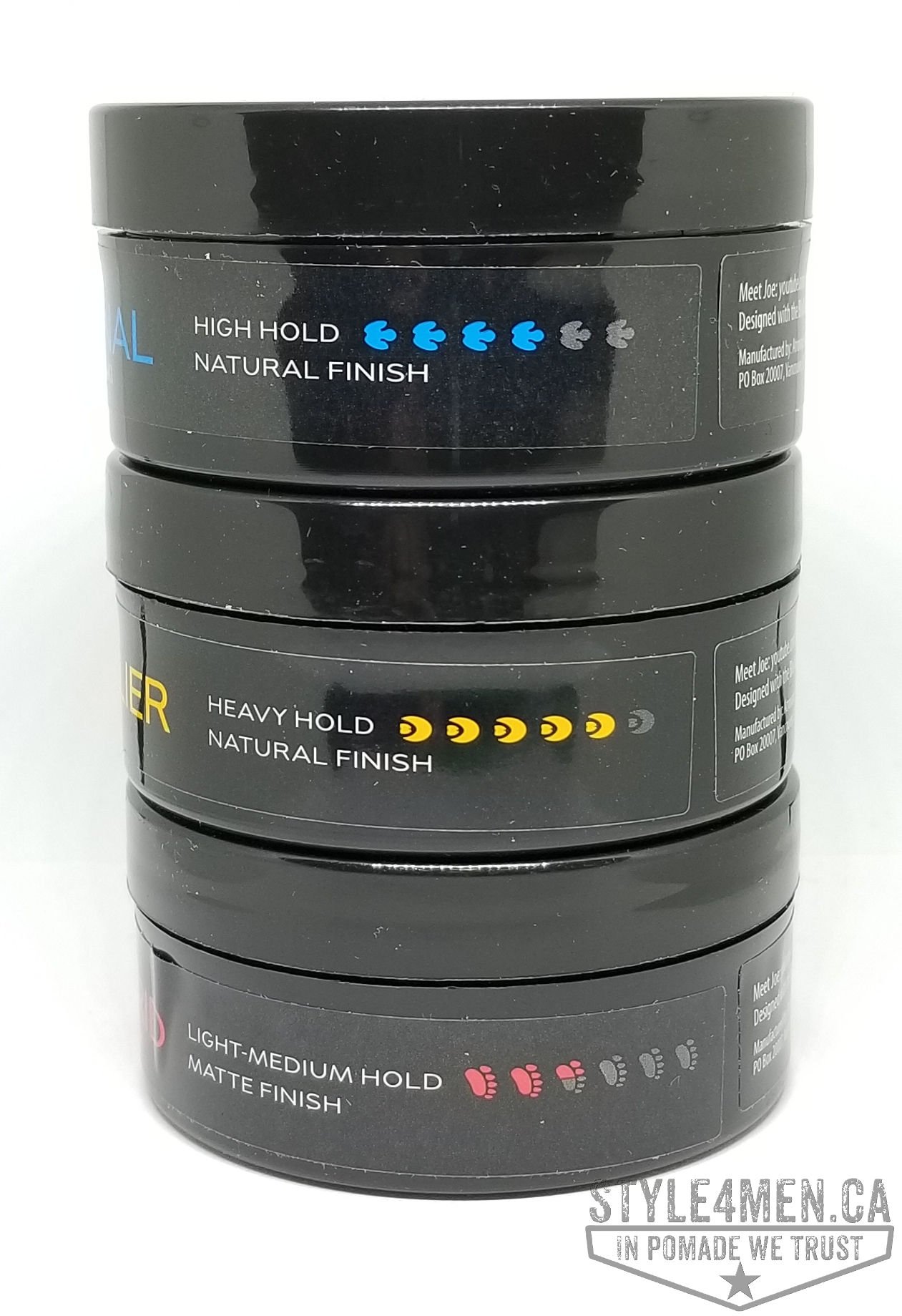 The first thing you will notice about BluMaan products is their packaging.  For those of you who are regulars at Style4men.ca, you have probably figure by now that I love the whole retro-vintage-Rockabilly thing!  But this doesn't mean that I can't appreciate more modern and current looking products.
The BluMaan packaging is certainly modern and totally delivers on originality.  For each of the 3 BluMaan products, a very stylish and amusing work of art has been created.  Clearly a lot of work and fun has been invested in producing this imagery.  In my opinion it's; tasteful, original, slick and fun! These boxes will certainly stick out on the shelves of your favorite hair salon.
I can't help but make the segue that these images are a reminder that everyone is some kind of strange and beautiful animal.
Jumping right into it, the 3 products can essentially be grouped into two purposes.  First off, the Original Styling Meraki is a pre-styler.  While The Hybrid Cream Clay and the Cavalier Heavy Clay are the styling agents.
The Styling Maruki is identified as a "pre-styler".  This means that it is preparatory product or a first step toward achieving your desired look.   For the longest time, this kind of statement would have simply made me go: blaaaah!  This is until I discovered salt spray and other volumizers.  If you have consistently failed to achieve your vision for your hair because of lack of volume, or texture, or simply unmanageable hair; then: read on!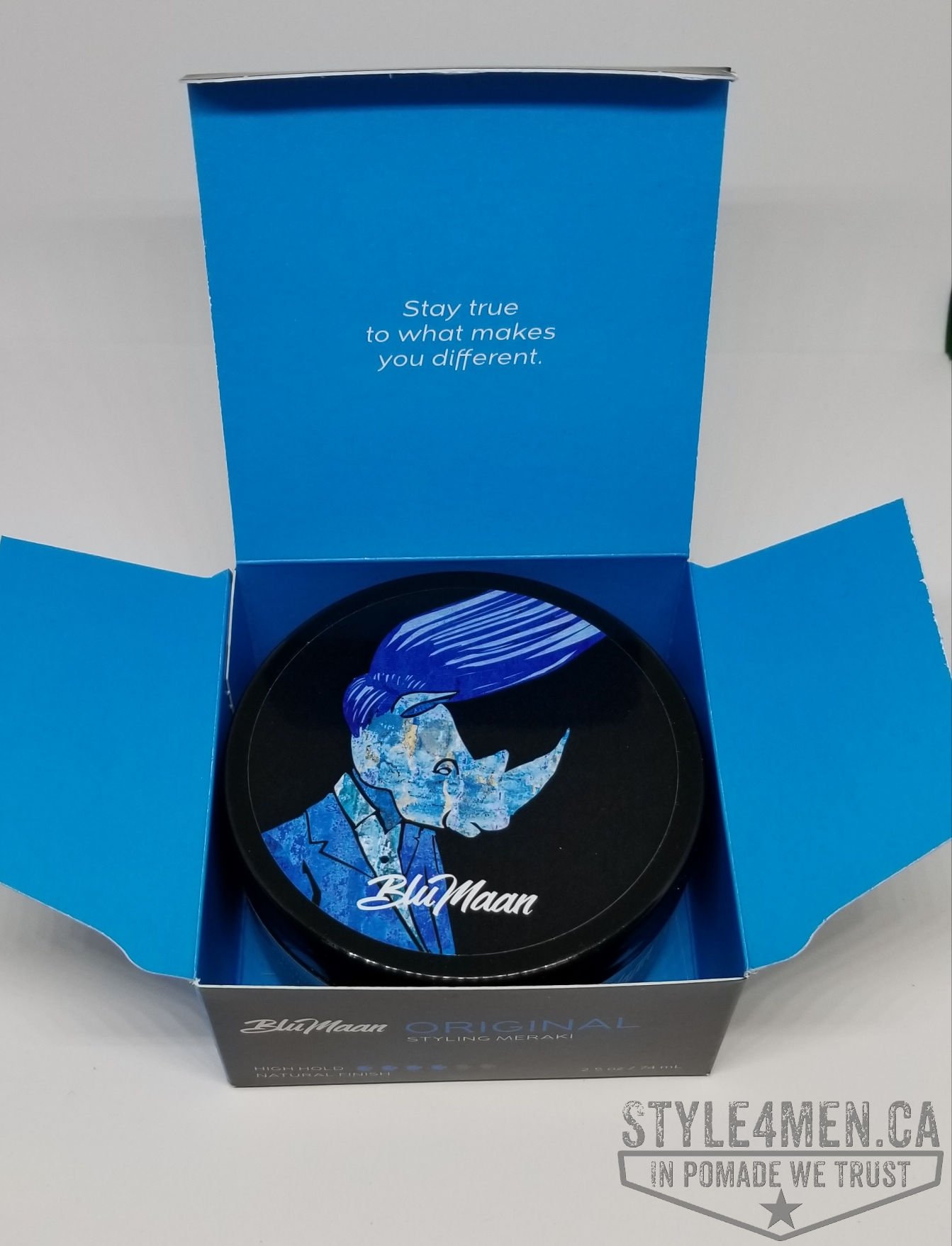 A Pre-Styler is a product whose purpose is create volume and texture before actually styling that whole mess into something stylish.  To date, my favorite pre-stylers have been salt sprays and texturizing sprays.  In the case of the salt sprays I have been squirting a few shots in my towel dried and clean hair before blow-drying.  Once dry, my hair has Mad Scientist volume!  It's totally ridiculous and quite funny.  But once pomade is added to tame this mess, the results is a pretty fantastic pomp.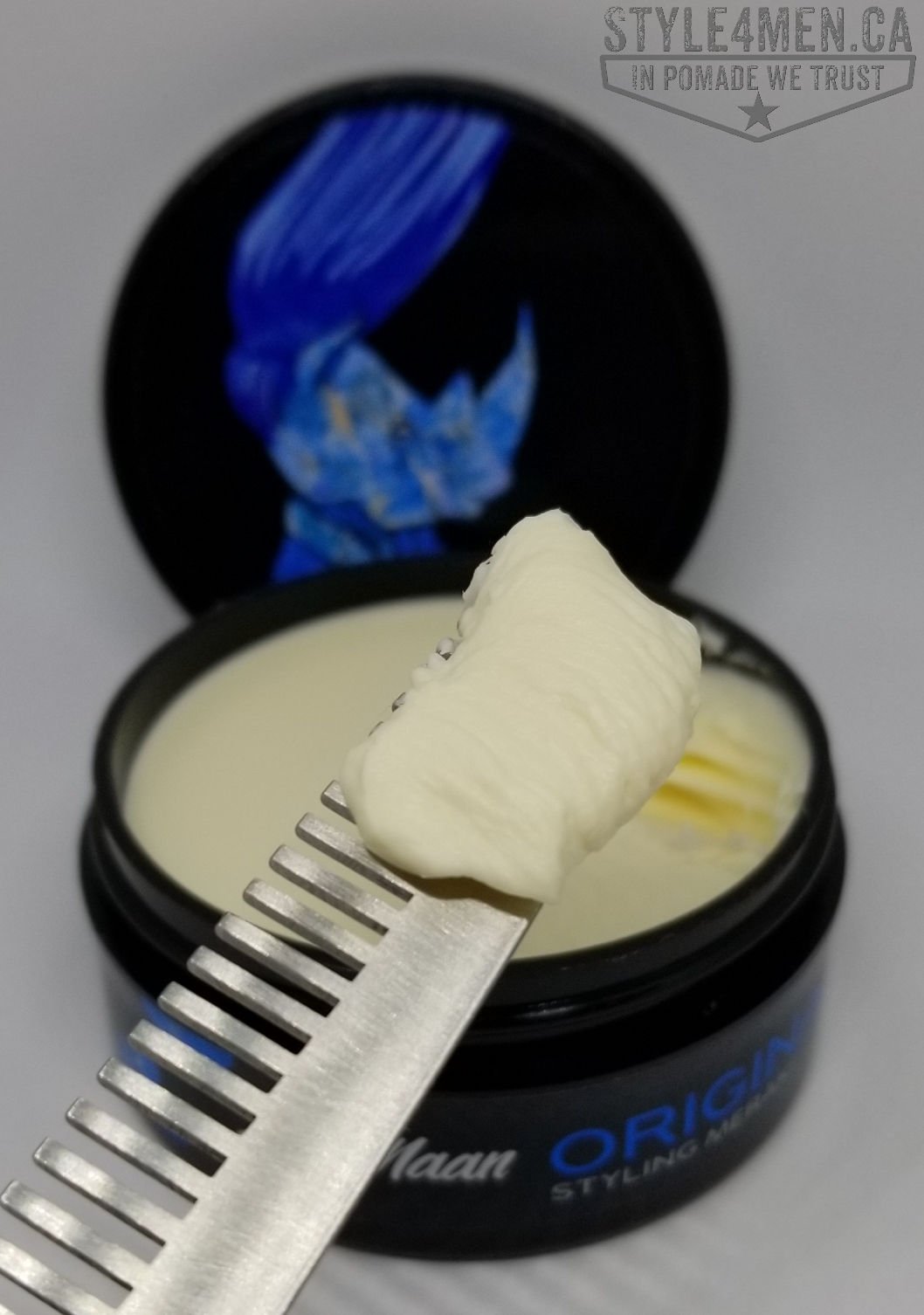 BluMaan, is offering a pre-styler that is not a liquid spray but rather a hair cream.  The delivery mechanism is different, but the result is similar.  Basically, when coming out of the shower, towel dry your hair and scoop out a bit of the "Styling Meraki" and blend it in.  It is very important that you have damp hair, since there is very little moisture in this product and working it in to try hair will most likely result in some tugging and not the good kind.  I used a very small amount of product to prep my hair, about the size of half a nickel.  Clay as a whole is a concentrated solution and only a small amount of product is needed.
At this point, you have two possible paths: Work in the styling product or dry you hair to maximize the volume and texture.  I opt for the hair dryer.  Heat as a very interesting effect on clay as it allows it to bond with the hair.  The result at this point is big and messy volume.  The Rhino on the box is no exaggeration.  It's that potent!  But this will only happen if add heat to the process.  Heat will relax the clay and allow it to bound to your hair.  That magic moment can be felt when all of a sudden your hair will become surprisingly soft or smooth.  Almost as if you had no products at all in the mix.  You will also notice that at this moment you hair has gain some incredible volume.
FYI – The Styling Meraki has nearly no scent and as such it will not impact your cologne ambitions for that day.
Since we are considering the Styling Meraki as a pre-styler, we will consider its job done and move onto the styling.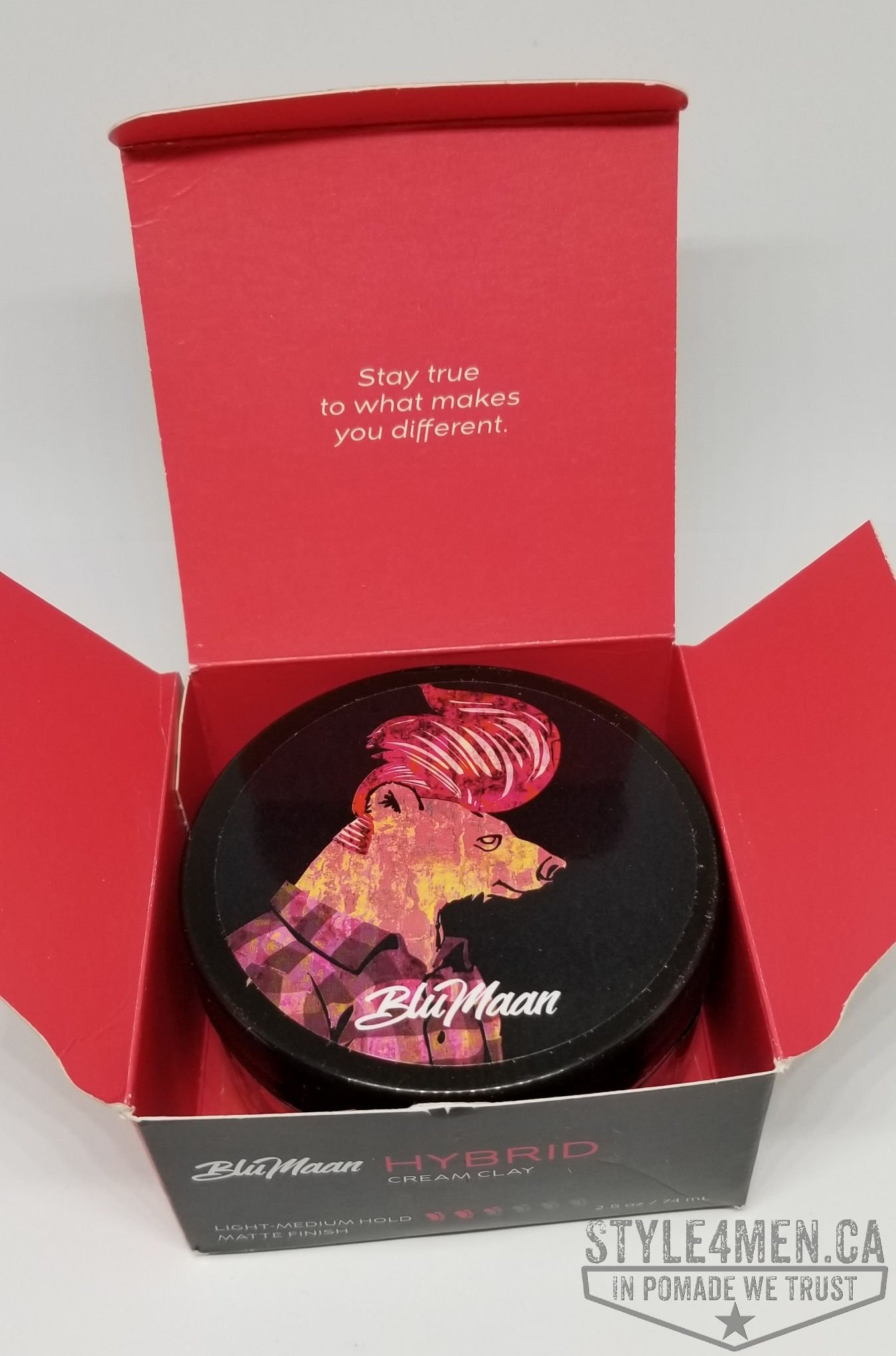 You could perhaps call it quits at this point and just go with the natural look.  If on the other hand you would like something more controlled, then a styling agent.  I went for the Cavalier Heavy Clay.    The "heavy clay" aspect in the name inspired me confidence that it would tame my mope.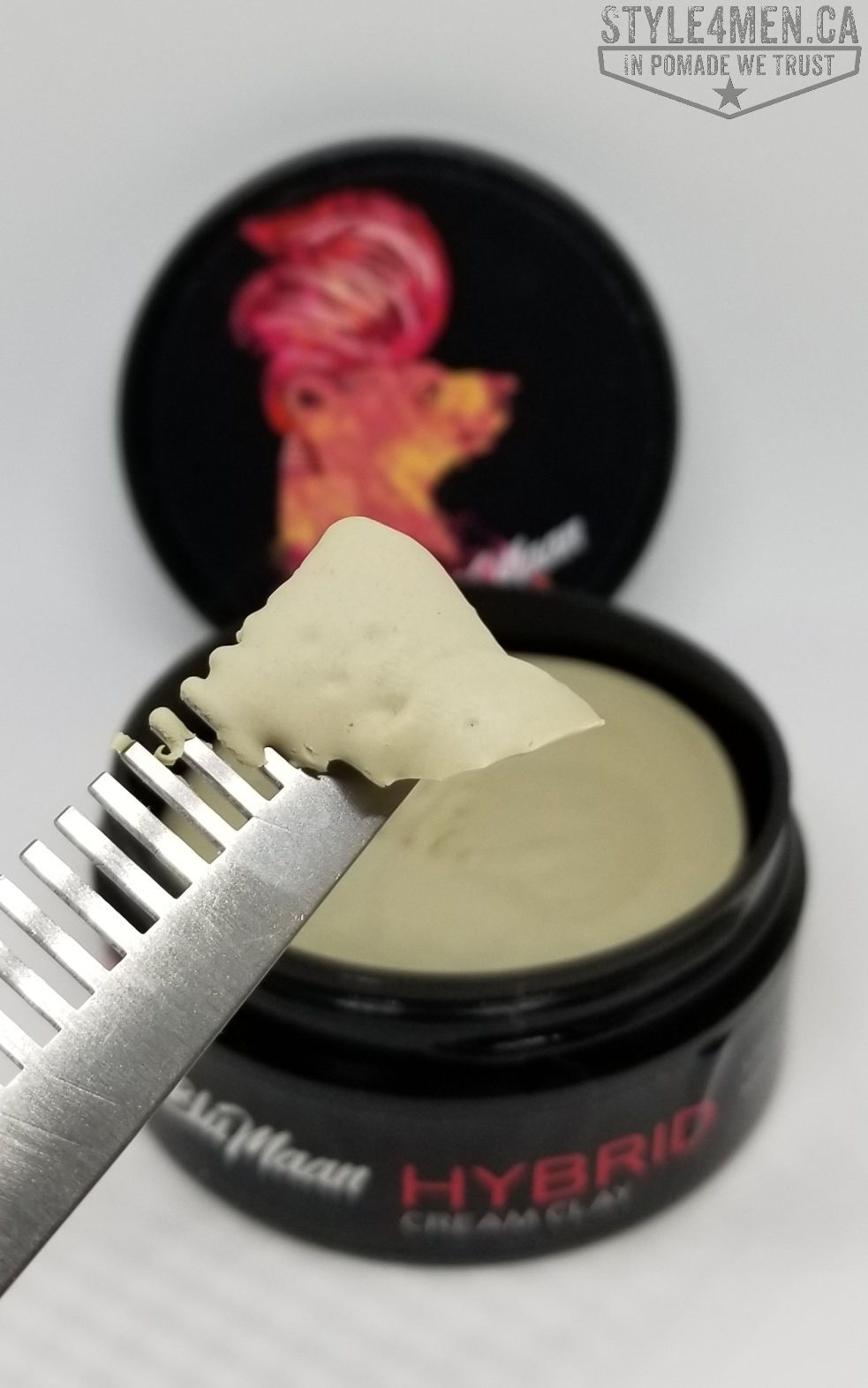 But as mentioned above above, working in clay into dry hair is not a pleasant approach. to remedy to that I squirted a little water mist to offer some moisture for the upcoming clay application.  Again only a very small amount of product is needed and you should be looking at this as only a shaping effort.  You don't need to coat all of your hair.  Just a little where needed to make the whole thing work.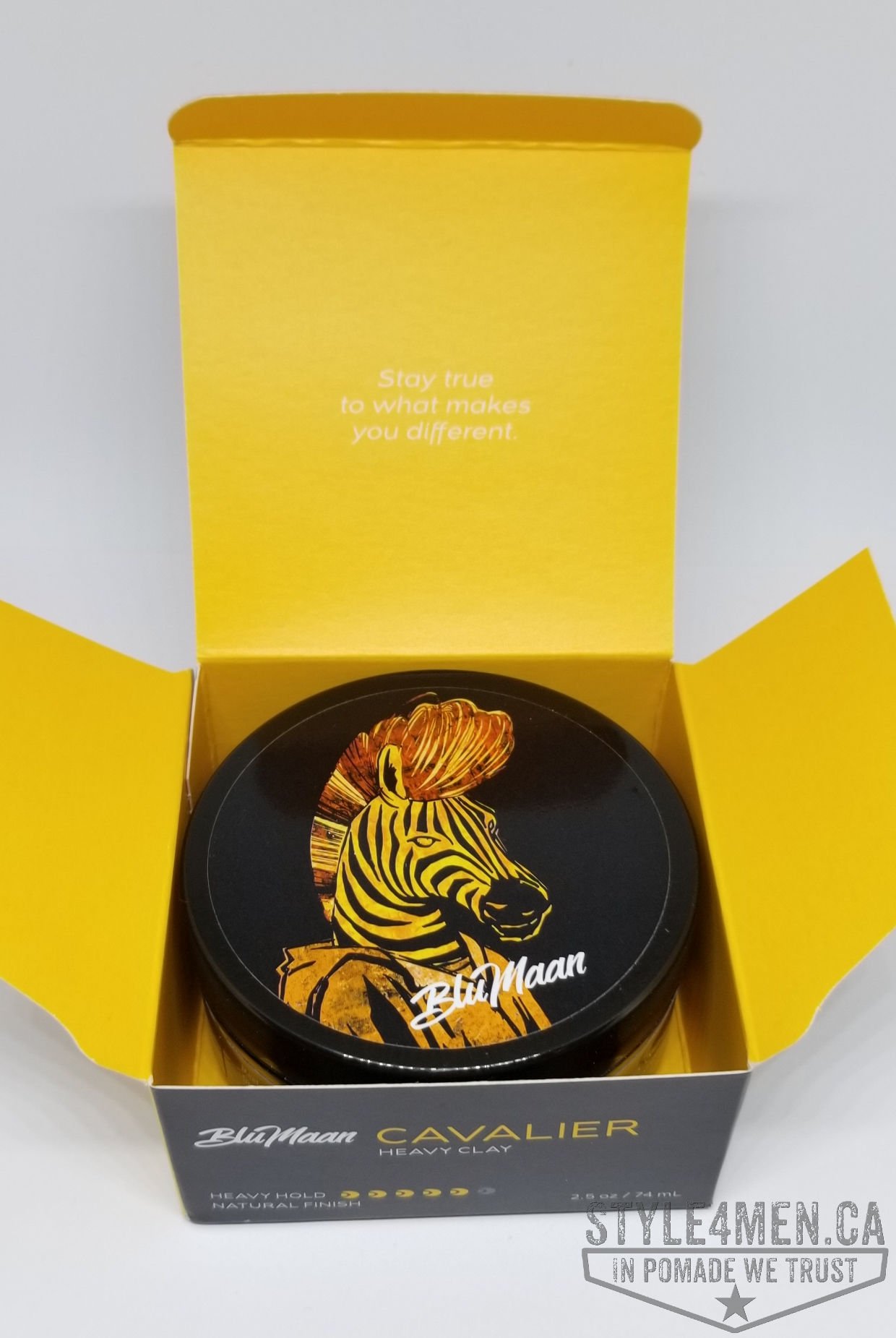 Working with the Cavalier Heavy Clay is somewhat different than working with a water based pomade and the styling results are also different as they render a considerably more natural looking finish.  No shine or wet look going on here.  But for any self-respecting guy out there, you will want more than a hammer in your tool box.  You need different tools for different jobs.  Yes, my main stay style is more along the side of the Rockabilly or early 1940's uppercut, but there are days when you need something different.  Date nights, meeting her parents, Christmas, going to that office job that pays the mortgage.  You get the idea.  So this is where this products line comes in, it's for those days or weeks where you need to look presentable without necessarily selling your soul and giving up on who you are.  Your hair has to look good and dammit there should be some height to that thing!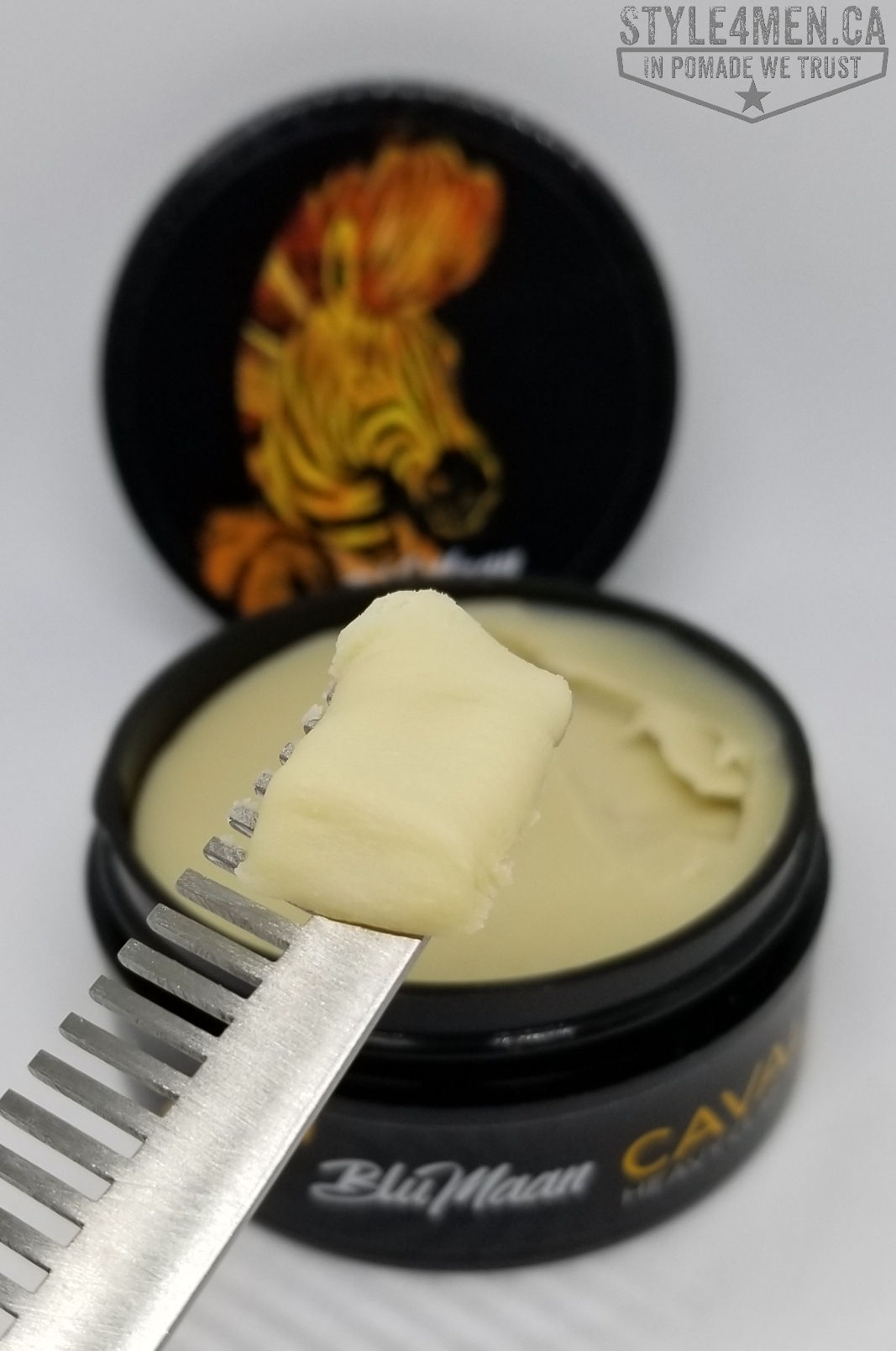 This is not the kind of product that will make your hair do totally different things.  This is the kind of product that will deliver the best possible rendition of your hair.  In my case, the thick and wavy curls remains but looked styled as opposed to their natural chaos.  If your dislike your hair and want to make it do things it naturally can't do, these products will not give you satisfaction.  On the other hand if you want a natural looking hair style, but your hair usually doesn't collaborate, than this is something that will make you smile on your way out the door.
If you want a more committed engagement a few shots of hair spray will give you satisfaction.
PROS:
Awesome volume
Natural and tamed looking results
Perfect for date night or the office
CONS:
Slightly more involved process with at least 2 steps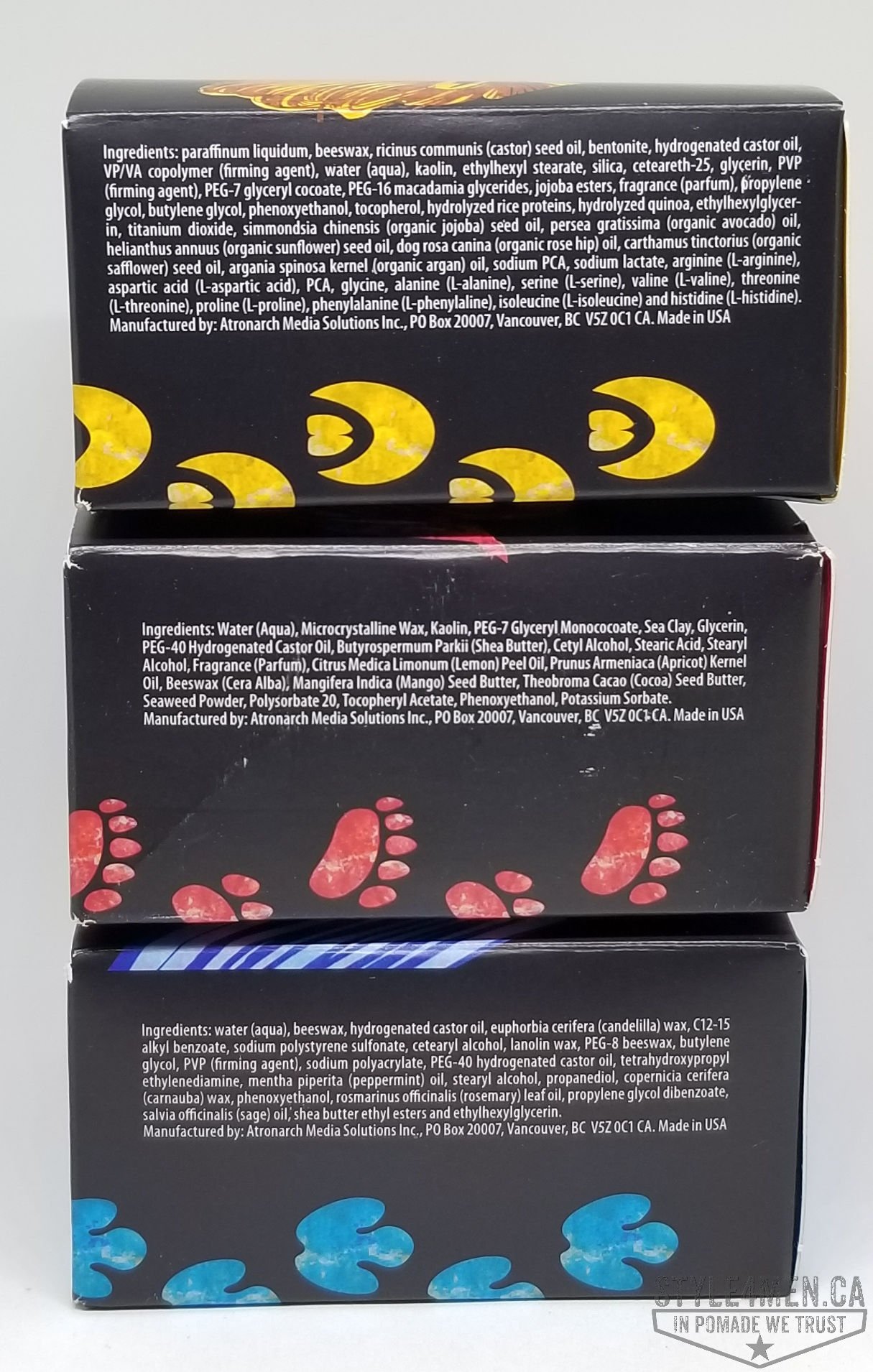 Here is the rating on a scale of 1 to 5, where 5 is a perfect score and/or level of shine:
Hold: 4
Shine: 0 (Clay offers essentially a matte finish)
Texture: 5
Feel in hair: 5++
Facility to wash out: 4 (Most of it will come out with a rinse, but a shampoo is needed to finish the job)
The fun paintings on the jars are not too far from the results you can expect from these products.
You can shop for BluMaan hair styling products via this link: