BOARDWALK Matte Pomade – Rocking "Natural" results
To date, I have been tremendously impressed with BOARDWALK products.  This is true for: the ingenious and original usage of aloe vera as a the main ingredient and water substitute, the excellent hair styling results and last but not least that wonderful BOARDWALK signature scent.  A little before Christmas 2017, when BOARDWALK launched their new Matte Pomade and asked me to try it out, I was honored and eager to get my hands in the jar. A special shout out and thank you to Connor at BOARDWALK for your continued support of the Style4Men.ca project.  We appreciate your trust for this review.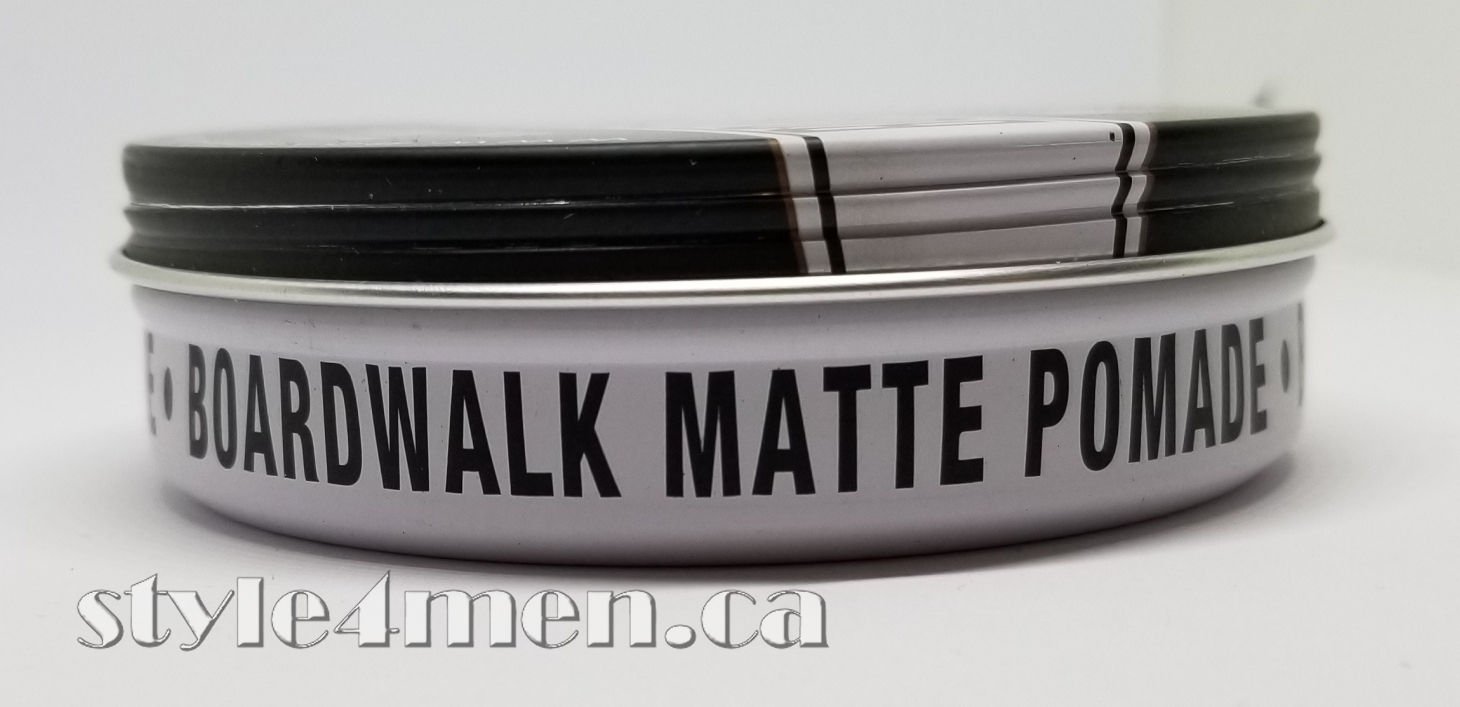 The addition of a "Matte" pomade to the BOARDWALK range is an important one since it fills that styling gap.  The recent Hair Cream is similar, but not really a "firm hold" and "Matte" option.   At a high level the main differences between the cream and the matte pomade are "workability" and "hold".  The cream is in a paste form making it very easy to work with and distribute while offering a medium hold.  When working with the cream I was impressed with the ease of application but had to turn to the BOARDWALK hairspray to lock my style in place.  The Matte Pomade on the other hand is a rather firm product.  We should also clarify that is not really a "pomade" in the true sense, but rather a "clay".
As a hair styling solution, clay is interesting for the following reasons:
Extremely thick and dense substance
Very light
Offers a matte finish result
Easy to wash out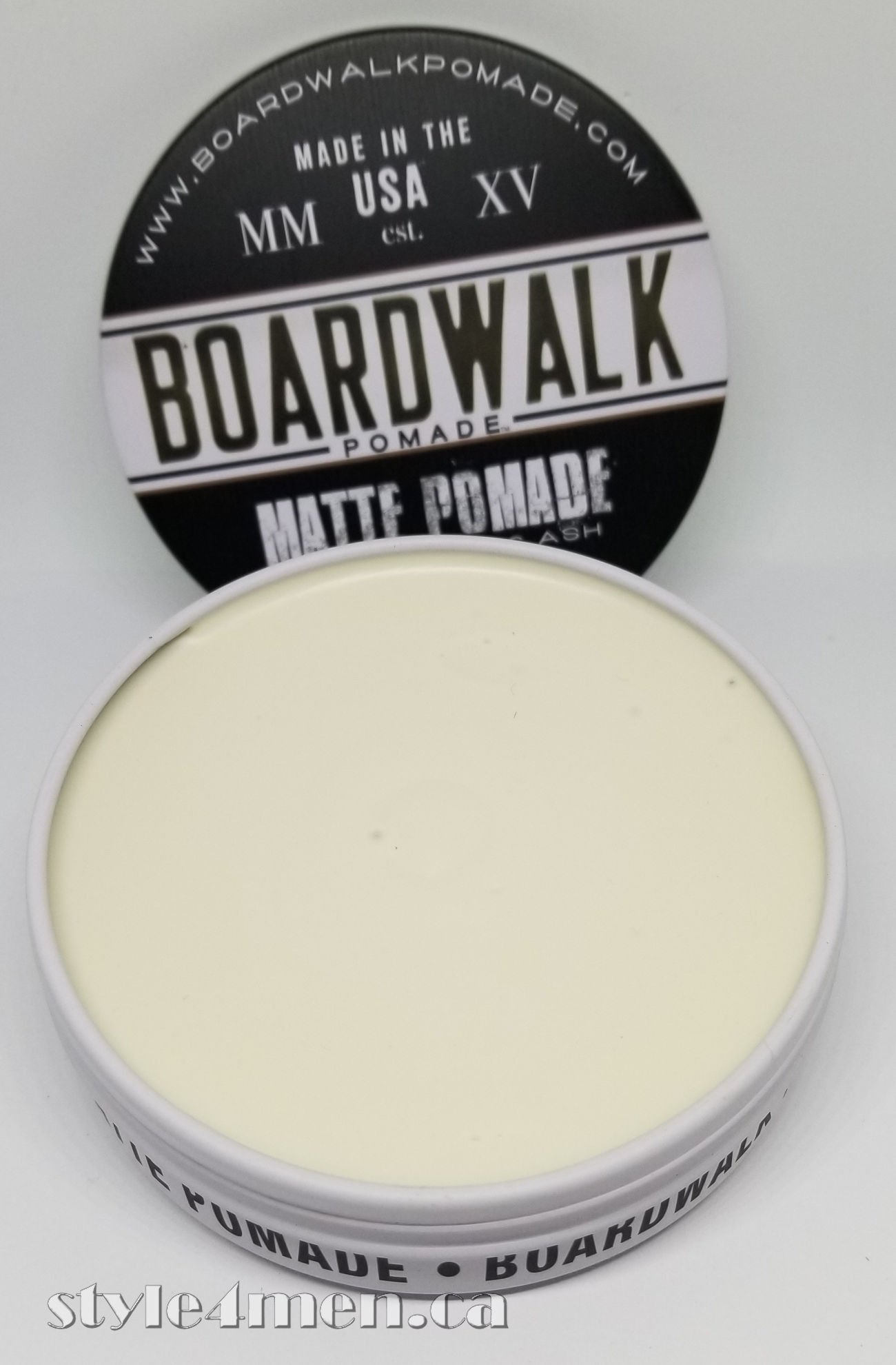 Generally speaking, when you see a hair style that could not possibly be achieved in nature, but yet the hair looks surprisingly "natural", odds are that you are seeing something that was accomplished with hair clay.  A smooth-matte quiff for example would be done with such a fixative.   Another appeal to clay is that it is a fairly simple concoctions that doesn't call for a full blown chemical party to keep and hold the ingredients together.  The folks at BOARDWALK are very conscientious of this concern and aim to keep their products as simple and healthy as possible.  If this is the first time you read up on "clay" as a hair fixative, you can start to see why there is a fuss.
That being said, it's not all puppies and rainbows.  Clay's have the following weak points:
They tend to be hard to work with, application wise since they seize or dry extremely fast
The hair styling results are about half-day's worth
The necessary re-application tends to make the hair waxy and tacky to the touch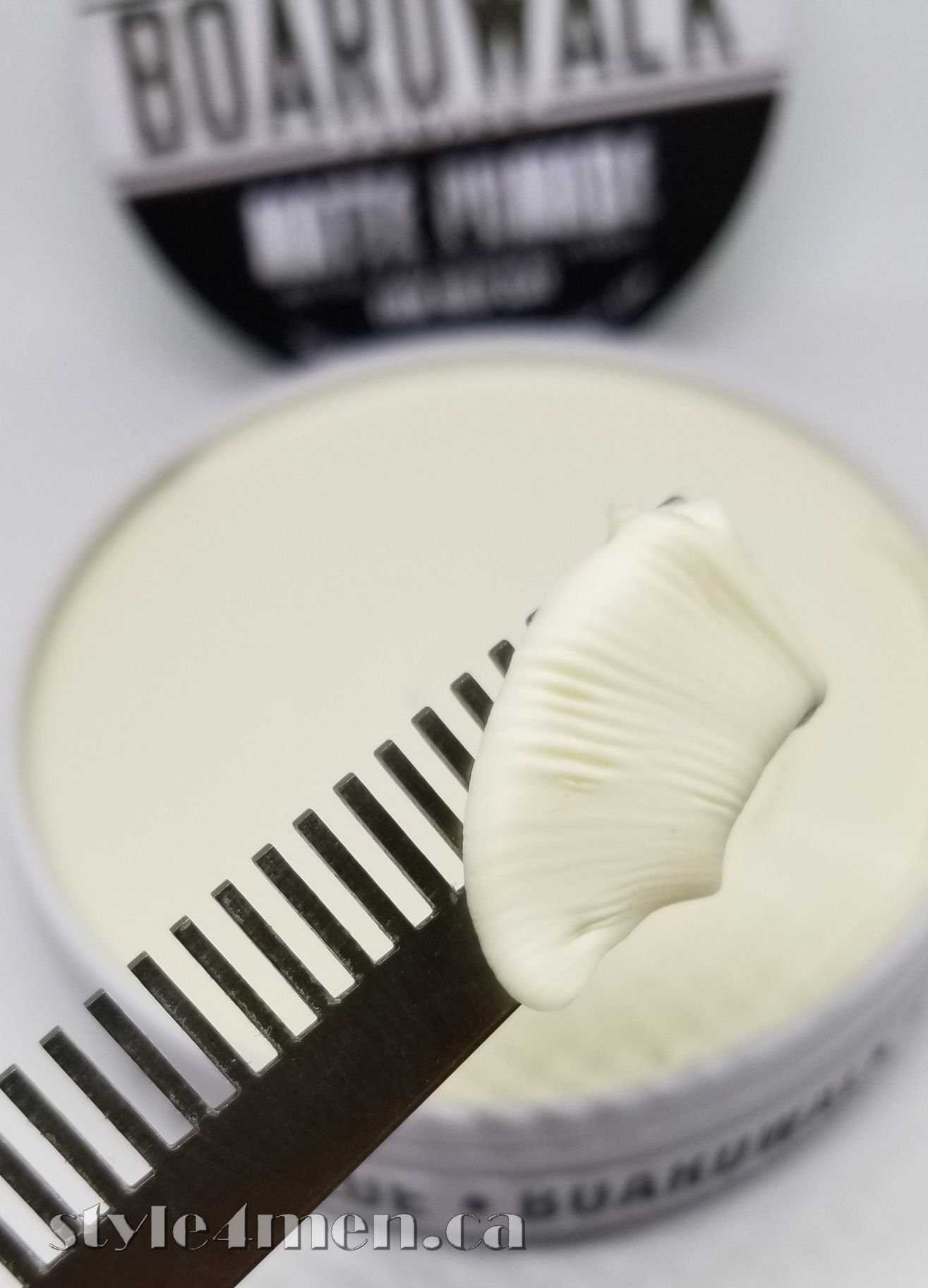 These observations are the results of my other clay explorations.  The BOARDWALK Matte Clay won me over by being considerably easier to work with than most other clay's.  Application is smooth and you don't feel it seizing nearly instantly.  You have a normal amount of time to get things styled the way you want.  As mentioned above, the lightness of the clay opens the doors to fun and elevated hair styles even for my long mop.
Being wiser from previous experience I started with a very small amount of clay.  It relaxed exactly the same way as pomade and was very comfortable to apply and distribute.  It covered and blended into the hair without trouble.   I did not feel the typical waxy texture of clay and the hair was still nice to touch.  Clay on it's own doesn't work and a few other elements need to be invited, wax is one of those guests.  Again the folks at BOARDWALK bring us a well rounded product and the amount of wax is well dosed.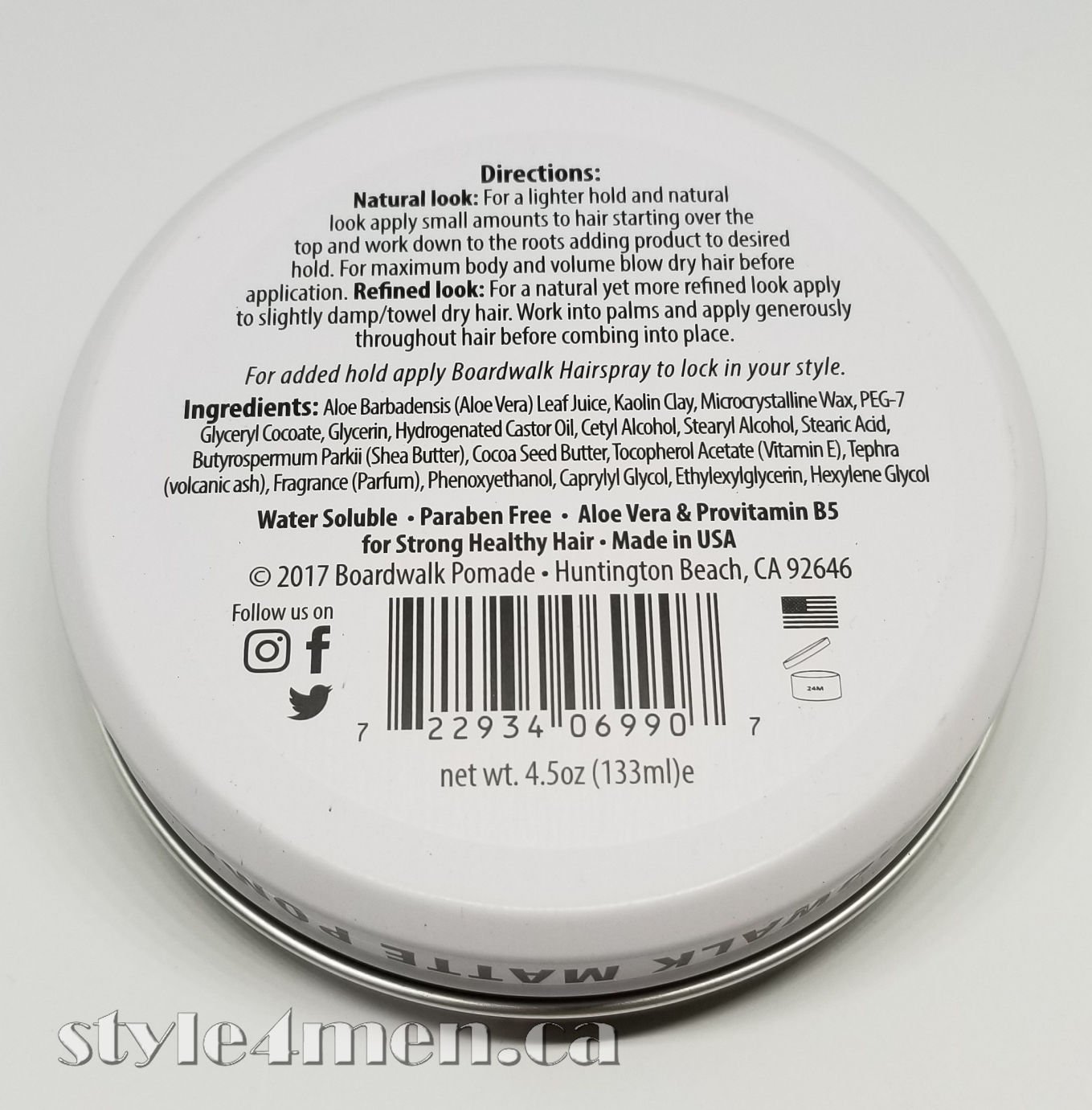 I styled my do around 7 AM and this mud had my hair looking slick until about 1 PM before needing to be revisited. In that sense it is not an all-day styling solution but considering its natural looking results, we can forgive this.
Here is the rating on a scale of 1 to 5, where 5 is a perfect score and/or level of shine:
Hold: 3.5
Shine: 0 (For those of you looking for a real "matte" finish – this is it!)
Texture: 4
Feel in hair: 4
Facility to wash out:  5
In case you are concerned about how you might wash this stuff out, worry not!  It's no different than any other water soluble hair fixative.  A simple rinse under the shower head will do most of the job and a little shampoo will complete it.  As with other BOARDWALK products, the leading ingredient is Aloe Vera. So we can't really say that this is a water based product, but certainly water soluble.  You will also see shea butter which is another skin/hair care Rock Star.
Volcanic ash
In the ladies beauty care side of thing, volcanic ashes or charcoal have been used in face masks as well as other application for it's dirt lifting properties for some time. Charcoal has now made it's way into the men's grooming regimen with a number of charcoal face washes being readily available.  Using volcanic ashes in hair fixatives is the next natural step. In fact, it might be more of a full circle.  What I mean is that as we become more aware of the damage harsh chemicals have on us and we move away from them, we are also returning to simpler natural solutions. It is almost as if we had forgotten all of the goodness Mother Earth has provided us and we are rediscovering everything with new eyes. Volcanic ash being one of these thing we might not had realized could be used for hair styling.  Curiosity and experimentation is what got us into the chemical mess we are now in, but these same qualities might also get us out of it.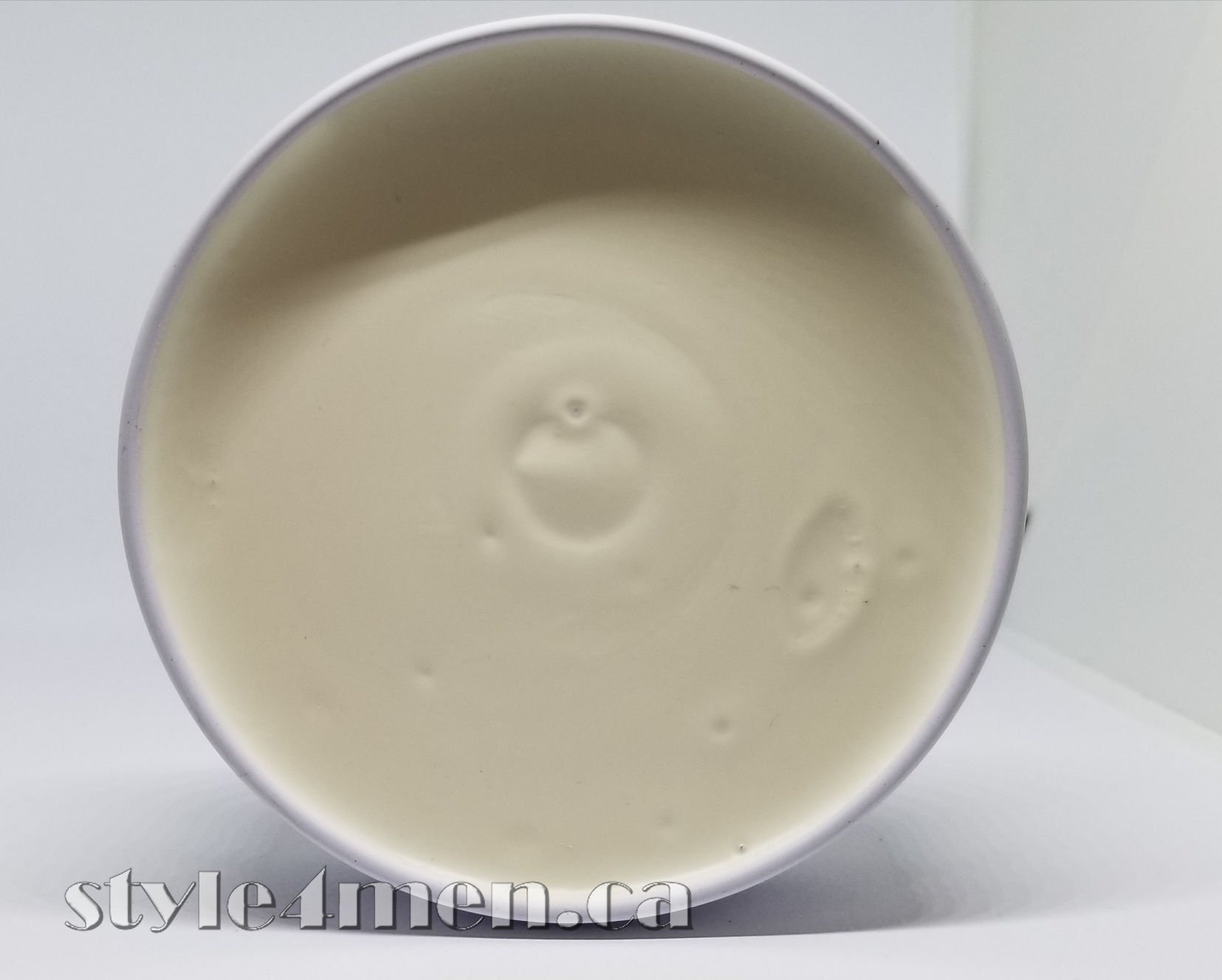 I am a convinced disciple of pomade, but also realized that as awesome as pomade is, it is not suitable for every occasion or situations.  There are days where you need a product with serious hold, but perhaps with a more discreet finish.  For these days, a matte pomade will be your "Go-To" solution and the BOARDWALK matte pomade is a mighty option.
Use these links to shop for BOARDWALK products: