BOARDWALK Strong hold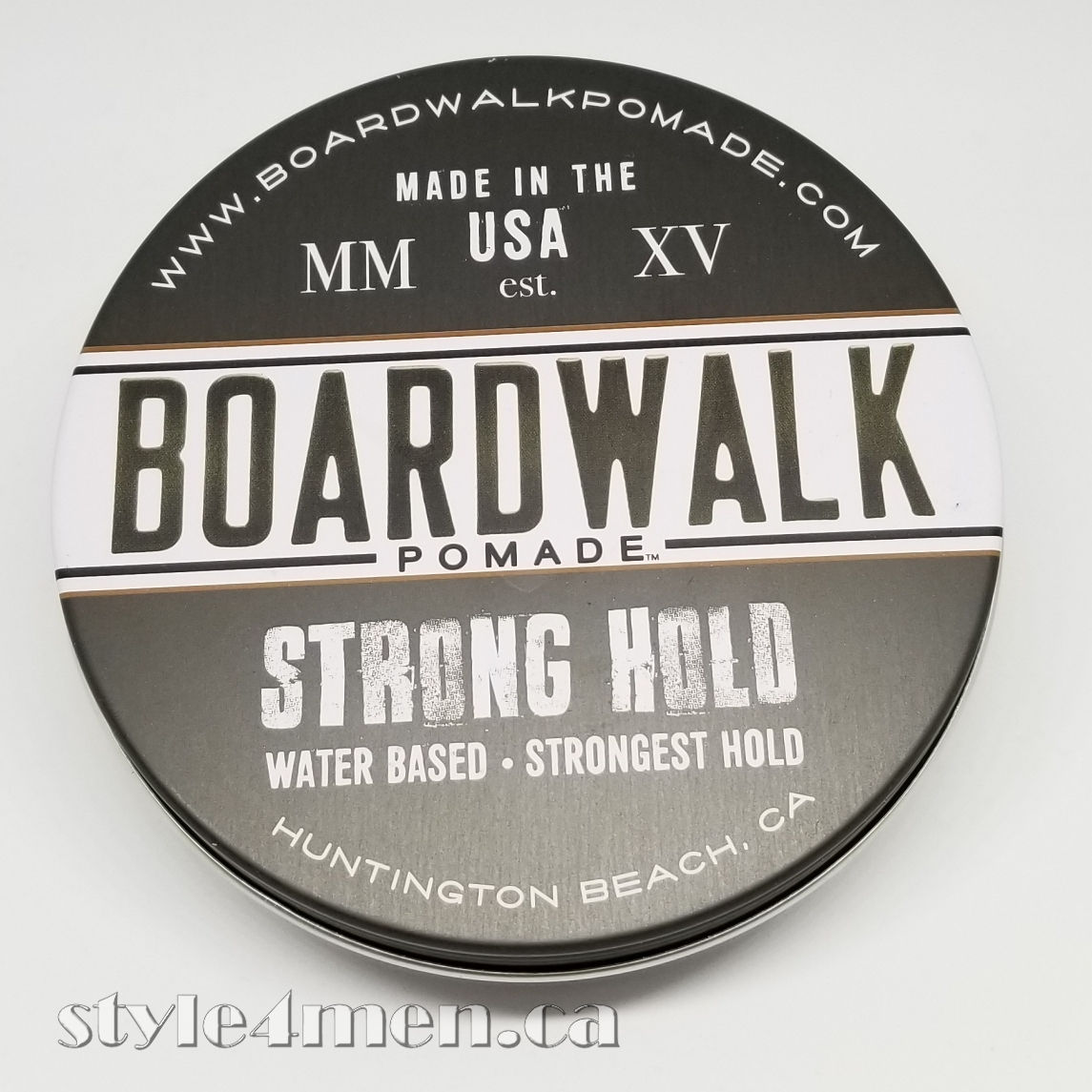 A few months back, I tried the BOARDWALK pomade and was totally impressed with the whole affair: vintage aluminum thin can,  retro labeling, scent, texture, hold and wash-ability.  For my taste, this was pomade perfection!  Trying more of their product was just a question of time.  The opportunity came as a result of a pomade conversation with my friend Aaron at Not your Father's Barber Shop some time in August.  I mentioned the Boardwalk pomade and backed it up by pulling out my jar which I conveniently had on hand.  He liked it so much that he decided to order a case for the shop.  On my next visit, the jars were there.  Boardwalk produced 2 types of pomades; a regular hold and a strong hold.   Boardwalk also produces a hairspray that I would eventually like to try.  My last review covered the "regular" hold. The jars being conveniently on hand I just had to purchase one of the "Strong Hold".  This post will cover the strong hold.

As you can see in the pictures, this is very inviting product with a red-brown hue.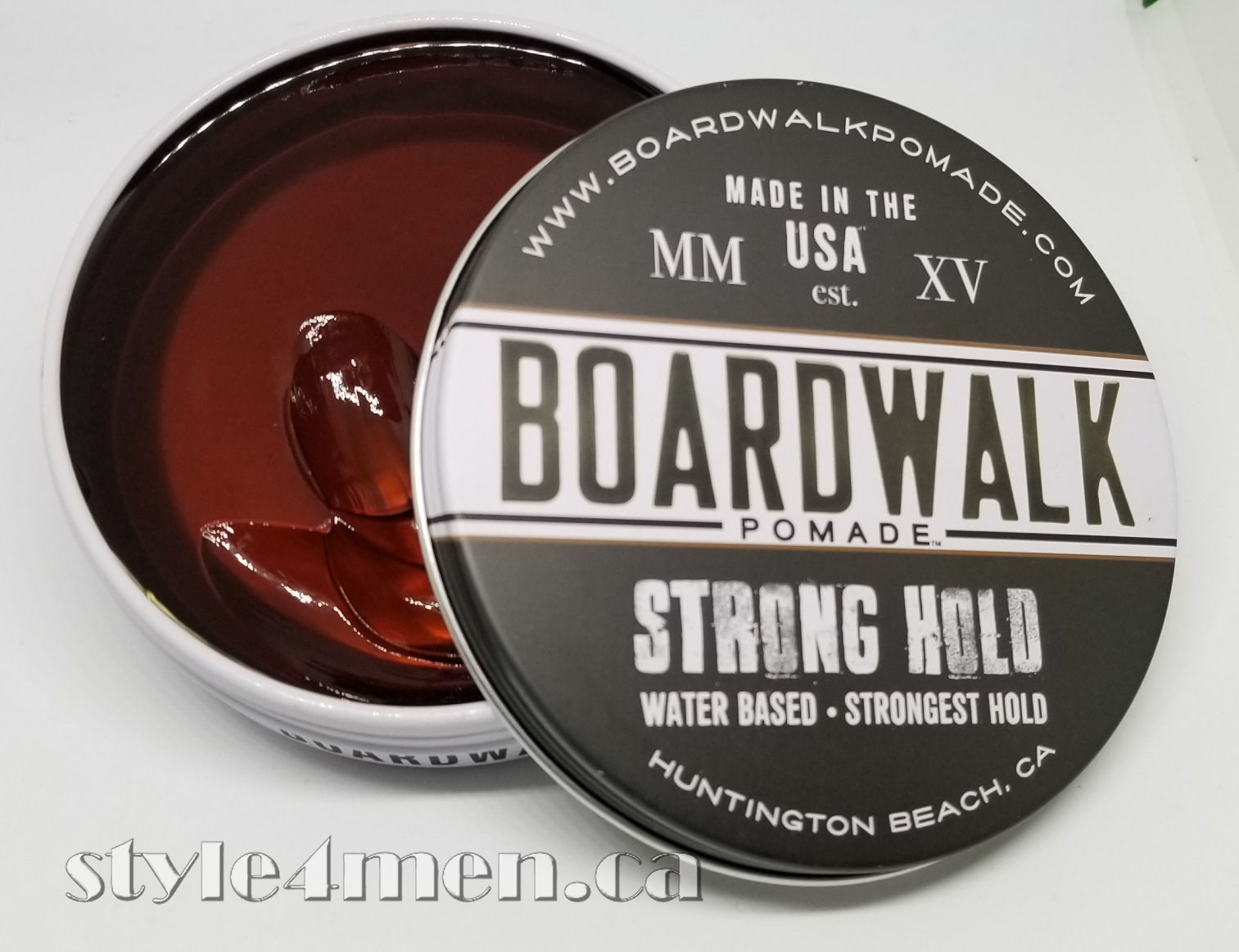 In the review of the regular hold pomade, I praised Boardwalk for keeping the recipe simple as well as original by replacing water with aloe vera.  The same can be said of the strong hold pomade.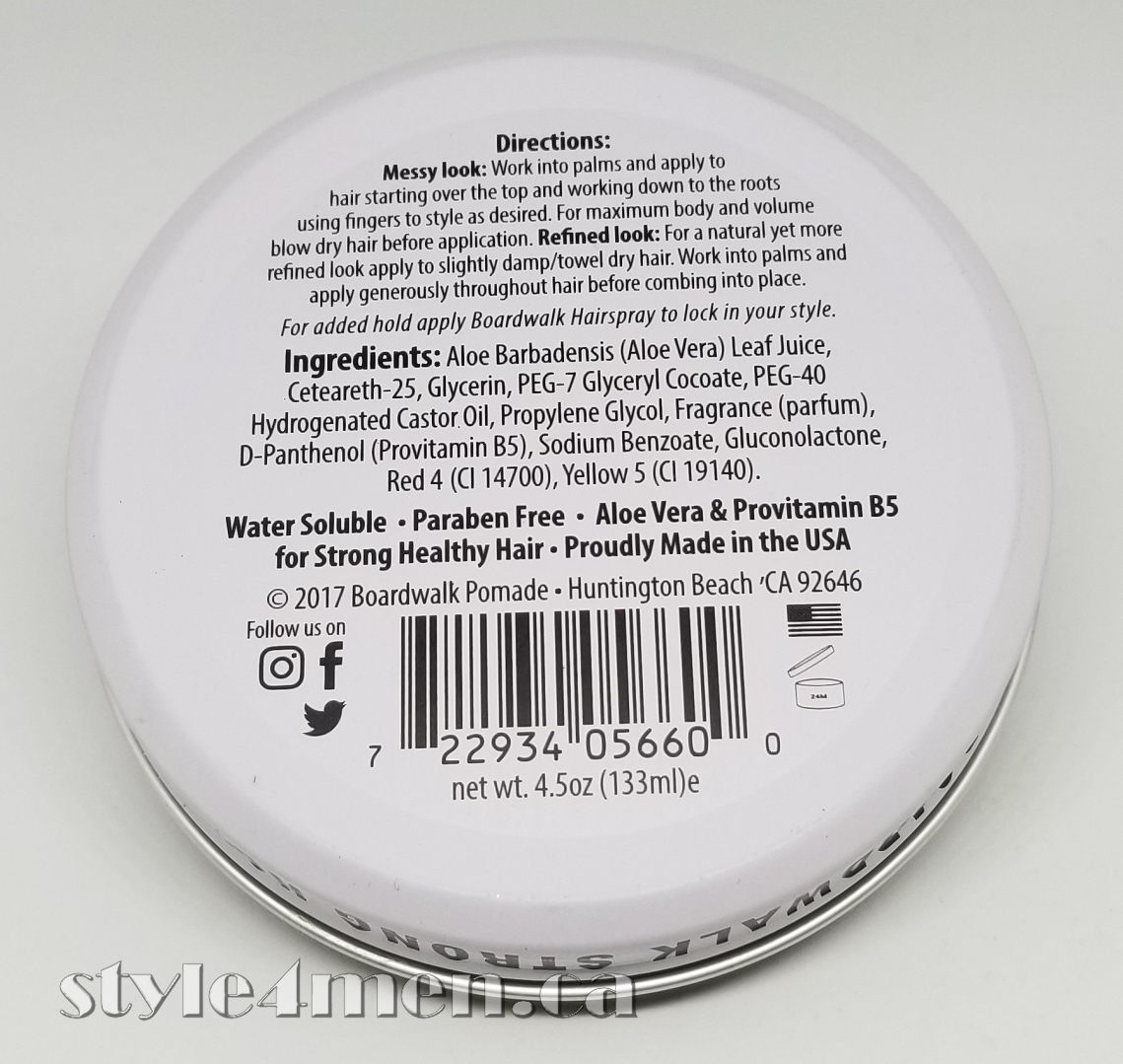 I can't say that I did not like this pomade.  It is without the shadow of a doubt one of the better options out there.  But that being said, the strong hold iteration did not work as well in my hair as the "Regular hold" did.  I know…I am surprised as well.  Usually, the strong hold iteration of a given pomade brand is the same with more humpft!  In this case, it feels almost like a different product.  Let's clarify that.  It feels like there are elements of wax and oil that I did not become aware of using the "regular" edition.
When comparing the labels, there are less ingredients in the strong hold than in the regular hold.  Here are the 2 ingredient that did not make it in the strong hold: PVD and PEG-8 Beeswax.  I have no idea what PVD might be and my little searches are not rendering useful information. Beeswax on the other hand is the basis for most natural or home-made pomade and is obviously also invited to many commercial pomade parties as well.
These ingredient differences do not make the Strong hold a bad product, not at all!  It just means that it behaves a tad differently.  For one, it made my hair a bit darker.  Having dark brown hair with some white/grey starting to show here and there – the element of darkness is totally OK with me!  When manipulating the pomade in my palms I would have been incapable of differentiating it from the regular hold. But when applying to the hair, you become aware that it is a tad heavier.  This pomade also feels a tad waxier with a slight element of oil I had not noticed in the regular hold.  This leads to the product not drying in the same manner.  the pomade stays active a longer time and weight the hair down a bit more. Usually, when that is the case I use a bit of hairspray to lock the style in place so I don't have to worry about it during the day.  This approach generally works well but here because of those little elements of oil and wax, the hairspray didn't have much of a surface to lock onto and dry.  The whole style worked out well regardless, but it is more of a "greaser" looking result.  Dark and shiny!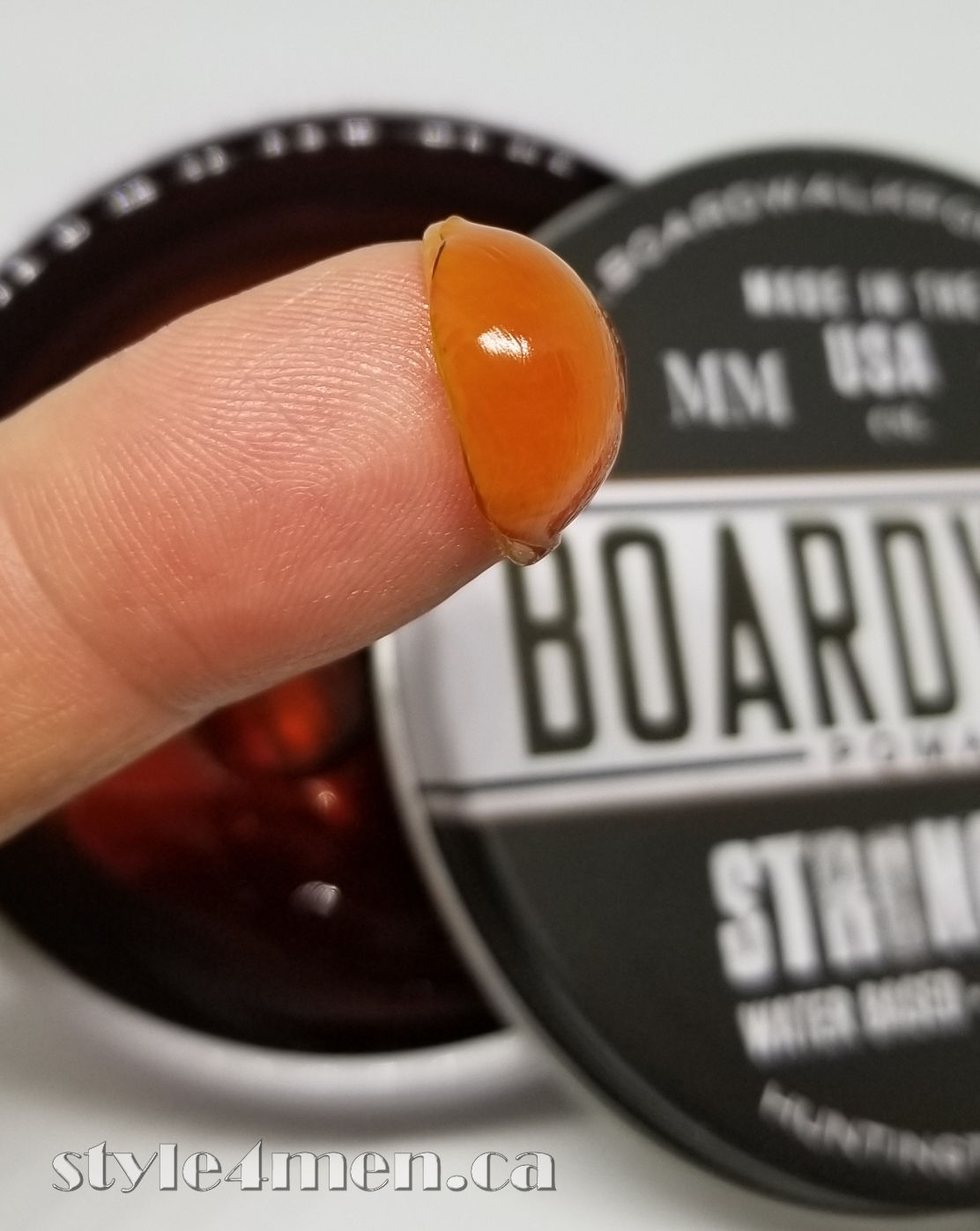 Here is the rating on a scale of 1 to 5, where 5 is a perfect score and/or the level of shine.
Hold: 4.5
Shine: 4
Texture: 5
Feel in hair: 3
Facility to wash out: 5
In closing, this is a good and proper pomade, but for my hair the "Regular" hold is the winner!
Here is the Boardwalk pomade display at Not Your Father's Barber.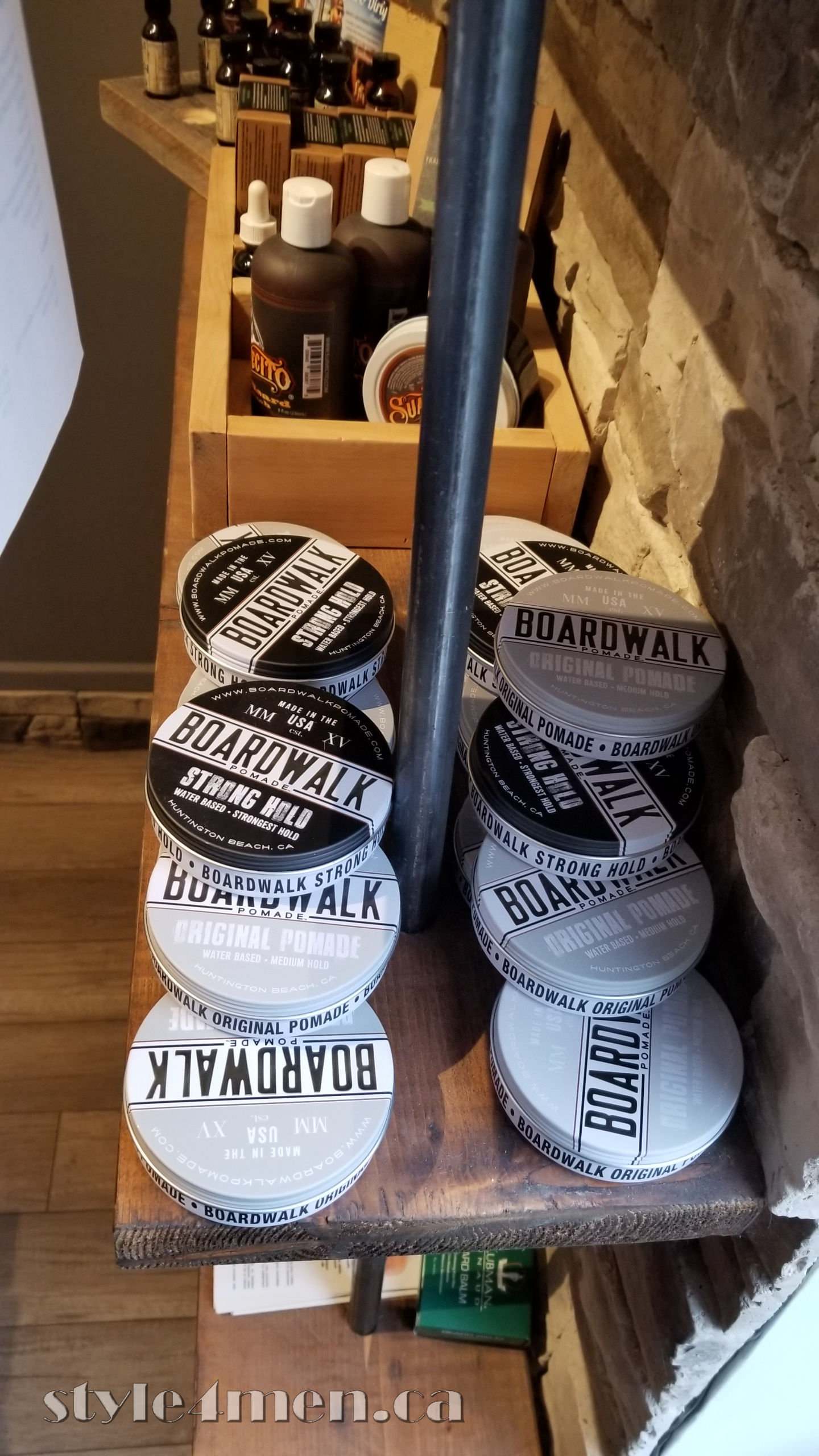 Use these links to shop for this product: