Boardwalk – What a pomade should be!
This morning I tried a new pomade; Boardwalk original.  WOW this stuff is nice!  I love everything about it.  The container, the labeling, the colour of the pomade, its fragrance, its texture and the results!  This is exactly what I have been looking for and I am thrilled to have tried it.
I got my thin can on Amazon.com for $12.99 + $6.43 of shipping to Canada, for a grand total of $19.42.  With the current exchange that will workout to some $26.
Even though at a glance the thin can might look standard, it is not.  First off, it is actually much bigger than the common 100 g at 148 g.  The can is also shorter and wider giving it a bit of uniqueness.  The labeling is done in a way to make it look aged, giving it that authentic flavour.  The retro feel is well done.
When opening this pomade, you are greeted by a fabulous scent!  Think: melted brown sugar, caramel, coco, bay rum and maybe coca cola   I am immediately transported to a beautiful beach.  The name "Boardwalk" works!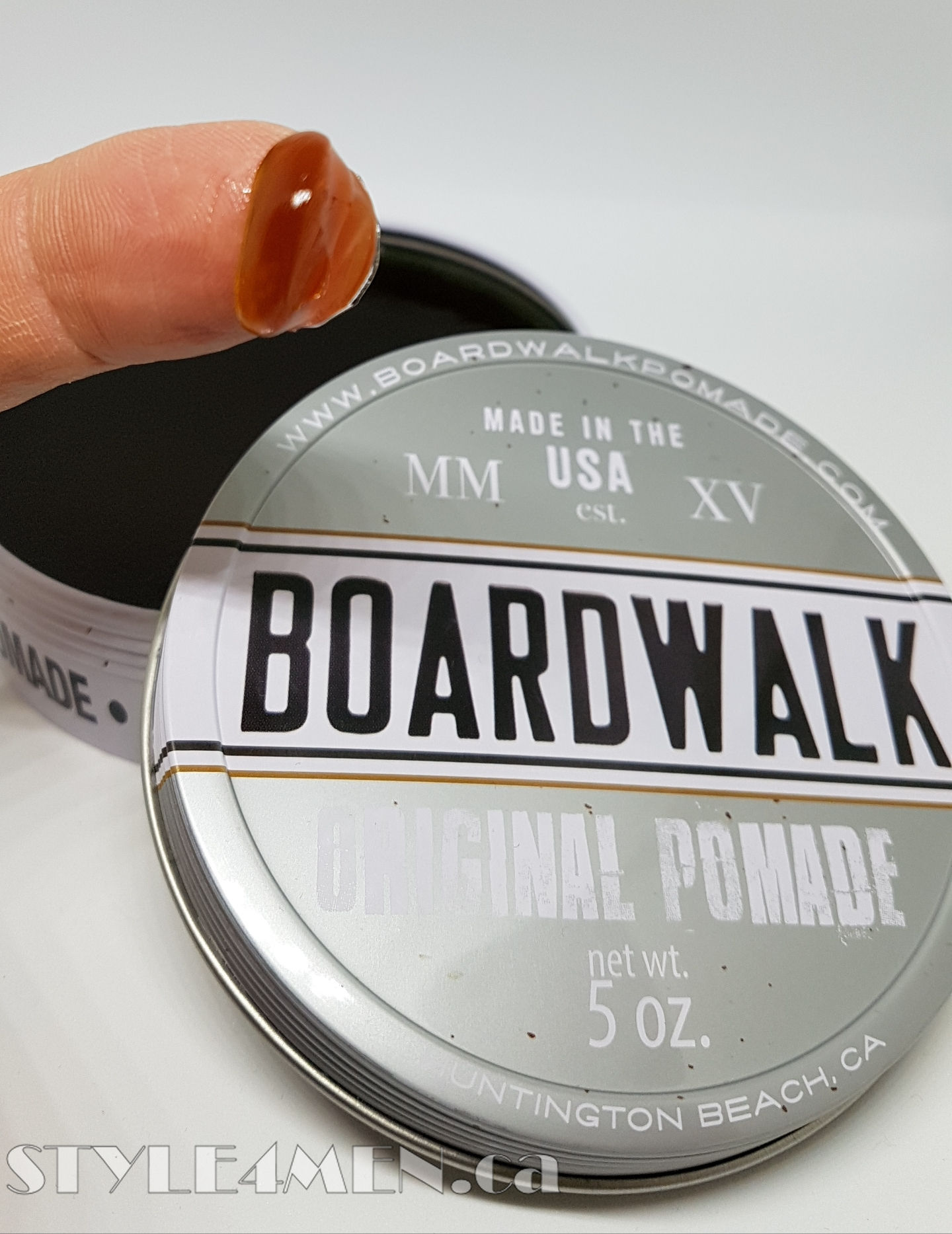 The pomade itself is a nice golden brown, which blends nicely in the hair giving it a slightly darker shade.  I have dark brown hair but the grey and white has started on my side burns.  When compared to clay or mud products that actually make your hair look a lighter shade, this is the welcomed opposite.
Some 7 hours after application, my hair is at it was styled this morning.  No restyling needed.  The hair feels nice to the touch.  It's firm but not crunchy.  It also hasn't dried out my scalp – so read that has no itchiness.  My bangs are getting quite long at perhaps 6-7 inches and not every pomade can tame that.   Boardwalk can!
Because of the pomade colour, texture and scent it reminds me allot of the Australian Uppercut Deluxe which I had thoroughly enjoyed.  Now having used it for 2 days, I think I like the Boardwalk a bit more.  But we are in the same space; the top floor of pomade accomplishment.
Concerning the ingredient list, typically the first item is water.  Boardwalk took a different approach and is using Aloe Vera.  Considering the credentials of Aloe Vera, we can only be impressed to have it joining the party on the Boardwalk. This is a small affair for close friends only and you will notice that the guest list is quite short.
Just to make sure it's clear, this pomade will fit in the water based or water soluble pomade category.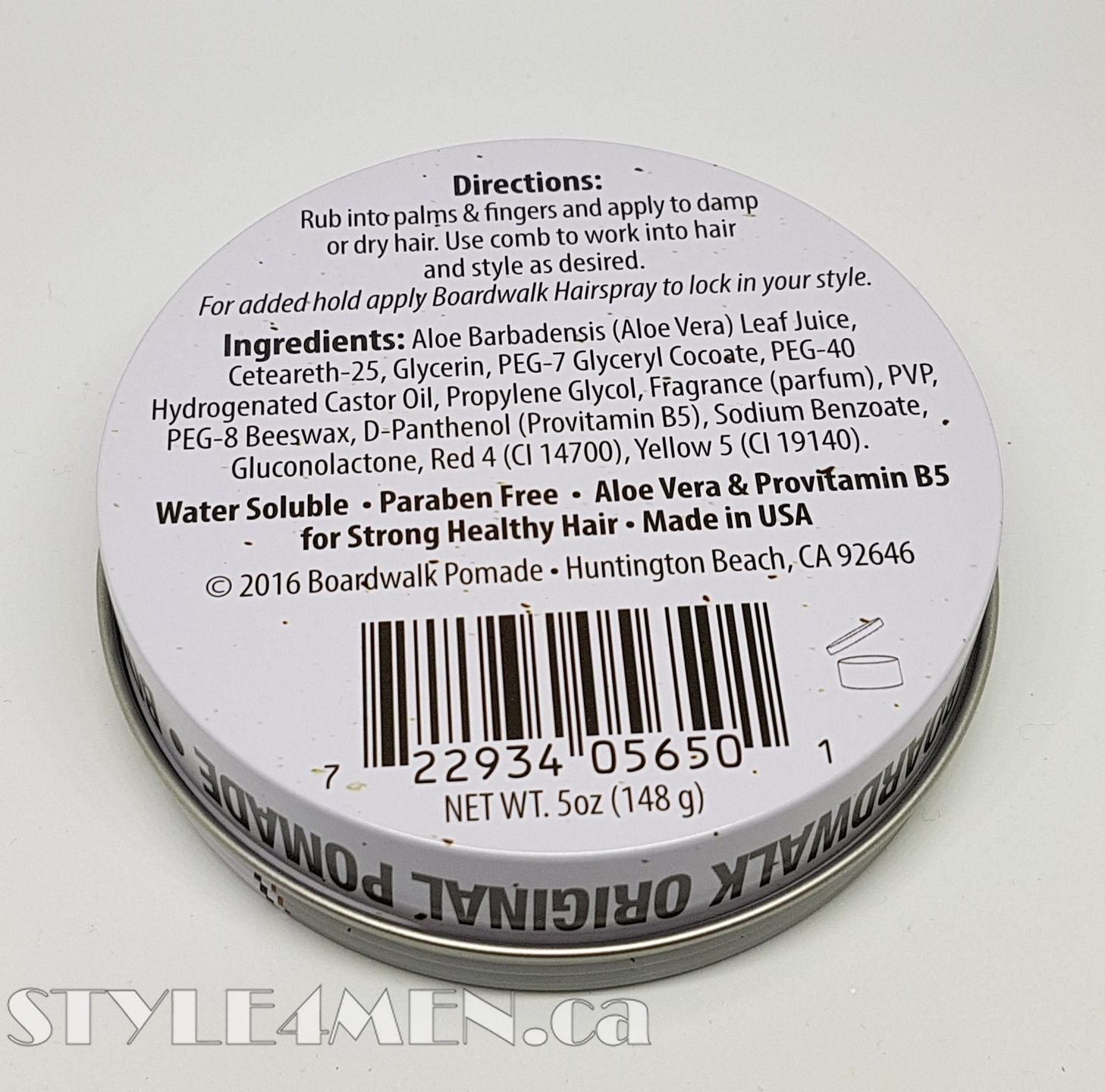 As of late, I haven't been as excited about the hair products I have tested, but this "Boardwalk" is reminding me why and how pomades converted me.
In so many words, the Boardwalk pomade is 100% Style4Men approved!
Here is the rating on a scale of 1 to 5, where 5 is a perfect score and/or the level of shine.
Hold: 5
Shine: 3
Texture: 4
Feel in hair: 4.5
Facility to wash out: 5
You can shop for this product using the below links: