A call to pomade makers: Shipping costs are hindering the industry
This started out as a paragraph within a review for the latest Suavecito Fall 2017 pomade.   But I got carried away by the subject and opted to take it into a post of its own.
Being in Canada, I more or less have to rely on my Canadian suppliers to purchase Suavecito products at a reasonable price.  Up front buying from the US sounds like a bargain with the jar going for $13, but by the time you factor in shipping and the exchange rate, it no longer makes any sense as you are looking at a $30 bill.  The Canadian dollar has gone up making the exchange rate considerably more palatable, but the shipping costs have  reached the ridiculous.  The recurring cost I am seeing at Suavecito along with other pomade makers is some $15 US to ship a 100 g jar to Canada.  With today's exchange $15 US  = $18.72 Canadian.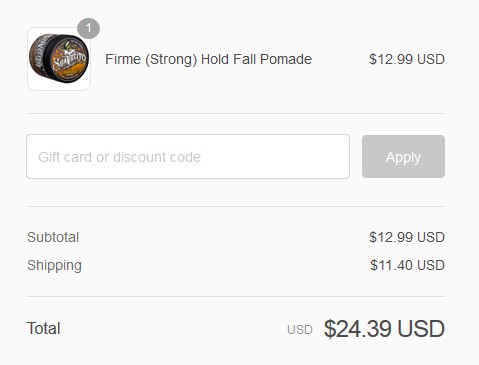 Looks like the shipping cost has dropped a little since last week…
I want to argue that shipping such a small and light item can not cost nearly $20.  To put that in perspective, I recently needed a new shelve for my GE refrigerator.  The item was about 100 cm X 15 cm X  60 cm and weighting around 900 gr.  So 8 times heavier than the pomade jar and about 100 times bigger in volume.  It was received within 2 days of the order being placed for a total of…wait for it…$9 CND.  So between you and I, there are shipping solutions out there that are both fast and economical.
To address the US-Canada border crossing item, from the customs point-of-view there are no duties for items produced in the US and coming into Canada because of NAFTA  (hopefully that doesn't disappear and revert us back to the protectionist eras).  Secondly, there are no duties for anything under the $20 mark for the Canadian shopper.  Obviously if you are buying over that price point or have made it on the CBSA watch list, you might pay some duty, but lets be honest the duty is peanuts on such a purchase and it is our civic obligation to pay to the common pot.
Most vendors, Suavecito included offer free shipping for orders over a given purchase price.  With Suavecito it is $75, for Amazon it's $25.  That would suggest that shipping is in reality considerably cheaper than $15.  If shipping to Canada is $15 and they are willing to forgo that cash when you reach $75 that is a 20% saving for the customer and 20% loss for the vendor.  The math doesn't add up.  I am left to think that shipping is cheaper as a whole and that a bottom line adjustment is made in favor of the customer when buying more, because that loss was covered by the customers buying 1 or 2 items and paying the full $15.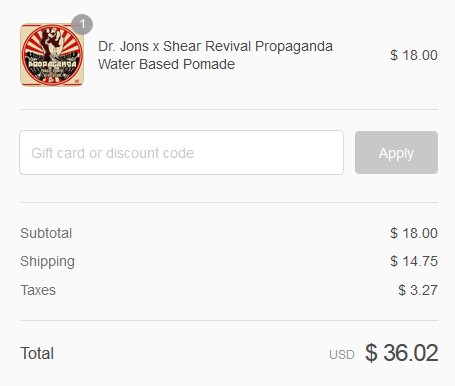 Within the US the recurring shipping fee for one jar of pomade appears to be around $4.  I can appreciate that there are no borders to cross and no interfacing with another sovereign nation's postal service.  But lets be honest here, if Canada Post and the United State Postal Service have not figured out ways to work together by now, there are some very serious pints that need to be had to work this out.  That being said, I do not want to believe that our hard working postal service men and women are to blame.
A part of me was thinking that the senders where taking a good cut of that outrageous shipping costs to increase their margins.  A simple way of clarifying that was simply to go on the USPS shipping page and get a quote for shipping a parcel of the typical size and weight as those used by pomade makers.  I used a New York State zip code shipping to a Quebec postal code.  I was presented with a $15 shipping cost.  If anything, that tells us that the pomade makers are NOT making anything on shipping costs and puts the blame on our respective postal services.
I will admit to not being knowledgeable of postal constraints between our great countries (Canada / United States), but will throw in that shipping a pomade from the UK to Canada can be done in 4 business days for about $5.  I regularly buy from The Modern Man in the UK and am blown away every time by the shipping speeds and next to nil costs of that said shipping.  Having bought from online stores in France, I can attest that the shipping costs and speed are nearly identical to those for parcels coming from the UK.  Clearly, the distance that parcel has to travel is enormous (the north Atlantic), nothing like coming from New York to Quebec.  That would indicate that it's all about agreements and relationships.  When it comes to mail delivery, it's clear that Canada has a royal relationship with Great Britain and France.
Considering this new age of retail we are in, so much is relying on cheap, fast and reliable parcel delivery.  In fact, it's all relying on that delivery service. There has to be a better solution than $15 for a 100 gr jar to cross the Canadian/American border.
To the pomade makers:  You have spent time and effort to come up with a fabulous product that people want.  We do!  You have also spent more time coming up with a solid and convincing  image for your brand and a totally rocking web site to support that brand.   Your last order of business is to find a delivery service that is: cheap, fast and reliable.  This last piece is crucial because this "delivery" service is what ties it all together.  At the moment, that $15 delivery service is the deciding factor to buy your product or not.  It's driving me away and I will venture that we are legion.  Your product is totally cool and most interesting and I would love to get a jar – but paying $30 to $40 for that jar is just not sustainable.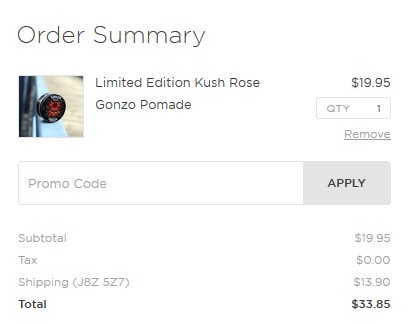 Total order for 1 jar shipped to Canada (= $42.25 CND)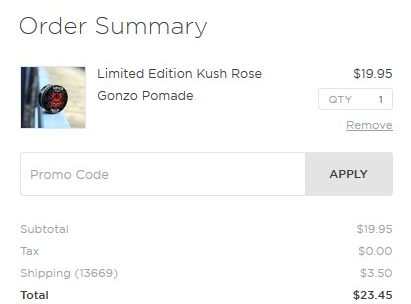 Shipping to the US
The reason why I let myself go on this topic, is because for any pomade enthusiast out there, shipping fees are the only real show stopper to fully embracing this passion and getting a jar of everything.   A $14 US jar becomes a $40 Canadian purchase where the shipping is more than the actual product.  In my humble opinion the exorbitant shipping costs are a road-block to the pomade industry.  Granted, I am perhaps more interested in pomades than the average man out there, but if I could purchase a cool and original jar of pomade that holds my hair in place for something like $12-$15, I would be buying a whole lot more.  One of the numerous appeals of pomade as a hair fixative was the rather affordable price.  Exorbitant shipping costs throw that out the window.  Pomade is also an artisan based economy, in other words it is nearly impossible for small players to have in store presence across the continent.  Their only solution is on-line commerce with the world as their market place.  Fabulous!  Right?  OK, so everybody on the planet now knows about my awesome pomade, but how do I get it out to them?  Certainly not with shipping costs that are more expensive than the product itself.
To you, the creative minds behind these wonderfully original and exciting pomades, please, oh please find a shipping solution that will allow you to ship your product everywhere at prices us little Greasers can afford.  Maybe Teaming up might make sense? Think of it this way, if shipping costs are no longer dictating your sale volume, you might sell a whole lot more of that goo.  This switch might propel your business in the fast lane and make this side project a full-time gig.  Wasn't that the hope to begin with anyways?
– Head pomade Guy