Cock Grease – Water Type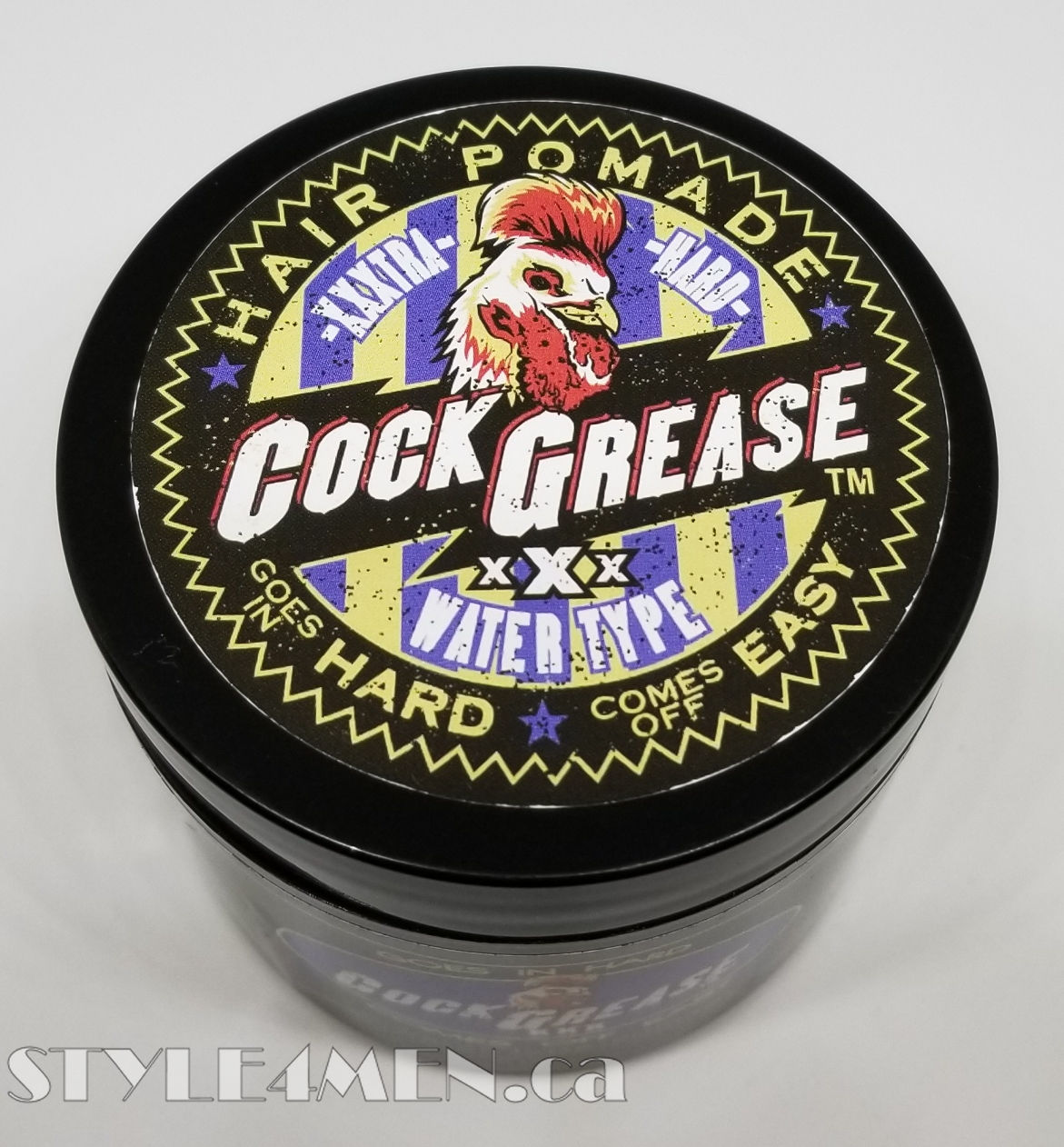 Here we are with a hilariously named pomade: Cock Grease  OK, maybe not hilarious but certainly good enough to make you smile.  There are actually two pomades on the market with this name, one from Japan and one from the United States.  A little while back I reviewed the one from Japan.  As a result of a sale on Pomade Club, I was finally able to get a jar of the American version for about $25 with shipping.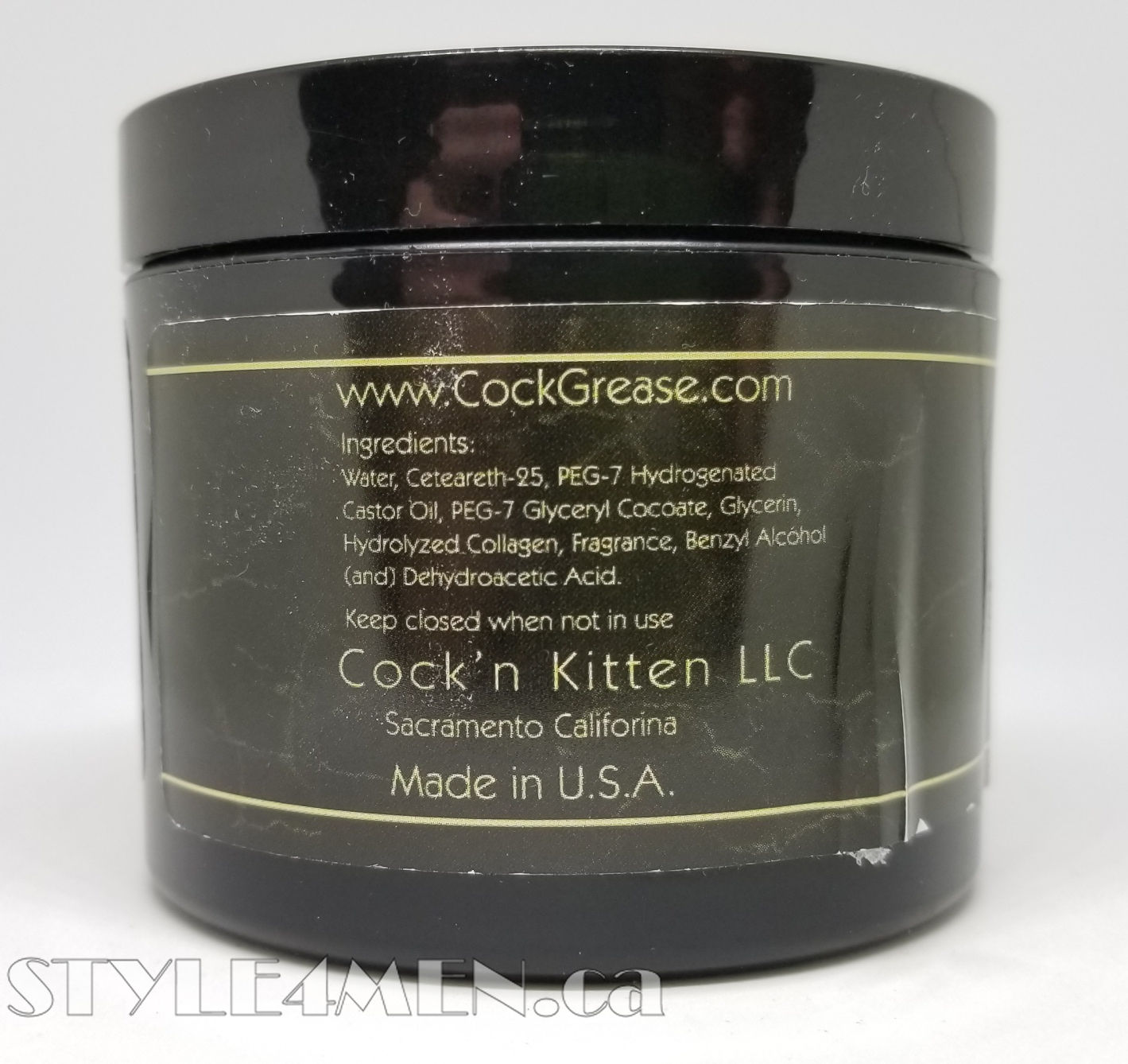 The jar lists their web page as being CockGrease.com but this gets redirected to HairUnderWorld.com where you will find both the Cock Grease and Eddy De Luxe brand names.  Eddy De Luxe is a brand that has been on my radar and that is on my "Next-to-try" list.  Hopefully that will be sooner than later.
"Cock Grease" mostly focuses on oil based pomades and from all accounts this is their only water based product.  Being partial to water pomades, this was the one for me. 🙂
The black jar is the standard 113 g (4 oz).  The label on the lid is what sells it with the following slogan: Goes in hard, comes off easy.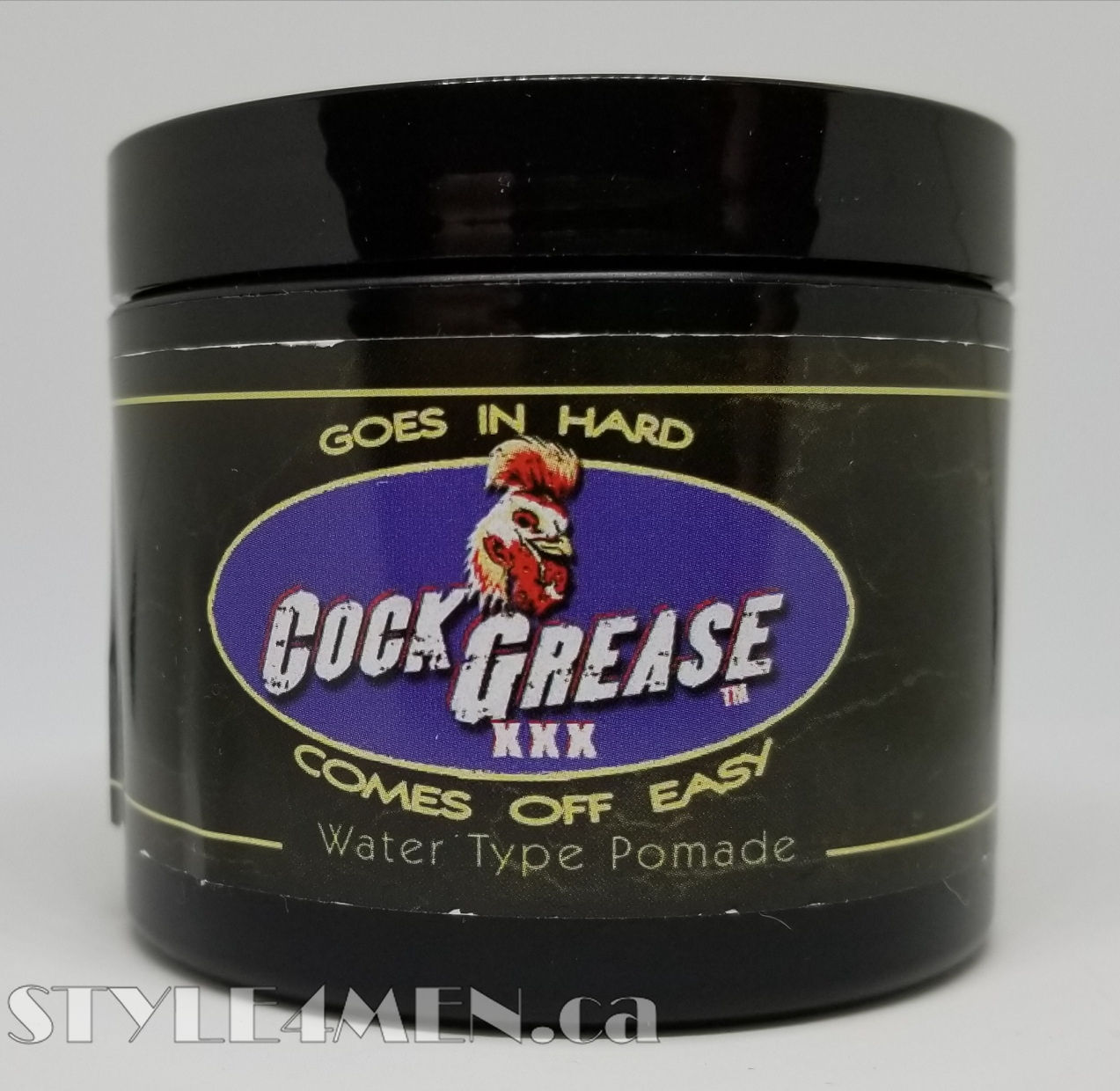 If I am reading the label correctly (sometimes it is not entirely clear where the cut off point of each item is), there are 9 ingredients.  At Style4Men, the belief is that the simpler the ingredient list is, the better. The only chemicals we want coming at our party are the "Chemical Brothers"! 🙂
This pomade is thick and solid but quite easy to relax in the palms and fingers.  Once relaxed, it is a breeze to apply in dry hair and gives immediate results.  It will dry somewhat over the course of the day , but because there is an element of castor oil in the concoction the hair will not become crunchy.  My hair is very long on top at some 7 or so inches and this pomade did a very good job of holding my pomp in place.  Today is a windy day and some of my due got undone.  A small re-application did the trick and nothing has moved since.  It might not be considered a true "firm hold", but it is better than a medium hold.  In my opinion, this is an excellent rendition of what a medium hold water pomade should be.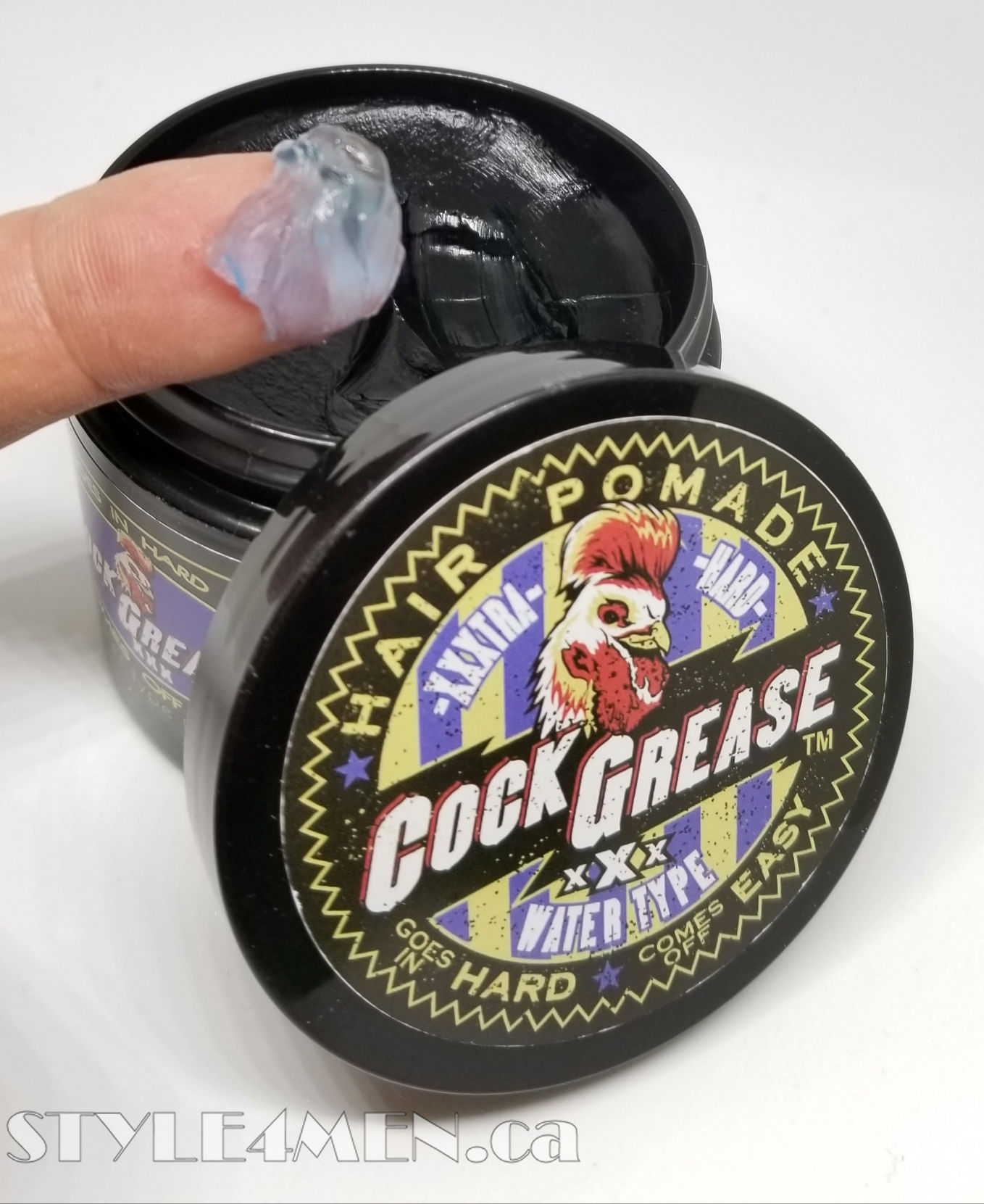 The fragrance of this pomade is very faint.  What can be identified is a fresh, light summery scent.  But so mild that you will not be able to smell it once applied in the hair.
Although, I mostly purchased this jar because of the novelty of the brand name it has turned out to be a pomade well worth it and I am counting it amongts my favorites.
Here is the rating on a scale of 1 to 5, where 5 is a perfect score and/or level of shine:
Hold:3.5 – 4
Shine: 2.5 (Nor shiny or mate)
Texture: 3
Feel in hair: 3 (It does feel a little waxy in the hair)
Facility to wash out:  5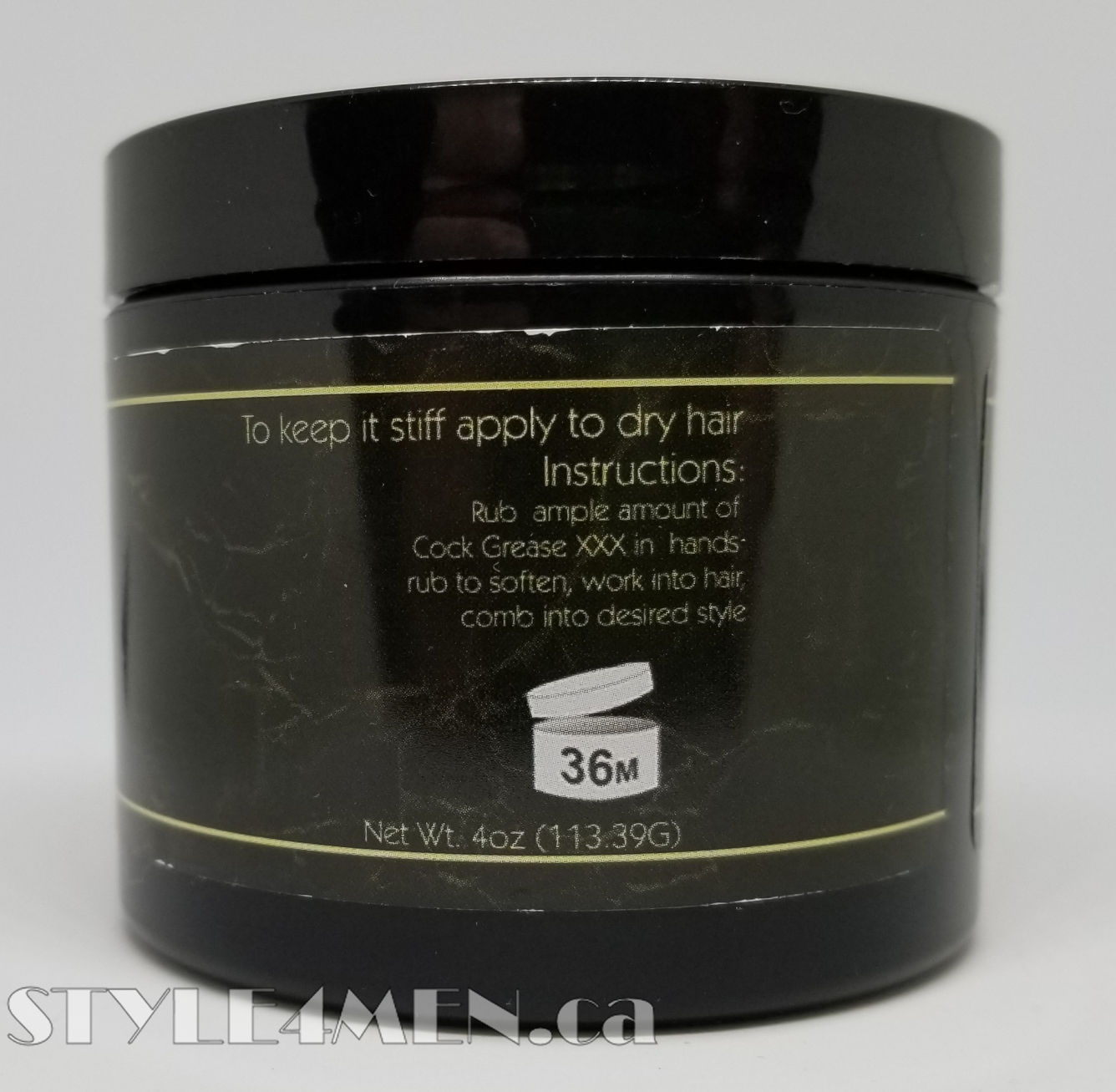 Use these links to shop for this pomade: