Crown Shaving – Part 2 Hair Styling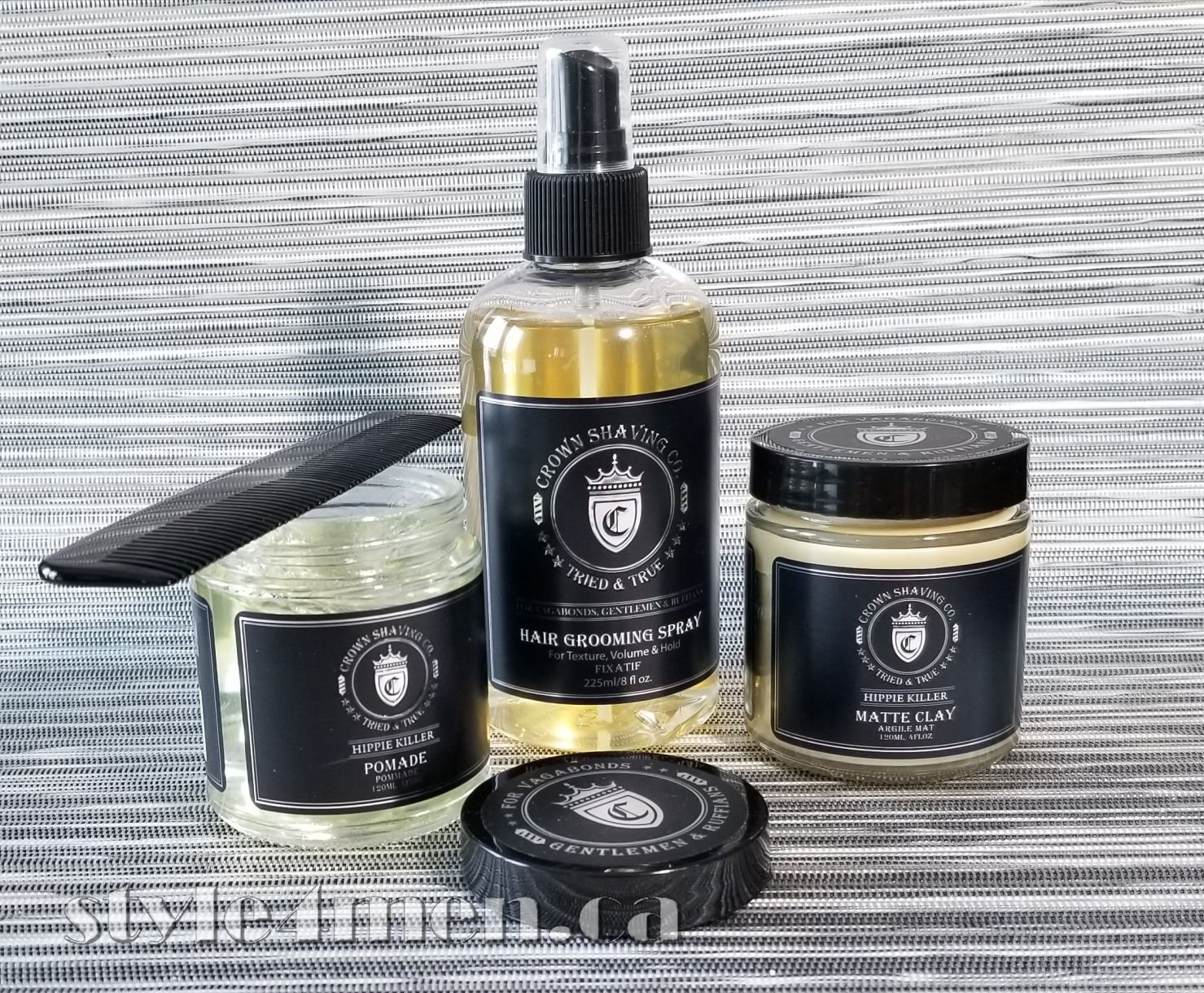 Overall Style4Men.ca score:
This will be the second installment covering my Crown Shaving "Grooming"  immersion process.  A special thank you goes out to Dino for supporting the Style4men.ca project and our mission to spread the good word to everyone out there about great products like these. In this segment we explore Crown Shaving's hair grooming solutions.
We will touch on the following 3 products:
Hair Grooming Spray
Hippie Killer Pomade
Hippie Killer Matte Clay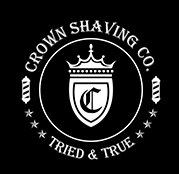 Although, Crown Shaving also makes a body wash/shampoo, I am limiting my testing of the body wash/shampoo to its "body" part in order to classify it in one category. Spoiler alert for that third upcoming post where we will cover the Crown Shaving "body" products, the body wash is really nice with it's tea tree umpft!
A little bit about Crown Shaving co. It is a Canadian men's grooming product company located in the Toronto area.  Here is their introduction video.
So onto the the hair product review. As mentioned in the first Crown Shaving post, presentation and packaging is solid with a vintage and elegant flair to it.  Both the Pomade and Matte clay are in proper glass jars.  It doesn't get more classy than glass.  It's also nice to grab a jar that has a good weight to itself.  Another nice aspect of glass is being able to see the contents without having to open the jar.
Continuing on the see-through approach, the Hair Grooming Spray spray comes in fairly large plastic bottle that is also clear.
GROOMING SPRAY
I will start with the hair grooming spray to respect the order in which the products are used.  Grooming spray or texturizing sprays is a fairly new thing for me.  I have only recently become aware of this type of "Pre-Styling" products.  My first exposure to such products was with "Salt sprays".  The basic idea behind these products is to offer an element of pre-styling. It is important to note that this Grooming spray is not a "Hairspray" that is used as a final step to lock your style in place.
I say pre-styling since, on their own they won't give results that are solid enough to render a finished look.  But as an initial step, your style will be tremendously improved.  What can you expect?  Volume, texture and height!  From an ingredient composition angle, these products tend to be quite simple and mostly consist of water and some element whose job is to bound the hair together.  Salt spray will give a slightly gritty result.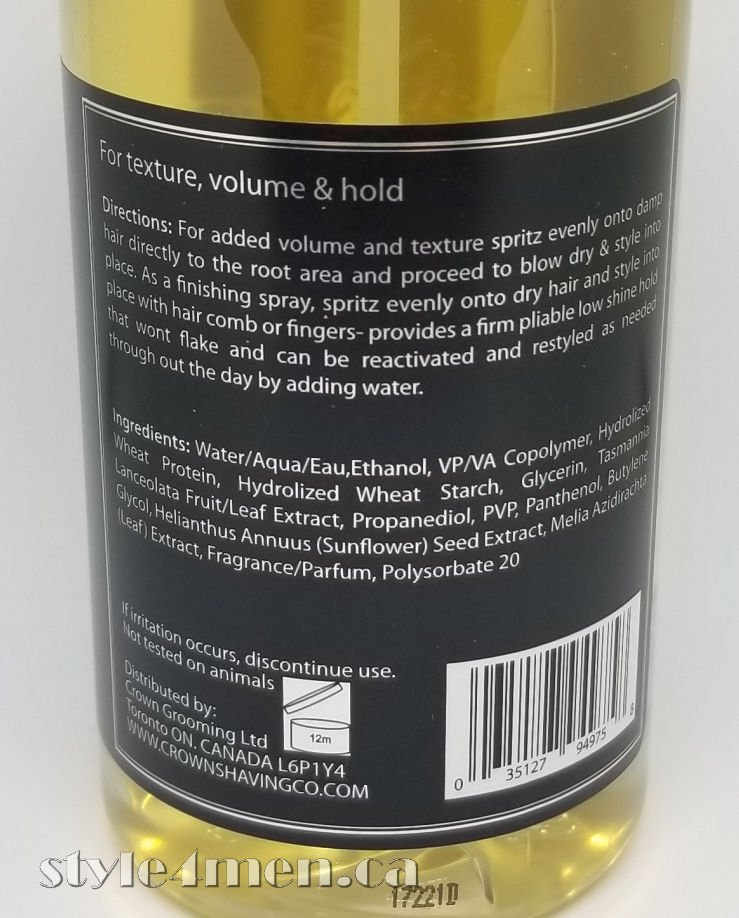 The Crown Shaving Grooming hair spray is NOT a salt spray.  Salt sprays are inexpensive, super simple to use and render great good volume and height.  Although the Crown Shaving  Grooming spray fits into this category of product, it is more subtle than your common salt spray.  Instead of bonding your hair by introducing some grittiness, it is a much smoother approach.  There is no grittiness, but the hair is nevertheless amplified.  Also contrary to salt spray, you can actually put your fingers through your hair without resistance. Important to note, there are also no alcohol or parabens.  Crown Shaving not doing things half way, you also get a mild taste of that signature fragrance.
I should expand on the scent since the dominating fragrance in the hair products is different than the one used in the shaving products.  All 3 of the hair styling product use this scent. Here the top note is sweet orange or tangerine and the middle note reminds me of perhaps a ginger ale.  It is quite nicely done.  Very mild not to interfere with anything you might want to have going on.
Here is how I use such a spray.
Coming out of the shower with clean towel dried hair
Squirt 4-5 pumps (Since the product comes out as a mist the distribution will be even and the likelihood of over-doing it is seriously reduced)
Finish the drying process with my hair dryer on its cold setting. At this point, the hair will have almost ridiculous volume.  I actually look quite funny.  My wife says that it's the mad-scientist look.
Now for the final step, apply a small amount of pomade to that jungle boogie
The result is an uppercut (that is the hair cut I have) with lots of volume
For guys with thinning hair, texturizing sprays such as the Crown Shaving Grooming spray will visually augment your hair volume.  You can also use this spray to help your beard style.
USING GROOMING SPRAY AS A HAIR STYLE REVIVER
Washing your hair everyday is practical because it make for a new canvas to style your hair.  But this repeated washing is not so good for both your hair and your scalp.  It essentially washes away all of the oils your body produces to protect itself.  Obviously, you can't skip bathing for prologued periods of time and if you do you would thus fit into the Crown Shaving "Vagabonds" grouping .  What I am getting at is washing your hair every other day.  OK so now what – because that just complicated the styling part of things?!  That is what I taught too for the longest time.  This is until I realized that the volumizing spray, the one from Crown Shaving as well as the others, are a fantastic way of "reviving" your hair before restyling.  Basically, give your hair a few skirts and massage it in.  This will relax the pomade without taking it out.  I found that this hair spray did a considerably better job than my initial solution which was to use hair tonic.
I think there are 2 reasons why the Grooming hair spray does a better job than tonic or water to revive your hair on the day after:
The dispensing solution produces a wide mist that is evenly distributed
The volumizing spray is not alcohol based and therefore does not break down your previous pomade application – it's more of a revival process!
With this new approach, my skipping a shampoo day did not equate to having a bad hair day.  I might even venture that my hair looked better on that second day.  As you get older and hair loss becomes more of a reality than something that happens to others, you will want to capitalize on all these little tips to protect and stretch what you have for as long as you can.
In that light, the volumizing spray from Crown Shaving again follows their guiding principles where a big effort is made to keep it healthy and as natural as possible.  None of the known villains are playing in this show: parabens, sulfates or other undesirables.
MATTE CLAY POMADE
Now for the Matte Clay.  Up front, I will  admit being drawn to these hair styling solutions.  I like the aspect of using something "so" natural to make your hair do stuff.  My appeal to clay is not fully embrace by hair though.  My hair is fairly long and quite thick with some waviness to it.  I therefore need something that is strong enough to tame it and light enough not to just flatten everything down.  So far this sounds like clay would be the "perfect" styling solution.
Sadly, I haven't been able to find that sweet spot of the right amount of product to last me the whole day.  When working with clay, portioning is extremely important and it is very easy to over do it.  I have 8″ bangs and a portion the size of dime is nearly too much.  What do I mean by too much, since clay doesn't work on it's own, a good amount of wax need to be included in the concoction and as a result the hair can then easily be weight down.  The other side of the coin is that by using less, you will have glorious looking hair, but it won't last the full day
Coming back to the natural appeal of clay.  Clay is a very discreet styling solution, in fact, it will allow you to have nearly "un-natural" height and volume while looking like no product was used.  Pretty cool, eh?!  So when you see a hair style that is not a naturally occurring thing like a quiff or a non-grease pomp and the hair also looks like there is no product in it – it's a 50-50 chance that they are using clay.  So you can see the interest for this type of a hair styling solution.
In case, it wasn't clear, clay will render completely matte results.  No shine what-so-ever.
Is this stuff easy to wash out?  Yep – same as any old water based pomade.  This was a little surprising since the first ingredient is petrolatum.  This is the main ingredient in traditional old-school grease pomades which are notoriously hard to wash out.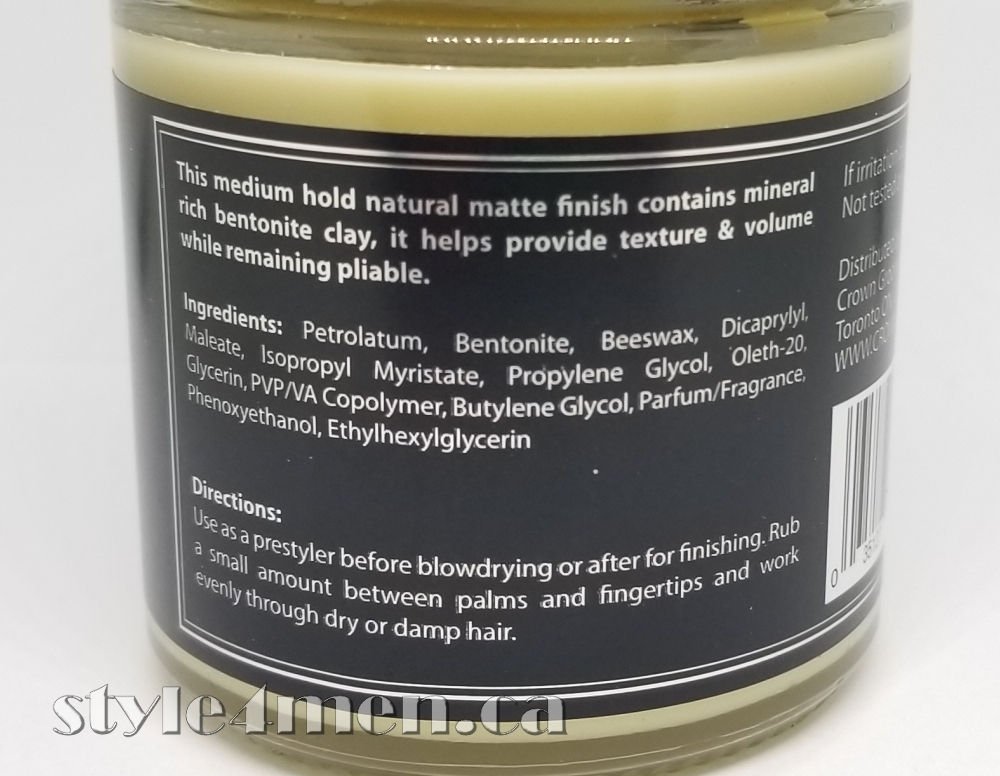 Here is the rating on a scale of 1 to 5, where 5 is a perfect score and/or the level of shine.
Hold: 3.5
Shine: 0
Texture: 4.5
Feel in hair: 4
Facility to wash out: 4
To date I have tried about 6 clays and the Crown Shaving clay was in the top 2.  In my opinion, clay will work best on short hair.  It will also be a option if you have medium length hair or thin hair as  clay will give some thickness and volume – something pomade does not do.
As mentioned above the scent is that of sweet orange or tangerine with an element of perhaps ginger ale, but in the matte clay the scent is slightly reduced by the actual clay slipping in as well.  Don't get me wrong, this is not a muddy smelling product, it's just not as clearly an orange scent.  The sweet and happy orange scent is very present.
POMADE
The combination of the Grooming spray and the pomade was my favorite in this set.  The Grooming spray gave my hair a nice workable canvas to style with the pomade.  This pomade is thick and a breeze to work with it.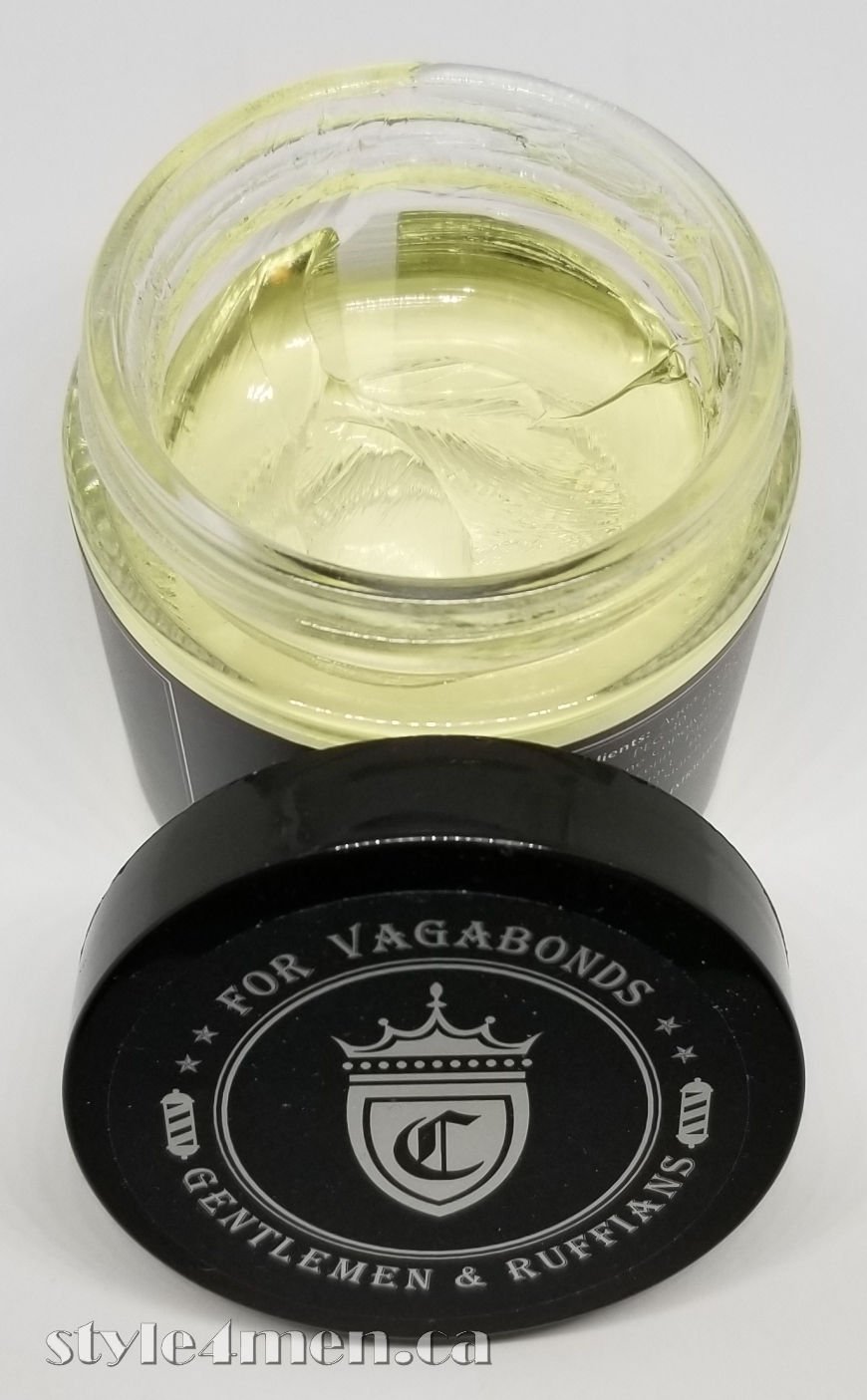 But let's start from the beginning.  Unlike the clay, the pomade itself is perfectly clear.  Upon opening the jar the signature Crown shaving nice sweet ginger-ale / tangerine aroma comes to tickle your nose.
At 120 g, you are getting a bit more than the recurring 100 g.  Note that since the jar is a tad taller, it looks like a smaller jar than the typically flatter thin cans.  Considering the very decent hold of this pomade, I expect that this jar will last me a number of month of daily usage.  That is something we tend to forget and that I have not mentioned in a long time: the little amount of pomade required makes it such that this is a long lasting styling product.
When applying this pomade you will get nearly instant results.  It remains somewhat workable so it's not like your hair is being locked in.  As far as long it will last, I would say it's in the 3/4 of day range.  In other words you will need to do a touch up if you are going out after work.
Here is what I enjoyed about this pomade:
Rich sweet orange/ginger ale fragrance.  Something simple turned unique and original.
A good firm texture that is easy to distribute and apply
Nice and long lasting results.  A bit more than half a day without needing to restyle
Very little is needed per application
For it's over qualities; scent, hold, workability and originality, the Crown Shaving pomade fits in my favorites.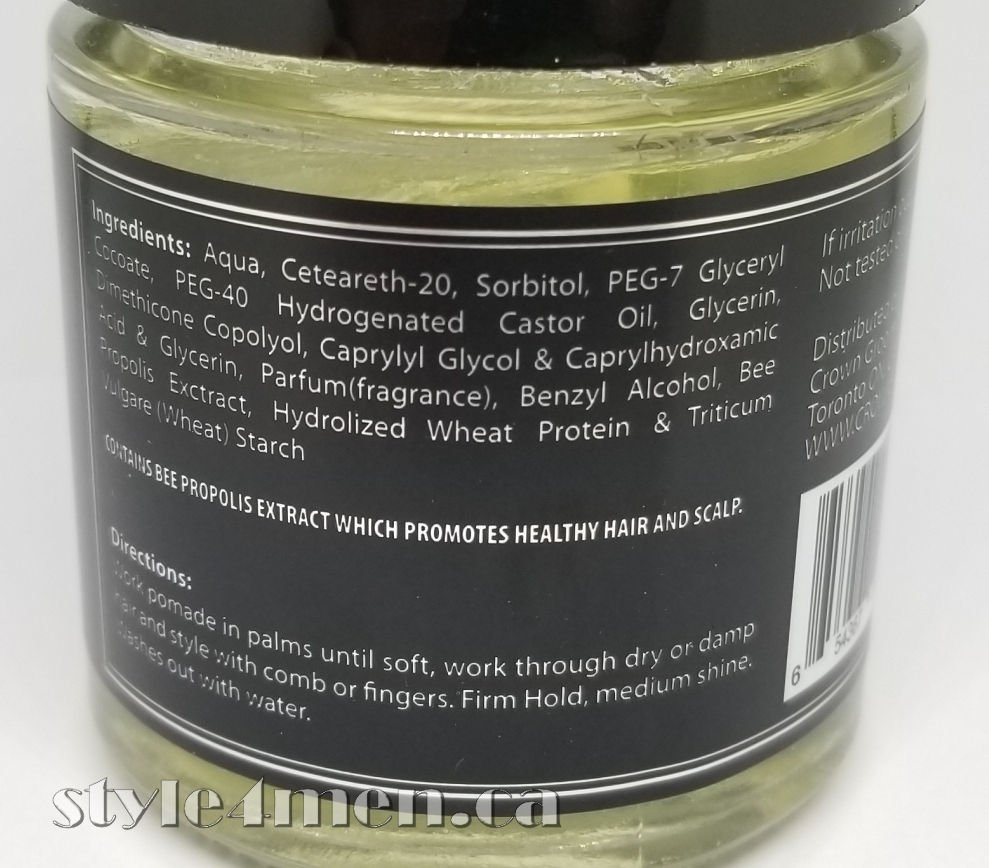 Here is the rating on a scale of 1 to 5, where 5 is a perfect score and/or the level of shine.
Hold: 4
Shine: 4
Texture: 5
Feel in hair: 5
Facility to wash out: 5
In closing, the Crown Shaving hair styling solutions were impressive.  Thanks again to Dino for having us feature the brand in our pages.
Use these links to shop for Crown Shaving  products: