Dapper Dan Deluxe Pomade – Luxurious Sweet Orange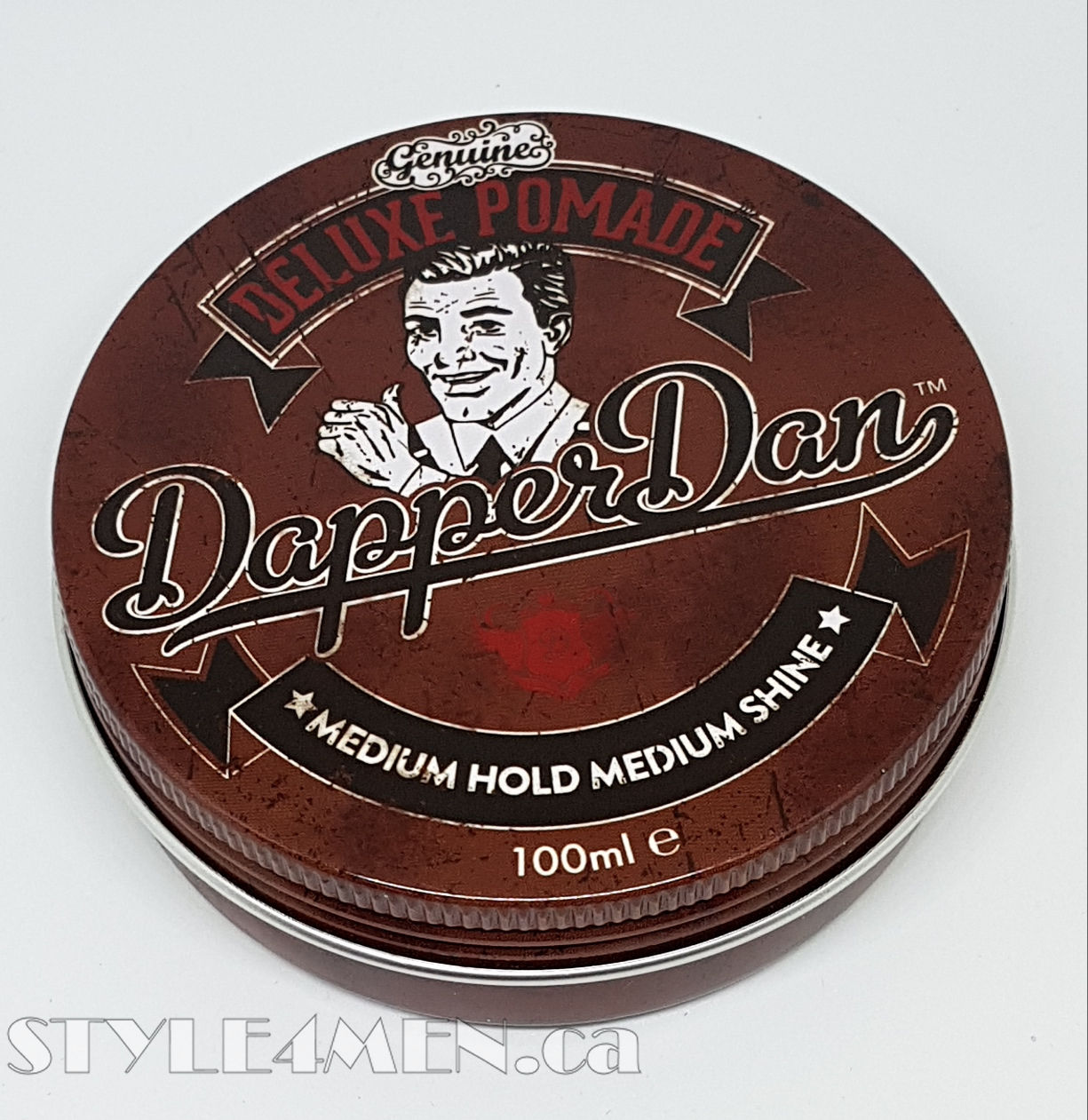 Overall Style4Men.ca score:
Last week a friend of mine was shopping at Marshall's and came across jars of the Dapper Dan pomade for $14.99.  Knowing my general enthusiasm for pomades he texted his find.  Dapper Dan is one of those brands that was on my "future try list", so I asked he could also pick me a jar, which he did.  Thanks Buddy!

Dapper Dan is a British brand that is not a commonly available brand in Canada although it is gradually making it's way.  I was initially going to order a jar from my UK friends at "The Modern Man", but here we are and I have a jar in my hands.
First off, the presentation of this jar is full on retro-cool!  It looks authentic and classy.  The folks of Dapper Dan have also bothered to use a proper metal thin can for their pomade.  Quantity wise, this is in line with the standard size at 100 ml.
The fragrance of this pomade is specially nice with a top note of sweet orange and a base note of lime.  To my nose this is delicious and is properly dosed.  Just the right level of fun and discretion.
My uppercut is getting longer and longer and it is getting somewhat harder to make accurate evaluations in the hold department.  With an uppercut, my sides are obviously still very short but my bags are about 7″ in length.  With that defining the stage, I will simply report how things went and you can make your decisions from there.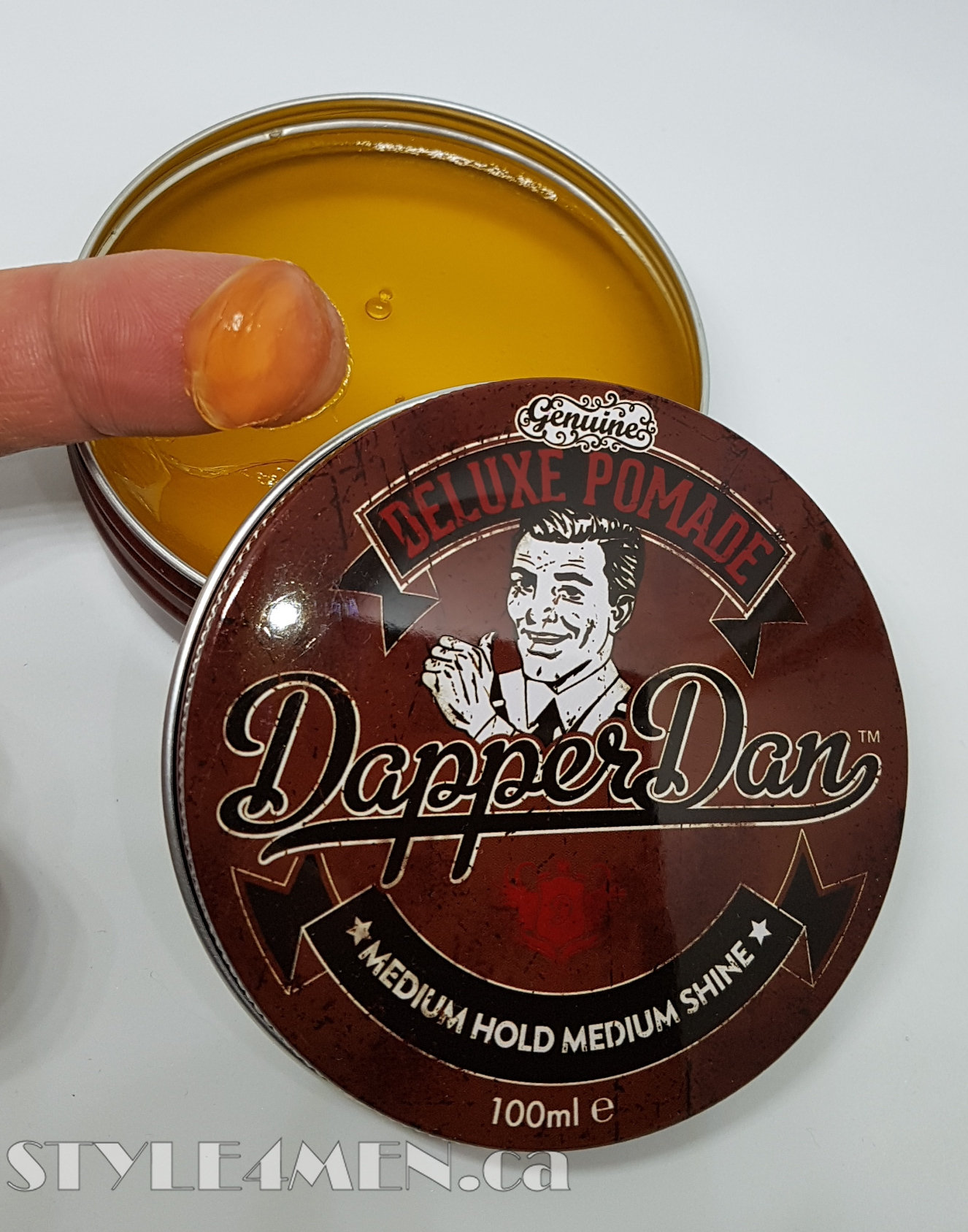 I used perhaps 3 finger scoops like what you see in the picture.  This was sufficient to get nice placement and very proper hold for about 4 hours.  After which point, things started to fall out of place and it was becoming more of a messy look.  I restyled with about 1 and ½ new finger scoops and that got me through the remainder of the day.
This stuff is water-based so no difficult cleaning ahead.  A regular shampoo will do the trick.
As you can see above the pomade is a nice golden-yellow/orange colour.  This will not darken or lighten your own hair colour.
This product does contain some oils and does offer a bit more shine than other water-based pomades as a result.
Below is the Dapper Dan "How To Use" video which give a nice demonstration and a few tips.
The pomade dries nicely within about 1-2 hours.  The hair remains very workable and touchable.  As with other pomade containing some level of oils within their recipe, its a bit of a treat for your hair making it very soft.  Don't mistake that as a trade off for hold, this pomade does hold but it is a light to medium hold.  If that can be quantified, I would say it is closer to medium than it would be to light.  Think of it as a slightly milder Suavecito Regular.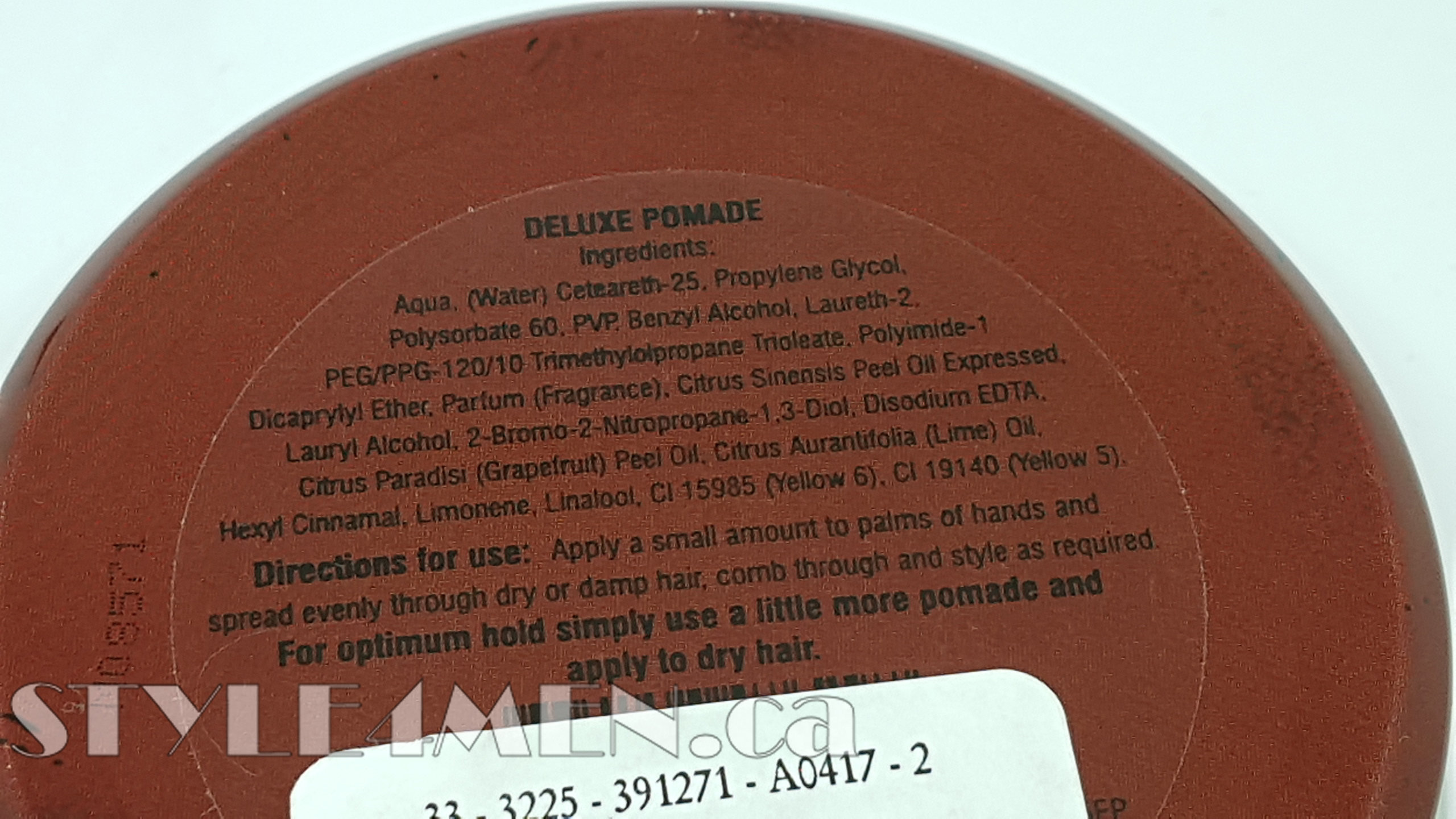 To date this will have been my 3rd pomade coming from the United Kingdom and once again I am impressed. Dapper Dan was founded in Sheffield, England.  They make 3 variations: the deluxe pomade, the matte clay and the matte paste.
The other pomades coming from the UK that I have tested are:
Here is the rating on a scale of 1 to 5, where 5 is a perfect score and/or the level of shine.
Hold: 3 – 4
Shine: 4
Texture: 5
Feel in hair: 5
Facility to wash out: 5
The overall Style4Men rating is a flat out 5 as this is a top level quality product with a great scent.  This pomade also made my top 5 for 2017.
Use these links to shop for this product: