DAX Wave and Groom – Serious grease base hold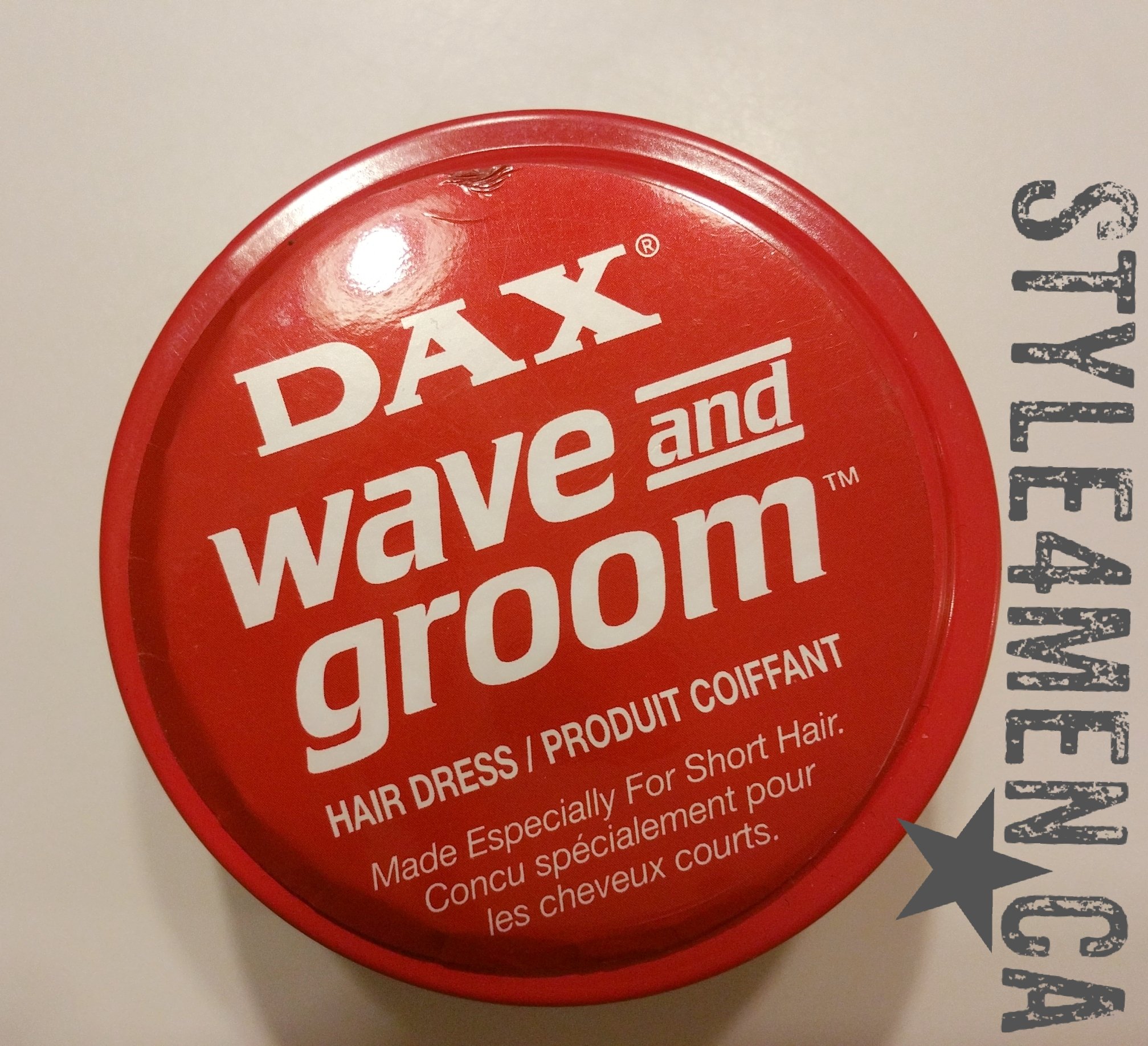 This morning I experimented with the DAX Wave and Groom hair dress.  As you know, I thoroughly enjoy exploring hair fixative from the past.  These brands that have managed to stay around through the decades and survive the test of time earn extra points in my book.  The DAX hair dress is one of those brands that is still around. IF you have not heard of DAX, check out there site as they make a plethora of products.
The quest for the perfect pomade has taken me down some fabulous avenues as well as some less interesting paths.  Zeus, Steadfast, Schmiere, Layrite are some of these fabulous avenues.  The DAX Wave and Groom has turned out to be a more complicated path.
Here we go; the DAX Wave and Groom hair dress (they call it "hair dress" how so very proper) totally fits the bill in my search of old-school products.  It comes in a metal thin can and its first ingredient is petrolatum.  Can you say "FIFTIES"?!  The stuff is made in New Jersey by the Dax Imperial Company Inc.  Check out there site for details on this product.
This can was priced at some $5 at my local Walmart.  I persist in believing that there are fabulous things to be found in the most unexpected of places without having to take out a loan to finance the purchase.  Walmart has a bit of an odd product layout for pomades.  Yes, they carry pomades!  You will easily find the "Hair Care" isle where all of the shampoos, conditioners and main stream fixatives are shelved. But somewhere else in the pharmaceutical / health care department, you will find a shelf that offers these totally old school products such as the DAX pomade.  There are various jars and containers of what looks like totally interesting concoctions from another time.  This is where you can find the Murrays pomade and various Beeswax products for example.  Both Walmart's in my area follow this approach where the main stream products are in one place and these other products are somewhere else within the department. One thing that has completely surprised me when looking at these products is the pricing.  They are incredibly inexpensive.  In my mind the "DAX" product fits in the "cool retro category as it looks like it's straight from the fifties, but I will conceded that it is not the most polished presentation by today's standard.
Be forewarned that DAX manufactures a number of pomades which all have their specific target "style" audience and formulation.  The cans are distinct enough that you should be able to figure it out.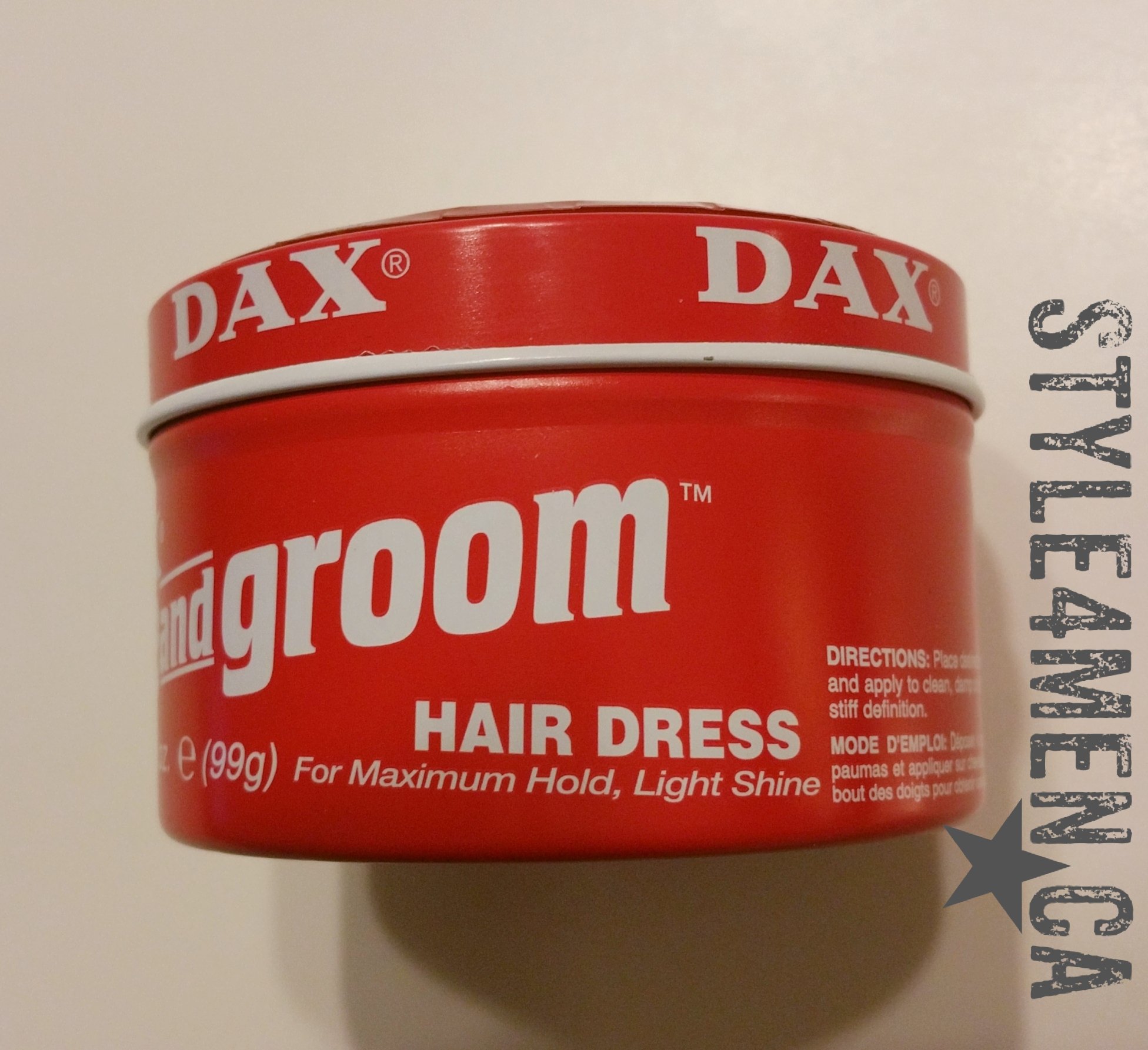 Upon opening this jar, everything looked quite normal for a petroleum based pomade.  The sweet vanilla'ish scent is nice and discreet. The surprise comes on contact.  It is considerably firmer than what I was expecting. My point of reference is the Lucky Tiger Cru Butch which is initially firm but completely workable.  It was so hard that it was quite difficult to relax.  A common trick in the industry is to use the hair dryer on high heat to smooth some product before application.  Once sufficiently relaxed I figured it was ready for application – the party stopped there.  It is so sticky that I actually pulled 2-3 hairs out.  It was quite difficult to spread.  Forget about trying to comb your mope once that stuff is in.  My hair was way to sticky/rigid.  The feeling in the hair is also unpleasant (greasy, sticky).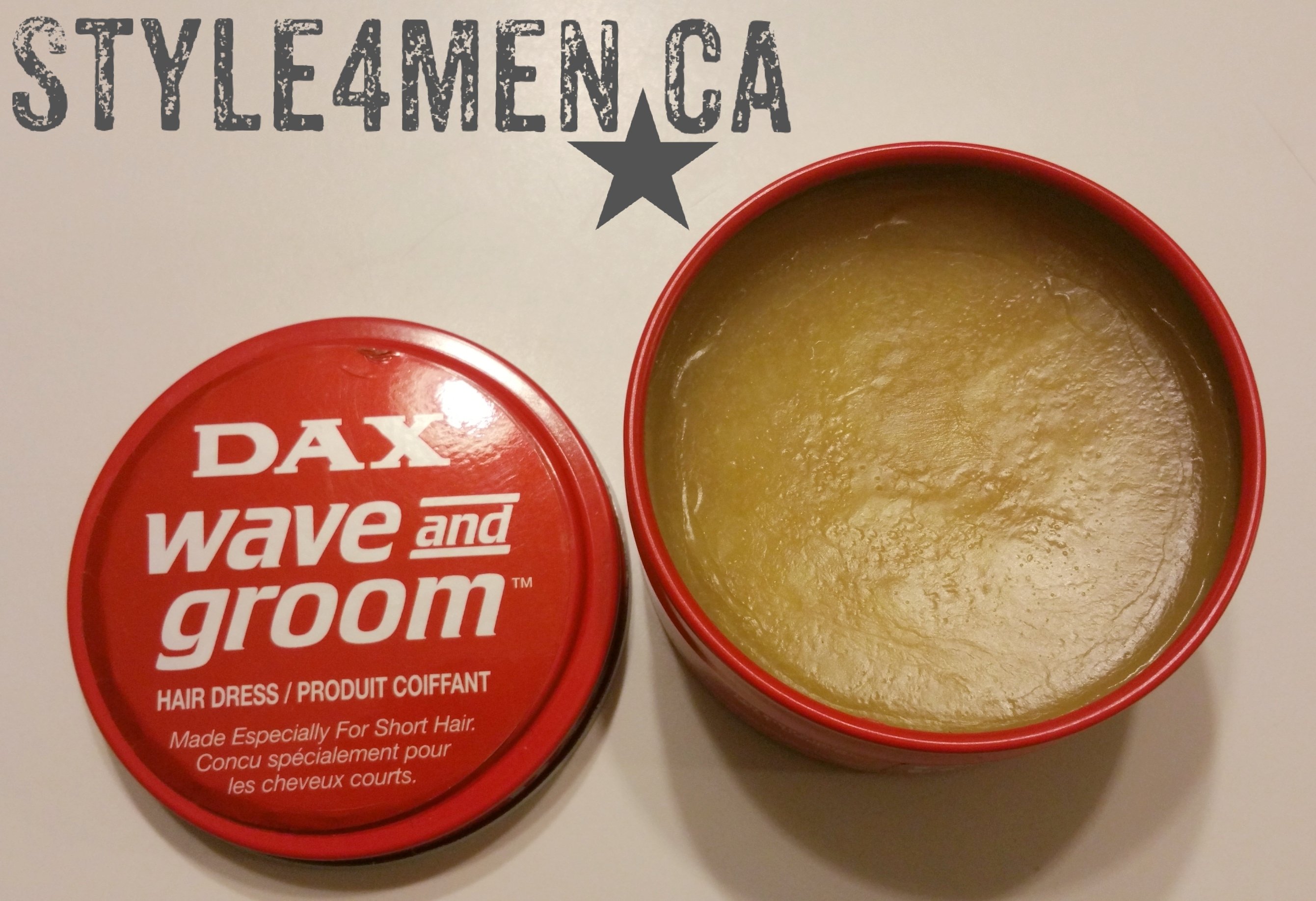 By lunch time I was at my Hair Stylist (Hair Junkie) for my monthly trim.  They usually wash my hair before the cut.  The fancy hair wash is a treat I always look forward too.  The wash actually did next to nothing to remove this stuff.  In fact I was offered a second hair wash after the cut as my Stylist was stunned at how much product was still in my hair after the first wash.  Again, the effect of this second wash was minimal.  The owner actually gave me a small portion of their 'behind-the-counter" special batch of "clean anything out" elixir,  so that I might be able to get rid of this pomade.  I am going to use that shampoo along with an olive-oil pre-treatment in hopes of dissolving this stuff and washing it out.
This morning was my next attempt to tackle this sticky problem.  The last time I had used petroleum based type pomade I had also did some research for solution on how to wash it out afterwards.  Some of the suggestions were to use dish detergents and another even suggested AJAX.  As good degreasers as these products might be for dishes or steel, they are clearly not meant for a gentleman's hair.  For one, AJAX contains chlorine.
One of the reasonable or logical suggestions I came across was to use olive oil as a solvent for the grease and then use a good deep cleaning shampoo.  Olive oil is also an easy and low budget hair repairing treatment within the ladies hair care world.   In that frame of mind, you can find numerous "oil" treatments in your local pharmacies that are targeted as hair repair treatments.   For the olive oil fix, …it's olive oil! It's not a wild chemical solution that might have undesirable side-effects.  Hey, there goes Bald-Tommy!  He used AJAX in his hair and now he as these white patches on his skull, but we don't talk about that.  If we can eat olive oil, I am not really worried about getting it in my hair.  With that rational, I poured myself half of a shooter glass of olive oil to use in the shower.
Once my hair was wet I proceeded to apply the olive oil.  The magic happened immediately!  I could feel the tacky grease dissolve.  I did a gentle scrub and then proceeded to the shampoo.  I actually did two shampoos to get both the grease out as well as the olive oil.  By then my hair was "squeaky" clean and it made good sense to apply a conditioner to bring everything back to a normal state.
The combination of the olive oil, deep cleaning shampoo and conditioner did the trick.  I will admit that there might still be a bit of olive oil in my hair as it feels a little heavier than usual, but that's fine as the olive oil will nourish my hair and scalp.
Another alternative that I had initially forgotten about is "Hair Tonic".  Hair Tonic is presented has having a number of usages, where one of them is to be a solvent for pomade. Be aware that there are different types of hair tonic.  The one I am familiar with from Reuzel is water based.  This might not perform as well as another brand containing more oil and thus act as true solvent.
Here is what wikipedia has on cleaning petrolatum (the first and main ingredient in this pomade): Petroleum jelly is also soluble in lower molecular weight oils. Using an oil to dissolve the petroleum jelly first can render it more soluble to solvents and soaps that would not dissolve pure petroleum jelly. Vegetable oils such as canola and olive oil are commonly used to aid in the removal of petroleum jelly from hair and skin.[22]
My apologies for this post turning out to be more about washing out this pomade than anything else, but it might help you if you decide to try it and are then at a loss on how to wash it out.  I want to think that the other DAX products might not be as intense.  If I was to try another of their hair dress, it would be the silver thin can called "Hair Wax" which states in big block letters that it is "washable"! I actually have a jar of it waiting for me on the test bench.
Clearly this pomade solution was not for me:
Hard to relax right out of the can
Overly sticky making for difficult application
Too heavy to allow for an elevated pomp (if you have longer hair in front)
Requiring a simple. but unconventional cleaning solution (olive oil, shampoo, conditioner)
On the positive side, it does create a nice healthy shine
Here is the rating on a scale of 1 to 5, where 5 is a perfect score and/or level of shine:
Hold: 5++
Shine: 4
Texture: 0
Feel in hair: 0
Facility to wash out:  3.5 (when using the right solution)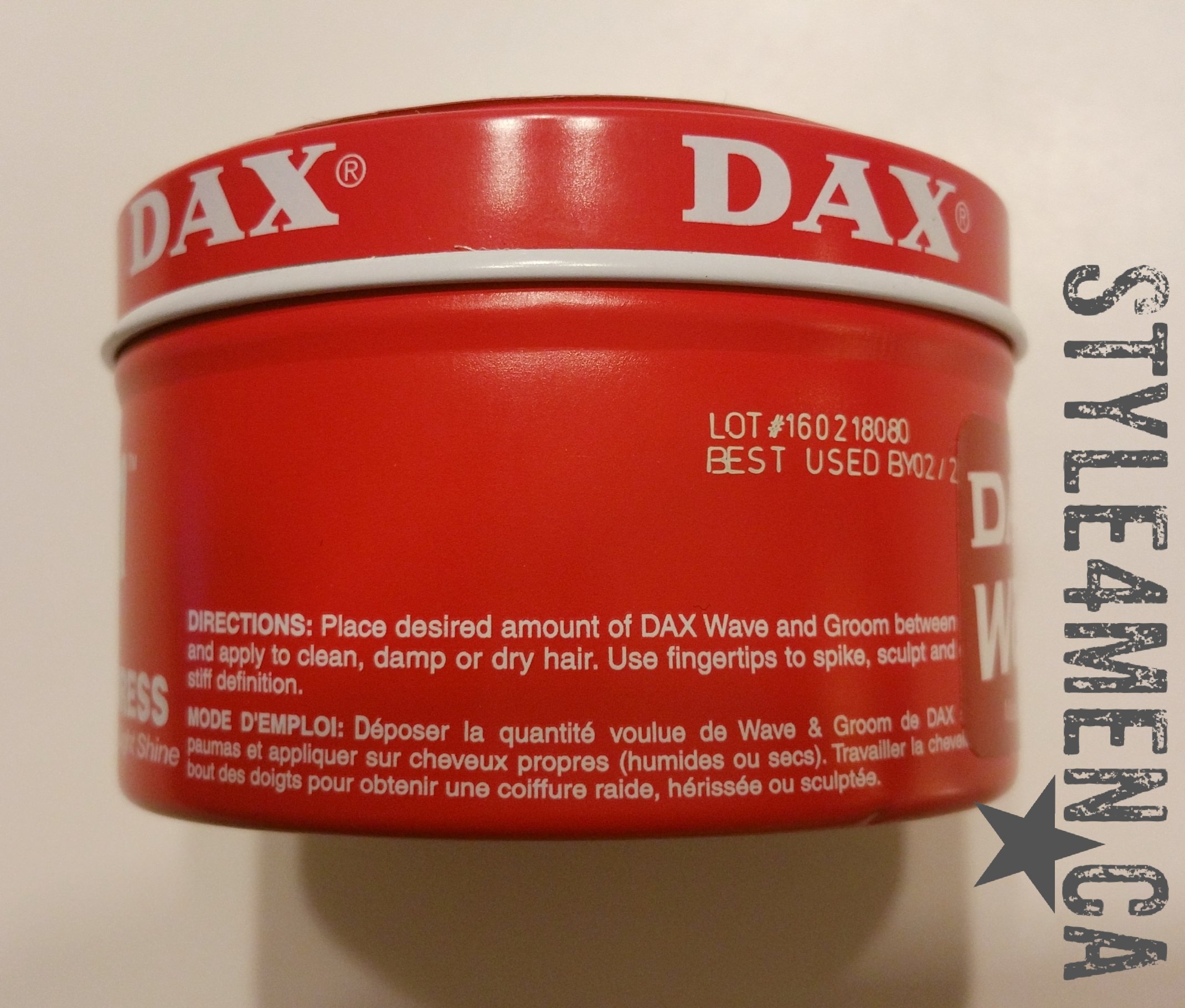 A last little note about this product.  This is one of the first "pomades" I have tested that had a best before date printed on it.  In the picture it is partly covered by the "Canadian" label that was added, but the "Use by" date was 02/2021. Considering that hair care product do have a shelf life, kudos are to be given to DAX for this bonus detail.
In closing, the DAX pomade is an interesting strong hold product but you best know up front what you are getting into. You will need to relax the product with some heat (hair dryer) in order to apply it and when comes the time to wash it out, have some olive oil around to dissolve the higher density grease.  Then a regular shampoo will do the trick.  These are all things that are known to hardcore Greasers, but being a water base enthusiast this was more of a ride than I was expecting at the time.  With the lessons learned working with the DAX pomade I have been considerably more inclined to try other grease pomades with great results.  It all comes down to knowing what you are working with.
Use the below links to shop for this product: