Direct from Japan – DOORS Pomade
Direct from Japan!  The firm hold water based pomade from DOORS. I came across this fabulous looking jar as part of my regular products searches.  The imagery stayed with me and I am thrilled to be able to feature it here.  Not only is the jar beautifully, done but you will also find an equally mesmerizing pomade inside.  To top thing off, this pomade will draw you in further with a unique and charismatic scent.  There are elements of fruit, spice and musk.  For my nose it was instant love.
Getting to discover products like the DOORS pomade reminds me how much I love doing this project!  Shout out to Nobuhiro at DOORS for making this review possible.
As a side note, pomades and the Rockabilly movement are in full swing in Asia.  This is now the third pomade from this part of the world that has just blown me away.
The fragrance of this pomade is so inviting that I couldn't wait before giving it a try.  Here is what I found.
The pomade has the typical texture of a water base, or jello like.  The product is extremely fresh and let itself be scooped out without trouble.  It relaxes very well in the palms and becomes essentially clear from its royal blue original colour.
I applied it to clean and dry hair that was previously texturized with a volumizing spray.  It goes in just as smoothly as a grease base.  Because the product is so fresh, it also feels a tad wet, but that is a very temporary sensation as the product's wax personality takes over.  It dried quickly enough while remaining workable.  There is no crispy or crunchy sensation like you might have with a gel.  Over the course of the day and once the pomade sets, I could feel a small element of wax.
I used about the size of a quarter to style my long uppercut.  Because the product smells so good you could easily be tempted to over-do it.  J The hold is medium to firm – nearly perfect for my wavy and rebellious hair, although I did help things along with a touch of hairspray.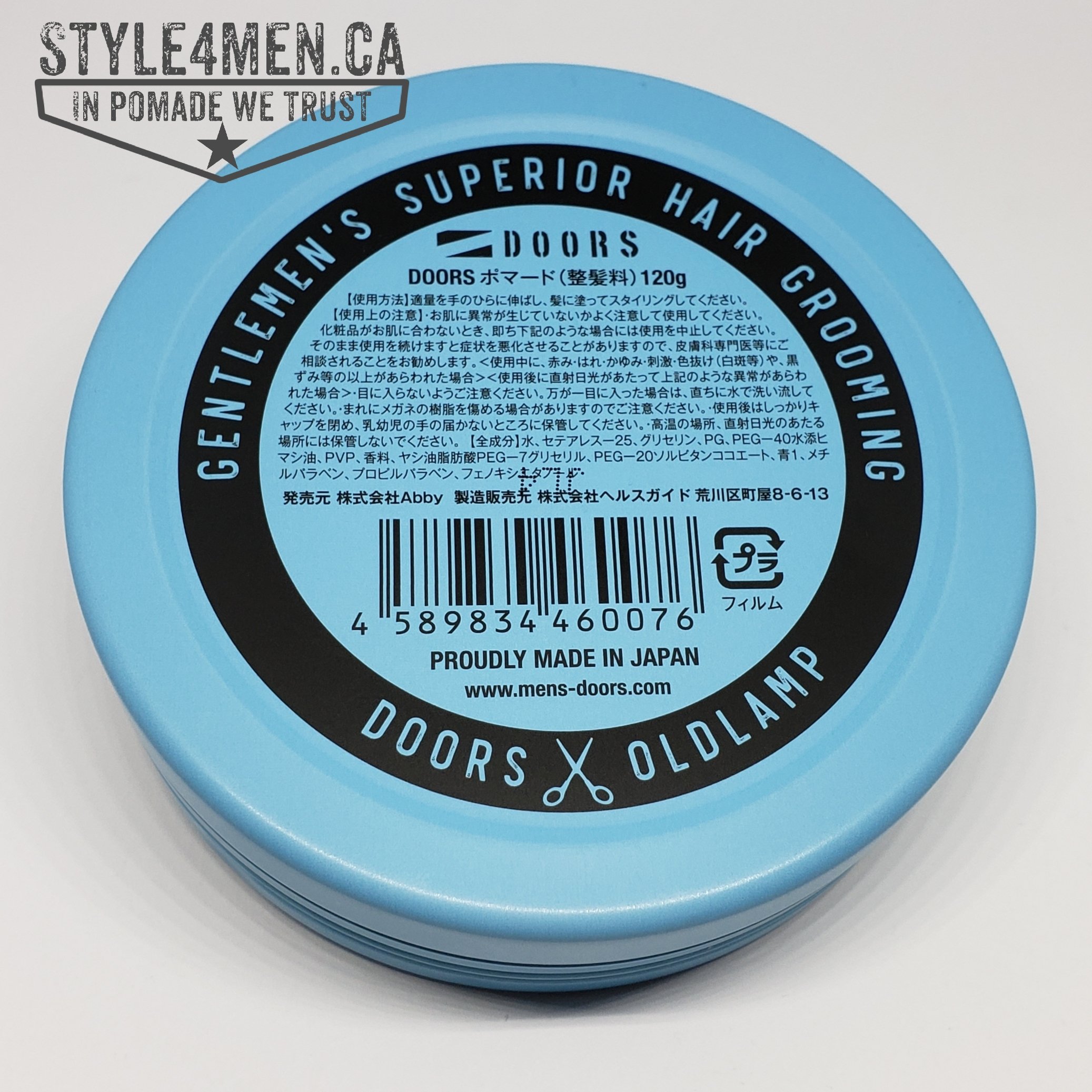 Once dry you can count on things to hold for the rest of the day but are totally reworkable if you so wish to do so.
This gorgeous blue jar holds 120 g making it a larger size than the average container.
Being water based, it is easily washed out with a simple shower rinse.
Here is the rating on a scale of 1 to 5 where 5 is a perfect score and/or level of shine:
Hold: 4.5
Shine: 3 (this more of a matte product)
Texture: 5
Feel in hair: 4
Facility to wash out: 5
In closing, this pomade wins me over on all fronts: presentation, phenomenal scent and a very honest performance.  Well done DOORS!