ELEGANCE Gel Wax SOFT – A Firm Hold Pomade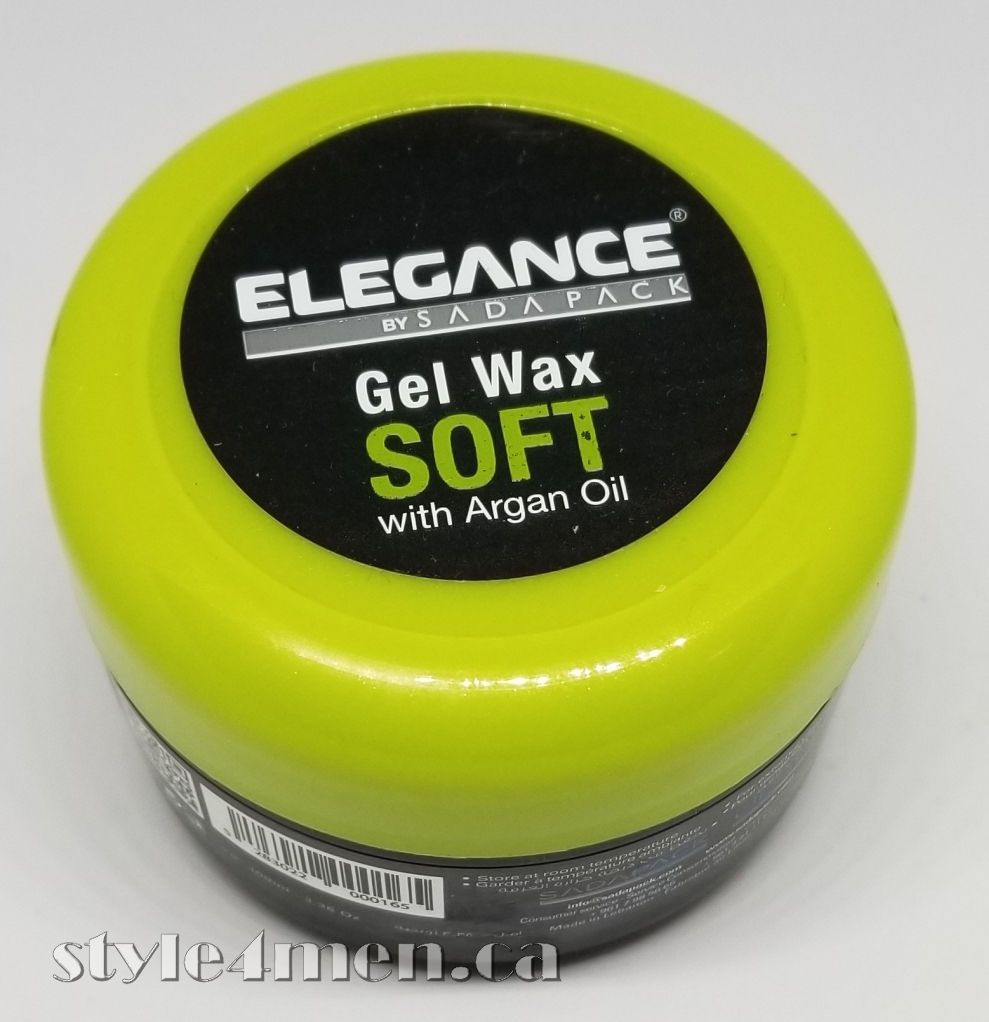 This week I have been working with a pomade by a company called: ELEGANCE.  Our friends at OBSCO have recently added this product line to their offering.  ELEGANCE has a full line of hair care as well as shaving products.  In this post we will cover the "Gel Wax SOFT with argan oil".
The following items on the label caught my attention right away:
Argan oil – Check!
Alcohol Free – Check!
Paraben Free – Check!
I don't necessarily want to repeat myself, my apologies to the regular readers, but the benefits of argan oil as such that they should not be ignored.
Argan oil helps prevent hair loss by ensuring that you don't lose more follicles than you're able to grow – when that happens, hair loss becomes noticeable. Multiple studies on the oil's effect on hair re-growth have found that it can stimulate the scalp due to its rich nutrient content to produce more hair. Other research has indicated that it helps hair grow faster in a shorter period of time. One particular study out of South Korea found that 44% of participants experienced "clear hair regrowth" with Argan oil treatment – as good as the drug minoxidil, but without the potentially harmful side effects.  Reference:  http://www.naturallivingideas.com/argan-oil-for-hair/
Continuing on the ingredients listed on this jar, the list is rather short at 12 elements.  Petrolatum is listed in 8th position.  Petrolatum is the basis of original pomades made between the 30's and 60's.  My only observation here, is that from my experience pomades containing petrolatum in large quantities tends to be rebellious to wash out.  Being in 8th position in the ingredient list, it is to be understood that there is very little petrolatum being used in the recipe. I concur, as this pomade was no trouble to wash out. Rinsing you hair under the shower head alone will get rid of 90% of this pomade, the shampoo will do the rest.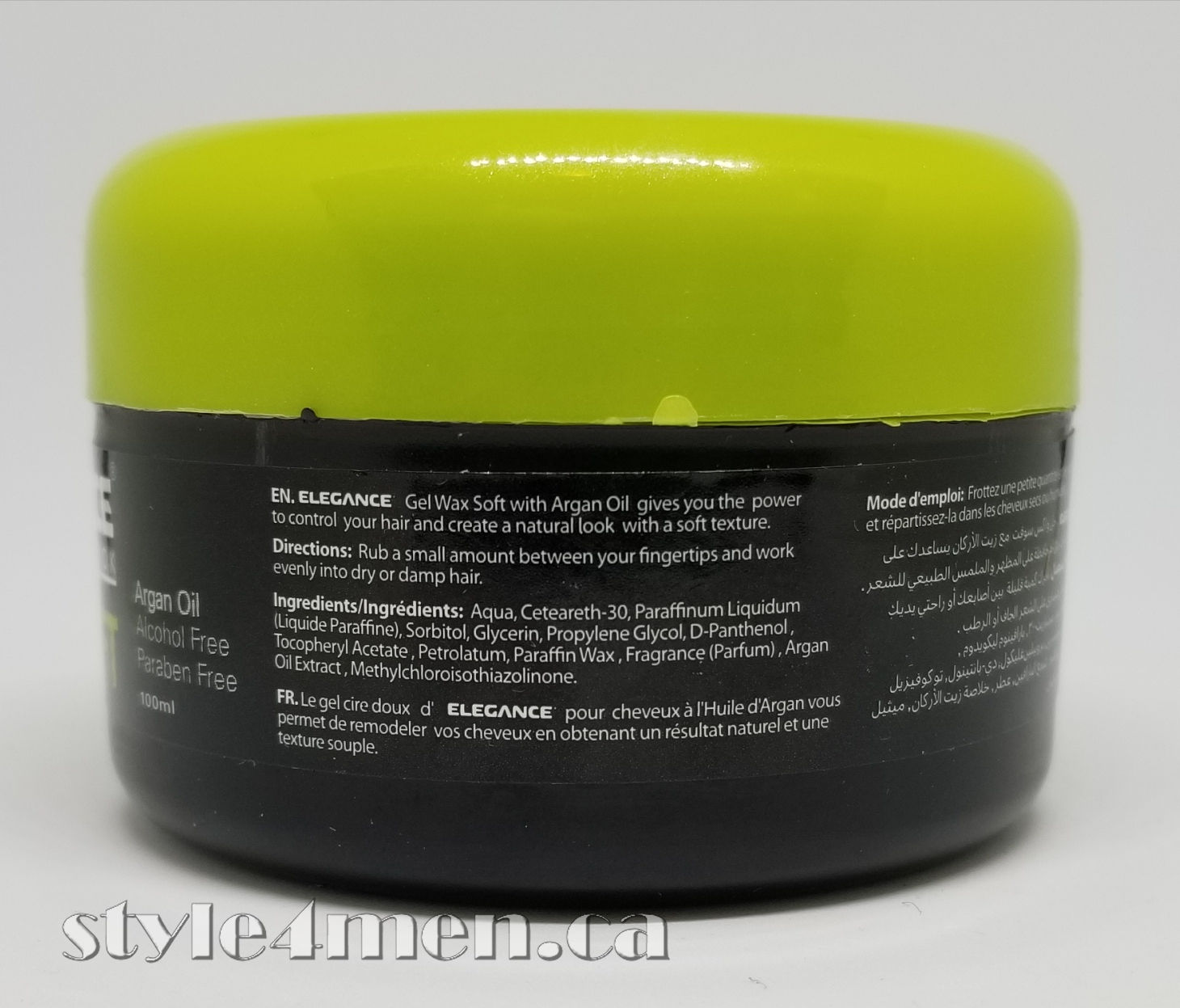 Moving onto the hold of this pomade. The label indicates "SOFT" and I was a little reluctant to try it because of that.  I was expecting this pomade to be a high shine low hold product.  It was in fact the opposite, a low shine and strong hold product.  The hold was so good, that I am tagging this pomade as #FirmHold.  Having apply it around 7 AM, things were still in place by 4 PM.  On my thick and rebellious hair that is note worthy.
The fragrance is a fresh and happy green apple like scent.  Strong enough so that you are aware of it, but not so strong as to out-do your cologne.
This 100 ml jar is sold for $18 at OBSCO.  Considering the small amount of product required to achieve proper styling, this quantity will last you.
ELEGANCE is not working in that retro-vintage-Greaser-Barbershop niche space.  So no skull imagery on an aluminum can.  The jar itself is a pretty basic plastic container.   But as cool as some jars can be, we are really interested in the contents and the pomade found inside.  That said pomade is so good that we happily forgive the plastic jar.
Now about the ELEGANCE brand, as mentioned above it was an unknown name to me.  As it turns out, this line comes to us from Lebanon.  Surprised?  Me too!  Lebanon is not known for its hair product exports. Suffice to say that good hair product can come from anywhere!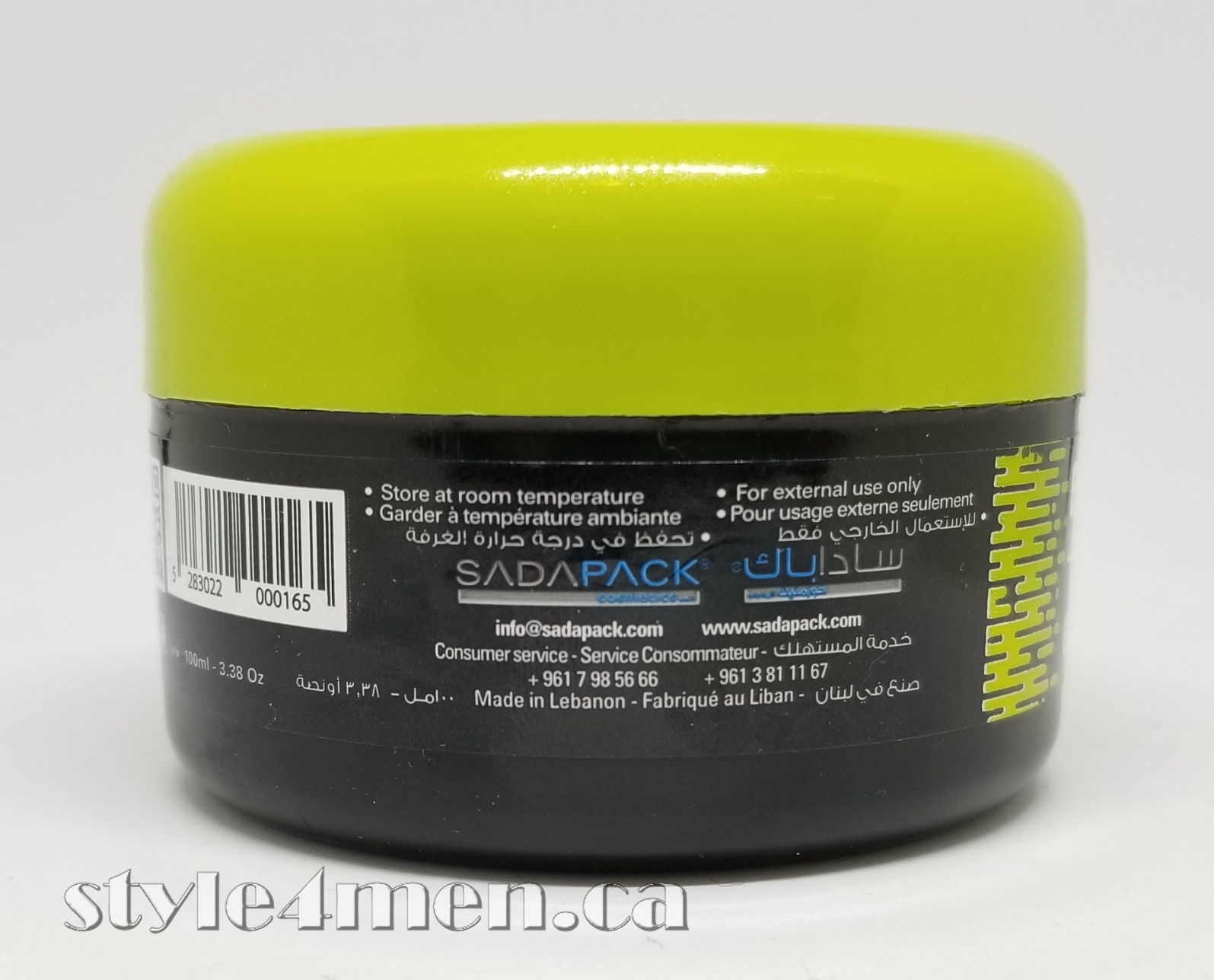 Here is the rating on a scale of 1 to 5, where 5 is a perfect score and/or the level of shine.
Hold: 5
Shine: 3
Texture: 4
Feel in hair: 4.5
Facility to wash out: 4.5
In closing, I was impressed by the strong hold of this pomade along with it nice and fresh scent.
You can shop for this pomade along with the rest of the ELEGANCE product line at OBSCO.  don't forget to mention "STYLE4MEN" when checking out for a 10% discount.